Google's search bar is well-known for some fun "doodles," sometimes hiding fun tricks or games within it.
Poke around and you can find a Pac-Man game, a Pony Express game and more. Google keeps an archive so you can see all the old doodles and games.
Now, developers at Google have done it again. They've hidden a different kind of "Easter egg" within the Google search bar.
This new game is a tribute to classic text adventure games where players complete tasks by typing in basic commands.
How to play this old-school game
If you want to check it out, type "text adventure" in Google Search. When you get to the Search Results page, right click in the search box and click "Inspect."
A menu will appear on the right side of your screen. In it, click the "Console" tab.

There, you'll see a warning about not pasting any personal info into the space. Below that, a simple "Would you like to play a game? (yes/no)."
Type in "yes" and enter, and a giant capital "G" appears.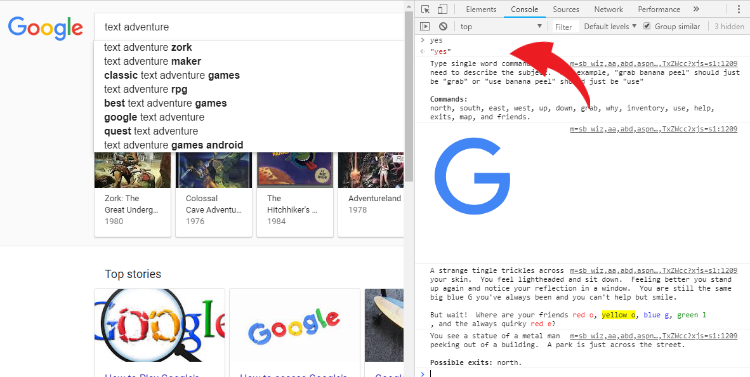 Follow the instructions. The goal of the game is to find the rest of the letters making up the Google logo.
OK, so it's not quite as high-tech as "Fortnite," but it beats "Scrabble"!