If you're a computer whiz, you understand the difficulties of trying to explain simple computer solutions to a friend that is not as in the loop with technology. You could take the time to visit your friend but if they live a far distance away, that isn't much of an option.Luckily, Google Chrome has a simple solution for you to help solve your friends' problems, or for them to solve yours. Google has made Remote Desktop access much easier without having to replace your existing Chrome application.Of course, this can be used for more than just helping a friend fix a computer problem. You can also use it to access your home or work computer to get important files when you're not sitting in front of it.
How Google's Remote Desktop works
Google has made the application accessible on both Mac and PC computers. Both are installed and operated the same way on both systems.If you share access to your screen with someone else, you are giving them 100 percent access to everything on your computer. This includes apps, emails, documents, pages open on the internet and your files. Start-to-finish the process of sharing and ending the share can be completed in eight steps.First, you need to open Chrome. If you don't have Chrome, download it.Once Chrome is open, type
remotedesktop.google.com/support
. When the page pulls-up, press the download button under 'get support'. This step is different if someone is granting you access. If you are giving support, enter the access code that will be provided by the person on the other end.
After the get support tool is downloaded, a list of directions will appear on your screen detailing how to download and install the Remote Desktop feature. If you followed the directions properly, you'll be provided the option to generate a code. This code must be copied and sent to the person you are screen sharing with.
Now you need to wait.The person receiving the code has to input the code on the website. By doing so, a dialogue with their email address will appear on your screen. At this point, select share to allow them full access to your computer. When you've decided to end the sharing, click stop sharing.
If the desktop sharing feature is already downloaded on your Mac or PC, the process of screen sharing becomes much simpler. All you need to do is select the Chrome Remote Desktop icon and then press 'get started.' To create the access code, select 'share' and send the code to the other user.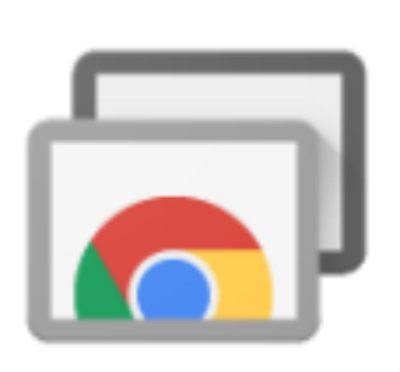 Once they receive the code, the steps are the same.
Dangers of desktop sharing
This feature provided by Google can be a great deal of help when trying to explain something on the computer step-by-step. You can show anyone the process rather than attempting to tell them how to do something.However, desktop sharing could be risky business especially if you aren't used to working with it. Using sharing requires a great deal of trust for both the person providing the code and the person receiving it.If you give someone a code to access your computer, they have full, unrestricted access to anything on your hard drives. Although they have permission to view your computer, you don't have any permission to view theirs.
One safety precaution
that Google has taken is 30-minute reminders to share users. If you've been sharing for an extended amount of time, Google will ask you to confirm your knowledge that sharing is still being used.
Other uses for Remote Desktop
There are a number of other things desktop sharing can be used for. While it is great to help with computer problems, it could also be used for other purposes like work presentations or remote tutoring.Google Chrome desktop sharing is an excellent tool for many reasons. Follow the steps and find out how it can help you.You can
access the site here
, or by tapping the blue button we've provided below. You can also download an app for both iOS and Android that lets you use Remote Desktop on your mobile device.
Tap or click here to download the app for iOS
.
Tap or click here to download the app for Android
.