It always happens when you're traveling. When you're in a city far away from home, hopping online isn't as easy or reliable as it should be.
Of course, there are Wi-Fi hotspots everywhere, but if you're in a rush you don't have time to guess. Thankfully, there are apps that can help you out.
For example, this cool app we're sharing with you lists all free and pay-to-use Wi-Fi spots near you so you can always have a backup plan ready when it comes to your Wi-Fi connection.
WiFi Map
To hunt for free Wi-Fi spots on the go, try this app called WiFi Map.
With WiFi Map, you can search through networks around you and find the best free and secure connection out there. You'll never be without your favorite apps like Facebook, Instagram and Twitter.
WiFi Map has a map of more than a 100 million free Wi-Fi hotspots worldwide. Yep, you read that right – more than a 100 million!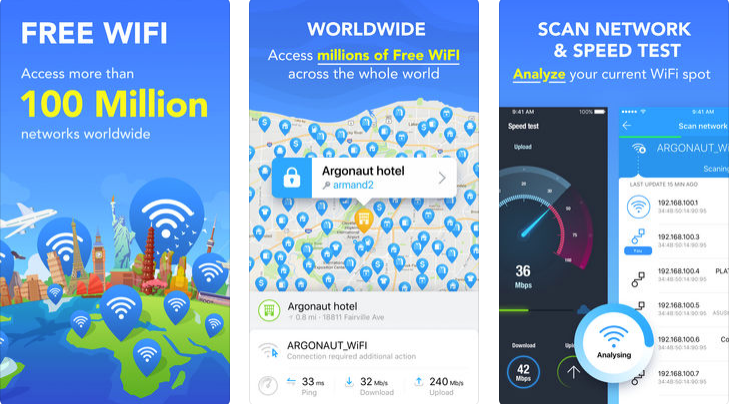 Wherever you are in the world, simply use the WiFi Map app to locate free nearby Wi-Fi access points you can connect to.
As you all know, having a Wi-Fi line can be a big lifesaver. You can avoid those huge roaming data charges when you're overseas. If you rely on an internet connection for your business and other communications, connecting to a secure public Wi-Fi hotspot is essential.
WiFi Map is crowdsourced and is maintained by users, too, so you'll get updated information every time. And since it's crowdsourced, the app even has passwords and user comments on each hotspot for additional information.
WiFi Map's app will tell you the location and distance of the hotspot, what kind of network the hotspot is in, just how reliable the connection is and can even give you reviews about the hotspot you want to connect to.
With hotspot information for just about every major city in the world, WiFi Map is a great app to have in a pinch whenever you're traveling.
Try WiFi Map now! Click here or one of the blue links below to get WiFi Map for free on your Android or Apple device.