Weight training isn't just for body builders. You've heard this before, right? Weight training burns calories, strengthens your heart, boost your mental well-being, and prevents injuries. It's also great as we age; even light weight training can protect bone density and preserve muscle mass as we age.There is no shortage of apps and websites that offer free content to help you get in shape. You'll find
apps to help you monitor your heart rate
and wearable
Android
and
Apple
devices that make working out more fun.If you're thinking about adding weight training to your regular workout routine, or if you're just looking for a resource to change up your weight training, and you don't want to pay a personal trainer, we found a website that offers free, user-friendly content.The website is called MuscleWiki. It's a no-frills wiki (collaborative repository of content) that contains how-to videos and step-by-step instructions for exercises that target whatever part of your body needs it. What it doesn't do is put together a workout routine for you. As always, before beginning any weight-training program, check with your doctor to find out what you should and shouldn't do.
Targeted weight training for men and women
When you land on MuscleWiki.org, you'll see either a male or female outline. Click the body part you want to target, and MuscleWiki takes you to a page with auto-play videos and instructions for doing the exercises.
 I chose lower back and got these suggestions for deadlifts and back extensions. Deadlifts have always been a struggle for me, so I appreciated the front and side video views to show proper form.There is nothing fancy about this website. The design is plain and simple, the look is even a little outdated, but the basic content is perfect for the beginner or intermediate weight lifter who needs help with form.
Other features we liked on MuscleWiki
The website has stretches that are great for targeting specific aches and pains or tight areas of your body. Again, the content is simply present, no frills, bells and whistles.You'll also find an interactive calorie calculator, where you input your age, weight (be honest) and height, along with your exercise level and weight-loss goal and the interactive app tells you how many calories per day you should consume. I'm not going to tell you my personal info, but the app said I should eat 1,200 calories a day, which sounds about right!The macro calculator breaks recommended calories into carbs, protein and fat grams per day.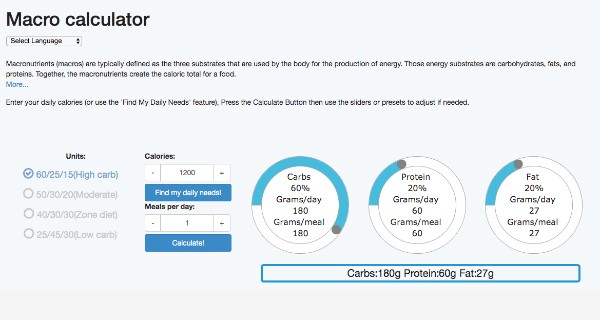 The website works nicely on a mobile phone, too, so you can use it during your workout.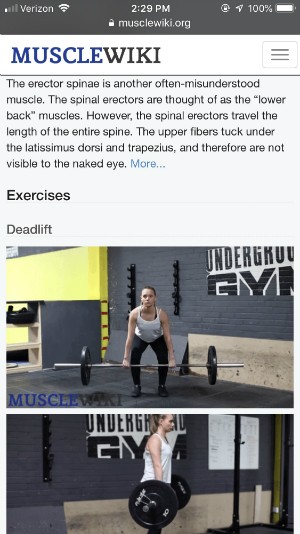 MuscleWiki has an interactive tool called "one-rep max," which helps you calculate how much weight you should lift and how many repetitions you should do for each weight. So, for example, if I can do 10 squats with 95 pounds, my one-rep max is 127 pounds. If I can bench press 55 pounds 10 times, then my one-rep max is 73 pounds. MuscleWiki warns users not to try one-rep lifting unaided. Always make sure you have spotters around.
The bottom line: If you're looking for help to do the most basic weight-lifting exercises at the gym on your own, this isn't a bad website. The interactivity is easy and even a little fun, and the videos are short and work well on the smartphone.