Spooky season is well underway and you should be expecting some trick-or-treaters soon. Before you get the candy ready, take some time to ramp up your security.
Vandalism and property damage are more common during the holiday season. Whether you're home or away, you'll want to keep an eye on things. A video doorbell is a simple way to secure your home. Tap or click here for my favorite video doorbell to keep an eye on what's happening out front.
If you want to get into the spirit and spruce up your home this October, you can do so with some technology. You can have a spooktacular display without breaking the bank. Here's how a little tech can take your Halloween décor to the next level.
Digitize your Halloween
Every day, I see all kinds of reports from the digital world, from new gadgets to innovative ways tech makes life more convenient and fun. That brings me to Halloween.
For years, go-to Halloween decor has involved Styrofoam tombstones, plastic skeletons, fake spider webs and massive inflatables. But this year, you can mix things up with eye-catching digital special effects that make it seem like you've got a family of ghosts running around your house.
It's easy to bring spirits from beyond into your home. This setup should take you less than an hour: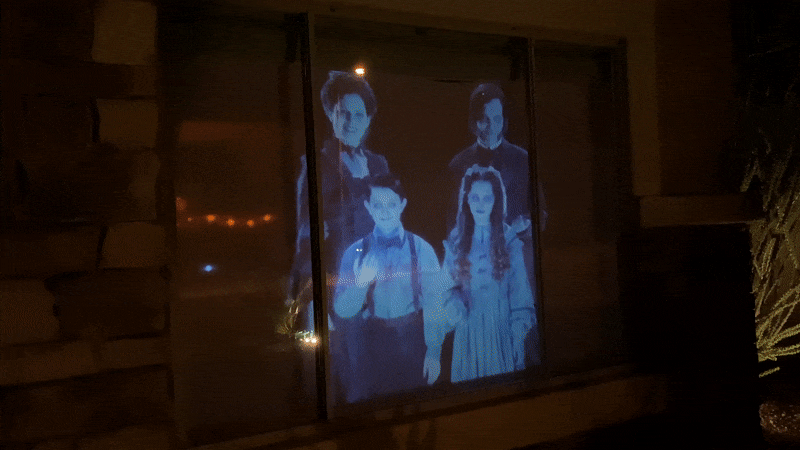 Pretty cool, huh? Here's what you'll need to create these Halloween effects:
Projection material.
Projector.
Camera tripod.
DVD player.
Portable Bluetooth speaker.
Bluetooth transmitter (optional).
Screentime
To start, push the curtains off to either side and pull up the blinds. Now you need material to cover the window. You can use semi-translucent material such as light-colored sheer curtains or mesh netting.
Here's a set of RYB Home curtains that should work, or you can get what you need at your local fabric store. Just make sure to stretch the material as flat as possible, or the projected image will be distorted.
A projector has many uses
You don't need an expensive home theater projector to make this work. This Crenova mini projector can be used to watch movies in the backyard when you're not displaying scary stuff for Halloween. You can also hook up your phone to it via an HDMI cable.
Another solid option is this Vilinice projector, which can connect to your devices via Bluetooth or Wi-Fi.
No matter which projector you choose, it's best to find one with 1080p HD resolution or better for a clearer picture.
Give your projector some legs
If there's no dedicated screen size setting, ensure you have enough open space to move the projector closer or farther away to get the right size. Set it up on a table, or attach it to a basic camera tripod like this AmazonBasics model. It extends from 25 inches to 60 inches and weighs just three pounds.
Regarding the video, you can order an AtmosFX digital decorations DVD and connect a DVD player to your projector.
An affordable option is this Sony Blu-Ray player. It upscales your Blu-Ray discs to 4K and your DVDs to HD quality and has Bluetooth connectivity.
Don't forget about the spooky sounds
Once you have your screen, projector and digital decorations set up, it's time for some scary sounds. Unless you have a window open, no one outside is going to be able to hear the video's creepy soundtrack.
Place a waterproof Bluetooth speaker outside to add some atmosphere. This Anker Soundcore speaker packs a lot of sounds in a small package and has 24-hour battery life.
If your projector doesn't have Bluetooth capability, you can add a small transmitter to connect wirelessly to the speaker.
Last but not least, here's another tip if you don't want the projector to stay on all night. Connect it to a smart plug such as this Amazon Smart Plug and set up a time it shuts off each night through the Alexa app.
Now you're all set to have the creepiest house on the block.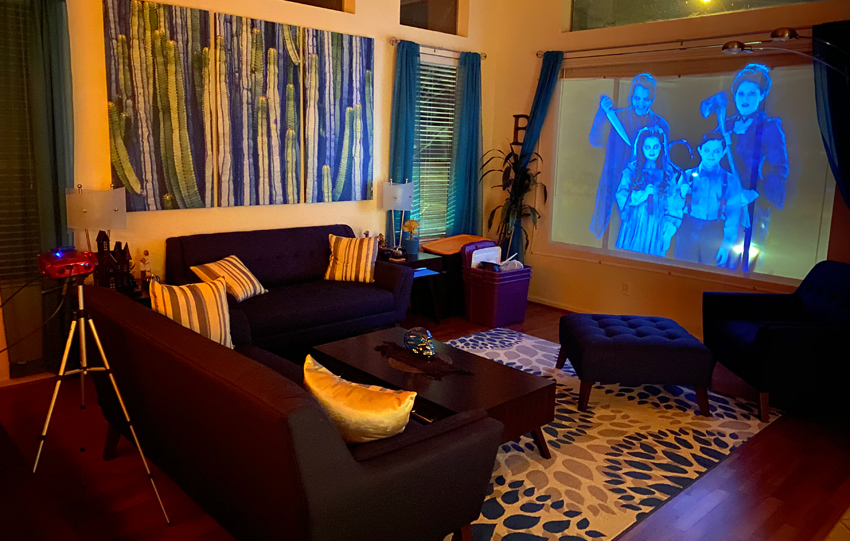 You may also like: Bad Wi-Fi around the holidays? Your decorations could be to blame
We may receive a commission when you buy through our links, but our reporting and recommendations are always independent and objective.