Whether you live in the safest neighborhood possible or the streets around you are teeming with crime, it's always good to stay in the know about what's going on around you. While you could keep an eye on the local news programs or check social media for some of the 411, there's an even more direct way to keep an eye out for any happenings you need to keep on your radar: police scanner apps.
With these simple ways to listen in on police, fire department, and other emergency service radio transmissions, you'll always be able to scan the airwaves around you for important information about what's going down during a crisis. Try out these apps to see what's really going on all around you in your neighborhood, whether you're just visiting or you're chilling out at home.
Scanner Radio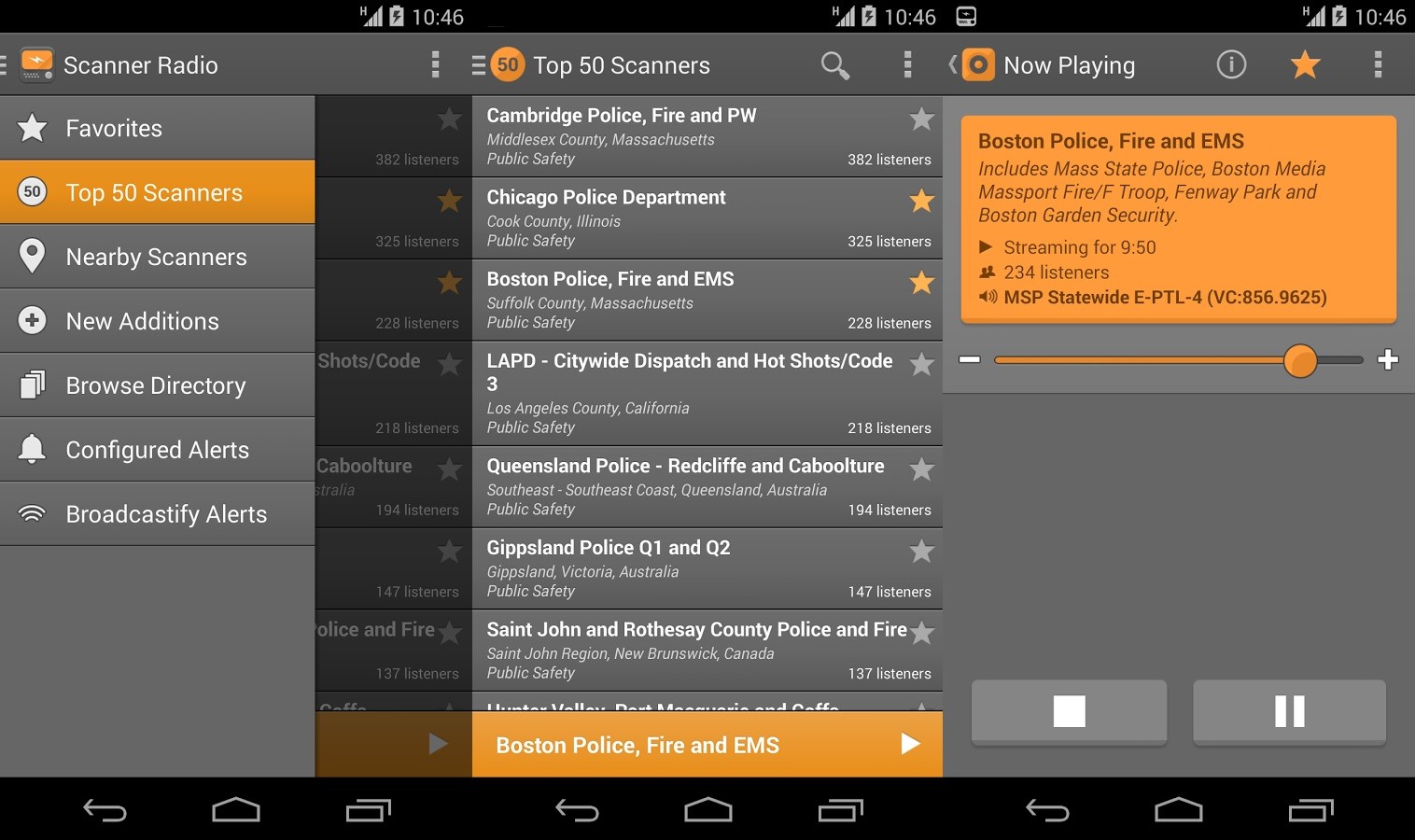 The best free scanner you can get your hands on is one that piggybacks off of Broadcastify, an internet destination for live police, fire department, EMS, and other live audio feeds. While it won't offer the greatest possible quality you could get, it does its job and does it well, with a wide selection of free channels sorted by area across the world, so no matter where you live, you can eavesdrop on what's going on in the world of law enforcement and so on. You'll have to put up with ads if you opt for Scanner Radio, but with infrequent use, this is hardly an issue. Click here to download it via the App Store and here to download it from the Google Play Store.
Police Scanner
The aptly-named Police Scanner is an Android-only option that includes over 5,000 police, fire, rescue, and various other radio feeds. You can opt for the free version, or select the $4.99 paid option to remove ads and open up additional features. It's incredibly stable, with an attractive interface and international options for different scanner feeds. Even those with less formidable internet connections can benefit from this particular app, which makes it an attractive purchase or free download. Click here to download it from the Google Play Store.
Scanner 911
If you need something fast and lightweight to cruise through all the scanner frequencies out there, Scanner 911 is a slick and clean app that has just about everything you need. It's supported by ads, though they're unobtrusive. It doesn't feature the same amount of channels you'd find with Broadcastify or other, more extensive solutions, but it's stable and simple to navigate. You can also adjust various settings that can enhance the already excellent sound quality, should you find yourself needing to. Unfortunately, it's only available via the Google Play Store at this time. Click here to download it from the Google Play Store.
Broadcastify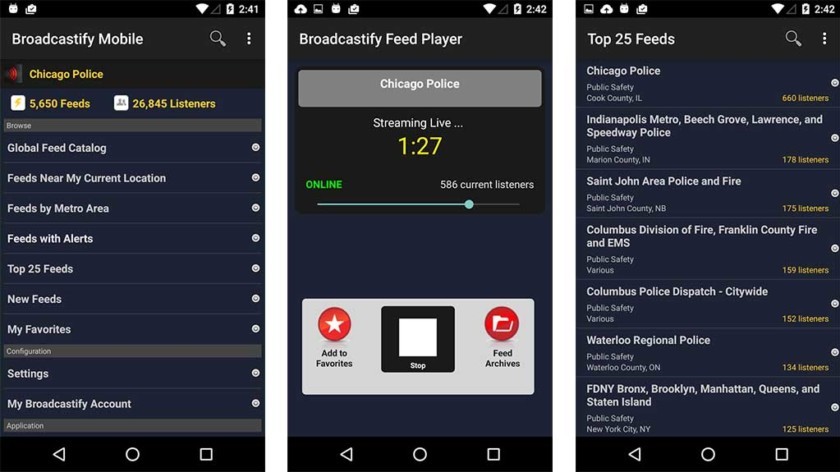 Though Scanner Radio utilizes much of Broadcastify's content as it is, the full-fledged Broadcastify app has plenty to offer a well. There's a free version, but if you want to go all out and access the widest variety of channels possible, you'll want to spring for the premium version, which also gets rid of ads. Channels are sorted into useful sections from country to metro locations, so you can find what you're looking for quite easily. It's a great alternative to Scanner Radio and could act as an extension of your starting foray into police scanner apps. Click here to download it via the App Store and here to download it from the Google Play Store.
Police Scanner 5-0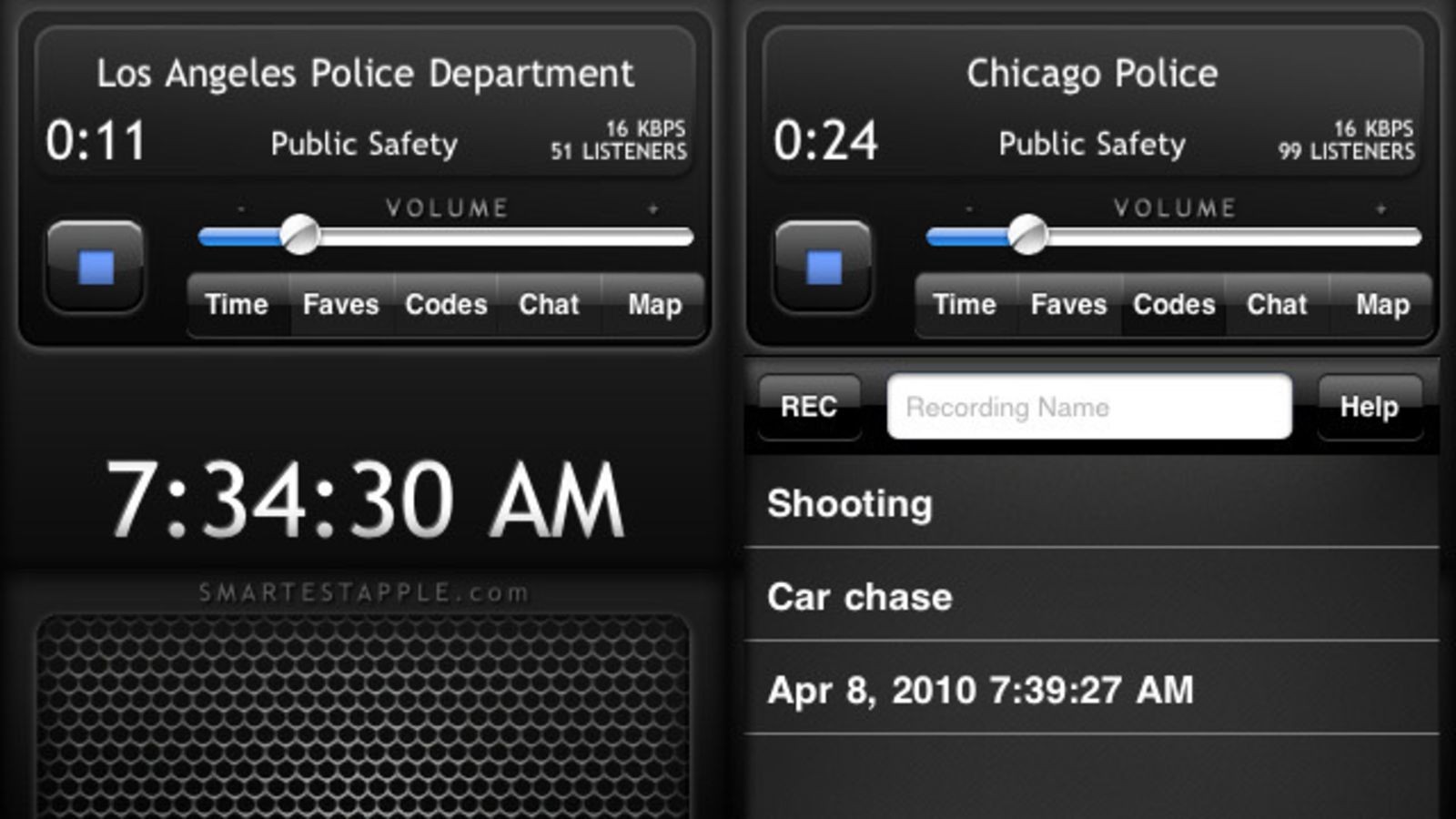 The aptly-named Police Scanner 5-0 isn't quite as slick or attractive as others on this list, but it's still well worth picking up. It offers information on the police codes you may hear during a listening session, though the trade-off is the fact that the interface just doesn't look that good at all. It's still very much a functional and useful app if the rest on this list don't suit you, and it also offers times and dates for some of the information shared via scanner for your own personal records. Click here to download it via the App Store and here to download it from the Google Play Store.
Verdict
So which is the best? Well, it seems like that may be up to you and what you're looking for. If you care about the user interface, you may prefer Broadcastify, but if you want more details like dates, times, and codes, then perhaps Police Scanner 5-0 is for you. But if you really care about excellent sound quality, you may want Scanner 911 instead.