You may have noticed that everyone lives their best lives on social media. Most posts show off luxury vacations, eating at high-end restaurants, bragging about new cars and more. Tap or click here to see if other people can see what you "like" on social media.
But that isn't an accurate depiction of reality. No one typically posts pictures of themselves washing dishes or just sitting around daydreaming. Until now.
A new social media platform encourages users to share their actual day-to-day, not just an ultra-curated reel of highlights. Keep reading to find out if you'd like to join this realistic network of friends.
How does BeReal work?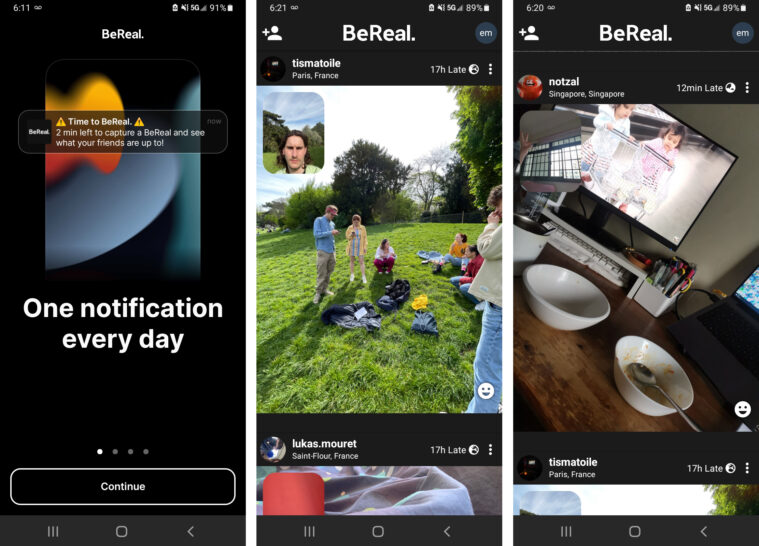 BeReal is a potent hybrid halfway between Instagram and synchronized swimming. You can download the free app for iOS and Android. Once you do, it'll ask for your name and a few other details. After giving it permission to use the camera and see your location, you'll be invited to post your first BeReal.
After this first jaunt, you'll get one notification prompting you to share to your BeReal feed every day. Once that notification hits your inbox, you have exactly 120 seconds to snap a photo of what's in front of you and an instant selfie to match.
Yes, it's as stressful as it sounds. But after you do it once, you'll get the hang of snaring the perfect pair of shots on a dime. There is no editing allowed here. This is your life, unfiltered and unadulterated. Own it.
BeReal asks you to import your contacts when you first sign up, but you don't need to if you don't know anybody using it yet. After getting yourself set up, you can adorn other peoples' posts with comments, emojis, and "RealMojis," which are short, looping gifs of your face reacting to their content.
Much like other social media apps, BeReal lets you choose your audience. With every successful post, you can choose whether to share only to your feed of direct contacts or to make it publicly available on BeReal's Discovery directory.
Discovery mode is one of the most entertaining parts of this new social media app, especially if your network is still lacking in compadres. To explore what the world is up to currently, tap into Discovery from the top of the app's homepage.
BeReal Discovery: Find your people anywhere on the planet
While platforms like Instagram and TikTok are great for learning more about ultra-affluent influencers, socialites and celebrities, BeReal opens the door to an entire world of real people doing real things in real-time.
One quick scroll, and you'll find families in Singapore having lunch, students in France picnicking, and, of course, plenty of bored people taking selfies in their rooms. It's oddly comforting.
You're free to add a comment or a RealMoji to anything you see. It can be cool to connect with people halfway around the world. With that being said, we should probably include a warning about talking to strangers online, especially if you have children.
One piece of advice would be to avoid sharing personal, identifying information like your contact info or home address. Short of that, you should be fine.
We posted one BeReal while investigating this app, and, in minutes, a stranger had already sent us a lovely thumbs-up. It's easy to get stuck into this huge virtual community, even with no contacts. If you have something interesting to share, there are plenty of people to show and tons of cool stuff to see.
Worth it? We think so. It's like Tumblr, only for real people, not hipsters. See the world through the eyes of others. It's almost impossible not to get sucked in.