Making friends used to be easy enough. You met people at work, your local gym or community events on the weekends. Then the pandemic hit and made it much more challenging to meet new people.
Some turn to dating apps. But those are full of scammers that you don't want to run into. Things are so bad the FBI issued a warning about dating apps. Tap or click here to avoid these romance scams that have cost victims millions.
And what if you're already in a relationship and just want to meet new friends? There are actually apps for that. Here are five non-dating apps to make new friends.
1. Patook
Patook's website will stand out at first glance because it has a no-flirting rule. In fact, the app has a built-in flirt-blocker. You heard that right. The app is strictly for making friendships but allows you to create a profile similar to a dating website to match others based on interests.
Like dating apps, you can swipe and scroll to match new friends. The app is available for desktop, Android and iOS and is free to use. Over 80% of users respond to messages on this platform, so there's a high likelihood you'll walk away with a new buddy.
2. Meetup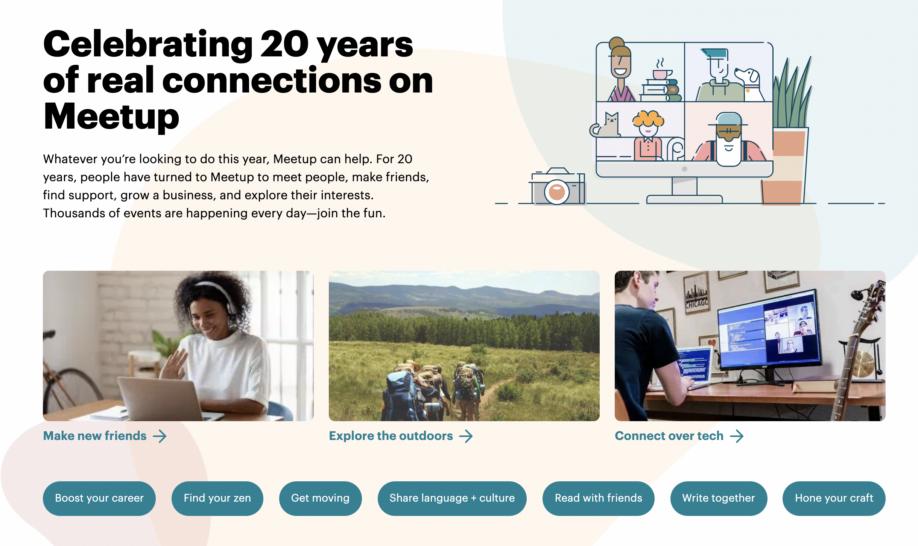 Meetup is a great place to find new friends and have adventures together. You can browse other people's events based on interest so you can meet like-minded people. There are hundreds of options like cooking demonstrations, hikes and wine lovers. The app is free to use and available on desktop, iOS and Android.
3. Friended

If you've ever struggled to make new friends or feel alone, Friended was created on the basis that there is always someone to talk to on the app. You can post icebreakers or comments to which everyone can see and choose to respond.
You can also swipe other people's icebreakers. And there are games to play and video chat options. The app is free but currently only available on iOS.
4. Bumble BFF
In the dating world, you may have heard of Bumble, a standout app that allows ladies to take the lead. Bumble BFF wants to help you in platonic ways, too. You'll need to download the Bumble dating app to use Bumble BFF, but you don't have to go swiping for dates.
If you are new to the platform, you can signup with Facebook or your Apple ID and then you'll need to verify your photograph. Simple as that. Once you're signed in, tap the three-line menu in the upper left corner and select BFF. That means you're looking for friends, not a love connection. The app is free and available on Android and iOS.
5. Wink
A nice part of Wink is that it's not just U.S.-.based, so you can use it internationally if you find yourself in need of a friendly face overseas. This app is also similar to Tinder in that you can swipe right to find new friends and start a fresh conversation. The app has millions of users worldwide and is free for Android and iOS.