With so much going on in our busy lives, it's tough to keep our schedules, tasks, accounts and to-do lists straight. It's especially challenging for those of us who can't seem to retain the information that keeps both our professional and personal lives moving forward.
You know that you have a deadline coming up, but you can't remember what day. Or, you have bills due each month but can't seem to remember due dates.
If this sounds like you, don't fret. We've got you covered. Here are seven apps specifically designed to help the most forgetful people.
Google Keep
One of the easiest-to-use reminder apps out there. Google Keep is a free app that allows you to set written, photo, and voice reminders.
One attribute that makes the app so desirable among users is its speed. Whether it's on an old or new device, Google Keep is fast. By simply tapping the text box, you can immediately begin typing your notes/reminders. It's perfect for taking down a phone number or address on the fly. No more pen and paper.
You can also add voice memos to the app with ease. Simply tap the microphone and start talking. When you're finished, the app converts your voice recording into a typed text. But, if you don't feel like reading, you can save the recording in the app and play it back whenever you want.
Alarms can also be set for any time of the day no matter how generic, specific or hectic your schedule is. The app features a simple, well-organized to-do list that can be kept as a widget on the homepage of your device. The app syncs with Google as well, which means you can access it from any computer or other devices.
Google Keep comes free if you already have a Google account and is available for Android and iOS.
Mint
Have trouble staying on top of your bills? This free app will be your new best friend. There's nothing worse than getting that alert that says you have an overdue bill. Thankfully, apps like Mint are designed to help you stay on top of all your recurring bills and help make payments as well.
The app works alongside numerous businesses like credit card companies, utility companies, cell phone carriers, car loans, mortgages and more. It can even be used to pay your rent.
Users can pick and choose what specific financial data they want to download on the app and from there they track, monitor and automatically update info each time they access the app/site.
Mint displays your financial information with an easy to use interface that presents your data in various forms and visuals like colorful graphs and charts. The app itself is a very useful tool for controlling aspects of your finances such as budgeting and investment tracking.
Mint is a free app that's available for both iOS and Android devices.
Remember the Milk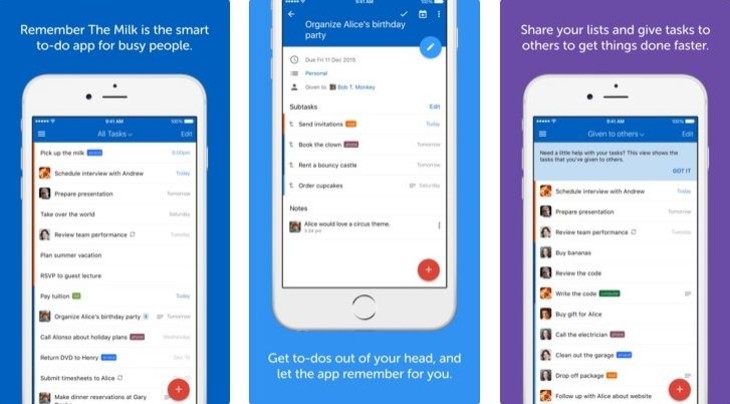 The name pretty much says it all. Although, this app will help you keep track of info beyond just your trips to the supermarket. Remember the Milk is a proven task management to-do list app that allows you to share your daily tasks and lists with the other members in your household.
The app is great for both teens and adults who have trouble juggling and prioritizing to-do lists, complex schedules and project deadlines. Each task can be organized in the app and easily accessed by just typing in the name of the task such as school, work, home, grocery, etc.
Each task can be tagged with a specific time and date, to ensure that your priorities, deadlines and goals are met on time and on the correct day.
This app is available for both iOS and Android users and can be downloaded for free.
TickTick
This is another cross-platform, to-do app that has a few cool features geared towards helping you get things done. Similar to the Remember the Milk app, TickTick organizes your tasks by listing them into categories, which can be further organized into individual folders. These folders can be color coordinated, making them easier to find and distinguish between tasks.
The app also supports and organizes tasks by priorities, (None, Low, Medium and High). TickTick comes with location reminders as well. You can pick the desired location on Google Maps and trigger the reminder to alert you when you arrive or depart from a specific location that may be connected to the task.
You can start your day right with TickTick by enabling the daily alert notification. Choose a time-specific date and the app will send a notification at that time with all the tasks scheduled for that day. Think of it as your own virtual agenda.
You can download the TickTick app for free on Android and iOS devices.
IFTTT
Whether it's finding your phone, remembering to pay bills or turning on Wi-Fi, this app has you covered from almost every angle. IFTTT (If This, Then That), is an all-in-one automation tool that connects apps, devices, and social networks so users can automate a specific action. It just makes life easier all around.
For example, if you can't seem to remember where you left your phone, let IFTTT call it by sending yourself an email with a specific hashtag attached to it. If you have an Android, you can control your phone's volume to better help you locate it.
The app is great for people who forget to turn on Wi-Fi. You can have IFTTT automatically switch your Wi-Fi on when you enter your home. Through a text message, IFTTT can remind you where you parked your car or when to pay your bills and much much more.
IFTTT is a free app that can be downloaded on iOS and Android platforms.
Todoist
Todoist is probably one of the better-known to-do lists available right now and based on user reviews, it's for good reason. It's free and available on every platform you can think of, so syncing to other devices is no problem for this app. It's easy to use and allows you to organize tasks however you want without feeling too overwhelmed.
As you add tasks throughout the day, week or month you can quickly set a due date with a recurring event and priority level attached to it. From there, you can even assign tasks to a colleague if you're using for work purposes.
Simply set up a task by typing, "next week" and the app will automatically set the task for the first day of the next week. Todoist can be used on iOS and Android devices and downloaded for free.