Many of us use Google for just about every aspect of our lives. Whether we're blowing up the search engine to figure out lyrics to our favorite song, getting directions to a new restaurant, or setting up appointments on the calendar.
But did you know there's actually a wide variety of different Easter eggs hidden within Google itself that you can discover with a few simple clicks or search queries? It's true — Google's hiding actual minigames, fun "askew" results, and plenty of other surprises that you may never see unless you dig a bit deeper.
We've gathered 8 hidden Google Easter eggs that'll keep you entertained for the foreseeable future – and these are just the start. You never know what else the search engine is hiding that users haven't figured out.
Let Google help make a decision for you
Need Google to settle something for you? That's easy. Just search for the phrase "flip a coin" and watch the search engine work its magic.
Google will automatically flip a coin for you using a pop-up widget. If you need to, you can have the search engine flip as many coins as is necessary. No more having to fumble around in your pockets to decide who goes first in a video game or who's buying lunch again.
Google the word "Askew"
It may seem like a simple thing, but you'd be amazed how many people you can amuse with this one fun little Easter egg. It doesn't require very much to get it going, either. By typing the word "askew" into Google and searching, you'll get a results page that's, well, slightly askew!
Now, it probably won't remain entertaining to you very long when you first input the search term, but this trick might. Get a friend to take a look at your computer behind you while you search for the word, and they won't believe their eyes. "No," keep telling them. "There's nothing wrong with the search results, they don't look lopsided to me!"
Search for "do a barrel roll"
Did you know you can make Google do a barrel roll? What's a barrel roll, you may ask?
It's a special airplane maneuver that has the pilot making a 360-degree roll in the air as they continue to fly forward. You may have heard of it being used in the popular video game Star Fox 64. When you type "do a barrel roll" into Google, the search engine takes things quite literally and makes the entire screen roll. It's pretty awesome.
Play Pac-Man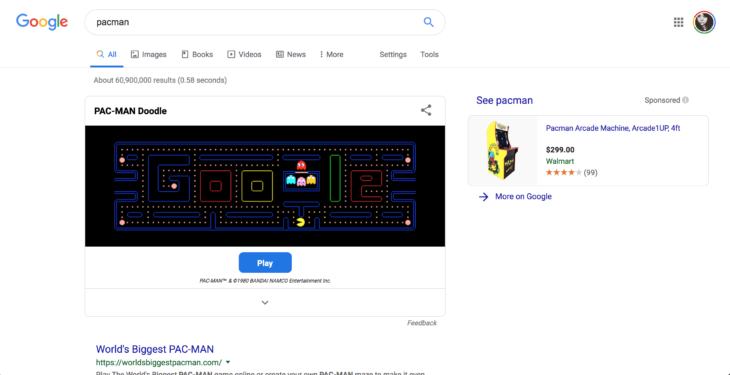 If you're stuck at work but wishing you had a few moments to play through a game of Pac-Man, all you have to do is type "pac-man" into a new Google browser. In seconds, you'll be greeted with a previous Google Pac-Man Doodle that'll let you play the game straight from the internet, no game system required.
Search for "blink html"
Sometimes, it's the little things that bring us the most joy. Simply search for the term "blink html" to start watching the word "blink" in the search results that are delivered.
Play some Atari Breakout with Image Search
Google's perfected the art of integrating games into its search results, and this game of Breakout is no different. Simply open up a Google Image Search and look for "Atari Breakout." Your image search results will be transformed into a rainbow-hued version of the Atari classic that you can play straight from your browser, taking you right back to the '80s. Radical!
Play a quick match of tic-tac-toe
Everyone loves a game of tic-tac-toe. Google makes it even easier to find someone to play with, letting you square off against AI in a match when you Google "tic tac toe."
You don't even need to include the hyphens. You'll instantly get a small widget containing a box with a pleasantly-colored teal box that's easy to hide from the boss if you're at work. From there, you can play as many games as you want. No one has to know you're not being productive.
Enjoy a game of solitaire
We've all spent far more time than we should have in the classic Solitaire app on our computer, and Google has an easy way for us to play it now. Just google "solitaire" — easy enough — and you can start playing no matter where you are in the world. Maybe this time you'll actually conquer the game.