One of the best things about my job is the fact that I'm always hearing about new gadgets and apps that can help you, my listeners. But, as I find these new tools, I also enjoy sharing them with my family.
Recently, I shared an app with you that I had my mom, Ian and Barry start using in case of an emergency. It's called Medical ID. Click here if you missed why I feel it's so important that you start using it.
My mother loves receiving recommendations from me on apps she might enjoy using. That's why I put together this little list of five apps I just put on her smartphone and tablet. I think you'll really enjoy them, too!
1. Crosswords Classic
We all know that puzzles and games can keep your brain sharper for longer. So make sure you leave time in your day for one of the most famous brain-expanders anywhere: The crossword puzzle.
Crossword Classic for iOS lets you play all the newspaper online crosswords right on your phone or tablet! New crossword puzzles are available daily and the app could track your progress. It will even give you hints if you are stuck or have a tip-of-the-tongue moment.
For Android users, get your crossword fix with the Crosswords app.
2. Pill Reminder
If you take more than one pill a day, keeping track of which pill you take and when can be tough, even with a fancy pill organization holder. But don't worry, there's an app that can help you or a family member keep everything straight and organized.
The Pill Reminder app helps you manage medications and refills and helps you keep track of doctor's appointments, too. The app also stores your notes after each medicine intake and organizes them in your own "History Table" for reference.
For Android users, don't worry, check out Medisafe.
3. Magnifying Glass
Even if you aren't a detective, a magnifying glass is still something great to have around. You never know when you'll need to read tiny print on a document, minuscule instructions in a cookbook, microscopic writing on a computer part or some equally inconvenient text. Unfortunately, you might not have a magnifying glass just lying around. However, you probably do have a smartphone within arm's reach.
Turning your smartphone or tablet into a magnifying glass just takes the right app. I recommend the Magnifying Glass for iPad gadgets and Magnificent Magnifier HD for Android users. Both apps have the zoom feature as standard but the iPad version has added exposure control, rotation and freeze framing. These apps are definitely much more versatile than your average magnifying glass!
4. Big Calculator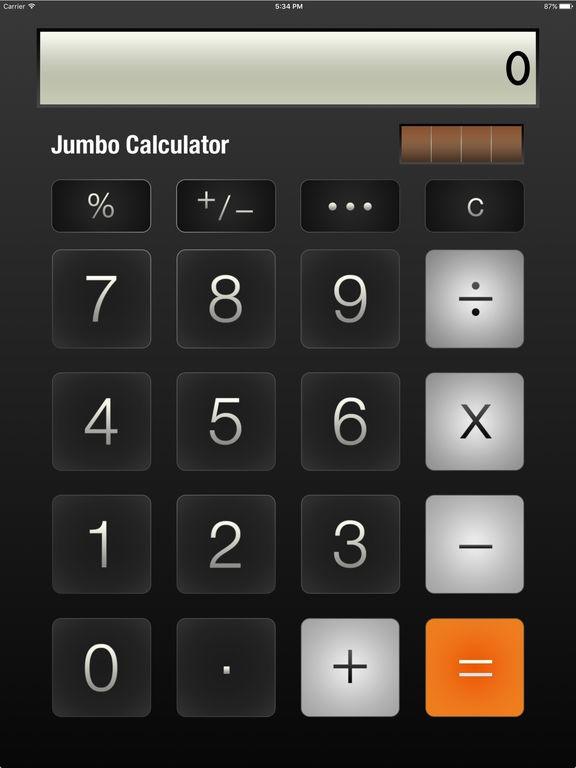 Despite the iPhone's large screen size and the iPad's larger displays, you know it's not always easy to read the tiny print on those screens. Fortunately, there are a couple of ways to make your Apple display easier to read. If you'd like to make your text bigger, and bolder, here's how to do that: Go to Settings >> General >> Accessibility >> Larger Text >> Larger Accessibility Sizes. Then, move the slider to adjust the size of the font. To bold the text, tap on the Bold Text button.
But what about the calculator? If you need bigger numbers to figure out all the math, check out Jumbo Calculator. This iOS calculator supports fun, color themes, automatic decimal points with its own Money Mode plus all the basic functions you would expect from a calculator. And did I mention it has BIG buttons?
For an Android equivalent, you can check out Fat Finger Calculator. 
5. BugMe! Stickies Pro
The sticky note was a brilliant invention. They're so simple but amazingly useful! You can turn any surface into a bulletin board of ideas or reminders – even your phone or tablet. iOS users can do all this and more with the BugMe! Stickies Pro app.
This app creates fully customizable, virtual sticky notes you could share with friends. You could even set alarms and reminders for each note, then drag and drop them to a virtual corkboard. This is a fun and functional app I'm sure you'll use every day.
Meanwhile, Android users can look into the Sticky Notes! app.
Disclosure: This post is brought to you by the Komando Staff. We aim to highlight products and services you might find interesting, and if you buy them, we may get a small share of the revenue from the sale from our commerce partners, including Apple.