World UFO Day is on July 2nd, and whether or not you believe that we can find extraterrestrial visitors up in the night sky, the holiday is a great excuse to head outside and look up at the stars. While you're out there, you can use any of the 5 apps we've listed below to better understand what you're looking at, and where to point your head or telescope for a really great view.
Astronomy is a great hobby, particularly on warm summer nights when you can stay outside longer. So whether you're searching the sky for a constellation, or for something to tell the National UFO Reporting Center about, these apps can tell you if what you're seeing has been identified before, and a little more about it.
The apps below are to learn about space and find things you want to see in the sky. After downloading, head outside and let any of these apps guide your gazing. This is a great way to appreciate astronomy and the universe we're all a part of.
1. Sky Guide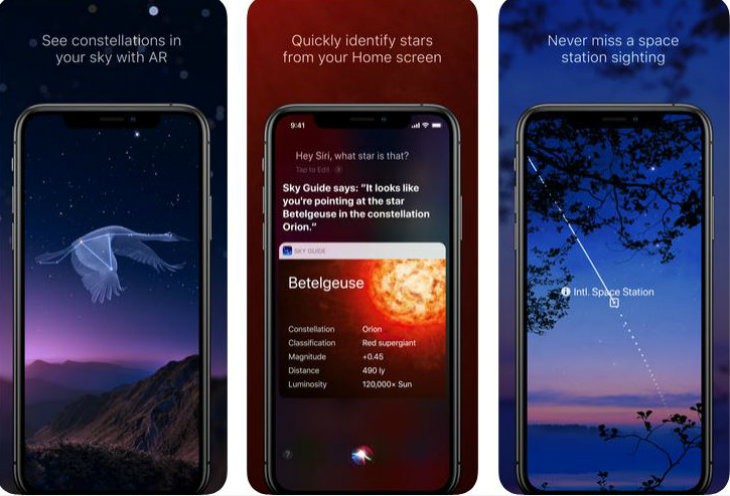 Currently exclusive to Apple devices, Sky Guide is an app that lets you point your phone at the sky and see exactly what's overhead. Following the view from your camera, Sky Guide automatically adjusts to your viewing direction and identifies stars, planets, constellations and satellites currently above you, whether they're visible with the naked eye or with a telescope.
Sky Guide's graphics trace out the shapes of constellations for you, and with a catalog of 2.5 million stars, you'll never miss a thing while you're out stargazing. If you want, you can activate a filter that lets you x-ray the sky to see invisible wonders of the galaxy.
Plus, you can turn on red night mode. This will help you preserve your dark-adapted eyesight while out at night.
If you link the app to your Apple watch, Sky Guide can let you know when events like the International Space Station (the ISS) passing overhead. The app's notification center widget can tell you the rise and set times for the Sun, the moon, and different planets.
If you pay for Sky Guide SUPERMASSIVE, you can zoom in on parts of the sky as well as look and learn about deep space and get some cinematic space tours right on the app.
This app is perfect for World UFO Day because you can hold the app up when something passes overhead and learn what it is immediately. You might be disappointed to find little to no UFOs, but you'll learn something about what's happening in the sky above you no matter what, which is a very valuable thing.
The Sky Guide app isn't free, it costs $2.99. Tap or click here to get the app for iOS.
Related: Leaked Area 51 footage shows alien craft
2. Sky View
For more augmented reality (AR) stargazing during your UFO hunting or telescope time, check out Sky View. It's a free app that, like Sky Guide, lets you point it at the sky above you and tells you exactly what's there.
Some celestial objects you'll be able to see with just your eyes, like constellations and planets, but you can also use the app to figure out where to point a telescope or high-powered binoculars in order to see things that are a little smaller or dimmer.
Sky View can notify you about particular events, like certain satellites passing over (including the Hubble telescope), and there's a Night Mode for the app that controls the brightness and lets you preserve your night vision while you're outside.
Sky View also works with Apple Watch. This one lets you know what stars and planets will be visible tonight and how to spot them. Sky View also lets you track certain objects through the sky and see where they'll be, or have been, on certain dates. Plus you can pull up a map of the entire sky for a particular date and share photos of it on social media.
You may not need Sky Guide and Sky View, as they're quite similar. But Sky View Lite is free (with a more advanced version of the app available for $1.99), and you can get if for Android devices as well as Apple.
Whichever app you choose, you'll get a great AR app for stargazing that will make identifying odd bright spots all the more fun on World UFO day.
Tap or click here to get the free app for iOS. For Android, tap or click here.
3. NASA app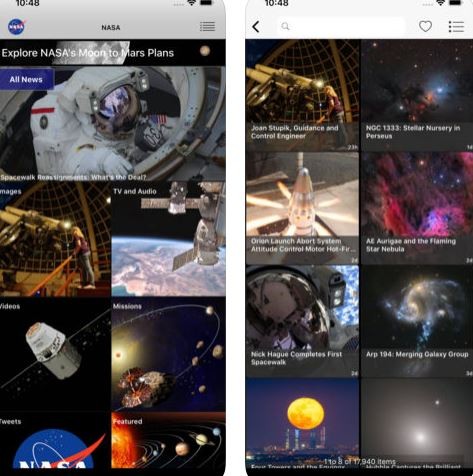 Less AR and more educational, the NASA app has an enormous amount of photos, videos, and articles about space and NASA projects, all coming directly from NASA itself.
The app acts as an encyclopedia of sorts, letting you find content on astronomy and the known universe, plus current and upcoming NASA missions. Use the app to see what astronomical events are happening, manmade or otherwise, and use it as a reference point for any space-related questions you come up with while stargazing.
Within the app, you can watch a live, high definition video of the Earth beamed directly from the ISS at any time. And, you can watch any rocket or satellite launches NASA does the day they occur. The app also features videos of probe landings, when those are available, and pictures that the probes send back to our little blue planet.
You can save pictures from the NASA to a personal gallery in the app, as well as save them to your camera roll and share them on social media if you want to share your love of space with your friends and family. You can also get the app on your Roku, Fire TV, or Apple TV if you want to watch videos on a bigger screen.
The free NASA app is available for both Apple and Android gadgets. Click or tap here to get the app for iOS. For Android, tap or click here.
4. Star Tracker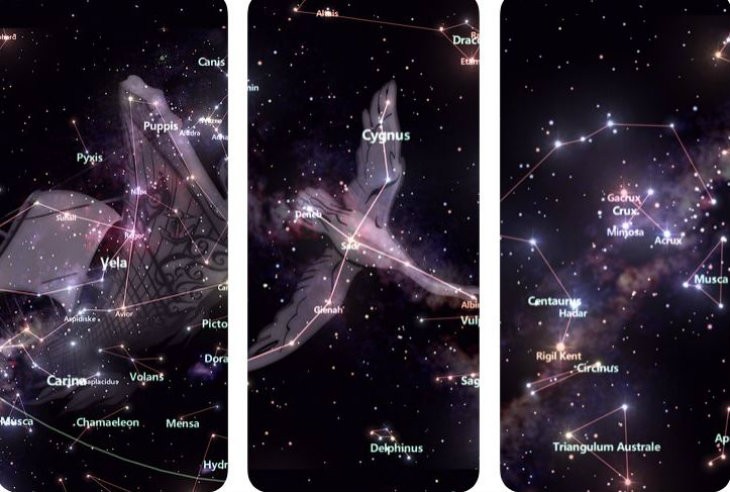 Back to the world of AR astronomy apps. Star Tracker is another free one (with optional in-app purchases for larger catalogs) that you can use to identify celestial objects above you, wherever you are thanks to offline data.
See the sun, the moon, the planets, 88 constellations, and 8,000+ stars all visible to the naked eyes, plus 6 famous deep sky objects and a 3D compass to keep track of where you're looking and where you should look to see objects in real life.
What sets Star Tracker apart from Sky Guide and Sky View is its graphics. Star Tracker really goes out of its way to look like space, rather than a 3D model of it, so objects look like they do in real life. This is true of objects you look at in real time and objects you see via the time machine function, which lets you look at the sky or at a particular star or planet on a particular date and time.
You still get traces over constellations that showcase what shapes the stars supposedly take, but these are more ghostly than they are on other apps, so the actual celestial objects are at the forefront, making you more in awe of the universe.
Like the other AR apps, enjoy the night mode on Star Tracker and the tracking features also available to help with your stargazing. Its catalog might be a little smaller than some of the other AR apps and features basically no satellites, so your UFO hunting might be a little trickier.
But if you want a totally free, gorgeous astronomy app that lets you stargaze in real time without killing your data plan, go ahead and download Star Tracker.
Tap or click here for iOS. For Android, click or tap here.