When Pinterest first staked a claim on social media in 2009, most people didn't quite know what to do with it. Now, it's quietly become one of the most successful social media platforms.
At Komando.com, we love Pinterest, especially since it's evolved from a site with pretty photos to a tool that can help organize everything from life events to small businesses. People also use Pinterest to post the latest news on topics that interest them — like tech news and information.
Our readers love to share our articles, videos and tips. To return the favor, we've come up with tricks and tips you can use to get the most out of your Pinterest account and keep your personal data safe.
1. Organizing your Pinterest page
In the early days of Pinterest, the site was one of beautiful chaos. Users were randomly pinning photos of things they liked with no rhyme or reason.
There's still chaos out there, but your account should work for you. It doesn't take much work to organize your pins, and the results are well worth it. Start by creating boards based on the topics you're interested in. That could be healthy recipes, tech tools, iPhone tips, summer vacation ideas — whatever you'll have fun pinning.
Look at "Digital Goddess" Kim Komando's Pinterest board. You'll see that it's organized under topics such as Do-it-Yourself, Traveling Adventures, My Favorite Apps, Awesome Tech and more.
Well-organized boards will help you keep track of pins you want to come back to later — like a digital scrapbook.
2. Make use of Pinterest's search engine
Many people use Pinterest to get inspiration from everything to destination weddings to how to keep kids occupied during the summer months. This is what makes Pinterest's search engine so great.
Let's say you're planning a destination wedding and are looking for ideas. Type "destinations weddings" in the search engine and this is what you get: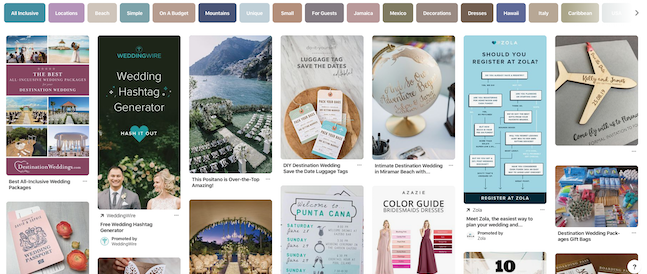 This is just a sampling of all the destination wedding sites we saw. What's great is that just above the sites are boxes with keywords that you can click on to narrow your search.
The more you use Pinterest, the more it will learn about you. That will make your searches more compatible with what you're looking for and you'll get more suggested content that fits your interests.
3. Pin items from Komando.com
We have a lot of friends on Pinterest and we'd like to make sure you stay with us and share our posts with your friends. The more the merrier! (PssT!ap or click here to check out Kim's page on Pinterest).
Pinning an article from Komando.com is easy. When you click on an article you're interested, on the left-hand toolbar, you'll see all the ways you can share the article on social media. Pinterest is right there. Click the button, choose the image you'd like to use and add it to one of your boards.
As you know, we have many helpful tips, DIYs, important news from the tech world and much more. So, pin to your heart's desire.
4. It's still a social media site — be careful
It can be easy to forget that Pinterest is a social media site. So, just like Facebook, Twitter, Instagram and other major social media platforms, your personal information is at risk.
Pinterest has tools available to help you keep your data safe. The site watches for strange activity on your accounts like logins from unusual locations, many logins within a short period of time or other spammy behavior.
If there's any strange activity on your account, Pinterest will send you an email, reset your password and log everyone out (including you).
Be sure to check your emails from Pinterest and follow instructions to make sure your account is secure.
5. Use two-factor identification
Keep your Pinterest login information under wraps. One of the best ways is to use two-factor authentication.
Pinterest allows you to set up a verification code through an SMS message. You will get a new code every time you sign on.
To do this, go to your Pinterest home page, click the three dots on the top right of the toolbar and you will see a dropdown menu. Click on Settings, then click on Security.
To enable the two-factor authentication code, check the box. You can also see what other devices are connected to your account so you can make sure someone you don't know isn't using your login.
Related: See how much time you spend on social media and YouTube
6. Maintain privacy by pinning secretly
While you probably don't mind other people seeing your pinned items, there may be a time when you are trying to find information on a topic that's sensitive to you.
For example, someone you love may be battling a deadly disease and you're grabbing information on the topic but you don't want anyone to know about it. You can create a secret board.
On your Pinterest homepage click Profile, then click on Boards. You will see a square with a plus sign.
Click on the plus sign and you will be given the option to make the board secret. Only people you share it with will be able to see it.
7. Don't let search engines see your profile
Your Pinterest profile, just like your Twitter and Facebook profiles, can be found through search engines. If you don't want this to happen, you can stop it.
To do this, click on Settings, then click on Privacy & Data. Check the box next to Search Privacy. That's it.
Your profile may still show up on search engines for a time. It takes a while for this change to be implemented.
8. Use a unique password
This is something many of us do. We know we need different passwords for different accounts, but it's hard to remember them all.
People are particularly lax on their social media sites. It's easy to just use the same username and password for Instagram, Snapchat, Twitter, etc.
Don't! Go back to all of your social network sites and give all of them unique passwords. It may be a chore, but when you hear about a data breach you won't have to worry that all of your social media sites have been exposed.
9. Block unwanted or abusive users
Because the internet can be a cesspool, we've almost all been forced to block someone from our social media sites. Pinterest is no different.
You know who to block. Usually, the culprits are those who leave abusive comments or harass you or people from your past you want to get away from.
When you block someone on Pinterest, they will not know you have taken such action. Once you block a person, their posts and pins will no longer appear on your daily feed. If for some reason you want to keep tabs on that person, you can still search for them through the search engine.
10. Don't take it too seriously…have fun with Pinterest
What makes Pinterest special is that you can just go in and pin whatever strikes your fancy. Gorgeous jewelry, cute puppies, place settings, homes, motorcycles  — whatever you want.
Have fun with your account. Pinterest is about aspirations, not creating a social media persona for others.
I personally like pinning mugs with funny sayings. "My Spirit Animal Has Rabies" is a particular favorite.