☢️ Highest radiation phones – Is yours on the list?
In partnership with GetKimsHelp
It's Friday! Let's begin with a brain-buster trivia question. What was the first toy advertised on television? Was it … Barbie, Hula-Hoop, Mr. Potato Head or Slinky? Friends, the answer is at the end!
🏆 Hey, be sure you read the story about the new domains. Whoever replies to this email with the best one wins a $25 gift card! — Kim
📫 First-time reader? Sign up here. (It's free!)
IN THIS ISSUE
🆕 New top-level domains
🚢 3D photos of the Titanic
☢️ Phone radiation warning
TODAY'S TOP STORY
You've heard of .com, but what about .dad?
Move over .com and .org. Google just introduced eight new top-level domains that can be used for websites or email addresses. 
Drumroll, please …
The new top-level domains: .dad, .esq, .prof, .phd, .nexus, .foo, .zip and .mov
OK, I can see some use for those. The lawyer, doctor and professor in your life will be happy. But .foo? 
Cybersecurity researchers are worried about two in particular
Those are .zip and .mov. Why? Because ZIP and MOV are file types, too.
And using these file types as top-level domains could be risky since websites and social media will convert anything ending in .zip or .mov to a link.
Say, for example, there are instructions on a website that reference a file called "instructionmanual.zip." The website will now convert this file name to a link automatically. 
That means anyone could buy that same name as a URL — and park whatever they want there. Think malware. Hit that link, and you have a keylogger or worse. Yikes.
There are nearly 1,600 top-level domains
You know the ones like .com, .org, .us and .edu. Here are some you probably didn't know: .actor, .auction, .bible, .buzz, .cheap, .eat, .fish, .guitars, .horse, .kim (really!), .lol, .monster, .pizza, .radio, .skin and .wtf.
Maybe this list will come in handy at your next trivia night.
😆 Challenge: Send us your best URL idea
Whoever can think of the best website URL using one of the eight new top-level domains (.dad, .esq, .prof, .phd, .nexus, .foo, .zip or .mov) wins a $25 gift card.
🥳 Reply to this email with your idea! My submission: ipitythe.foo (I saw you smile!)
DEAL OF THE DAY
🤢 Your earbuds are gross! Everyone's are

Earbuds get pretty nasty. This inexpensive cleaning kit is better than using your fingernail or a toothpick. It includes specialized putty and safe tools to get into every nook and cranny. I was having trouble with one earbud. I cleaned it and they're both like new.
WEB WATERCOOLER
YouTube's slippery slope: A nonprofit studying the connection between YouTube and gun violence created an account simulating a 9-year-old boy who likes video games. It was flooded with videos about school shootings, tips for making firearms automatic and tactical training just by clicking YouTube's "recommended" videos. Very terrifying. 
🆘 Life-saving tech: 10 hikers used Apple's Emergency SOS feature to call for help after getting lost in California's Santa Paula Canyon Trail. The tech uses satellites instead of cellular data or Wi-Fi to text emergency services. Thankfully, everyone was OK. Phew.
🚢 I'll never let you go, Jack: Some 111 years later, we have more than 700,000 new images of the Titanic, creating a digital scan of the ship. You have to see these 3D images. I posted the best photos and a video here on Instagram.
Not in my app store: Montana became the first state to prohibit downloading TikTok at the state level. Starting in January 2024, Apple and Google are banned from offering it in their app stores. If they don't adhere, the penalty is $10K daily.
Weeding out the dummies: New malware targets sensitive info (think passwords and credit card info) stored on Macs. The code is spreading through an executable file called weed.dmg. Just say no to drugs, kids.
Find My Toddler: One mom is getting a lot of flak for tracking her toddlers with Apple AirTags. She uses bracelets like these, and I like these holders that clip onto clothes, too. What do you think? I say our No. 1 job is to keep our little ones safe. 
5-star scam: Clothing brand Fashion Nova just got slapped with a $4.2 million fine from the FTC for blocking bad reviews on its website. If you bought anything, they might owe you some cash.
Router roaches: Imagine the horror of getting a new router from your ISP (Spectrum, in this case) and it's loaded with a huge colony of creepy-crawly roaches. It must have belonged to Snoop Dogg. Watch the video here. You've been warned …
🎧 Want great content on the go?
Sound like a tech pro, even if you're not one. Try my award-winning, daily podcast. Search for my last name with "K" wherever you get your podcasts and "Go Komando!"
TRENDING
Phones that emit the most (and least) radiation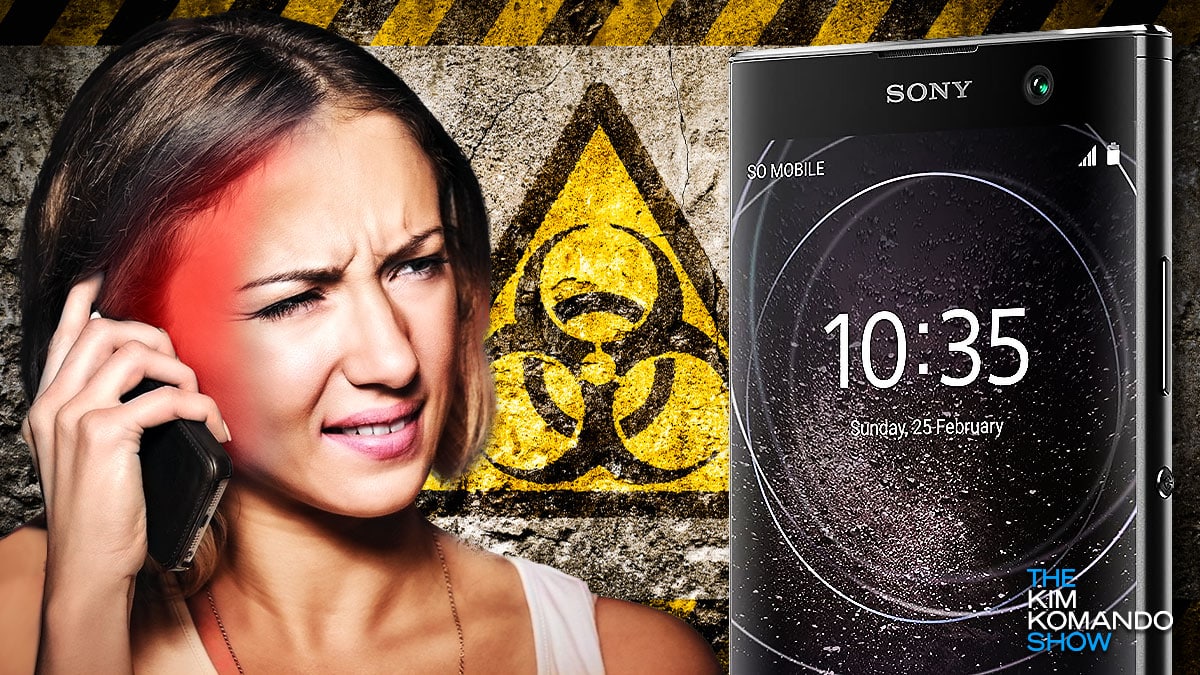 The FCC says the radiation coming from your cellphone is no big deal. A cancer surgeon friend told me he begs to differ. I play it safe and keep my phone away from my body and head as much as possible. (Yes, I'm that person taking calls on my AirPods or speakerphone.) 
Some phones, it turns out, emit more radiation than others. See where yours falls on the list.
What, exactly, are we measuring?
Specific absorption rate, or SAR, is measured by how much radiation is emitted when you make a call with the phone up to your ear.
🤓 Nerd time: It's measured in watts per kilogram of body weight. You don't need to know all the details, just that the legal limit in the U.S. is 1.6 watts/kg.
Livin' on the Edge
These models emit the most radiation:
Motorola Edge – 1.79
OnePlus 6T – 1.55
Sony Xperia XA2 Plus – 1.41
Google Pixel 3 XL – 1.39 
Google Pixel 4a – 1.37
Oppo Reno5 5G – 1.37 
Own a Galaxy Note? Congrats
These phones emit the least radiation: 
Samsung Galaxy Note10+ 5G – 0.19 watts
Samsung Galaxy Note10 – 0.21 
Samsung Galaxy A80 – 0.22
LG G7 ThinQ – 0.24
Motorola Razr 5G – 0.27
What about the iPhone?
 You guessed it: It falls somewhere in the middle. 
iPhone SE (2020 version) – 0.98
iPhone 11 – 0.95
iPhone 12 – 0.98
iPhone 13 – 0.99
iPhone 14 – 0.98
👖 I'd rather be safe than sorry. Men, don't store your phone in your pants pockets. Ladies, keep it out of your bra. Here's why.
Use the icons below and share this important intel with your family and friends.
DEVICE ADVICE
How to split the check (or rental or tickets) the easy way
Your friend bought the big burger and downed a few beers. You didn't. When it comes to the check, do you have to split the payment evenly? 
Venmo and other peer-to-peer payment apps solve that problem. You just pick how to split the check. The apps handle the rest. This also makes paying for big events like concerts, vacations and rentals easy. 
Open the Venmo app and click on Pay in the bottom corner. Tap the names of the people you want to split the check with. 
Enter the amount of the check and click Split. 
Customize the amount for each person. The payment will be split among them. That's it!
✔️ Friend etiquette: You don't need to split a purchase under $5. That's considered rude, or so the surveys say.
| | |
| --- | --- |
| IN PARTNERSHIP WITH   | |
24/7 tech support you can trust
Your printer won't print, your Wi-Fi is acting up, you're locked out of your email … Oops. Wish I could help, but you can always find pro support at GetKimsHelp.com.
Our experts will remote into your device and do it for you, so you can just sit back and watch. I vetted them myself, and it's totally safe to use. They get one-time access, then they can't get on your machine again unless you know about it.
The best part? If they don't fix your problem, you don't pay a dime. Most problems are fixed in about 10 minutes, too!
BY THE NUMBERS
100
The size, in inches, of the virtual display on a new kind of laptop. The Spacetop is a keyboard connected to a pair of augmented reality (AR) glasses. Put them on to view a massive 100-inch screen only you can see. Spoiler: Virtual horns will not increase its ram.
60%
The percentage of Twitter users who are "taking a break." Pew Research shows the timing doesn't necessarily correlate with Elon's takeover … but we have our hunches. Follow me on Twitter here.
100
The number of drone deliveries Amazon has made. Expecting something a little more … impressive? Same. Its internal projection is 10,000 by the end of the year. In some towns, it will be like skeet shooting for prizes.
WHAT THE TECH?
Did you hear about that new cat scam? It's a real purr-amid scheme.

UNTIL NEXT TIME …
🥔 The answer: In 1952, Mr. Potato Head became the first toy advertised on TV. The ads ran during "The Howdy Doody Show." Today, Mr. Potato Head has a smartphone in case Mr. Onion rings.
I sure hope you feel tech-smarter after reading my newsletter. Now, forward it to a few folks who you think would benefit from this intel, too. Thank you! See you in your inbox on Sunday! — Kim
How'd we do?
What did you think of today's issue?