🛒 Get this shopping app off your phone
In partnership with SimpliSafe
It's Thursday! Let's start with a fun Zillow question today for our real estate buffs. The most expensive property listed in the Midwest now is $48 million. Is this a … Chicago penthouse, Indiana farm, Minneapolis mansion or historic St. Louis compound? Answer's at the end.
Welcome back to another thrilling edition of the best tech newsletter in the USA! Buckle up because we've got an exciting lineup of tech news and updates to dive into. — Kim
🥇 First-time reader? Sign up here. (It's free!)
IN THIS ISSUE
🙅 Not worth the "deals"
🤏 Cheaper Echos
👨‍🏫 ChatGPT cheating scandal
TODAY'S TOP STORY
Seriously, stop using Temu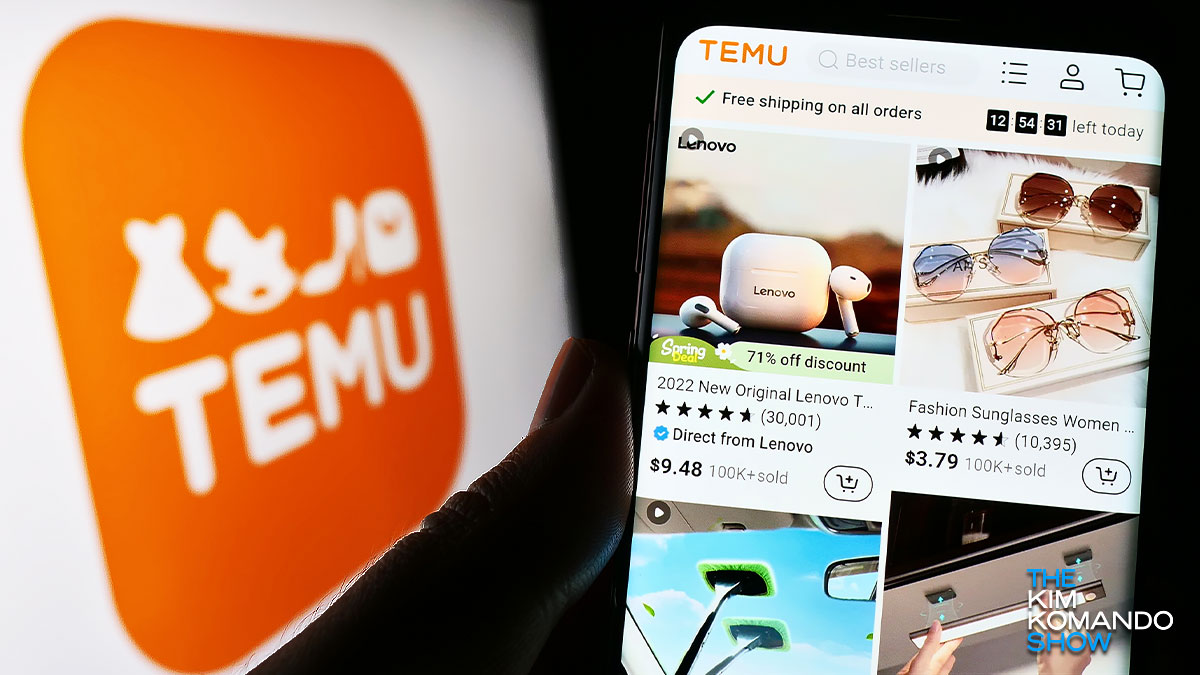 It took just 17 days for China-based shopping app Temu to whizz past Instagram, WhatsApp, Snapchat and Shein in the Apple App Store top downloads in the U.S. (Amazon is nervous about this, FYI).
I warned you about Temu's security problems back on April 10. Its sister app, Pinduoduo, was caught using malicious code to bypass cellphone security settings to spy on other apps, read notifications and messages, and even change settings.
Now, the U.S. government has accused Temu of data risks. To our subscribers with a White House email addy … glad you're reading. 
On a slow boat from China
An HD Wi-Fi security cam for $6.98. An Android fitness watch for $8.38. A $7.99 wedding dress feels like bad vibes, with even the cake in tiers.
You might get lucky and find a gem that lives up to the description, but I wouldn't bet on it. Shipping is slow, too, since they're coming from China.
In exchange for those cheap goods and prices, Temu makes money with your data. The app requests 24 permissions on your device, including access to your Wi-Fi network info, Bluetooth, photos and videos, contact info and payment details. Yikes.
What about the website?
If the app is off-limits, is the website safe to use? Sorry, but no. You're still handing over (at a minimum) your full name, address, phone number, email and payment details.
The more permissions an app requests …
… the more you should consider whether it's truly worth having on your smartphone. Don't see the big deal? Think about all you do on your phone: Have private conversations with friends, log into your banking app, type in passwords, enter your credit card info and more.
🦺 Keep these security smarts in mind before you hit "install" on Temu:
Biometrics (like fingerprint and face scans) should be stored locally, not sent back to an app's servers. (Temu's e-commerce buddy Pinduoduo does this.)
Limit all the permissions you can. Turn off access to your camera, microphone, GPS location and anything else you can. 
Read the reviews. No, you can't trust them all, but scan for reports of strange phone behavior after installation. That's a sign of malware.
I wrote about this in a USA Today article, too. It includes the right way to remove Temu from your device. Spoiler, deleting the app isn't enough.
✅ It's hard to tell what's legit and what you should avoid. I've got your back. I compiled a list of Communist China-based apps you should get off your phone now. This story is def worth sharing, folks.
Go ahead, use the links below right now to spread tech knowledge.
DEAL OF THE DAY
🔥 Smokin' deal on a 16GB iPad Air

This refurbished Wi-Fi model has a 9.7-inch retina display, a speedy Apple A7 processor and an 8MP iSight camera. This killer tablet normally sells for over $250!
WEB WATERCOOLER
Peek-a-boo: When you upload a password-protected ZIP file to the cloud, its contents are now scanned. Microsoft says it's looking for malware, so assume other cloud providers are doing the same. Yup, the info inside password-protected files isn't as private as we thought. 
Cheaper Echos: Amazon just dropped an all-new $39.99 Echo Pop smart speaker, $89.99 Echo Show 5 and $99.99 Echo Show 5 Kids and really nice $39.99 Echo Buds. If you've been holding out for lower Echo prices, the time is here.
🤗 Money-saving PSA: I showed my friend Jane this page and she hugged me. Check out Amazon's coupon page. You'll find real coupons to save 50%, $100 or more. Def worth scanning now and then since the deals change often.
Uber updates coming soon: Including reserving a ride with a car seat, family profiles so teens can book using your card, group rides and reservations by calling 1-833-USE-UBER. Perfect pass-along for those app-challenged people in your life.
⚽️ Free month of MLS Season Pass: For all you soccer fans, courtesy of Apple. (The regular cost is $14.99 monthly.) Use this link and don't forget to set a reminder to cancel before your free 30 days is up. Goooooal!
Bonus dash cam: The latest Android code update from Google shows you could soon use your Android smartphone as a bona fide dashcam. It'll start recording as soon as it connects to your car and stop once you turn it off. Neat.
🐊 See ya later: Workers in Oviedo, Florida, sent a robotic cam into a storm drain to investigate potholes … and found what may be your worst nightmare: A huge alligator. Watch here if you're feeling brave.
🎧 Want great content on the go?
Sound like a tech pro, even if you're not one. Try my award-winning, daily podcast. Search for my last name with "K" wherever you get your podcasts and "Go Komando!"
TRENDING
AI cheating scandal or cranky professor?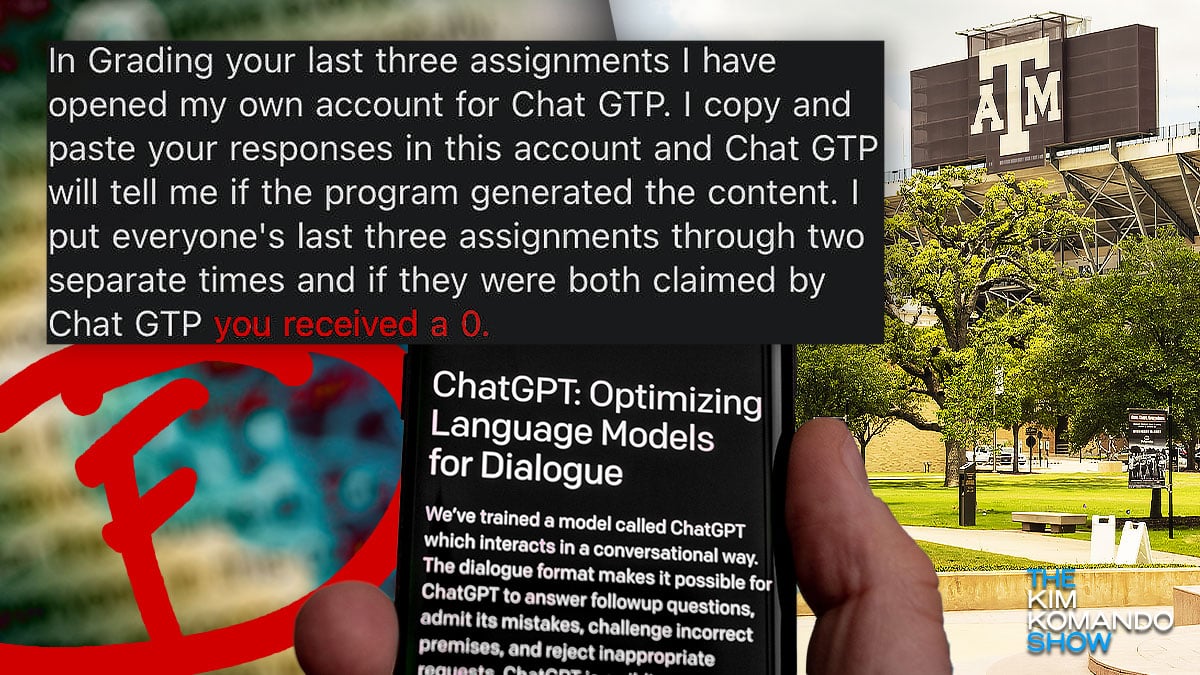 A Texas A&M professor failed more than half his students for using ChatGPT to write their papers. The problem? Most of them didn't.
Unfortunately, Dr. Jared Mumm's more of a "fail first, ask questions later" kinda guy.
His first mistake …
The agricultural sciences and natural resources professor says he submitted three essays from each student into ChatGPT to test whether they used it to write their assignments.
He put students' work through "two separate times and if they were both claimed by ChatGPT, you received a 0." 
When asked about final grades, Dr. Mumm pulled a Gandalf: "You shall not pass." Most of his students (who had already graduated) had their diplomas put on hold.
His second mistake …
Mess with someone's diploma and you can bet it'll end up on social media. A Redditor says several students showed the professor their timestamped Google Docs to prove they wrote the papers. 
He "ignored the emails, instead only replying on their grading software in the remarks: 'I don't grade AI bullsh*t.'" 
One student, though, reportedly received an apology after proving they wrote their papers. Two more admitted to using the software, which, of course, makes this all a lot messier for those who didn't.
ChatGPT isn't good at catching copycats
So, how can you tell if students are cheating? ChatGPT wasn't designed to spot its own work. Luckily, some programs are, including Winston AI and Content at Scale.
Oh, by the way, Texas A&M says it's investigating and none of the students are barred from graduating. 
🧑🏻‍🏫 If you're a teacher or know one, this is definitely info worth passing along so they don't make the same mistake. Use the sharing icons right below here.
DEVICE ADVICE
🎛️ Secret menu in your TV
Nope, not blocking advertisers from spying, as we talked about yesterday. Most modern TVs have a secret "service menu" where you can tweak advanced settings and features unavailable in the regular menu. 
Before changing any settings, know that some could damage your TV. Stick with picture quality, color calibration and sound settings. Here's how:
Turn on your TV and press the menu button on your remote. 
Go to the settings or advanced settings menu. 
Now press the following buttons on your remote in this order: Mute, 1, 8, 2, power. This should bring up the service menu.
From here, you can more accurately adjust the white balance, do a factory reset, adjust color levels or calibrate the screen.
🛑 A final word of warning: Not all TVs have a service menu, and accessing it may void your warranty. So, you know, don't teach your grandma how to do this.
| | |
| --- | --- |
| IN PARTNERSHIP WITH   | |
24/7 whole home protection
Whether you've got a full house or you live alone, you don't need to live in fear. The right tech can help you stay secure, and you don't need to spend an arm and a leg.
SimpliSafe is an award-winning DIY home security system, engineered with the latest tech to keep you and your family safe. With SimpliSafe, you order what you need, it arrives in a box with great instructions, and, in about 15 minutes, you're done!
Right now, save 20% on your SimpliSafe security system — and get your first month free when you sign up for Interactive Monitoring. Comes with a 60-day money-back guarantee and free return shipping!
BY THE NUMBERS
1,000
The number of subscribers a YouTube channel needs to make money. Along with 4,000 watch hours or 10 million YT Shorts views. Easy, right? Pro tip if this is your goal: Longer videos get you there faster.
75
The number of days this researcher has lived underwater. That's a new world record for Dr. Joseph Dituri, who's spending 100 days in an undersea lodge to test how humans fare under constant extreme pressure. The thing he misses most? The sun.
81%
The score ChatGPT got on a radiology board-style exam. Soon, a bot will diagnose broken bones or evaluate your CT scans. You can't lie to it, either. This bot will see right through you.
WHAT THE TECH?
Honestly, I'm relieved that's the angle he chose.

UNTIL NEXT TIME …
🚜 The answer: Big Tree Farm in Indiana is listed for $48M. It's 550 acres (almost one square mile) with a primary home, guest quarters, honky-tonk roadhouse, nice 1950s diner and classic car museum. If you buy it, I'll come visit. Promise.
✅ Hey, do me a favor and follow me on social. I'm on Instagram, Twitter, YouTube, Facebook and everywhere else, too! See you back in your inbox tomorrow. — Kim.
How'd we do?
What did you think of today's issue?