📺 Free smart TVs: Too good to be true?
In partnership with Divvy
Happy Wednesday! Let's start with a little tech trivia. Elon Musk (of SpaceX, Tesla and Twitter) believes underpopulation problems need to be solved. How many biological children does he have? Is it 3, 5, 8 or 10? Friends, the answer is at the end.
🤝 Be sure to support this free email by checking out the deals from our sponsors. Thank you! Now, I had a blast putting this newsletter together. Warning: Massive tech-know is ahead! 
📫 First-time reader? Sign up here. (It's free!)— Kim
IN THIS ISSUE
📺 When free isn't really free
👁️‍🗨️ Facial rec at the airport
🏦 Bank of America payout
TODAY'S TOP STORY
Get a free 4K TV … with 1 key trade-off
A startup from the co-founder of Pluto TV is giving out 500,000 free TVs. Yep, you me heard right. The 55-inch 4K models from Telly have all the bells and whistles. The only catch? 
You pay with your data.
One long commercial break
The TVs have 4K HDR displays (not the very best you can buy, but totally solid), a built-in five-driver soundbar and a free 4K Android streaming stick. You can control it with your voice — by saying, " Hey Telly" — or through built-in motion sensors. There's a camera in there, too. Sweet for video calls.
The kicker: About a quarter of the second smaller screen that sits under the main screen shows you ads. And you can't opt out of any tracking done by your new free TV. More on that below.
How smart is too smart?
You've probably noticed how cheap smart TVs are compared to phones and computers. In reality, all smart TVs are tracking what we do and watch — then packaging that up to sell to advertisers. 
This is super interesting. Vizio made $1.6 million in gross profit selling TVs in the first quarter of 2023. But, the company earned $73.8 million in profits on its Platform Plus business which includes selling advertising and viewer data. Yup, Vizio TVs are just there to sell ads and data.
When the product is free …
You're the product. I say this all the time. To see what they get, look no further than the terms of service. I read it so you don't have to.
You've got to keep that TV connected to Wi-Fi at all times and you can't block any ads anywhere on your network. They get your name, personal details, what you watch and … basically any other data they can glean from your TV habits.
How deep does this tube go?
Here's what Pozin told Fast Company. "We know where you live, what your income bracket is — obviously it's all anonymized — but we know what car you're driving. We know when your lease is up. We know where you shop. We know what your favorite sports teams are, et cetera."
Hey, at least he's not being sneaky about it …
Want to take a byte?
To use the TV, you also have to download the Telly app. I didn't read those terms and conditions, but I'm sure there's a lot of data tracking and selling going on in there, too. You have to give the guy credit for being upfront about selling your data. As for me, I'll pass on the Telly. You can join the waitlist here. 
✅ I bet the TV in your house is tracking you. Here's how to make it stop on Vizio, LG, Samsung and more.
DEAL OF THE DAY
Sick of Wi-Fi dead spots

You need a Wi-Fi extender! This super-popular model from TP-Link covers up to 1,200 square feet and connects up to 20 devices. Plug it into an outlet and set it up in two taps. These are great for areas of the house with spotty connections. Ahh, more bars in all places!
WEB WATERCOOLER
Healthcare hacked: PharMerica, a national pharmacy network owned by BrightSpring Health, was hacked. Almost 6 million people had their Social Security numbers, names, birthdates and medical info exposed. If that's you, freeze your credit report.
New to Bing ChatGPT: You'll now see images with your answers and you can copy answers to your clipboard. It's only a matter of time before we get even more images using Bing AI (*cough* advertisements *cough*).
Too bad, so sad: A security flaw lets hackers take over the Wemo Mini Smart Plug V2. Manufacturer Belkin won't fix the issue since the model is no longer supported. If you have one, get rid of it.
🎤 Clone yourself: Apple's next big iPhone update includes Live Speech, aimed at people with conditions that can affect speaking ability over time. Record 15 minutes of audio to create a digital copy of your voice for use in-person or on the phone.
Guinea pigs wanted: Google is looking for companies in in Austin, Texas; Huntsville, Alabama; Raleigh-Durham, North Carolina; and Salt Lake City, Utah, to test its 20-gig internet speed. That's … really, really fast. Apply here. Bonus: Free internet!
Money doesn't buy happiness: Our HR and Finance Director, Amber, has a free online class on her radar: Yale's 10-week "The Science of Well-Being" course. The big takeaway: Many of the things we want aren't actually the things that make us happiest. Hey, take this class and you can say, "I go to Yale!"
BofA's big payout: Bank of America is paying out an $8 million class-action lawsuit settlement for charging repeated fees for insufficient funds. You might be owed if you had a checking or savings account that incurred fees between May 19, 2017 and Feb. 16, 2023. Details here.
🏍️ Glug glug vroom vroom: Ky Michaelson from Minnesota has invented countless machines, holds a ton of patents and has set dozens of speed records. His latest creation: A beer-powered motorcycle that runs on a 14-gallon keg. Take a minute right now! You have to see this thing.
🌞 Your new morning routine
Every morning, brush your teeth to my Daily Tech Update. You get fresh breath and fresh tech know-how in a minute.
TRENDING
Smile! You're on the airport cam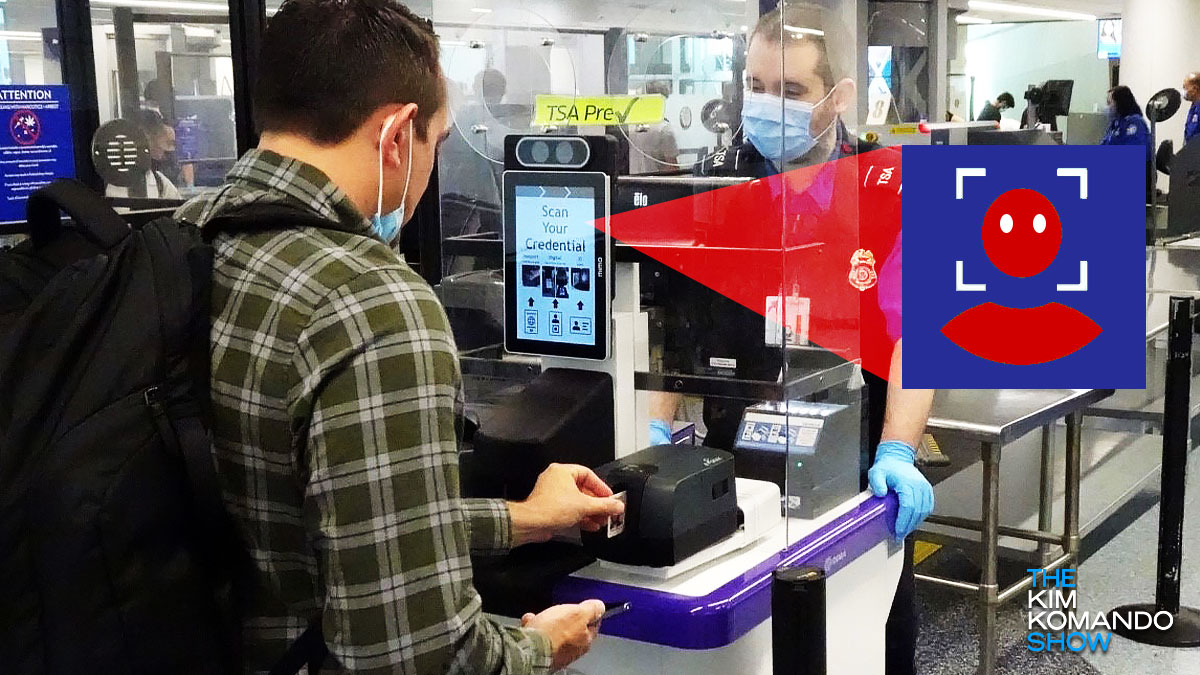 Be on the lookout for face-scanning tech next time you fly. Airports in Atlanta, Boston, Dallas, Detroit, Las Vegas, Los Angeles, Miami, Orlando and a few other cities are using facial recognition to speed up the security process. Worth it or invasive? Depends on who you ask.
Hurry up and wait
That's the name of the game when it comes to travel. Wait times are out of control, and the Transportation Security Administration (TSA) says facial recognition tech will make the process much more efficient.
You'll insert your driver's license or passport into a card reader. A camera will compare your face to the one on your ID. An agent approves once the screen is done and you're on your merry way. Many airports in Europe use this technology.
🛑 Hold on there
TSA says it won't be mandatory, but several U.S. Senators are still worried about privacy. Sens. Jeffrey Merkley, Edward Markey, Cory Booker, Elizabeth Warren and Bernie Sanders wrote an open letter.
Regardless of politics, they make a good point: Most people won't know they can opt out of the process or know how to do it. They say facial recognition also lacks transparency, consent and encryption. 
What happens if that database is breached?
You better believe it's going to be a prime target for hackers. I'm all for convenience (I hate lines, too), but let's make sure the TSA process is safe and secure, too.
🙃 Nerd joke alert: A photon is going through airport security. The TSA agent asks if he has any luggage. The photon says, "No, I'm traveling light."
DEVICE ADVICE
Skip the sob story, get the recipe
You found a promising recipe online, but the author has a 3,000-word story on how deeply meaningful those chocolate chip cookies are — and there are pop-up ads everywhere. Annoying.
Want to skip the story and jump straight to the steps? I've got two smart methods to share with you:
Copy the recipe's URL into Just The Recipe. Like magic, it'll give you the ingredients and steps you need. There's an app and Chrome extension, too, if you love it.
Or, try this insider tech trick. On a PC, hit Ctrl + F and type "Print" to quickly find the recipe. On a Mac, it's Command + F. 
🧑‍🍳 I get requests all the time for ways to store recipes. Here are some of my favorite methods.
| | |
| --- | --- |
| IN PARTNERSHIP WITH   | |
Stuck in Financeland? Demo with Divvy and get $200
Do you manage finances for your company, for your own small biz or for your growing side hustle? Finance pros love Divvy. Its expense management and business budget software is easy to use, free and makes those time-consuming tasks so much easier.
You can control budgets, automate things you do month after month and manage how much you spend. I built my business from the ground up, and I know how important it is to keep those costs in line in order to grow.
Schedule a demo of Divvy, BILL's spend and expense management solution, before National Accounting Day on May 19, and Divvy will send you a $200 Amazon gift card. Seriously, all you have to do is schedule the demo.
BY THE NUMBERS
50%
The percentage of web traffic that came from bots in 2022. Automated and malicious web activity also went up. Expect that number to grow as ChatGPT and other AI tools do, too. One time, I wrote a bot to get around a web security certificate. It managed to evade captcha.
2 years
The time it takes for your Google Account to be deemed "inactive." Log in to your old account(s) before the end of the year, or you'll lose your email address and messages, Drive, Docs, Photos backup, Calendar events and everything else.
2 hours
The length of a flight from NYC to London by 2030. New research from the U.K. Civil Aviation Authority says traveling at supersonic speeds will be here before you know it. The time from London to Sydney flying that fast? Just 2 hours. Wow, in no time at all, you could be joining an Australian game party in the LAN down under.
WHAT THE TECH?
 It was just a matter of time.

UNTIL NEXT TIME …
🍼 The answer: Elon Musk is the father of 10 children with three women, including a pair of twins and a set of triplets. 
His kids' names with Grimes got a lot of attention. Their son's name is X Æ A-A12. Grimes said the X stands for "the unknown variable," Æ stands for "my elven spelling of Ai," and A-12 is the "precursor to SR-17 (our favorite aircraft)."
Their daughter's named Exa Dark Sideræl. Exa is a supercomputing term, exaFLOPS, while Dark represents the unknown and Sideræl means the true time of the universe.
😂 And here I thought Kim Komando was a strange name! Be sure to forward this email to a few folks. Together, we can make this world a better, safer tech place. See you tomorrow! — Kim
How'd we do?
What did you think of today's issue?