In partnership with Dr. Marty
Hello, Tuesday! Let's start with a trivia question. These famous tech companies all started in a garage, except for Microsoft, eBay, Amazon, Apple or Google? Answer's at the end!
✅ Share the know-how. When you see icons for Facebook, Twitter, LinkedIn and email, click one to instantly share that story with your coworkers, family and friends. Now, get ready to blast off into the latest and greatest in tech news and goodies. — Kim
IN THIS ISSUE
🤔 AI's true power is good
🚨 Update everything
👟 Google shoes patent
TODAY'S TOP STORY
"Alexa, run a 5K"
Would you have a computer chip implanted in your brain? Now, what if that tech could combat paralysis, crippling depression, deafness or blindness? Sounds like a science-fiction novel, but the tech is here. 
A Utah company has already placed brain chips in about three dozen patients. So far, these chips have allowed people to control robotic arms and wheelchairs, play video games, and even feel sensations in paralyzed areas of the body. Truly amazing stuff.
High-five, AI!
The NeuroPort Array was developed by Salt Lake City-based Blackrock Neurotech (no, not that Blackrock). It attaches to the brain via 96 tiny needles (yikes!) and reads electrical signals — i.e., thoughts — that translate into real-world actions.
Say someone is learning to use a robotic arm. They may think, "Lift my hand." AI software decodes the signal, relays it to the prosthetic and, boom, that hand is lifted.
What's on the horizon?
Blackrock Neurotech's first chip was implanted in a human back in 2004. Now, they're seeking FDA approval for brain chips designed for at-home use to help patients with paralysis move independently again.
They're also developing microchips to restore hearing and vision, improve memory, and battle anxiety, PTSD and depression.
Pump the brakes, Elon
Elon Musk's company, Neuralink, has similar plans. But the FDA rejected its human-implant trial in 2022, citing dozens of issues to be addressed before human testing.
Chief among those? The fact Neuralink's implant runs on a lithium battery (I don't want one of those in my brain, thanks), the potential for the wires to move to other parts of the brain, and concern as to whether it can be removed without damaging brain tissue. No bueno.
Elon thinks Neuralink's on track for FDA approval this spring, but staffers are reportedly more skeptical — rightfully so.
Listen, Tesla isn't exactly known for its attention to user safety. They've been working on self-driving cars since 2014, and, last I checked, they were still dealing with issues like steering wheels flying off. I think I'll pass on the "self-thinking" brain software.
But I want to know what YOU think. Come tell me here on Twitter!
🧬 Jellyfish have survived over 650 million years without brains. This gives me hope for humanity. Now, share this story with your peeps.
DEAL OF THE DAY
🐭 Cut the cord

Now that I'm used to a mouse without a cord that gets stuck on everything, I can't imagine going back. This mouse is easy to set up, has a built-in, rechargeable battery and is compatible with virtually any computer. It's the perfect upgrade to your desk setup.
WEB WATERCOOLER
Phone scam warning: If an Amazon customer service rep (or anyone else) asks you to download an app called AnyDesk, hang up immediately. IT pros use this remote-access software, but it's also a handy tool for scammers. Victims have lost thousands to criminals pretending to work for Amazon, Etsy and PayPal. Watch out for this scam!
Listen up: Podcasts just landed on YouTube Music. Bonus: Unlike music or videos, you can listen to podcasts on YouTube Music with your screen off or without the internet, all for free. Wanna try it? Listen to Kim Komando Today or my Daily Tech Update. Warning: My podcasts are addictive.
On the map: Own a business? Get more eyes (and customers) by listing your business on Apple Maps. You can now add photos, hours and special info, too. Definitely worth doing to keep all your iCustomers happy. Not for you? Tell someone who owns a business.
Hack the planet: Are satellites in space safe from hackers? Turns out, nope. The European Space Agency invited good-guy hackers to take control of one of its demo nanosatellites. Not only did they break in, but they sprinkled in some malicious code. I don't think they planet.
Coming to a foot near you: Google has patented machine-learning … shoes? The shoes use several sensors to analyze workouts and tell what kind of exercise you're doing (upper body included). Beats a clunky armband or glassholes. Honestly, pretty nifty tech coming out soon.
Uber trappings: A new report shows the most forgotten items in Uber rides include phones, wallets, keys, jewelry and headphones. Also left behind: Dentures, weed, a Danny DeVito Christmas ornament, a fire sword, a remote-controlled vibrator, chicken wings, six cheesecakes, painted rat traps and one used Gucci loafer. (OK, how did that happen?)
🎧 Want great content on the go?
Sound like a tech pro, even if you're not one. Try my award-winning, daily podcast. Search for my last name with "K" wherever you get your podcasts and "Go Komando!"
UPDATE UPDATE
3 big updates from the Big 3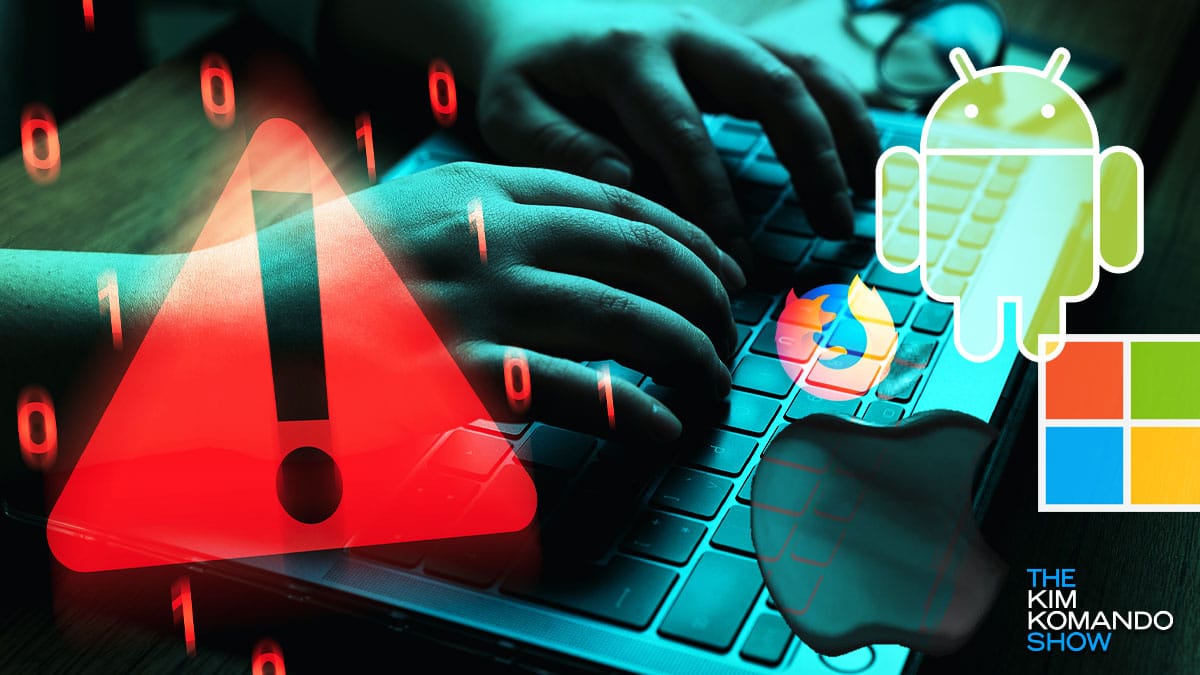 It's not often the heaviest hitters get punched around the same time, but Apple, Microsoft and Google all found and patched previously unknown flaws in April. Hop to it and update right now!
Update your iPhone: iOS 16.4.1 launched hot on the heels of iOS 16.4. It addresses two flaws, both of which allow attackers to run commands on your phone.
Go to Settings > General > Software Update. 
Tap Download and Install.
Update your Android: Google released multiple updates for Android phones, with the most critical flaw enabling attackers to remotely access your device no matter where you are. Gulp.
Go to Settings > System >System update.
Update Windows: Microsoft's Patch Tuesday for April included a fix for a bug that allows attackers to grant themselves the power to steal data, run commands or deploy malware. There were 98 vulnerabilities.
Windows 11: Go to Start > Settings > Windows Update > Check for updates. If an update is available, select Download and install now.
Windows 10: Go to Start > Settings > Update & Security > Windows Update > Check for updates. If an update is available, select Download and install now.
Your best defense is a good offense
Unknown, aka "zero-day," vulnerabilities are ones hackers are actively using, meaning the bad guys found them before security researchers and software developers.
💻 Arnold Schwarzenegger was asked to update his laptop to Windows 10 but said, "I still love Vista, baby."
Go here for step-by-step instructions to set up automatic updates, along with zero-days spotted in Chrome and Firefox.
DEVICE ADVICE
🍌 Phone spam safety tips
The phone rings, and as soon as you pick up, a robotic voice says you owe money to the IRS. Spoiler: It's a scam. Here's how you can fight back:
Don't say a word! Just hang up. It only takes three seconds for a scammer to steal your voice. If that happens, they can use it to get into your banking apps and even to extort your family members out of money.
If you don't want to hear from them at all, try a call-blocking app. There are a ton of options out there, like Truecaller, Hiya and Robokiller. There are tools from your carrier, too.
Don't fall for the old "press this button to speak to a person" trick. That's how those scammers get access to your info and put your number on a hot list to call.
PSA: Stop giving out your real phone number to every person or company that asks.
| | |
| --- | --- |
| IN PARTNERSHIP WITH   | |
My Abby loves this so much
My golden retriever, Abby, was itchy, and her poop was smelly and gross. I was a bad dog mom. I was buying big-name dog food that was loaded with garbage — animal parts and wood pulp.
Veterinarian Dr. Marty Goldstein helped us both. His Nature's Blend is a premium freeze-dried, raw dog food made from real cuts of raw turkey, beef, salmon and organ meats.
Abby doesn't itch anymore and has high-quality, pleasant-to-pick-up poop. As a reader, save 54% on your first order, plus get a free bag of dog treats! Let Dr. Marty's 45 years of experience help your dog, too!
BY THE NUMBERS
64%
The percentage of the global population online. That's about 5.16 billion people posting pictures of food, doomscrolling and shopping for things they don't need. Get this: Most people now access the internet through their phones.
$1 billion
The box office earnings for "The Super Mario Bros. Movie" so far. This is a far cry from the 1993 box office bomb starring Nintendo's mascot. The Italian plumber's entry into the billion-dollar club has him rubbing elbows with the likes of Avatar, Luke Skywalker, Iron Man, Frodo, Batman and Harry Potter. A-wahoo!
300
The ratio of Chinese hackers to FBI agents. FBI Director Christopher Wray says China has a bigger hacking program than every other major nation combined and has stolen more personal and corporate data from the U.S. than all other nations combined. Sleep well.
WHAT THE TECH?
I def would have done this with my son, Ian, when he was little!

UNTIL NEXT TIME …
🏡 The answer: eBay. Pierre Omidyar started "The AuctionWeb" in September 1995 in his living room. The first item sold was a broken laser pointer for $14.83.
If you love this newsletter, make sure you're on the list to get our new-and-improved Current Tech Hacks, launching soon! Sign up here now while you're thinking about it.
🤗 Make it a great day, and I'll be back tomorrow with another fabulous, free newsletter. — Kim
How'd we do?
What did you think of today's issue?