In partnership with Dell
Thursday already?! This week is flying by. ✈️
Speaking of, there's a company called Unclaimed Baggage that sells off stuff left behind in planes. Which did they actually find? A NASA camera, a first-edition copy of "Pride and Prejudice," an iPhone prototype or a boa constrictor? Answer at the bottom! 
It's a busy tech news day and you'll be up to date in no time. Do me a favor and tell a few friends about our newsletter. That would be swell! — Kim
IN THIS ISSUE
👀 LinkedIn upgrade
❓ Warren Buffet's 1st question for AI
🖥️ Windows warning
TODAY'S TOP STORY
TSA PreCheck comes to … LinkedIn?
Well, not exactly. But identity verification company CLEAR is bringing its talents to an unexpected place: LinkedIn's professional social platform.
LinkedIn is the go-to spot if you're looking for a job or want to network with someone. It's also a prime target for scammers. LinkedIn knows that — and it's doing something about it.
Verify your identity with CLEAR
Yes, CLEAR, as in the private sector version of TSA PreCheck. The service lets you sign up at most airports to skip the security line in exchange for scanning your fingerprints or eyes. 
Starting this month, you can verify your identity on LinkedIn using CLEAR. You can create a CLEAR account for free if you don't have one. Just get ready to provide a government ID and phone number. (At least there's no carry-on limit!)
Or use your company email
I get it, not everyone wants to give out that much info. A less involved process is coming soon: Verifying your current employer via email. You type in your work email, then LinkedIn sends you a security code.
Pro tip: Your work email has to match your company's current email domain, and you'll have to update this once a year. No company email means no verification.
Is it safe to use?
I checked the CLEAR privacy policy and it states that they take measures to protect the security of personal information they collect and process. They also don't share personal information with third parties for marketing purposes without consent. Seems legit.
I recommend not using your personal cell phone number when signing up. An easy workaround is to use Google Voice or a burner app. But hey, at least all this is free and revolves around proving your identity, rather than paying for a stupid blue checkmark. Checkmate, Twitter.
DEAL OF THE DAY
Click and light

I love candles, but I hate buying disposable lighters! This lighter is USB rechargeable, so it's never out of lighter fluid, won't stop working if it's windy and is super easy to use. I'm never going back to a normal lighter. Just push a button for fire. Easy peasy.
WEB WATERCOOLER
Update your PC! The latest Windows Patch Tuesday fixes 97 issues — seven classified as critical. Yikes. One is a "zero-day" flaw, meaning hackers are already using it. The takeaway: Go update. Right now. 
Cha-ching: Next time you need to return an Amazon order, think twice about where you do it. If you go to a UPS Store when Whole Foods, Kohl's or Amazon Fresh is the same distance or closer, you'll have to pay a new $1 fee. It's not a lot, but I know all my returns add up.
Calling all wordsmiths: I had a fabulous guest on my show. Andrea was sick of real estate and decided to pursue freelance writing. Get this: She's making $15,000 a month. Not bad, eh? See how she does it.
Attn math nerds: I love the New York Times daily game Spelling Bee. If you're more of a numbers person, try the beta version of Digits. You get six numbers to add, subtract, multiply or divide to reach the goal number. There are three types of people in the world … Those who are good at math and those who aren't.
Like Dear Abby, but better: One of my favorite subreddits is "Am I the Ahole?" Where folks ask questions like, "AITA for liquidating my daughter's college fund after my husband died to pay for my dream house in Malibu?" (Yeah, you are.)
Out of this world: NASA has a new interactive map that shows Mars, and all craters and cliffs, in crazy detail. Play around with it here. It's comprised of 110,000 images — the highest-resolution image of Mars that exists. There was a dead cat discovered on Mars. Curiosity killed it.
🎧 Want great content on the go?
Sound like a tech pro, even if you're not one. Try my award-winning, daily podcast. Search for my last name with "K" wherever you get your podcasts and "Go Komando!"
TRENDING
"Hold on, honey, I'm callin' Bill!"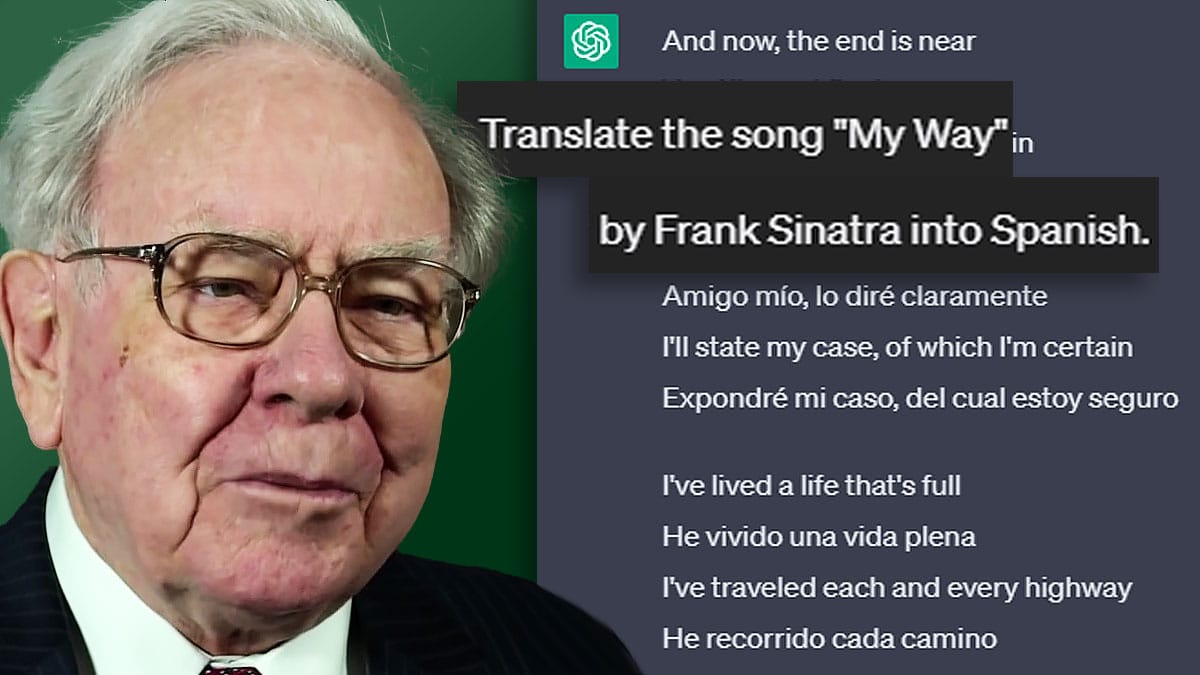 Feeling a little confused about ChatGPT? You're not alone. Warren Buffett, the genius investor worth billions, was too … Until Bill Gates showed him the ropes. Nothing like having a billionaire on speed dial!
The first thing Buffett asked?
Translate ol' Blue Eyes … 
"I actually said take the song 'My Way' and write it in Spanish," he said on CNBC. "Two seconds later, you know, it comes out […] and does all these wonderful things."
AI is still working on its standup
Here's something Warren and I totally agree on: "It just doesn't know how to tell jokes" (My puns are way better). But, Warren says, it's read every book and every legal opinion. "The amount of time it could save you … is unbelievable."
Seriously. Here's what you might not want to put into ChatGPT, in case you missed it.
Fun fact: I sat next to Warren when I was voted by Fortune Magazine "One of the Most Influential Women in America." He and I got to chatting. I asked him for stock advice, he laughed.
I told him it must be great to be the only guy in a room with thousands of women. I'll never forget what he said next. "Kim, the only way I could get in a woman's panties was buying the company Hanes underwear."
DEVICE ADVICE
How the cookie crumbles
I love cash. Cookies are great, too. Cache and tracking cookies? Get 'em out of here. They're (admittedly helpful) little files that store info in your browser so you don't have to log in every single time, and the stuff you add to your cart on shopping sites stays there for next time.
But they also weigh down your browser and should be cleared periodically as part of your tech privacy maintenance. Since many of you use Chrome, I've included steps for that browser below. 
🍪 Use Safari, Edge or Firefox? Get the steps here — scroll to No. 5.
On your computer, open Chrome. At the top right, click the three stacked dots. 
Click More Tools > Clear Browsing Data …
At the top, choose a time range. To delete everything, select All Time.
Best sure to check the boxes next to "Cookies and other site data" and "Cached images and files."
Click Clear data. Voila!
By the way, your phone is full of cookies, too — here's how to clear those out.
| | |
| --- | --- |
| IN PARTNERSHIP WITH   | |
I wish I could help every one of you
That's where the pros at Dell come in. We use Dell gear at Komando HQ. Dell laptops, PCs and servers power my national radio show, podcasts, this newsletter and everything else we do.
If you're shopping for your small business, side hustle, new venture, you name, you can chat with a small-biz expert to get totally free advice on the right hardware. No obligation to buy, either.
If you're ready to replace that slow, old laptop or PC that takes forever to start up, reach out to Dell today. You'll thank me later.
Call a Dell Technologies Advisor at 877-ASK-DELL or go to Dell.com. →
BY THE NUMBERS
86% to 94%
The accuracy with which AI can detect early lung cancer. Lung cancer is the third most common cancer in the U.S., the leading cause of cancer death — and most treatable when detected early. AI tool Sybil shows huge promise for early-stage screening.
4
The number of colors you may see on a traffic light near you. A study proposes a fourth color added to the familiar red, yellow and green traffic lights: White. Why? The white light will tell autonomous vehicles to lead the way, with human-controlled cars following behind.
51%
The percentage of passwords AI cracked in under a minute. Try PassGAN yourself. And in case I have to say it, don't enter any of your actual passwords, please! Remember, don't use beef stew as a password because it's not stroganoff.
WHAT THE TECH?
Before he got into electric cars, he was plain Lon Musk.

UNTIL NEXT TIME …
📸 The answer: A NASA camera — more specifically, a modified Nikon F camera from NASA's Space Shuttle program. Only three of these cameras were ever made. Since it was so rare, the folks at Unclaimed Baggage sent it back to NASA. Talk about a waste of space.
Hey, we want everyone to be happy. Before I go, a friendly reminder from the team: If you're having technical difficulties reading our newsletters, when you rate this newsletter, tell us what's wrong and leave your email address. We'll send you a note to figure out what's going wrong. — Kim
How'd we do?
What did you think of today's issue?