🧠 Mental health apps caught leaking info
In partnership with TotalAV
Throwback Thursday! Remember that trend? Brings me to today's trivia! Which of the following is not a texting acronym? Is it … ENE, FTW, LOL or OOMF? If you say IDK, the answer's at the end.
👊 Be sure to click our sponsor's ad so we can keep these free newsletters coming at you. Appreciate you. It's a busy tech news day! — Kim
📫 First-time reader? Sign up here. (It's free!)
IN THIS ISSUE
😠 Worst mental health apps for privacy
🙅 No more sharing Netflix 
☕ "Alexa, make me an Americano"
TODAY'S TOP STORY
Just how private are mental health apps?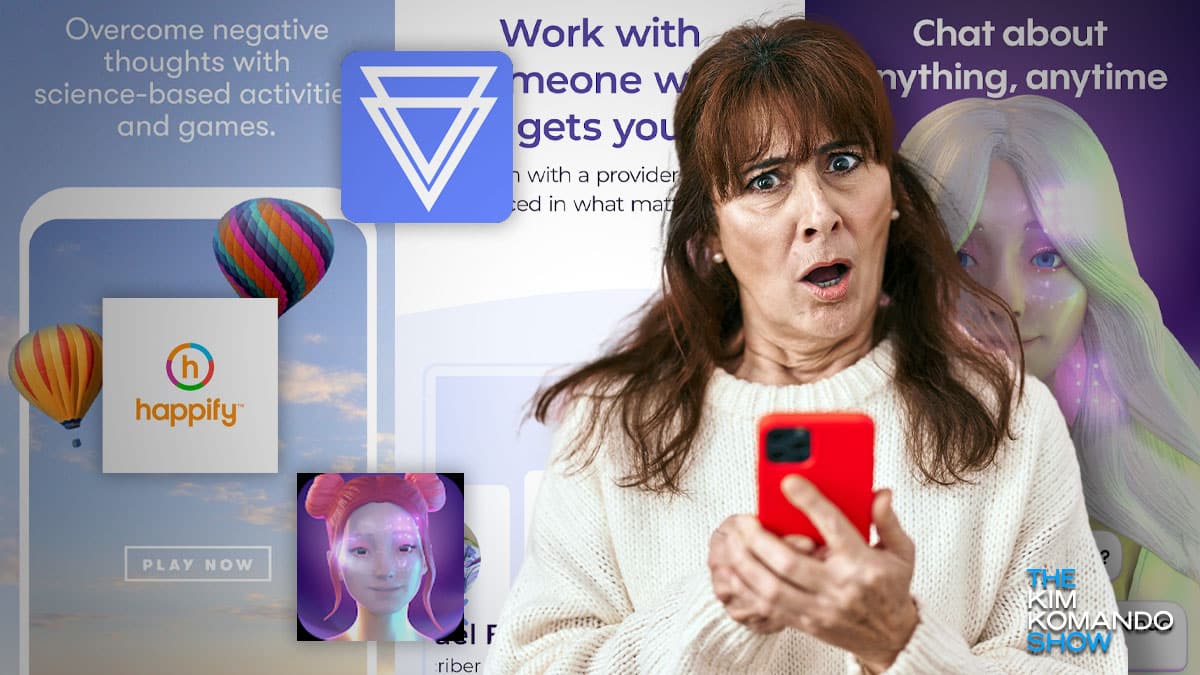 Chatting with an AI-powered therapist after a hard day at the office is convenient, but it's not necessarily confidential. We're still in the Wild West when it comes to protecting your privacy on mental health apps. 
If you're not careful, you could be signing your rights away the moment you tap the download button. New research from Mozilla revealed how mental health apps treat personal data, and many failed the test. 
*Privacy Not Included
Mozilla created this label to help people choose products that best protect their privacy. Since the initiative started in 2017, over 100 apps and 300 internet-connected devices have been reviewed.
The bad news? Many mental health apps they've reviewed target vulnerable users with predatory ads, share your data and have garbage-quality privacy policies. 
1 step forward, 2 steps back
Mozilla's investigation revealed that mental health apps were "worse than any other product category" in terms of security and privacy. Oy vey. They gave 29 of the 32 studied apps the *Privacy Not Included label.
This year, the Mozilla team found 40% of the apps were even worse than last year. However, a third of them did improve. Only 19 of the 32 apps in the 2023 investigation received the *Privacy Not Included label.
Mozilla's most wanted
Which mental health apps should you steer clear from? Mozilla warns that these two are some of the worst options:
Replika: My AI Friend
Cerebral
And keep an eye on these well-known apps that require up-front questionnaires before they show you their privacy policies:
Not exactly the kind of "trust building" you want to see from a mental health platform.
Stay safe
Fortunately, some mental health apps take privacy seriously and are making positive changes. Here's what got Mozilla's thumbs-up:
Youper won "most improved app" in 2023
Woebot gives users full access to their data
Modern Health won't share or sell your info
Before downloading any app, don't forget to read the terms of service — carefully. It's worth it when your health data is part of the deal.
✅ Speaking of apps, head here to learn how to stop them from tracking your every move.
DEAL OF THE DAY
🏡 Best security sign I own

Did you know having a lawn sign can reduce burglaries by up to 25%? I love that it says the video recordings are "off premises." It's like having a bouncer on your property. I have this sign by the gates in my yard. You should, too.
WEB WATERCOOLER
So long, Netflix freeloaders: You can't share your account with anyone outside your house anymore. For those exes still on your profile, you'll cough up an extra $7.99 per month to keep them on your plan. To give them the boot, tap the profile icon or More in the Netflix app. Then select Manage Profiles.
Windows 11 goes retro: It's getting native support for older file compression formats. 7-Zip, RAR and GZ and more are all welcome now. No more need for third-party programs to unlock them.
☕️ Caffeine convenience: Just holler, "Alexa, make me a latte" in your bed and boom, your coffee is a-brewin'. Keurig's new K-Café Smart coffee machine connects via Wi-Fi and remembers how you like your cup of joe. Not totally hands-off — you have to pop in a pod yourself. 
The best day to book: Expedia's 2023 Air Travel Report says it's … Sunday! It also says if you book too far in advance, you might pay more than if you get a last-minute ticket. I wrote this for the Daily Mail, so give it a few thumbs up and shares!
😭 Look who died: Don't click on a strange link making the rounds on Facebook that says, "Look who died." Surprise, it's a scam. Lowlifes want to get all the deets on your account to wreak havoc. 
Home free: Consumer Reports just made its home maintenance app, Upkept, free. It reminds you about tasks you'd rather forget, like cleaning the gutters. Fun times. Download for iPhone or Android.
For the love of tequila: A Canadian casino website is holding a contest for an "Official Margarita Taste Tester" (yes, you read that right) and wants to whisk you and a buddy to Vegas. Skill you need? Passion for a salty rim. Apply here. 
⛽️ 30 secs: That's all it takes to install a sneaky credit card skimmer on a gas pump. Scammers are even pinpointing their targets on Google Maps. Here's a great video about how it works so you can protect yourself.
🎧 Want great content on the go?
Sound like a tech pro, even if you're not one. Try my award-winning, daily podcast. Search for my last name with "K" wherever you get your podcasts and "Go Komando!"
TRENDING
Overnight success? Nope, but it was worth the work
Have a passion for homes and architecture? Rob Kallick did and ran with it. When I heard about this, I couldn't wait to share it with you. If you know someone trying to make it in real estate, you need to share this with them
Not just another influencer
Rob moved to Los Angeles in 2008 and immediately loved midcentury-modern homes built between the '40s and '60s. Think "Mad Men."
He started an Instagram account, Take Sunset, focusing on his favorite design style. Today the account has 100,000 followers. He posts pics of his and other agents' listings as long as he loves them.
No overnight success
But the account's popularity finally helped him leave his job in marketing. The once one-man operation is now an eight-person firm that made $200 million in sales in 2022. Not bad, Rob.
He says his presence online works so much better than the cold-calling and door-to-door tactics of the past. Clients come to him from all across the country — even celebrities. He's good at selling houses because he is good at ceiling deals.
🏠 Bottom line: If you want to stand out, modernize your business. Need help? Send me an email and we can chat on my national radio show.
DEVICE ADVICE
6 ways to improve smartphone pics
Spending Memorial Day weekend or the Fourth of July with family and friends? This year, take better photos than you usually do. Trust me, you'll be glad you did.
Get some authentic moments instead of just posed pics. You can never take too many photos of people laughing, especially when they're not looking at the camera. Be a little sneaky.
When photographing groups of people, either shoot at eye level or stand on a step ladder so you're a little higher. 
For the best shots of little kids and pets, get down on the floor to their level.
Don't forget to include yourself. Have someone else snap some pics or take a selfie with loved ones.
Lighting is important. The ideal light is golden hour outdoors. That's one hour before sunset. 
If you're inside, try to find natural light and be sure it's on your subjects' faces, not behind them.
Why do vegans often look miserable in photos? They don't like to say "cheese."
🎇 Taking good pics of fireworks is a whole different beast. Here's how to do it.
| | |
| --- | --- |
| IN PARTNERSHIP WITH   | |
The internet can be a cesspool
Hackers, scammers and criminals are trying their hardest to fool you. Even the most tech-savvy person can fall for it. Don't let it happen to you.
Use software that's smarter than the bad guys. I trust TotalAV. It's simple to install and use, and they've received the VB100 award for detecting more than 99% of malware samples for the last three years in a row.
You won't find a lower price anywhere. You get a year of protection on five devices for just $19!
BY THE NUMBERS
$1,000
How much TikTok is paying three professional scrollers. To apply, write 50 to 100 words about why you're the best one for the job by May 31. If you insist on using TikTok, do it on a device not connected to your Wi-Fi or any of your real accounts.
30%
The increased rate electric vehicles (EVs) go through tires compared to gas cars. Bridgestone says its EV-specific tires solve that problem. I tried to think of a good tire joke, but it was too much pressure.
10 seconds
The time you should be able to balance on one foot or your chances of dying increase. The British Journal of Sports Medicine found people 50+ who can't do this have a higher risk of dying within 10 years. To try it, lift your leg until it's parallel to the ground and count down from 10 to 1.
WHAT THE TECH?
This should be centered and italicized. It can have a link, if necessary.
UNTIL NEXT TIME …
👩‍🔬 The answer: ENE. That's simplistically chemistry for organic compounds. FTW – for the win. LOL – laughing out loud. OOMF – one of my friends.
Older folks use these texting acronyms.
ATD – At the doctor's
FWIW – Forgot where I was
HGBM – Had good bowel movement 
🤠 JK, I made those up to make you smile. If you did, rate this newsletter and give me a thumbs up. Bonus points for forwarding this newsletter and sharing it with a friend. Thank you, partner! — Kim
How'd we do?
What did you think of today's issue?