🧑‍⚕️ Surgeon General: Social media is bad for kids
In partnership with Dell
Wahoo, Wednesday! How often do you get the daily trivia right? Reply and let me know. Today's Q: Hate wasps? There's one color scientists say you should wear to avoid them. Is it white, green, blue or red?
🫡 It's a packed newsletter, so let's get down to business. If you learn something, smile or slap your forehead over one of my jokes, hit the thumbs up at the end. — Kim
👋 First-time reader? Sign up here. (It's free!)
IN THIS ISSUE
🚸 We need to protect our kids
📵 Delete this sketchy app
🎯 Smart gun inventor answered your Qs
TODAY'S TOP STORY
Well, duh? Surgeon General deems social media harmful to kids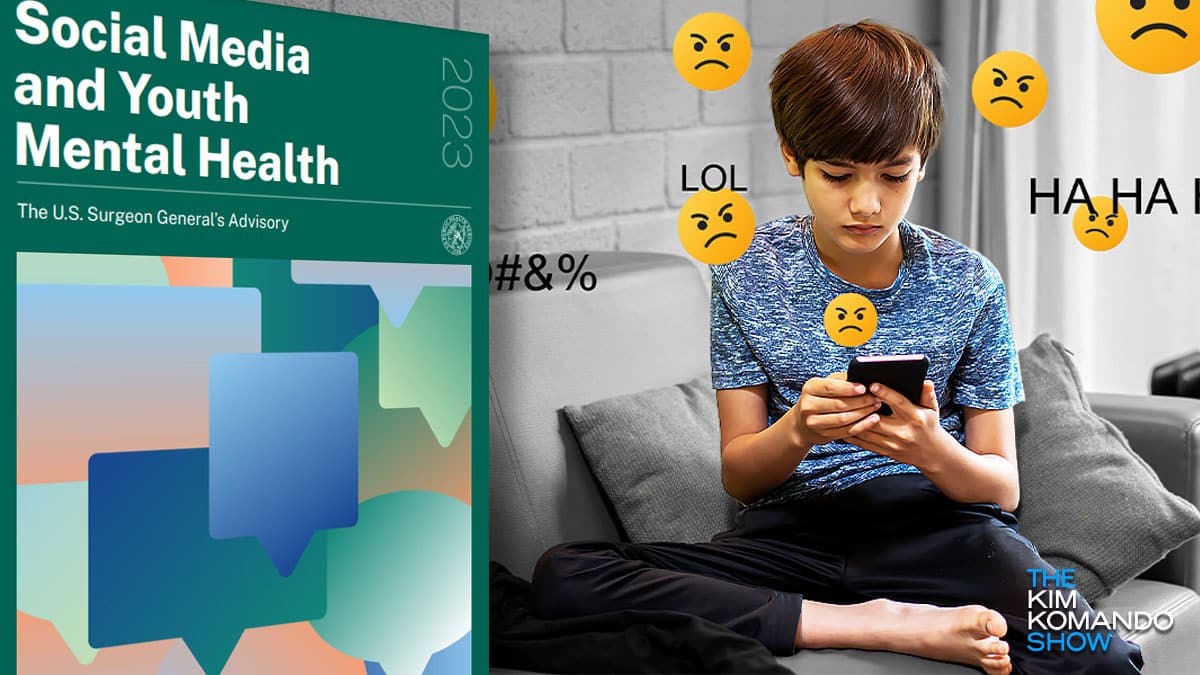 Did you know social media is harmful to children? Of course you did. The U.S. surgeon general, Dr. Vivek Murthy, thought we needed another study to confirm it, though. Surprise, surprise, the new report found social media can be damaging to young minds.
The big question: What took so long?
Social media morphs kids' brains
The Social Media and Youth Mental Health study does have some useful stuff in it (I saved you the trouble by reading it myself). Here are a few highlights:
Up to 95% of kids ages 13-17 have used a social media platform, one-third of them "almost constantly."
Social media use is associated with changes in the amygdala and prefrontal cortex. Yes, social media can literally change kids' brains.
One study of children ages 12-15 found those who spent more than three hours a day on social media faced double the depression and anxiety.
Six in 10 girls say they've been contacted by a stranger via social media in a way that made them uncomfortable.
The takeaway: Make a plan, walk the walk
The report says parents should create a family plan around social media and encourage discussion about its use. Teaching kids not to share private information online or with strangers is a big one. 
📴 Modeling good online behavior helps, too. Yep, that means setting screen time limits for yourself.
Sound like déjà vu?
Probably because I've been sharing these kinds of tips for as long as I can remember. Here's the safety contract between kids and parents I developed years ago. Good to have you aboard, Dr. Murthy!
The report also encourages young people to reach out for help if they need it and to protect one another online where they can.
It also innocently suggests social media companies could do more to help. Ah, my sweet summer child … Of course, they could and should, but is anyone expecting them to?
It's a start … but we shouldn't just be starting
I'm not saying a report like this isn't useful. Hopefully, it will be. But this is a small step in a race that began 20 years ago. Past studies have shown the devastating and sometimes lethal impact social media can have on teens. 
✅ Bottom line: Expecting social media companies to do more without greater pressure feels like wishful thinking. Laws are the only thing that will change this. Until then, it's up to parents and guardians.
DEAL OF THE DAY
💳 Lock down your credit cards

Protect your info with this eight-card RFID wallet. Built-in blocking technology protects you from thieves who can secretly scan and copy your cards. It's slim enough to slip into a front pocket and comes in many colors. Good Father's Day gift idea for Dad!
WEB WATERCOOLER
Fool me once: Pictures of an explosion at the Pentagon went viral. Spoiler: They're AI-generated. Loads of blue-checked Twitter pages shared the pics, including a Bloomberg news impersonator, and even Wall Street took a dip.
⚡ All-electric Escalade: I never thought I'd see the day Cadillac's beastly SUV would go "green," but here we are. No word on a price for the fully electric Escalade IQ, but Cadillac's other EV starts at $111K.
Master your own domain: Yep, you can purchase a domain right from your phone. If you have an iPhone and subscribe to iCloud, you can do it through your phone's settings. Here's how.
🚲 Monthly sweatscription: Not everyone can buy a $2K stationary bike, so Peloton is betting on its fitness app. There's a free version, a $12.99 tier and a $24 monthly charge for unlimited classes. No change if you own a Peloton. I do, and I just feel like I never go anywhere.
Marie Kondo your Netflix app: A useful update for Netflix on iOS and Android lets you organize your watchlist with new filters and sorting functions. I hope it sparks joy.
I take it back: You now have a whole 15 minutes to edit WhatsApp Messages. Say something you regret? Undo it. Plus, it won't show what you edited. I love you How's your day?
💔 An Uber driver just asked me out: Wouldn't happen in an autonomous cab. Uber is pairing up with Waymo to ditch the drivers. Bummer it's just in Phoenix right now. You can book via the Uber app.
Drone delivery dud: Amazon's Prime Air has only made about 100 deliveries. Alphabet (Google's parent company) and Walmart have made hundreds of thousands with drone tech. Watch this vid to find out why the heck they're so far ahead.
🌞 Your new morning routine
Every morning, brush your teeth to my Daily Tech Update. You get fresh breath and fresh tech know-how in a minute.
SECURITY ALERT
Have this app on your Android? Get rid of it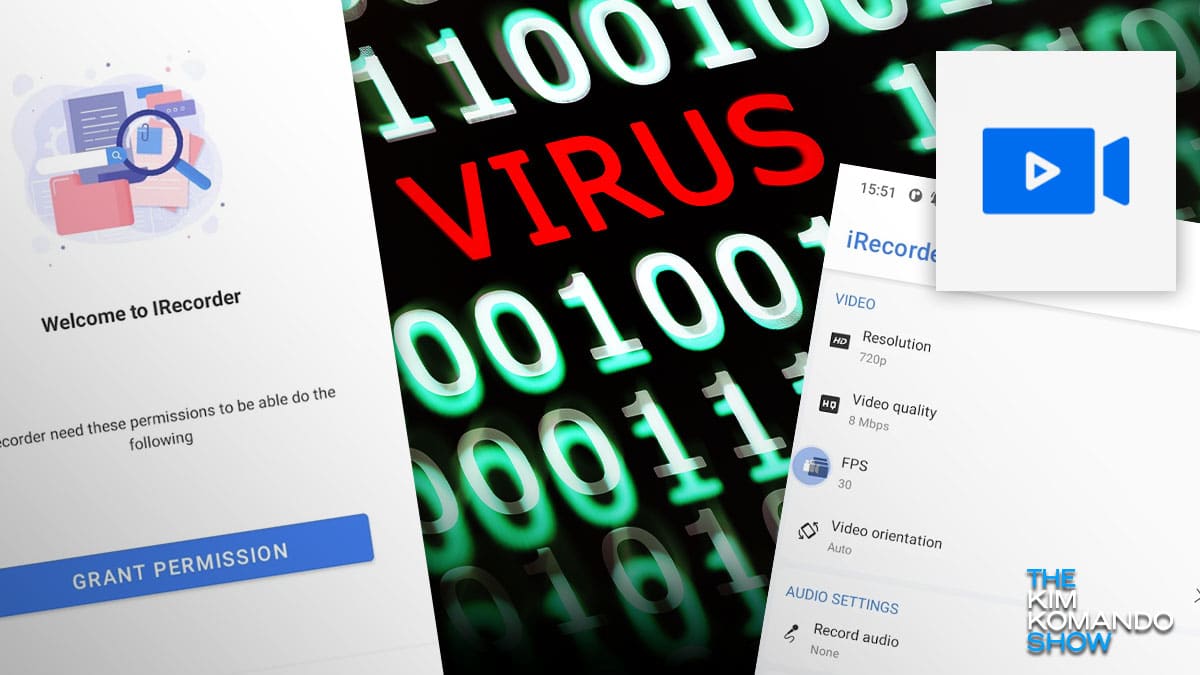 Not every scammy app was designed that way by the developers. Hackers can target popular apps and inject them with malicious code. And it's especially spooky when this happens to one with a ton of downloads.
When good apps break bad
The app iRecorder – Screen Recorder has more than 50,000 installs and now passes along a Remote Access Trojan (RAT) to users, Cybersecurity firm ESET says.
The original version uploaded to the Google Play Store in 2021 was totally fine. But an August 2022 update added malware. Google has kicked it out, but make sure you delete it from your phone if it's installed.
Recording more than just your screen
The malware-infected app can record audio, steal files from your phone and send them back to hackers' servers. Yeesh. Imagine your photos, videos and docs being secretly passed along to who-knows-who.
At least there's this
If your phone runs Android 11 or up (we're currently on Android 13), there's a feature working in the background called App hibernation. Any apps you haven't opened in months essentially go dormant and all permissions are reset. OK, Google, I appreciate that one.
📅 I tried downloading a calendar app but accidentally installed a colander. Now, it's draining my battery …
MUST- LISTEN PODCAST
My interview with the smart gun inventor
Kai Kloepfer is the 26-year-old inventor of the smart gun. I told you about it here in the newsletter and lots of you sent me questions. I talked to Kai to get answers to these questions and others:
How reliable is it? Do fingerprint and facial recognition sensors work if the gun is wet?

Where's all your biometric data stored? Is it private?

Will the gun work when there's no charge? 

If an assailant chopped off your finger, could they use your fingerprint to unlock the gun? (Yes, someone really wanted to know.)
🎧 Listen to the podcast here on my site or in your fave podcast player. Skip to 11:20 to go right to our chat.
BY THE NUMBERS
1,000
The number of years we'll be safe from killer asteroids. A new study says the asteroid with the highest risk of collision with Earth only has a 0.000151% chance of passing within the moon's orbit. I'll take those odds.
42 million
The number of Americans expected to travel over Memorial Day weekend. AAA says that's up 7% from last year … and could be the third busiest Memorial Day weekend since 2000. Taking a trip? Brush up on your Google Maps tricks.
$51 million
The price of Bill Gates' 26-year-old daughter's NYC penthouse. Take a look inside. It's "paparazzi-proof," meaning there's private outdoor space (with a giant pool), and she can get to her car without going outside. When it comes to Bill Gates jokes, I totally Excel.
WHAT THE TECH?
I don't always lose my phone, but when I do … it's on silent.

UNTIL NEXT TIME …
❌ The answer: Red! Most insects, including wasps, can't see the color red. They're drawn to bright shades like yellow and white. They aren't really attracted to blue or black, but red is your best bet to stay wasp incognito. 
Thanks for being here and for all your prayers and kind words. Be back in your inbox tomorrow! — Kim
How'd we do?
What did you think of today's issue?