In partnership with IDrive
Welcome to Monday! In the last 114 days, hopefully you've kept your New Year's resolutions  … meanwhile,Tesla has cut prices six times. How much did its first model, the 2008 Roadster, sell for? Was it $69,000, $89,000, $109,000 or $129,000? Answer at the end!

I had an absolute blast creating today's newsletter! It's packed with tech news and juicy tips, plus a few hilariously corny jokes to keep things light. Let's slay this party! — Kim
📫 First-time reader? Sign up here. (It's free!)
IN THIS ISSUE
🦾 Rise of the (helpful) bots
🪗 Google's foldable phone
⛔ FTC cracks down
TODAY'S TOP STORY
The robots are here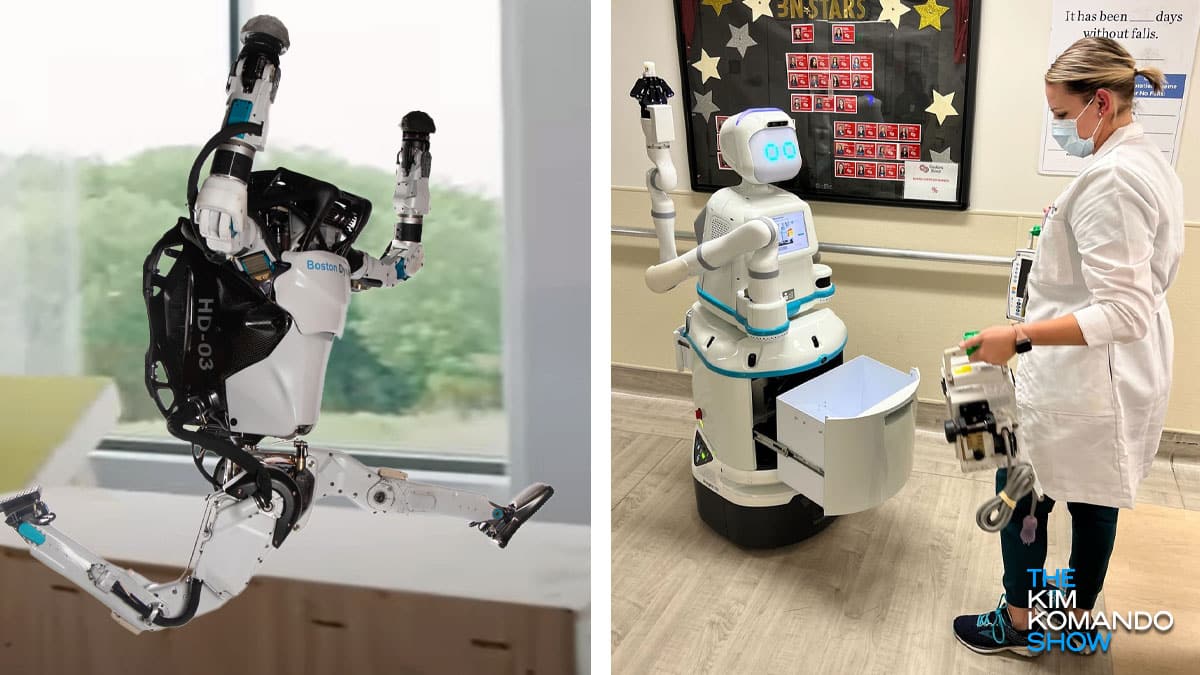 Did you ever watch "The Jetsons" and wish the robotic maid Rosey was real? Yeah, she was built.
Today, robots build cars, sort packages and organize warehouses. We have household robot helpers from vacuum cleaners, lawnmowers and toys … remember Furby? Creepy little guy.
Here are some robots you may not know about. Until now:
To the rescue
Atlas can lift heavy weights, run, open doors, backflip, jump and even do parkour. It's designed to aid emergency services in search and rescue operations and function in environments where humans can't survive. Think fires.
Holey Moley
Moley is a kitchen bot chef. It mimics the movements of human hands and can do delicate tasks like cracking an egg. Moley even cleans up after itself. I'll let that sink in.
This bot's got moxie
Moxi was big at the start of the pandemic, delivering medication, PPE, patient comforts and other supplies. It can open elevator doors, but it needs to ask a human to press a button for the floor it needs to go to. Awh.
Microscopic doctors
Antibacterial nanorobots are tiny self-propelled bots that deliver medication right to the infection. They do this by mimicking a bacteria and its target, then trapping it in nanowire mesh. Is that you, Spider-Man? Incredible stuff.
This one really sucks
BugVacuum is a self-propelled vacuum cleaner that sucks up insects while autonomously navigating between the crops on farms. The farmer only has to get it to the starting point and set it to auto mode. The bot is ideal for clearing out insecticide-resistant pests. Sure beats a sandal. 
Seriously sweet
Robear is a back-saving teddy bear-shaped robot that lifts disabled or elderly patients from their beds into a wheelchair. Its soft, cushioned body is designed to be gentle on the patient's skin while providing maximum support. 
Your personal pack mule
Gita Bot is a rolling robot that follows you around, carrying up to 40 pounds of whatever you need. Thinking groceries, luggage, and tools. The name "Gita" is inspired by the Italian word "giro," which means "turn" or "round trip." No impasta here!
Reading about these is fun, but you've gotta see them. We put together a quick video so you can check them out!
DEAL OF THE DAY
Increase your productivity by 44% or more

Research proves more screens are a huge boost. Add this to your Windows, Chromebook or Mac laptop to instantly get two more screens! No driver downloads needed. Just attach it to your laptop. Works on 13" to 16" laptops and has 937 4½ star ratings. Plus, it's easy to travel with and is on sale.
WEB WATERCOOLER
There's no ChatGPT app: Malware is spreading through fake apps. One is responsible for hacking 4 million Facebook accounts, changing pics and names to look like they belong to the actress Lily Collins from "Emily in Paris." Do this if your FB gets hacked.
Smashing success: Tesla CEO Elon Musk says production on the long-delayed $50,000 electric Cybertruck starts this summer. Delivery will be in the fall. Say what you want about Cybertruck's funky design. Put a minigun on the back of one and it's Halo in real life.
Rumor has it: Pre-orders for Google's $1,799 Pixel Fold start May 10. Choose from white (Chalk) or black (Obsidian) with 256GB. The upgraded version (Obsidian only) has 512GB for $1,919. Google knows how pricey it is; they're throwing in a free Pixel Watch if you pre-order. About time …
Dear diary: Apple's working on a mental health journaling app. Leaks say the app will analyze your day, where you go, who you see and might even try to figure out who your friends are. I'll stick with pen and paper.
Power up: Amazon Basics — not just for knockoff household supplies anymore. Amazon has moved into the PC components game, with among other things, a CPU cooler under $30. That's less than half the price of the name-brand options. If you're building a computer, definitely worth checking out.
Sick of junk: The FTC just told 700 companies to stop lying to consumers with ads that make claims they can't back up. Browse the full list of truth-stretchers and you'll see a lot of big names like Bayer, Costco and General Mills. Guess these CEOs broke a lot of bones … Namely their fibulas.
🎧 Want great content on the go?
Sound like a tech pro, even if you're not one. Try my award-winning, daily podcast. Search for my last name with "K" wherever you get your podcasts and "Go Komando!"
TRENDING
Get your slang game on fleek
Feeling a bit confused with Gen Z slang? Trust me. You're not alone. Gen Z speaks a whole new language, thanks to social media and texting. I have a 20-something son, so I'll get you up to speed with all the cool kids.
"Lit." No, it's not like lighting a candle, but more like when someone is having a good time. "That party was so lit!" 
"Trill" is a combination of "true" and "real." If you're being an awesome friend, you're "Trill." 
"Stan." Not just a name anymore! If you "stan" something or someone, it means you're a true fan.
"On fleek" means looking sharp, stylish or on point.
"Slay" means you're killing it. Like, "You aced that presentation! Slay all day!" 
🥳 Go ahead, text this to someone who thinks you're out of touch. "The Kim Komando Show is so lit! Kim's tech advice is always on fleek and her fans are stans. She's a trill host who knows how to slay the tech game!"
Slang words are one thing, but what about emojis? Those can get embarrassing fast.
😳 Pro tip: Don't use the eggplant if you're looking forward to going out for Chinese food. Here's why.
DEVICE ADVICE
Channel your inner James Bond
You want to exchange texts and pictures with someone, and you don't want any random person to see them. There are perfectly innocent reasons to want privacy, like snoopy roommates or someone in your house who always picks up your phone.
Here's how the pros (you included now) get it done:
Use a Google Doc. Make sure you both have access to the Doc, then go into the

Share Settings

menu. You can disallow the other person from downloading, printing, copying or sharing it.

If you have an iPhone, use the

Notes app

. Under

Share Options

, choose

Can Make Changes

. Send your note by text or email. The person you've added to the note can make changes, as can you. You can communicate privately and it won't appear in your text messages.
🔒 If you want more privacy but this feels like going a little too far, I've got your back. Here's how to turn off message previews on your smartphone's home screen. See ya, snoops!
| | |
| --- | --- |
| IN PARTNERSHIP WITH   | |
Computers don't last and phones break
Losing everything on your devices is heartbreaking. Think about all you would miss.
Don't leave it to chance! Take the time to back them up the right way. My pick is IDrive. It's safe, fast and easy. You can back up all your devices — iPhone, Android, Mac, PC — to one account and access your stuff from anywhere.
When you use my name, Kim, at checkout, you get 90% off your first year. What a deal.
BY THE NUMBERS
45%
The percentage of people over 50 who are gamers. That's over 52 million playing on an Xbox, PlayStation, Switch or their phone. Puzzle and logic games are the most popular genre. Wordle is big, too. Play it on the toilet and you eliminate vowels and bowels at the same time.
459
The number of ransomware attacks in March. It's an increase of 91% from February and 62% from March 2022. A zero-day exploit named Cl0p was responsible for the most attacks. Back up your computer, people!
1.4 million
The number of American Bar Association members whose credentials were exposed in a data breach. The attacker gained access to an older version of the ABA website, stealing usernames and encrypted passwords. If you're a member or know a lawyer, change those logins. Jury's out on who pulled this one off.
WHAT THE TECH?
All the better to hear you with, my dear.

UNTIL NEXT TIME …
🏎️ The answer: $109,000. It was a Musk-have. It got the full $7,500 federal tax credit, hit a top speed of 125 mph and drove 245 miles on a single charge. I had a Tesla … and sold it after two months. 
👍 Let me clear something up since so many of you have mentioned it. When you rate the newsletter, you don't have to leave a comment. If you just hit the thumbs up, your vote is recorded and you can close the window. 
Thanks for your support and I'll see you tomorrow morning with another stellar newsletter. — Kim
How'd we do?
What did you think of today's issue?