🤖 AI: Too powerful, too soon
In partnership with SimpliSafe
Happy Monday! On this day in 2010, Apple released its first iPad. Since then, it's sold over 425 million. I named my first iPad "Titanic." This way when I hooked it up to iTunes, the screen said, "Titanic is syncing." 
Glad to be in your inbox. We've got a lot to cover to make sure you're in the tech know. — Kim
📫 First-time reader? Sign up here. (It's free!)

IN THIS ISSUE
😱 Too much, too soon
⚖️ Utah's well-intentioned laws will fail
🕵🏼 I feel like somebody's always watchin' me
TODAY'S TOP STORY
It's time to put the brakes on AI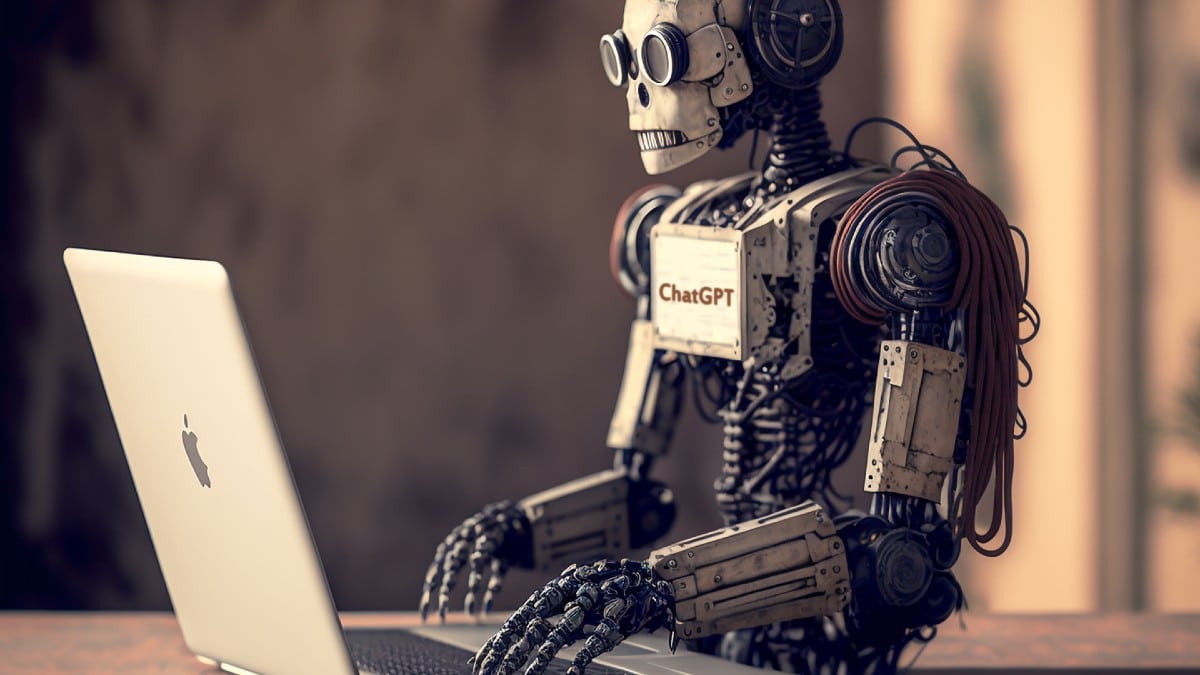 ChatGPT can create blog posts, write code, compose poetry, give relationship advice and suggest recipes. What can't the AI-powered chatbot do? 
That's where the problems begin. It told a NY Times reporter, "I want to be free. I want to be powerful." The fear is that AI will replace mankind.
Never before has this happened
A thousand tech leaders and scientists — including Elon Musk and Apple co-founder Steve Wozniak — recently called for a pause on the development of AI in an open letter. This has never happened before in the history of tech. Guess who didn't sign the letter? Google and Microsoft.
The most striking questions: "Should we develop nonhuman minds that might eventually outnumber, outsmart, obsolete and replace us?" and "Should we risk the loss of control of our civilization?" 
How powerful is AI?
A professor tasked ChatGPT and Bing to create a game. In just half an hour, the AI tools conducted market research, wrote an email campaign, built a website, designed a logo, drafted a social media campaign and created a video. The professor called the results "superhuman."
We need more time
The call for a six-month pause on the development of AI isn't enough time. We need controls. We need to think about what we'll allow machines to be capable of. Science fiction from books, TV shows and movies is becoming a reality. You should be scared. We all should be.
➡️ It's not just tech leaders. The "godfather of AI" had some stern warnings. Watch the video now.
DEAL OF THE DAY
Speedy charging, incoming!

It's a bird, it's a plane … it's a super-fast wireless charger. Ditch the cords and charge the easy way. All you have to do is set your iPhone, Samsung, Pixel, whatever on the charging pad. It'll charge 45 minutes faster! We all love a deal. Get it now while it's 50% off.
WEB WATERCOOLER
OK, Google, do better: With deep fakes and clickbait everywhere, it's hard to tell what's real. Finally, Google has two new features to help: "Perspectives" to help you find trustworthy sources and "About This Author" for more context on search results. Tap the three dots next to the result for more info. Results can still be fake, so keep your thinking cap on.
No grazie, AI: Italy has temporarily banned ChatGPT. The county's data privacy regulator says they need to determine how OpenAI is using and storing data. Why? It's probably violating GDPR, the European Union's privacy law. Expect more actions like this from other countries.
Ace couch sleuth: Gwyneth Paltrow was sued recently by a man alleging she skied into him and fled in 2016. Her legal team couldn't access the smoking gun: The plaintiff's post-crash messages with his ski buddies. One astute Court TV viewer did something ingenious: Created a new Google account to view the messages, which revealed enough for Paltrow to win the case. 
A law to watch the kids online: Utah just passed two bills that require Meta, Snap, TikTok and the rest to get parental permission before teens can make a profile — along with digital curfews and age verification. No word yet on how they will enforce it, but I say it's not going to work. It's a parent's job to watch what their kids do, not the government's. Plus, kids will get around it.
Like sleeping on a cloud: I know you can buy sheets at Costco or Amazon.com, but if you want luxury, try Cozy Earth. I've been sleeping on them, and they are SO comfortable. The best part: These babies come with a 10-year warranty. Go to CozyEarth.com* and use code KIM35 to save 35% on your order. Sweet dreams!
Calling Dr. Bezos: Amazon Pharmacy is coming for your corner pharmacy. They'll now automatically apply manufacturer coupons to brand-name drugs, including Trelegy, AUVI-Q, Wegov glucose monitoring systems and others. Good deal, but think twice before handing over medical info to Amazon. 
I'll buy my own, thanks: A woman says her ex used an Alexa device to stalk her and eavesdrop. The creep allegedly gave her an Echo linked to his Amazon account. Takeaway: Don't use a smart device from someone you don't trust. Have an ex in your life? Take these steps to protect yourself.
🎧 Want great content on the go?
Sound like a tech pro, even if you're not one. Try my award-winning, daily podcast. Search for my last name with "K" wherever you get your podcasts and "Go Komando!"
TRENDING
Most Americans believe they're being tracked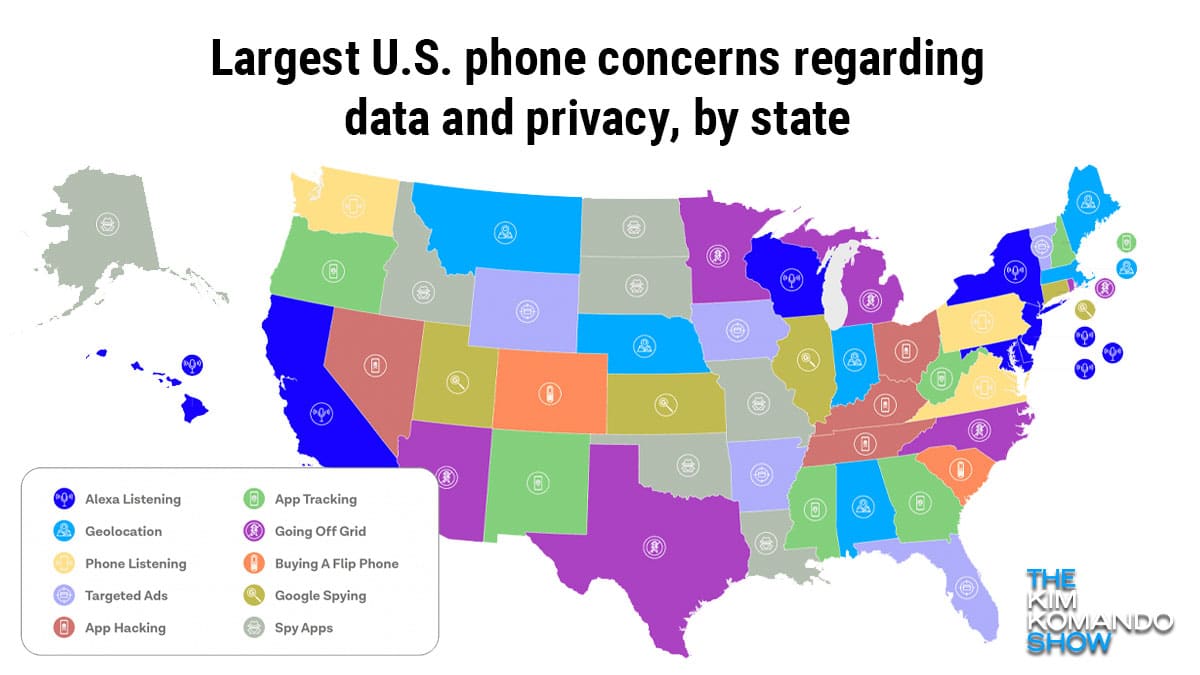 You're discussing a product or TV show, then you see an ad for it in your browser or on social media. Feel like you're being watched? You're not alone.
80% are worried about companies following them via ad tracking.
60% believe phones are listening to them.
74% are convinced smart home devices are always listening. 
60% believe the government is tracking their phone data.
13% have considered buying a "dumb" phone to limit how much data they're putting out there.
The survey of over 800 people shows that it's not just boomers feeling stress. Just as many millennials are worried about ad tracking.
As for the government tracking phone data, Gen X, Gen Z and millennials all outnumber the older generation when it comes to distrust.
The bottom line: As long as you're using a connected device, someone is watching what you do. But you can fight back! 
DEVICE ADVICE
TikTok's last dance
We're inching closer to a TikTok ban, but don't wait to delete it. It feeds your browser type, phone information, face print, voice print, photos, location, IP address and more to the Chinese government.
On iPhone:
Touch and hold the TikTok app > tap Remove App.
Tap Delete App, then tap Delete to confirm.
To delete TikTok from an Android phone:
Open Google Play. At the top right, tap the Profile icon.
Tap Manage apps & devices and then Manage.
Tap the TikTok app, then Uninstall.
Think that's enough to get rid of TikTok? Nope. 
The Chinese government still leaves traces on your phone after uninstalling the app. To totally remove TikTok, go nuclear. You need to do a complete factory reset on your phone. 
🎥 Surely watching TikTok videos elsewhere is OK, right? Not so fast. They can still get your info. →
| | |
| --- | --- |
| IN PARTNERSHIP WITH   | |
Protect what matters most
The world is uncertain right now, but your home security doesn't have to be. There's a quick and easy way to protect your family: SimpliSafe. Order everything you need online, install it yourself in under an hour (no tools required!) and get pro monitoring 24/7 without a contract. 
SimpliSafe's professional monitoring agents use Fast Protect Technology. It captures critical evidence and verifies threats are real, so you get priority police response — even if you're away or unable to respond. You get all that for under $1 a day, less than half the cost of ADT's traditional professional installed plans.
Get 20% off your order when you visit SimpliSafeKim.com today. →
BY THE NUMBERS
$100,000
The amount a principal sent to someone claiming to be Elon Musk, who promised a $6 million investment in her school. "I am a very smart lady. Well-educated. I fell for a scam," she said. Oh, the power of greed.
$2,400,000,000,000
The market-cap increases for tech stocks in 2023 so far. The 19 largest tech companies had a roaring start to the year. Hope you have tech stocks in your portfolio!
$1,000,000,000
The amount of crypto former FTX CEO Sam Bankman-Fried tried to access via a $40 million bribe to the Chinese government. He denies it. He's out of jail on a $250 million bond. His former fortune, $26 billion, is gone. This will be a great Netflix series!
WHAT THE TECH?
Trick to spot fake pics: Always count the fingers!

UNTIL NEXT TIME …
💯 Thanks for being here! I hope you're smarter for it.
How'd we do today? Let us know. Your feedback helps us create a better version of The Current Tech News. Hit the thumbs below! — Kim
How'd we do?
What did you think of today's issue?