In partnership with SimpliSafe
👋 Welcome to another great newsletter! Since you guys and gals are lovin' the tech trivia, here we go.
When Jeff Bezos was CEO of Amazon, he'd get email complaints from customers. He'd forward those emails to department heads with just one character. What was that character? You'll find the answer at the end of this email. 
Be sure to click our sponsor's ad so we can keep these free newsletter coming at you. Glad you're here. It's a busy tech news day! — Kim
IN THIS ISSUE
🤖 Chatbot data danger
💬 When to post on social
🧃 FBI warning: Juice jacking
TODAY'S TOP STORY
ChatGPT likes it when you get personal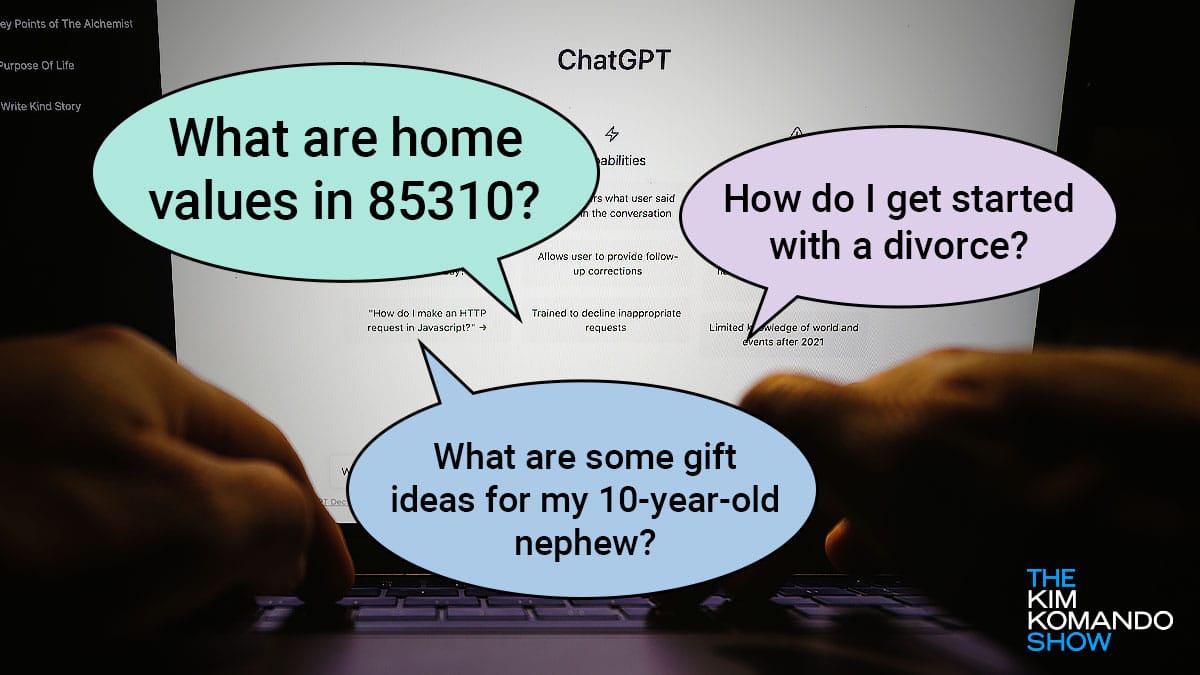 Chatbots are all over the news. Before you start worrying about AI taking over mankind, I need to talk about a more immediate concern: your privacy. Chatbots answer your questions and assist you with tasks like composing emails, essays and code. But they're also collecting a lot of your data. 
What you need to know about ChatGPT
This is what ChatGPT's parent company OpenAI collects when you're using it:
Log data: Your IP address, browser settings and chats.
Usage data: What questions you're asking, your location and the type of device you're using (iPhone, Android, PC, Mac).
Device information: The name of your device, operating system, and browser. For example, "Kim's iPhone" is logged in through Safari.
Cookies: These bits of browsing data are used to "improve your experience" — standard boilerplate that translates to "We're tracking you." OpenAI shares this information with third parties but states that it's shared anonymously or in a de-identified form.
What you're handing over
They get everything above, plus what you voluntarily provide:
When creating an account, you give your contact details and payment information. OK, that's a no-brainer.
Liking or commenting on OpenAI's social media pages shares your contact details. (Reminder: Delete your phone number and any other contact information from your profile!) 
What you type into ChatGPT is collected to "improve" the AI model. Microsoft admits that its employees may manually review data it collects when you use its services, such as the new ChatGPT-powered Bing. Translation: A human being is probably going to be reading through your conversations. 
How to protect yourself
AI-powered chatbots don't feel like Google — they're designed to communicate like humans and that's a trap you have to watch out for. You'll be tempted to say things you normally would never type into a search bar. 
Don't share customer information from your job or anything that could reveal trade secrets. Follow your company's security policies as you would for email, phone calls, document sharing, or anything else. 
We always strive to keep ahead of things. When ChatGPT first came out, we warned you not to share personal, financial or sensitive information. 
🛑 The bad news: You can't delete specific things you talked about with ChatGPT from your profile. If you want to wipe it all, you must go nuclear and delete your account. We have steps to do that here. I doubt this means your account and what you typed into ChatGPT are really gone for good, though.
✅ Pro tip: A VPN can keep things a little more private when using ChatGPT or similar programs by blocking your IP address. That makes it harder to link everything you type back to you. My pick is ExpressVPN.*
DEAL OF THE DAY
🏖️ Speaker under $40

This portable Bluetooth speaker is small enough to take to the pool, beach or park — and has a 20-hour battery life. Great budget option if you want tunes on while gardening or hanging outside with friends, too. Bonus: It's waterproof!
WEB WATERCOOLER
New heights of immaturity: A 12-year-old runs a $20 billion company. Elon Musk had the "W" in Twitter painted over on the San Fran HQ. Why? He just wanted it to say Titter. He also just changed his name on Twitter to "Harry Bōlz." I wish I were joking.
Crown jewels: King Charles III will be crowned in May, complete with custom Twitter emoji. The cartoon purple velvet cap is the one King Charles will wear during the ceremony. On Twitter, use #Coronation. King Charles won't make as many trips as Queen Elizabeth. The Queen could go the distance but the King only one space at a time.
Juice jacking: A smart guy called my show recently and warned listeners to avoid plugging their phones into a random charger at the airport. The FBI agrees: With the right malicious code installed, public charging stations can steal data from phones, as well as track them. PSA: This cheap device removes the risk.
Inbox upgrade: Windows 11 Mail, the free desktop email client, just got a makeover. You can enable the upgrade in the top right corner of the Mail app for an Outlook-esque experience. You get the same three-panel layout, Calendar and Contacts shortcuts, plus easy links to OneDrive. It's one small step for Mail … One giant leap for Mail-kind.
Not tech, but important! Major salad kits are being recalled. They might contain listeria monocytogenes, a really bad bacteria that gives you — ahem — the runs or worse. On the recall list: Revolution Farms greens, plus Fresh Express Caesar and Chipotle Cheddar chopped salads sold in MI, OH, IN, IL, KY and WI. 
🎧 Want great content on the go?
Sound like a tech pro, even if you're not one. Try my award-winning, daily podcast. Search for my last name with "K" wherever you get your podcasts and "Go Komando!"
TRENDING
Wondering why no one "likes" your posts?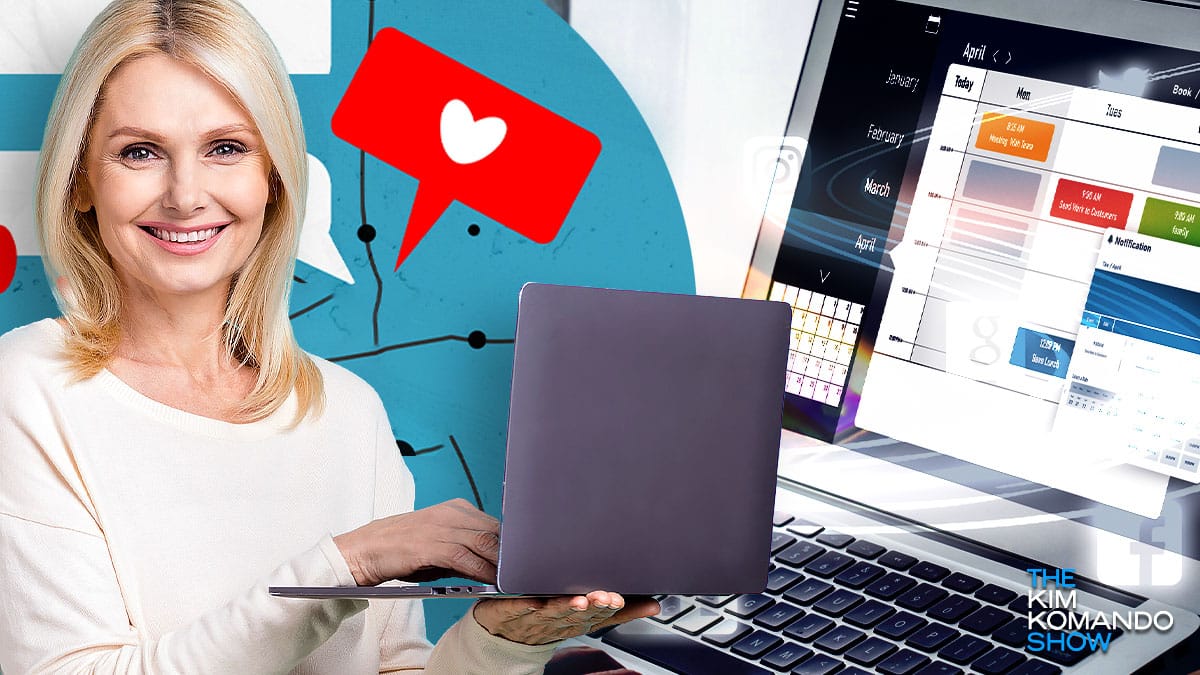 You're probably posting at the wrong time. When's the best time to post on social media so that people actually see your stuff? Here's when posting "primetime" hits for every channel: 
Facebook: Weekdays between 9 a.m. and 3 p.m. Wednesday posts should get the most eyeballs. Btw, weekends and outside of normal business hours are the lowest engagement times.
LinkedIn: Weekdays during business hours, especially lunchtime between noon and 1 p.m. Bonus points for Tuesday, Wednesday and Thursday.
Twitter: Weekdays during business hours (see a theme here?), with best performance between noon and 3 p.m. Wednesday and Friday are the biggest days.
Instagram: Plot twist: Weekdays during off-work hours. Go for lunchtime, from 11 a.m. to 1 p.m., or in the evening between 7 and 9 p.m. Wednesday and Friday are highest engagement days here, too.
👻 Are you ghosting me on social? Stop that, already. Here are direct links so you can quickly follow me there: Facebook, Twitter and Instagram.
DEVICE ADVICE
Shake it off
Yes, literally. Minimize clutter on your desktop by shaking your active window. On Windows, you can click and hold the title bar, then shake your mouse left and right to minimize all other programs. Repeat to restore the minimized windows.
Not working? You may need to enable the feature: 
Go to Settings > System > Multitasking. 
Look under the Title bar windows shake section.
Turn on When I grab a window's title bar and shake it, minimize all other windows.
🖥️ Feeling left out, fellow Mac users? Here's a trick: If you tilt two fingers on your trackpad at the same time, you'll rotate images and graphics. Neat!
| | |
| --- | --- |
| IN PARTNERSHIP WITH   | |
I sleep like a baby only …
… if I enable the security system at my house. There are just too many crazies and thieves in the world.
SimpliSafe is an award-winning DIY home security system, engineered with the latest tech to keep you and your family safe. With SimpliSafe, you order what you need, it arrives in a box with great instructions and in about 15 minutes, you're done!
If you live alone, you don't need to live in fear. Right now, save 20% on your SimpliSafe security system — and get your first month free when you sign up for Interactive Monitoring.
BY THE NUMBERS
15 million
The number of TikTok views of a tree-growing pothole. A man in Virginia tried in vain for a year to get the city to fix a pothole. Frustrated, he planted a tree in the pothole and made a viral video. It worked! The pothole is now fixed. What's the difference between a pothole and a regular hole? One's a little higher.
17 million
The number of times Lemon8 has been downloaded. The content-sharing app, created by TikTok's parent company ByteDance, reports back to Communist China. Here's my guide to removing TikTok.
$12 billion
The amount of money crypto investors lost to crooks in 2022. That number is expected to increase to $16 billion this year. If you lose money in a crypto scam, you're never getting it back. Remember the first three letters in crypto: "c-r-y."
WHAT THE TECH?
If it's a 50/50 chance, why am I always wrong? 
Pro tip: The USB symbol goes up!
UNTIL NEXT TIME …
❓ The answer: Jeff Bezos would forward customer complaints to the appropriate department head with just one character — a question mark. No note like, "Hey, please look into this." Nope, just a ?. Ever since I learned this, I do the same thing. Too bad Jeff Bezos retired when he was in his prime.
Oh, we're rolling out a cleaner, better Tech Life Hacks and Tips newsletter next week modeled after this one. Make sure you're on the list to get that for free by signing up here. — Kim
How'd we do?
What did you think of today's issue?