😨 Top methods hackers use to invade your accounts
In partnership with Daily Tech Update
🚢 Ahoy, Monday! SOS is a maritime term that made its way into our tech, like iPhone's Emergency SOS Mode. Today's trivia: What does SOS stand for? Is it, Save our Ship, Sink our Ship, Save our Souls or nothing at all? Answer at the end, as always!
Today I'm sharing info hackers wish I wouldn't: Secret tactics to break into your accounts. This is tech know-how you need and would be great to share with your family and friends. — Kim
😀 First-time reader? Sign up here. (It's free!)
IN THIS ISSUE
🔑 Cracking your passwords
💡 Have an app idea?
🔨 How to win eBay auctions
TODAY'S TOP STORY
AI tool cracks passwords in 60 seconds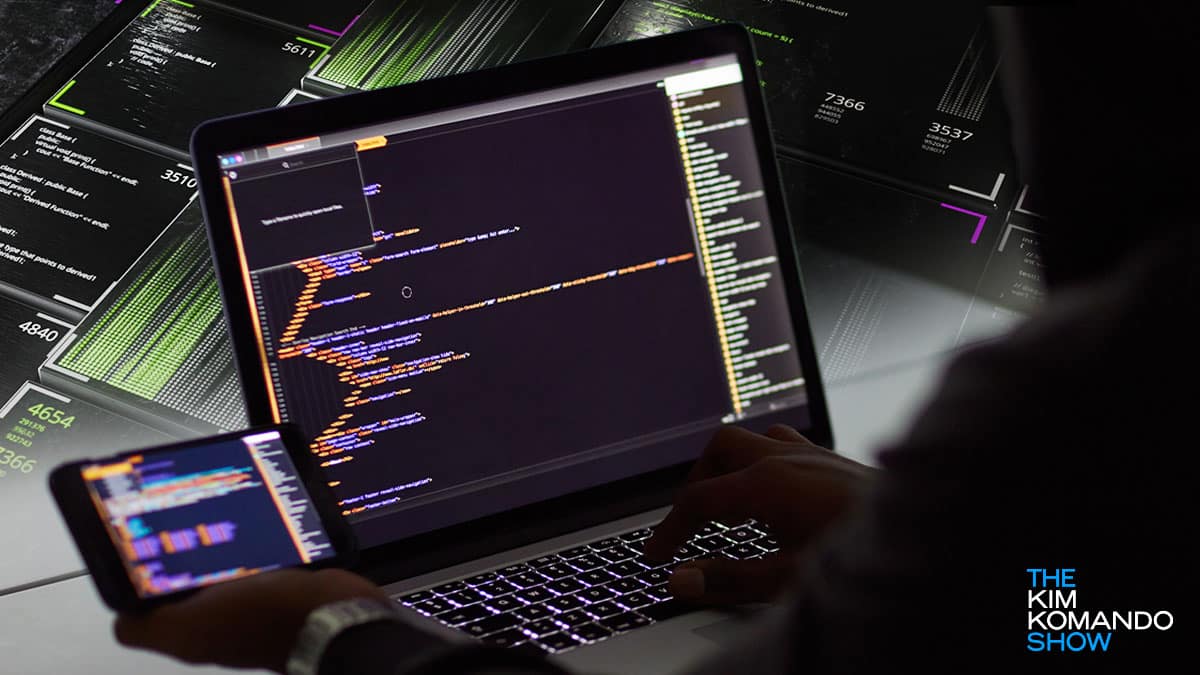 Picture a hacker. Did you see a shadowy figure in a hoodie typing in password after password? Hate to break it to ya, but they're a lot smarter than that. (Though I can't say either way about the hoodies.) 
Hackers are jumping on the artificial intelligence (AI) bandwagon and upping their game. Get this: AI service PassGAN cracked 51% of common passwords in less than a minute. Let's take a look at other hacker tools so you can stay safe.
4 ways hackers break into your accounts
⏱️ Brute-forcing: A special program enters different combinations of letters, numbers and symbols. It's fast! A hacker can try up to 100 billion possible passwords per second.
📕 Dictionary attack: Brute-forcing, but adding words from the dictionary, company names and sports teams to speed things up.
🦃 Credential stuffing: Someone takes one of your breached accounts and tries that email and password combo across different accounts and websites.
🎣 Phishing: A scammer convinces you to click a link to a bogus site, then you (willingly) put in your login details. 
And, even if you do everything right, there's another thing working against you …
Cybercriminals love to share
They create free software that anyone can download and improve. A few standard options for cracking passwords have some pretty funny names: John the Ripper, Hashcat and Ophcrack.
➡️ Bottom line: What can you do about it?.
Longer is better. An eight-character password comprising only uppercase and lowercase letters takes 22 minutes to crack. A 12-character password that includes symbols, too? 34,000 years.
Use fake words, extra characters and oddball phrases.
Never reuse a password, even if it's been out of circulation for a while. 
Triple check you're on the real site before you enter your password.
If a site lets you get away with "password" or "123456," step away. All my passwords are protected by amnesia.
✅ I know. Passwords stink. I have a few more smart rules here to make it easier to stay safe.
DEAL OF THE DAY
⛱️ Perfect light for a summer night

This is super smart and easy to use: A light you can clamp to an umbrella, a pole or tent. You name it. It includes 28 energy-efficient LED lights shining at 200 lumens each and three brightness modes. No cords needed, either.
WEB WATERCOOLER
eBay strategy revealed: A new study analyzed 25 million transactions. When bidding, it's best to use a round percentage of the asking price. Say a seller wants $44. You'll win the bid at $22 or 50% more often than had you bid $24 or 54%. I'm selling my John Lennon collection on eBay. Imagine all the pay pal.
🧪 Google Beta list: Test Google's AI Search tools before they go public. Go to google.com and look for the little beaker icon in the top right corner. Click it, then choose "Join Waitlist" on the next page. You're in.
$500 flat iron: Dyson's cordless Airstrait uses hot air instead of metal plates, so it doesn't damage hair. It's powered by the 27-millimeter Hyperdymium motor, with a 13-blade rotor spinning at 106,000 RPM. The final touch: Glass bead "thermistors" to make sure the air doesn't get too hot. And I'm still over here burning my forehead with a curling iron.
Spot the AI video: Smart tipoffs from the BBB. Look for unnatural body language and strange shadows, blurs or light flickers. And listen closely for choppy sentences or weird word inflection.
Wristy business: Facebook is killing its Messenger app for Apple Watch. If you use it, you'll still see notifications, but you can't reply. Imagine if Apple called it the "iWatch?"
💳 Cha-ching: The cards formerly known as Amazon Prime Rewards Visa Signature Card and Amazon Rewards Visa Signature Card have new names. For the Prime Visa, yup, you need a Prime membership; get 5% back on travel purchases, plus the standard 5% back on Amazon. The Amazon Visa is a no-Prime option with lower payouts.
No more taxiing: You can now book a Lyft to pick you up as soon as you land at the airport. Just be sure to check the fees. Uber has it, too, and I was shocked to see a $25 surcharge added.
😂 BBM me: Before the iPhone? The BlackBerry was the hottest handheld around. Now, it's the star of a new comedy about the tech that brought us to where we are today. Watch the trailer here.
🎧 Want great content on the go?
Sound like a tech pro, even if you're not one. Try my award-winning, daily podcast. Search for my last name with "K" wherever you get your podcasts and "Go Komando!"
TRENDING
In the app world, it pays to be small
Have an idea for an app? Go for it. Seriously. Apple says 90% of its developers are small, with fewer than 1 million downloads and less than $1 million a year in revenue. And as a group, their revenue grew by 87% in the U.S. over the last couple of years.
💸Bonus: Apple charges a 30% commission to big developers. The little guys only pay 15% of revenues.
Hot app categories
The fastest-growing apps are health, fitness and lifestyle oriented. I checked out the top App Store downloads. Think you have an idea that can beat these? 
Waterllama: Get in your daily ounces to fill in the cartoon llama. It'll remind you to drink.
Pool-Calculator: This does all the math when you need to treat your pool or hot tub. Genius. 
FaceYoga: Not sure if it can really erase wrinkles or get rid of a double chin, but hey, a lot of people are willing to download it to find out.
I was thinking about developing a dating app for lumberjacks. I'd call it "Timber."
📲 Want to learn how to build iPhone apps? Have fun.
DEVICE ADVICE
Clean your nasty smartwatch
Did you take off your smartwatch last time you sweat or took a potty break? Didn't think so. Wearable gadgets host 30 times more bacteria than your toilet. Gross! Here's how to clean your smartwatch.
Turn it off and remove any straps attached to it. 
Take a small amount of rubbing alcohol to a cloth or cotton swab. Use it to wipe the screen and the exterior of the watch. Avoid the straps!
Let the watch air dry completely before reattaching the straps and turning it back on.
✂️ Better way: Use a UV sanitizing box to kill bacteria on your smartwatch. Toss your phone and keys in while you're at it.
| | |
| --- | --- |
| IN PARTNERSHIP WITH   | |
🦷 Your new morning routine
Brush your teeth to my Daily Tech Update podcast. In just 60 seconds, I'll catch you up on the big tech news story of the day. Fresh breath and fresh tech know-how in a minute? Yes, please.
Use the link below to subscribe wherever you listen to podcasts so you never miss an episode. Trust me, you'll love it.
BY THE NUMBERS
3%
Amazon's share of the U.S. grocery market. Wonder how they're feeling about that $13.1 billion Whole Foods purchase back in 2006? Probably the way everyone does when they go to WF — poorer.
$1
The cost per minute for an influencer to be your virtual girlfriend. The 23-year-old used OpenAI tech to create a digital version of herself. Gotta respect the entrepreneurial spirit.
31%
The percentage of iPhone users who use their phones for 3+ years. Another 30% keep them 2-3 years and 28% 1-2 years. Maybe we'll start buying more often when phones cost less than rent.
WHAT THE TECH?
The Bible has a whole book dedicated to coffee: Hebrews.

UNTIL NEXT TIME …
🆘 The answer: Nothing at all. SOS is a Morse code distress signal. The original version used by the British was CQD ("seeking you, distress" or "all stations, distress"). The call was standardized to the simpler SOS in 1906 at the International Telegraphic Radio Conference.
These days, kids use it to express their dismay in a funny way. To "Harry Styles just got a new girlfriend," one might reply, "Sos noooooo!"
😎 Hey, look, now you'll understand the kids in your life. Tech news and Gen Z translator all in one email? You're welcome! Forward this email to a few friends and encourage them to sign up. Thank you! — Kim
How'd we do?
What did you think of today's issue?