😥 Easy phone mistake cost a woman $15K
In partnership with Dell
Welcome to Wednesday! Let's start with a little fun tech trivia. Without actually typing it in, where does Relentless(dot)com go? Is it Amazon, Apple, Google or Microsoft? Answer's at the end, good friends.
Are you excited to expand your tech know-how? Great! We have a ton of interesting things to explore together, so let's get started! — Kim
📫 First-time reader? Sign up here. (It's free!)
IN THIS ISSUE
📸 Scan scams spreading
💰 Amazon free $10 trick
🤳 Pics to get you a date
TODAY'S TOP STORY
QR code scams are out of control
Imagine losing $15,000 in just a few seconds. It happened to a woman who scanned a QR code to take a survey — and instead downloaded malware that drained her bank account.
QR codes are those black-and-white dot-based images you scan to open websites, menus, apps, you name it. But they're also a clever way in for scammers.
Here's one of their most dastardly tricks
QR codes date back to the '90s but exploded in popularity during the pandemic. Some restaurants still use QR codes for menus. One study found 84% of smartphone users have scanned a QR code at least once, and about a third scanned one a week.
⛽️ Say you're at the gas station
You see a sign branded with the gas station logo that you can scan for a discount. What you didn't realize is someone covered up the real QR code with a sticker leading to a bogus site. Thieves are smart enough to make sites look like ones you'd expect to visit. 
Just like that, you handed over personal info or even payment details.
🅿️ The same trick is used on parking meters …
And in paid parking lots, at banks and in emails. Since you can't see where a QR code's URL leads before you snap a pic, you must take extra steps to protect yourself. 
At a meter that asks you to scan to pay? First, look for another option. Can you visit your town or city's website directly? If not, go to the official website first, then scan the QR code. Compare and see if the site you were directed to looks similar or way off. 
🚩 Pro tip: Run your fingers over a QR code before you scan it. Can you tell if a sticker was placed over the top of the original code? That's a big red flag.
Remember, you don't need an extra app
✅ Just use your phone's camera. Not sure how? I have steps outlined for iPhone, Samsung, Pixel and more.
Why does Norway put QR codes on their battleships?
So they can Scandinavian.
DEAL OF THE DAY
🤏 Super thin wireless charger

Check this winner out! At only 5mm thick, this charger can go anywhere and packs some serious power. It works with any phone that supports wireless charging and protects against over-charging, overheating and short circuits. Score.
WEB WATERCOOLER
Get a quick $10: If you pick up your Amazon order at Whole Foods, Amazon Fresh or Kohl's, you'll get a $10 credit on orders of $25 or more. No delivery costs (Amazon knows you'll buy something else while you're there). So smart.
No keys: Genesis' (Hyundai's luxury arm) GV60 is the first electric vehicle (EV) to use facial recognition. Just touch the door handle and place your face near the camera. The car unlocks and you can start it. What happens if you get a facelift?
Don't lose your sh*t: Augusto Figueiredo, 30, dropped his $1,100 iPhone 12 Pro Max in a porta potty. He went in after it, up to his waist. No surprise, the phone worked, but he felt flushed and needed to go to the hospital. Pro tip: Let it go.
IYKYK: Fans say phones in the streaming hit "Succession" show plot twists. Loose cannon Kendall uses an iPhone and a BlackBerry. Deviant Tom switched to a Samsung. Controlling Logan Roy and Shiv both use iPhones. Yeah, it's either their way or the Huawei.
Windows 10 death date: Microsoft announced you won't get any more updates or support for Windows 10 after Oct. 14, 2025. Plenty of time to save up for a new Mac … 
Apple update: For iPhones, iOS 16.5 is coming next week. There's a new sports tab in Apple News and a number of fixes. The coolest thing: You can now say, "Siri, start a screen recording."
Ads in AI: Microsoft Bing AI Chat has had almost a billion chats since February. What's missing? Advertising. It's coming soon. If you see an ad for a watch while using Bing Chat, it was just a matter of time.
Start your own resale business. We have a free how-to guide that walks you through finding, selling and shipping great items. If you need cash, get started here on my site.
🎧 Want great content on the go?
Sound like a tech pro, even if you're not one. Try my award-winning, daily podcast. Search for my last name with "K" wherever you get your podcasts and "Go Komando!"
TRENDING
Where to make big bucks working in tech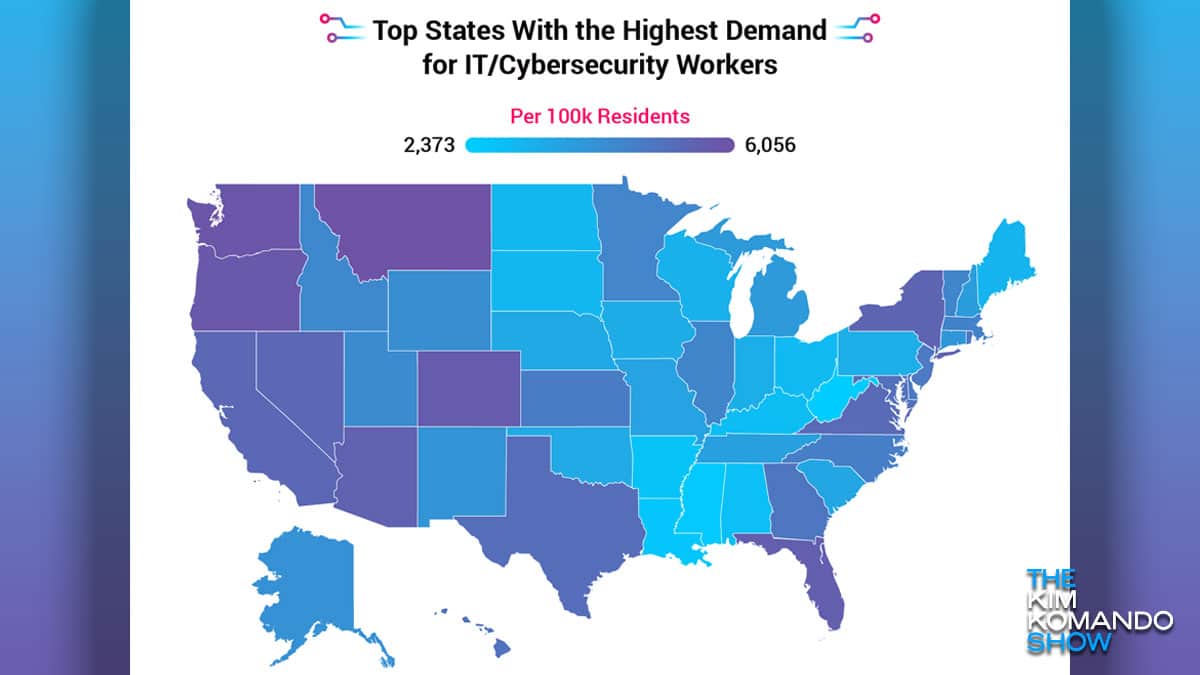 Maybe you're a pocket-protector geek or know someone who is. Or perhaps someone in your family is currently choosing their career path. In any case, this story is worth a share. Here are the best (and worst) states to score a well-paying IT or cybersecurity job:
Let's start with cybersecurity roles
Which cities pay the highest salaries? San Jose, California, at $148,000; San Francisco, at $137,000; New York, at $135,000; Austin, at $134,000; and Seattle, at $130,000.
🤠 Giddyup: Major cities in Texas are among the worst-paying for most cybersecurity and information security jobs. Austin is the exception. At least you won't have to pay income tax …
What about IT support?
You'll get paid the most in D.C., at $96,000, New York, at $94,000, San Francisco, at $92,000, San Jose, at $90,000 and Los Angeles, at $86,000. 
☀️ The Golden State: California is the spot for IT support techs, engineers, help desk techs and support analysis. 
Salary doesn't matter if there aren't job openings
You'll find the highest demand for IT and cybersecurity pros in Montana, Washington, Oregon, Colorado and Florida. And the top cities are Miami, Orlando, Atlanta, Tampa and Minneapolis.
☕️ What happened to the IT tech when he tried to flirt with a Starbucks barista? He was unable to make a connection to the server.
DEVICE ADVICE
A picture is worth 1,000 dates
When it comes to online dating, you only have a few seconds to stand out before someone swipes left. These are the top photos that get folks swiping right, based on millions of online dating profiles.
The headshot: A big smile feels intimate. Think eye contact and warmth. No sulking.
Full-body pics: Show potential dates the big picture of what you look like … and it helps to make you look less creepy. 
Candid photos: Nobody likes a stiff, posed photo. Relax and think of something that makes you genuinely laugh or smile.
Glasses: Show them off. Daters like them, but keep it to one or two pictures.
Your furry friends: Studies have consistently shown that pet owners appear more responsible and ready for a deep relationship.
🤳 What about the no-gos? Skip group photos, gym selfies and old pics. People want to see the real you, not a filtered or outdated version.
Need a helping hand? These are my tried and tested ways to look better in pics.
| | |
| --- | --- |
| IN PARTNERSHIP WITH   | |
Shopping for a PC is stressful
You don't have to go it alone! The pros at Dell will help you figure out the right model for free. Yep, and no pressure to buy. It's just one of the great ways they support small businesses.
We use Dell PCs and servers to power this newsletter, my national radio show and all the rest. If you're shopping for your small business, side hustle, new venture, you name it, you can chat with an expert to get totally free advice.
Ditch the old computer that struggles to get through the day. Reach out to Dell today. You'll thank me later.
Call a Dell Technologies Advisor at 877-ASK-DELL or go to Dell.com. →
BY THE NUMBERS
82
The percentage of people who admit to phone snooping. The cherry on top: 70% of snoopers say they've discovered evidence of flirting, digital or in-person, on another person's device. Think this is happening to you? Read this: Cheating leaves digital breadcrumbs.
2x
The increased risk of dementia for "offline" 50 to 65-year-olds. Researchers tracked 18K people over eight years and found online engagement may maintain cognition and fight against brain aging. I bet you're doing even better because you get this newsletter.
1 hour
The time 35% of remote employees spend working from bed. More than half of those surveyed recently moved because they needed better home office space. But hey, at least they don't have to put on real pants.
WHAT THE TECH?
Barry asked me if I saw the dog bowl. I told him I didn't know she could.

UNTIL NEXT TIME …
📦 The answer: Amazon. Incorporated as "Cadabra" in July 1994, Jeff Bezos renamed it Amazon in 1995. But he liked the word "Relentless" and that URL still brings you to Amazon today. 
Whew! There was a lot to cover today. I love to get your questions about what to buy, how to make money online, how to get things done or whatever. Drop me a line here. I read every note! – Kim
How'd we do?
What did you think of today's issue?