🖥️ Free VPN app leaked MILLIONS of records
In partnership with IDrive
Friday is here! Let's start with trivia. If you put your phone number on the National Do Not Call Registry, you can still legally receive phone calls from certain entities. Which of the following are not permitted? Is it calls from … charities, debt collectors, politicians or telephone companies? Ring, ring! The answer's at the end.
👁️ My corneal transplant surgery went well! If you're not squeamish, check out my gorgeous eyeball stitches. I know you opened this email to get your daily tech download, and I always deliver. It's a packed issue, so let's get to it. — Kim
📫 First-time reader? Sign up here. (It's free!)
IN THIS ISSUE
🥸 Internet sleuths and murder
🍔 Yelp's top 100 restaurants
📵 Don't update your iPhone
TODAY'S TOP STORY
Did eagle-eyed internet sleuths solve a murder?
Over the years, the internet has become a meeting place for would-be crime solvers. They gather on forums, Facebook and Reddit, combing through clues and motives. And they're often right in their hypotheses, helping law enforcement with convictions. 
You've likely heard of Bryan Kohberger, the 28-year-old man arrested for murdering four Idaho college students in November 2022. He was taken into custody on Dec. 30, 2022, at his parents' home in Pennsylvania.
A crime-solving group on Facebook believes Kohberger has ties to Dana Smithers, a 45-year-old woman who went missing in May 2022. A few weeks ago, Dana's remains were found about 30 miles from Kohberger's parents' home.
Internet crime solvers
Smithers' sister, Stacey Anne, runs a Facebook page called "Finding Dana." Back in January, people in the group told her that Kohberger was in the immediate area around the time Dana went missing.
Stacey Anne gathered the Facebook posts and gave them to local law enforcement. This week, Kohberger's parents, who own the home in question, were subpoenaed to appear before a grand jury investigating Dana's murder.
Was Kohlberger there?
On the day Dana went missing, she, her 7-year-old daughter and her daughter's father attended a nearby festival. That night, she went to a friend's house. Dana was last seen on the friend's Ring camera around 11 p.m. and reported missing days later. Her cellphone, wallet and medication were left home. 
Was Bryan Kohberger involved? Investigations are ongoing.
Not the first time the internet chimed in
Dana's story is getting national attention because internet sleuths have already helped law enforcement in the Idaho college student's murders. 
Before Kohberger's arrest, a person calling themselves "Pappa Rodgers" posted about a knife sheath at the murder scene long before the evidence became public. The user also argued with other posters and said, "really creepy stuff," according to an administrator of the murder discussion group.
A little caution, please
Let's not forget internet sleuths being wrong after the 2013 Boston Marathon bombing. They misidentified several individuals as suspects. This highlights the potential dangers of relying solely on crowdsourced investigations without proper oversight or expertise.
DEAL OF THE DAY
📃 Microsoft Office instant download

I get this question a lot. Where's a safe place to buy Microsoft Office online? This download includes Word, Outlook, Excel and PowerPoint if you want to purchase Microsoft Office outright rather than pay a monthly fee. You'll create documents, crunch numbers and slay presentations like a boss. The download is good for one PC or Mac. You get 60 days of complimentary support from Microsoft, too.
WEB WATERCOOLER
China's at it again: Microsoft and the National Security Agency (NSA) accuse China of planting spy malware into "critical" systems in Guam — a vital U.S. military hub. The NSA says Chinese hackers were using "built-in network tools to evade our defenses and leaving no trace behind." 
🍩 Trying to lose weight? Health app Noom is launching Noom Med, which prescribes trendy weight-loss meds like Ozempic and Wegovy. Heads up: These meds cost $1,000 a month without insurance, on top of the $91 monthly Noom fee. I'm in the wrong business.
Yelp's top 100 restaurants: Top spot goes to Broken Mouth in Los Angeles! This Hawaiian-Korean cafe serves up … wait for it … Spam sushi. Love sushi, but I'll pass on the Spam. See if your fave local spot made the list.
🔋 iPhone energy sucker: The new iOS 16.5 update appears to be draining batteries a few hours after charging. You might want to wait on this update until Apple gets its act together or just carry a charger with you all the time. Not.
Is that a PS5 in your pocket? Sony is coming after the handheld Nintendo Switch with its Project Q device. PS5 over Wi-Fi anytime, anywhere. I remember when my son Ian's PlayStation broke. He was inconsolable. 
⌚ Secret agent watch: The latest Wear OS update for Google Watch lets you peek in on your Nest cam or doorbells from your wrist. Spoiler alert: It's probably another Amazon delivery. 
Flash from the past: Canon's new EOS R100 mirrorless camera is $599.99 and missing all the modern stuff like touch controls, a moveable screen and webcam streaming. For that price, stick with your smartphone.
🦤 Bird's the word: Try this out over the long weekend. Cornell's Merlin Bird ID app for iOS and Android helps you identify over 6,000 species. It knows their songs, too. Chirp, chirp. Watch this cool vid to get a closer look into how Merlin knows what the birds are saying.
🎧 Want great content on the go?
Sound like a tech pro, even if you're not one. Try my award-winning, daily podcast. Search for my last name with "K" wherever you get your podcasts and "Go Komando!"
SECURITY WARNING
Free VPN caught leaking user data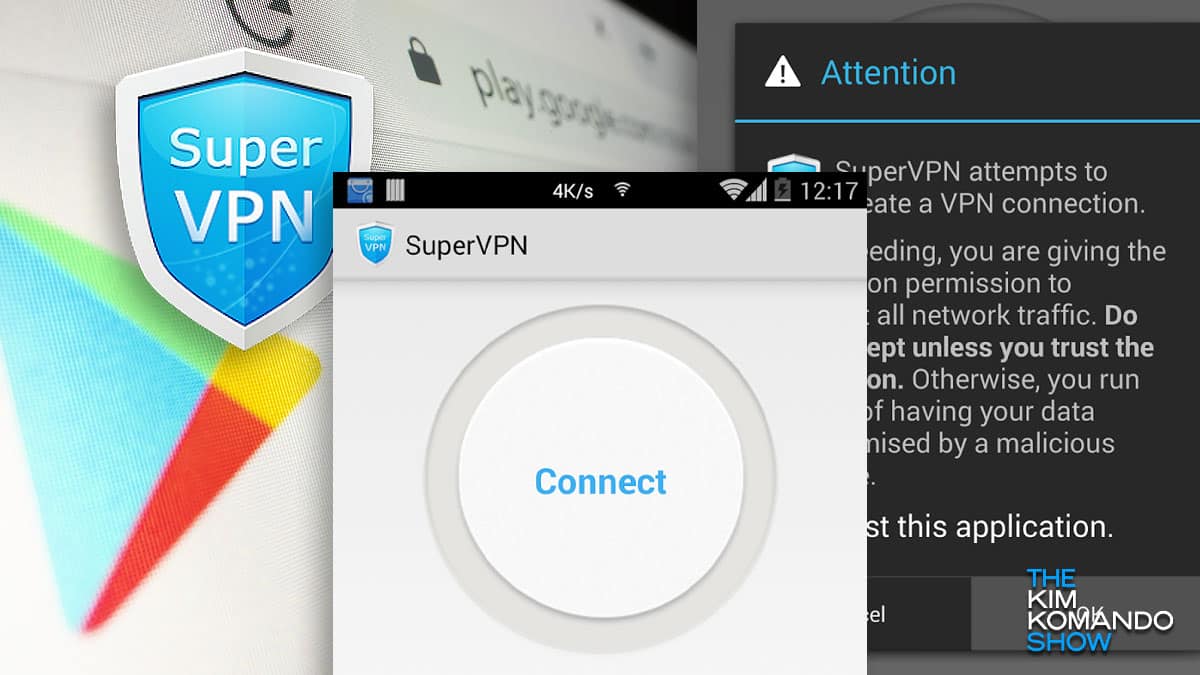 I've said it before and I'll say it again: Some things aren't worth trying for free. A Virtual Private Network (VPN) is at the top of that list. It's just too easy for cybercriminals to hack into VPNs that aren't adequately secured or for shady developers to offer "free" software that tracks your every move.
Bad news for SuperVPN, which fell somewhere in between. Lax security practices left a huge database open for anyone to browse.
Oh, that is not good
The app has over 100 million downloads across the Apple App Store and Google Play Store, and a mind-boggling 360 million user records were leaked.
Included in the leaked info: Email addresses, original IP addresses, geolocation records, unique users' identifiers, references to visited websites, operating systems, devices and online activities. Woof.
A cybersecurity researcher, Jeremiah Fowler, discovered the exposed info. He reached out to SuperVPN and says the database was closed down without any explanation. Come on, not even a thank you?
It gets worse
Fowler noticed something strange: SuperVPN was listed under two developers in the Apple and Android app stores. It seems both have connections to China, with "notes inside the database … in the Chinese language."
Oh, and it was kicked out of the Google Play Store in 2020 for more suspicious behavior.
Bottom line: If you have this app on your phone, delete it. Now. You should look into every app you download, especially if that app collects this much personal info.
🏆 My VPN pick is one you can trust: ExpressVPN.* (No, they're not paying me to mention them here. Just trying to help you out.)
DEVICE ADVICE
Your phone has a sharper eye than you
Using the long weekend to spruce up the house? Hanging one picture is pretty easy. But what if you have four pictures with two hooks on the back and want them hung exactly 5.5 inches apart? 
Use the app Hang-a-Pic. You choose how many pictures, hooks and dimensions. The app tells you exactly where to place the nails right there on your phone, or you can print out complete directions via email. So smart.
Just hanging one thing?
On iPhone, open the Measure app, then tap Level on the bottom right. The level will appear on the screen. Cool.
On an Android, open the Google app or your browser and search for "bubble level." Use it like a normal level, placing it on a surface. 
⭐ If a friend sees you doing this and wonders how you got so smart, tell them to get my free newsletter.
| | |
| --- | --- |
| IN PARTNERSHIP WITH   | |
It's not worth being lazy
Sure, it's easier to pretend all your precious photos and videos will be fine. Then your phone breaks or your PC won't start, and you're screwed. Don't let it happen to you.
Take the time to back up your stuff the right way. My pick is IDrive. It's safe, fast and easy. You can back up all your devices — iPhone, Android, Mac, PC — to one account you can access from anywhere.
When you use my name, Kim, at checkout, you get 90% off your first year. What a deal.
BY THE NUMBERS
1
The spot Tina Turner's "What's Love Got to Do With It" reached on the U.S. iTunes chart. The Grammy Hall of Famer passed away on Wednesday at 83. I'll never forget those legs.
7.5 billion
The number of robocalls just one company made to people on the Do Not Call Registry. Nearly every state is suing Arizona-based Avid Telecom, alleging calls included "Social Security Administration scams, Medicare scams, auto warranty scams, Amazon scams, DirecTV scams and credit card interest rate reduction scams."
Not zero
The chance AI could annihilate humanity, according to Elon Musk. "It's a small likelihood of annihilating humanity, but it's not zero." Hope you sleep tight tonight.
WHAT THE TECH?
The internet: Where someone is always a little worse than you.

UNTIL NEXT TIME …
☎️ The answer: All of the above. Even if your number's on the Do Not Call list, you can still get phone calls legally from charities, debt collectors, politicians and telephone companies. 
Hey, did you hear about the zombie telemarketer? He was a dead ringer. I crack myself up sometimes. 
🎉 Thanks for being here and putting up with my jokes. I appreciate all your well wishes and kind words. I'd love to get more readers to this greatest tech newsletter in the universe. Tell your friends! — Kim
How'd we do?
What did you think of today's issue?