🔫 An inside look at smart guns
In partnership with Rocket Money
It's Humpday! Let's start with a dose of tech trivia. The world's first website, created by Sir Tim Berners-Lee, is still online today. What year did this website first appear? 1965, 1978, 1983 or 1991? Answer is at the end of this newsletter.
Ready to be in the know about the latest and greatest in the tech world? From juicy news to nifty tips and even some fun stuff, we've got it all covered. Let's dive in! — Kim
📫 First-time reader? Sign up here. (It's free!)
IN THIS ISSUE
🔫 Smart guns are here
🌽 Cheaper groceries incoming
🔥 Ford F-150 EVs up in flames
TODAY'S TOP STORY
These guns have smarts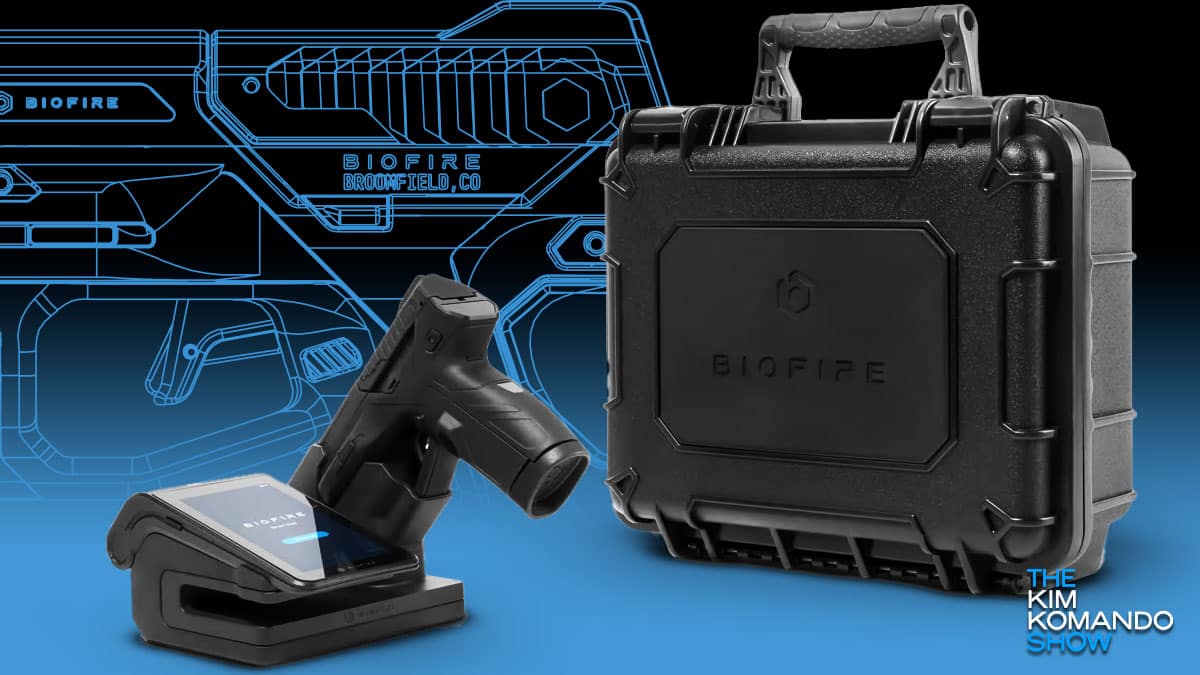 Darrell in Austin, Texas, wrote: "Hey Kim, I heard you say a smart gun is being released. How smart is it?"
I like being upfront. I own a Smith & Wesson 380 Auto. I've taken safety classes and am working on my concealed carry license. Yes, guns are controversial. My intention is to make you aware smart guns are coming, thanks to tech.
An interesting backstory
Kai Kloepfer was a high school student in 2012 when 24-year-old James Holmes walked into an Aurora, Colorado, movie theater. Holmes killed 12 and injured 70 more. 
Kloepfer, now 26, is about to ship a smart gun. PayPal cofounder Peter Thiel's fellowship program awarded Kloepfer $100,000 for dropping out of school to start his company. That company, Biofire, has raised $30 million to date. 
How it works
Biofire's smart gun comes with a dock equipped with a touchscreen that pairs your face and fingerprint to the gun. Biometric data captured is stored only on the gun. 
Once the system detects an approved user's fingerprint or face (whichever comes first), it quickly unlocks and can be fired like a regular handgun. Up to five people can be registered per gun.
The gun packs infrared biometric sensors, laser sights and an electronic interface. It's powered by a lithium-ion battery — charges in an hour and lasts months on a full charge. 
The smart gun's barrel is twice the size of a regular handgun. The pistol is 9mm, striker-fired and feeds from 10- or 15-round magazines. 
You can watch a video of the gun here on my site. It's $1,499 and ships before July.
My take
I have a ton of questions. A smart gun has to be field-proven. How reliable is it? Can a criminal deactivate it? Is it hacker-proof? Are all states on board? I'm interviewing Kloepfer soon on my show — have any burning questions you'd like me to ask him? Send them to me here!
DEAL OF THE DAY
👀 Feel like somebody's watchin'?

The only way you know your webcam isn't watching is to cover it up. Sure, you can use a Post-it or tape, but these webcam covers are super cheap. And they do what tape can't: You can slide them open when you need your cam, then closed when you're done (without leaving a sticky mess).
WEB WATERCOOLER
Great Balls of F-150 Fire: Ford paused production on its $62,000 Lightning electric trucks for five weeks after three caught fire. They say the fire is "rare" and not a design flaw. Sure glad no one got hurt! Watch the video to see the devastation first-hand. 
Here VR: Apple's rumored virtual reality (VR) headset coming soon will work with thousands of iPad apps. The "Reality Pro" will cost $3,000 and include gaming, fitness, e-reader, messaging and FaceTime. Did you hear about VR for cows? It's moooood enhancing.
Safety in numbers: Amazon workers are one step closer to unionizing after the Teamsters secured a tentative agreement for wage increases and safer working conditions for 84 Palmdale, California drivers. Speaking of, this video of an Amazon driver delivering a package in the middle of a police stand-off is nutso.
Slackers take note: Slack's new Canvas document editor might help with your short-term meeting memory. In a direct message or channel, you'll see a new page icon in the top right. Click it to take notes that won't get lost in conversation and are a heck of a lot easier to find later. 
Bad dog review: Yelp's search now uses artificial intelligence (AI) to give smarter suggestions (no surprise there), has a new surprise me option and recaps reviews so you don't have to read them all. There's a $2,500 guarantee for services you buy through Yelp, too.
Houston, we have a caller: Satellite company AST SpaceMobile just placed the first space-based phone call using regular phones. It was on a Samsung smartphone in Midland, Texas, to a line in Japan, via BlueWalker 3 satellite. Satellite-based phone service is coming soon to us all.
🎧 Want great content on the go?
Sound like a tech pro, even if you're not one. Try my award-winning, daily podcast. Search for my last name with "K" wherever you get your podcasts and "Go Komando!"
TRENDING
Cut your grocery bill
Eggs aren't $9 a dozen anymore, but boy, oh boy, are groceries pricey. I've got your back with a few ways to save.
Don't google "coupons"
You'll most likely end up on junk sites trying to get you to click an ad. That said, CouponFollow found that the typical household could save over $300 on things they were already buying at the grocery store using coupons. So how do you find the legit deals?
Pro tip: Download your grocery store's app to get the best possible prices — and check out Upside* (They're a sponsor of my podcast because I think their service rocks). Upside gets you cashback on groceries, gas and more.
While you're at it …
Compare costs. Maybe you default to one store because it's right around the corner — when you could pay 15% less driving another few miles. Some stores simply have better deals on certain types of items. I made a mistake at the grocery store the other day. I went to get six Sprites. I came home with 7up.
Pro tip: MyGroceryDeals compares prices, so you don't have to. Type in what you're looking for and your address, city or ZIP code to find sales near you. Love that.
Buying in bulk? 5 ways to get more out of your Costco or Sam's Club membership →
DEVICE ADVICE
20-second iPhone security check
Smartphones come packed with accessibility features for people with vision, hearing or mobility impairments. These are essential tools for the people who need them, but one setting could put your security at risk. 
Face ID has an accessibility feature to support people who are blind or have poor vision. With this setting, you don't need to open your eyes to unlock your phone.
While some people need this, you shouldn't use it if your vision isn't impaired. Here's where to find it:
Go to Settings > Accessibility > Face ID & Attention.
Make sure Require Attention for Face ID is enabled.
This setting is enabled by default, but someone with access to your phone could disable it and unlock it while you sleep. A quick check here is more than worth it.
➕ I didn't forget about you, Android friends. 8 quick, easy ways to speed up your smartphone →
| | |
| --- | --- |
| IN PARTNERSHIP WITH   | |
5 minutes to cancel your unused subscriptions
I hate wasting money, and I know you do, too. That's why I used Rocket Money, a free app that spots all the services you pay for and can cancel the ones you're not using. I'm talking streaming, music and all the rest.
No more long hold times with customer service or emailing back and forth. Rocket Money does it for you in the click of a button. For the ones you want to keep, they can even negotiate a lower rate.
I tried it and, no joke, Rocket Money saved me $456.76 a year. I was shocked, honestly.
Cancel your unwanted subscriptions by going to RocketMoney.com/kim now while you're thinking about it. → →
BY THE NUMBERS
~140,000
The number of Chevy Bolt electric vehicles (EVs) sold in the U.S. since 2017. If you're ready to hop on the EV train, the Bolt could be your introduction — GM's killing it this year. At less than $30,000, the Bolt is the cheapest EV you can buy today. I think the design is revolting.
1,108,609
The number of identity theft cases reported in the U.S. last year. Per the FTC, from fifth to first, the most affected cities are: Atlanta, Georgia; Lafayette, Louisiana; Miami, Florida; Baton Rouge, Louisiana; and, coming in at No. 1, Tuscaloosa, Alabama. Check the charts on my site to see how prevalent ID theft is where you live.
50%
The royalty split singer Grimes wants from artificial intelligence (AI) artists. She should be so lucky. Elon Musk's former or current wife (no one's quite sure) has released 13 singles since 2012. None were top 10 hits. Talk about "me-me-me" all the time.
WHAT THE TECH?
All he needs is a cat's favorite condiment … Mayo.

UNTIL NEXT TIME …
👀 The answer: The world's first website launched in 1991 to give details about the "World Wide Web Project." It's boring looking but still online here. 
✅ If you like this newsletter, be the first to get our new and improved Tech Life Hacks & Tips free email. Launching any day! Sign-up now while you're thinking about it. 
I'll be in your inbox tomorrow with another fantastic newsletter! Thank you so much! — Kim
How'd we do?
What did you think of today's issue?