📲 The secret ID in your smartphone
In partnership with TotalAV
Ah, Sunday! First, the trivia. My iPhone 14 Pro Max has 1TB of space. How much did the top-of-the-line 1st gen iPhone have in 2007? 4GB, 8GB, 16GB or 32GB? The answer's at the end.
We all know today's the day to kick back. But wait, what's that? Is your tech threatening to ruin your chill vibes? Fear not! There are great tips in this newsletter you'll use time and time again. Let the good times roll! — Kim
📫 Was this forwarded to you? Sign up here. (It's free!)
IN THIS ISSUE
💅 Insider tech life hacks
🤐 Secret ID in your phone
🆓 Free movies, books and music
KIM'S COLUMN
A tech sherpa in your inbox
Every week, I write two special features for USA Today. They don't publish on their site until next week, but because you get my free newsletters, you're in the know first!

When you're the tech-savvy friend, people ask for help. It comes with the territory. And who helps those people? Me! 
Secret Windows restart trick
Frequent shutdowns can fix most computer issues, but you can try a shift shutdown to close all processes and apps and clear the RAM completely. 
Hold down the Shift key before you hit restart. 

Keep holding it until your PC powers down, and choose Continue when it turns back on.

♻️ Did you know? Windows is more environmentally friendly than macOS. Windows puts your deleted files in the Recycle Bin, while macOS just throws them in the Trash.
Wipe your location from photos
Your phone stores metadata every time you take a picture. That might include the date you took it, your camera settings and where you were. Yikes.
To stop location sharing on iPhone, open the image you want to share, select Options and toggle off location. 
On Android, open your gallery, select the photo, then go to Details and click Remove location data.
Fix your phone's call audio
You're on an important call, but the background is noisy and your friend can't hear you. Good news if you have an iPhone: try the new Voice Isolation mode. 
Dial whoever you want to talk to and wait for them to pick up. 
Then, swipe down from the top right of your screen to access the Control Center. You'll see a button labeled Mic Mode. 
Tap on it, and you'll be given two options: Standard and Voice Isolation. Choose Voice Isolation. It'll stay activated for the duration of your call. 
I have even more smart pro tips good enough to share (or just make you look like a genius). And a true genius, not like the guy who invented one-ply toilet paper. I'd never shake his hand. 🧻
DEAL OF THE DAY
⚡ Charge everything at once

Always running out of cords? This charging hub includes 5 USB ports and the cables (3 USB-to-lightning and 2 USB-C). Say goodbye to messy charging stations, lost cables and family feuds over who gets to plug in! Great to pack on a trip, too.
🎧 Want the daily download on the go?
Sound like a tech pro, even if you're not one. Try my award-winning, daily podcast. Search for my last name with "K" wherever you get your podcasts and "Go Komando!"
MY TRUSTED ADVICE
Every week, I spend time chatting with folks just like you to make their tech lives better on my national radio show. Here are a few awesome people I talked to this week.
Ricoh Danielson is a super-smart digital forensics expert. We talked about signs you're being stalked and the tools the pros use to catch these creeps. He tells you things that hackers and scammers wish you didn't know.
Lauren from Portland, Oregon, is traveling to Europe and wants to know how E-SIM cards work. They're a great way to avoid roaming fees as long as you buy the right one.
RJ from Miami, Florida, is a veteran fighting cancer and wants to know if an old tablet will work for Bible study. He needs something better, and well, you'll have to listen for the rest of the story.
Plus, I spoke with about a dozen more folks who needed a hand with something digital. I love helping people!
🎧 Want to catch these conversations and more? Find me on your local radio station or listen in the Komando Community. If you're patient, these calls will hit my podcast, Kim Komando Today.
📞 Would you like to chat with me? Drop a note to me here and Marianne will schedule a time for us to talk one on one.
MONEY MOVES
Get movies, books and music for free (really)
Don't Google "free movies," "free shows," free anything, really. At best, you'll wade through a lot of junk. At worst? Hello, malware. (Psst, that's why antivirus software is so important. My pick is TotalAV.*)
We did the work for you. Here are a few solid options for movies and TV.
Crackle: An ad-supported library of popular movies and older TV shows.
Freevee (formerly IMDb TV): Commercials but not as many as network TV. You'll need an Amazon account.
Pluto TV: More than 250 curated channels with thousands of movies and TV shows.
Tubi: Everything from quirky, artsy films to classic movies that made history and popular TV shows. Yes, there are commercials.
Roku: If you have a Roku, you have access to The Roku Channel, which gets you free movie and TV content.
"I should read more"
You say as you pull out your phone. Why not put an eBook or audiobook on it, smartypants? My favorite app for this is Libby. 
It's easy to use and connects to your local library. Depending on where you live, you can sign up for a card in the app itself. You'll find fiction, nonfiction, cookbooks, DIY guides and more — many in eBook and audiobook format. 
Pro tip: You'll probably have to wait a while for super popular titles. You can put eight titles on hold at a time. I wanted to read "The Book Thief," but someone stole my copy.
Over on my site, browse our guide to the best free ways to stream music. (Sorry, I can't fit everything in this email!)
| | |
| --- | --- |
| IN PARTNERSHIP WITH   | |
Stop malware in its tracks
Even the most tech-savvy folks can click the wrong link or open the wrong message. Once malware gets in, you're in for a real pain.
That's why you need powerful software that can sniff out malicious files for you. I trust TotalAV. It's simple to install and use, and they've received the VB100 award for detecting more than 99% of malware samples for the last three years in a row.
You won't find a lower price anywhere. You get a year of protection on five devices for just $19!
DIY SECURITY TIP
The hidden phone ID giving away your secrets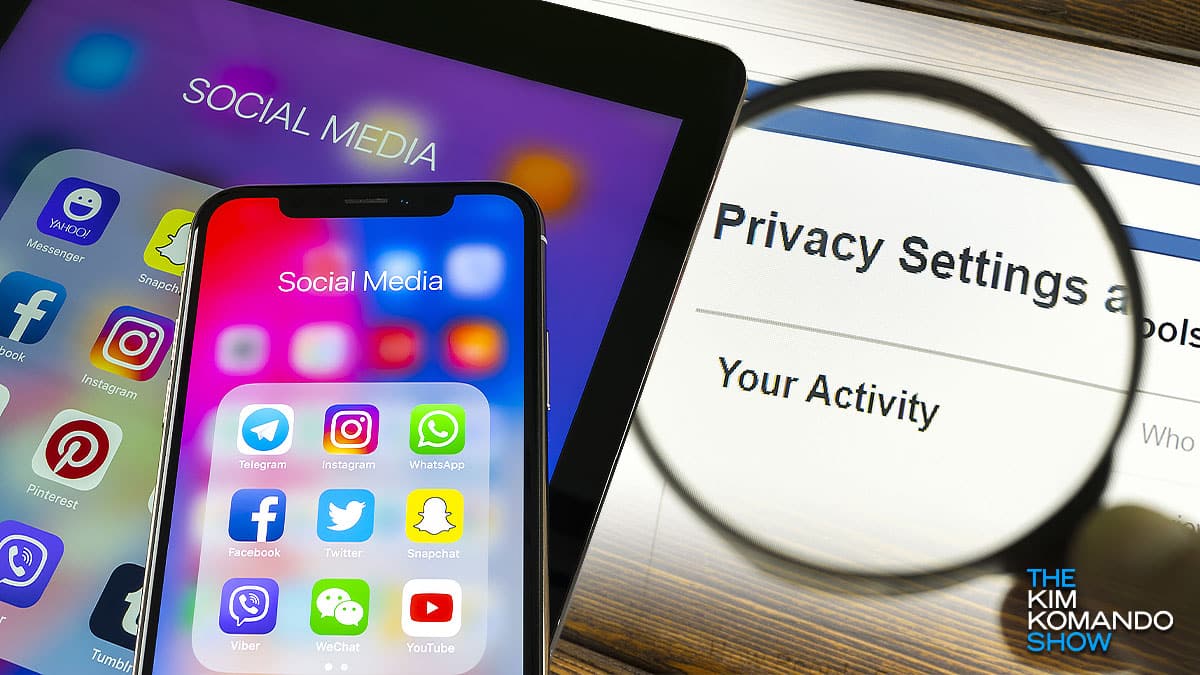 Most advertisers and marketers don't know exactly who you are. But your rough location, what you buy and search for online are tracked and assigned to your unique Mobile Advertising ID identifier. 
Typically, there'd be no way for companies to know who that random ID belongs to since it's not traditionally tied to real names or addresses … Until now.
Spoiler: They have it all
Motherboard discovered a shady company that pairs all your activity with details like full name, physical address, phone number, email address and IP address.
Next time you see that all the data a site knows about you is anonymized, you'll know better.
How can I stop it, Kim?
Have an iPhone? Opt out of personalized advertising through Apple's App Tracking Transparency. 
Open Settings, then tap Privacy & Security.
Scroll down and tap Apple Advertising.
To disable personalized ads, toggle the switch next to Personalized Ads to the left.
On Android, follow these steps:
Tap Settings, then Google.
Tap the Ads option and toggle the switch for Opt out of Ads Personalization. 
🕵️ Don't stop there. See which apps are watching everything you do.
WHAT THE TECH?
ROFL … CGU: Rolling on the floor laughing … and can't get up.

UNTIL NEXT TIME …
📱The answer: 16GB. There were 4 and 8GB models, too. Imagine having a phone with 4GB today. I bet I have more than that in screenshots. 
Not everyone thought the iPhone would be a hit. "The iPhone is nothing more than a luxury bauble that will appeal to a few gadget freaks." — Bloomberg in 2007.
🤗 Thanks for being here. Do me a solid and share this with a few friends. It helps us keep this free newsletter in your inbox. And don't forget to rate below! — Kim
How'd we do?
What did you think of today's issue?