📱 Check your phone for 6 scammy apps
In partnership with Dr. Marty's
Happy Monday! It's a big week: I'm having a cornea transplant! Soon I'll be banned from my inbox while I heal. Don't worry. You'll still get this fabulous email every day. Thanks for all the well wishes. It means a lot.
Nope, I didn't forget trivia. In 2003, a tech CEO was in a helicopter blown off-course by wind. It crashed, but everyone survived. Was it Bill Gates, Steve Jobs, Larry Page or Jeff Bezos? Answer at the end! — Kim
👋 First-time reader? Sign up here. (It's free!)
IN THIS ISSUE
📵 AI app fakes
💤 Fall asleep faster
🥯 DoorDash lawsuit
TODAY'S TOP STORY
ChatGPT apps: The good, the bad and the scammy
I've been warning you for months to avoid anything claiming to be an official ChatGPT app since it wasn't here yet. Good news: The ChatGPT app is now live and you can download it … if you have an iPhone. (Open AI says the Android app is coming soon.)
Use this link. Yes, it's legit. It's free unless you add a subscription to ChatGPT+ for $20 a month. Most people can skip that.
So, what about all those fakes?
Many of the bogus ChatGPT apps are "fleecewear." Nope, not a fuzzy sweater. Unlike typical malware that steals your info, fleecewear tricks you into spending money willingly. 
Sometimes these apps charge for things other apps do for free or promise a free trial and then charge you immediately for a year subscription. 
🎏 They're fakes, like in a koi pond of four fish. You've got the A, B, C and D kois.
Check your phone for these apps
Cybersecurity company Sophos combed through Apple's App Store and the Google Play Store to find all the scummiest AI apps. They promise to work just like ChatGPT. Most do nothing but pummel you with ads. Watch out for these six lookalikes:
Chat GBT
GAl Assistant
Al Chat GBT – Open Chatbot App
Al Chat – Chatbot Al Assistant
Genie AI Chatbot
Al Chatbot – Open Chat Writer
Sophos says Genie AI Chatbot works without payment, but only for four daily searches. Then you'll pay $7 a week or $70 a year. Btw, the company behind it made about $700K just last month from iPhone users. Yeah, I'm wondering why I didn't think of that, too.
✅ One more important step: If you have one on your phone, you might be paying a subscription fee. I have steps on my site to do a quick check.
DEAL OF THE DAY
😢 Better than baking soda

Stinky fridge? Pop in a mini USB fridge deodorizer. It circulates oxygen to get rid of smells better and there are no filters to replace. Recharge it now and then via USB and you're good to go. You can stick one in a gross car or gym bag, too.
WEB WATERCOOLER
GhostTouch: No, it's not your cranky aunt from the beyond. It's a new term for hackers getting into smartphones without a password. Spooky … Malware can be installed via a charging cable. Always use protection when charging in public.
🚤 Electric boat? It's a thing. BMW's luxury single-boat deck seats about a dozen people and goes 30 knots or 34 miles per hour. It has its own custom soundtrack, too. No word yet on the price.
Blue text tax: A new lawsuit claims DoorDash charges iPhone users slightly more than Android counterparts. A guy from Maryland filed the class-action (seeking $1 billion), claiming additional fees are applied for iPhone orders. I'll wait for my check.
No account? No problem: Well, five problems, technically. You can now access Bing Chat without a Microsoft account. The catch? Only five chat turns per session. Sign in to go up to 20.
📺 Commercials are back: The 15-second ads you can't skip on YouTube vids will soon be 30 seconds when you watch from your TV. Time for a bathroom break?
Wait, wait, don't tell me: The MyTSA app got an upgrade: More accurate wait times at TSA checkpoints across the U.S. Now you just need to leave the house on time.
Smartphone warning: Researchers fooled facial ID scanners in Samsung, Honor, Motorola, Nokia, Oppo, Vivo and Xiaomi phones. They used low-res 2D pictures, which, you know, anyone could do. Scary.
👣 The perfect body: You have to see the images AI created when asked to show the perfect body. Our fabulous show producer Madi put together a video. Let me just say, I don't know many people who look like that … Watch it here now.
🌞 Your new morning routine
Every morning, brush your teeth to my Daily Tech Update. You get fresh breath and fresh tech know-how in a minute.
TRENDING
Chalk one up for social media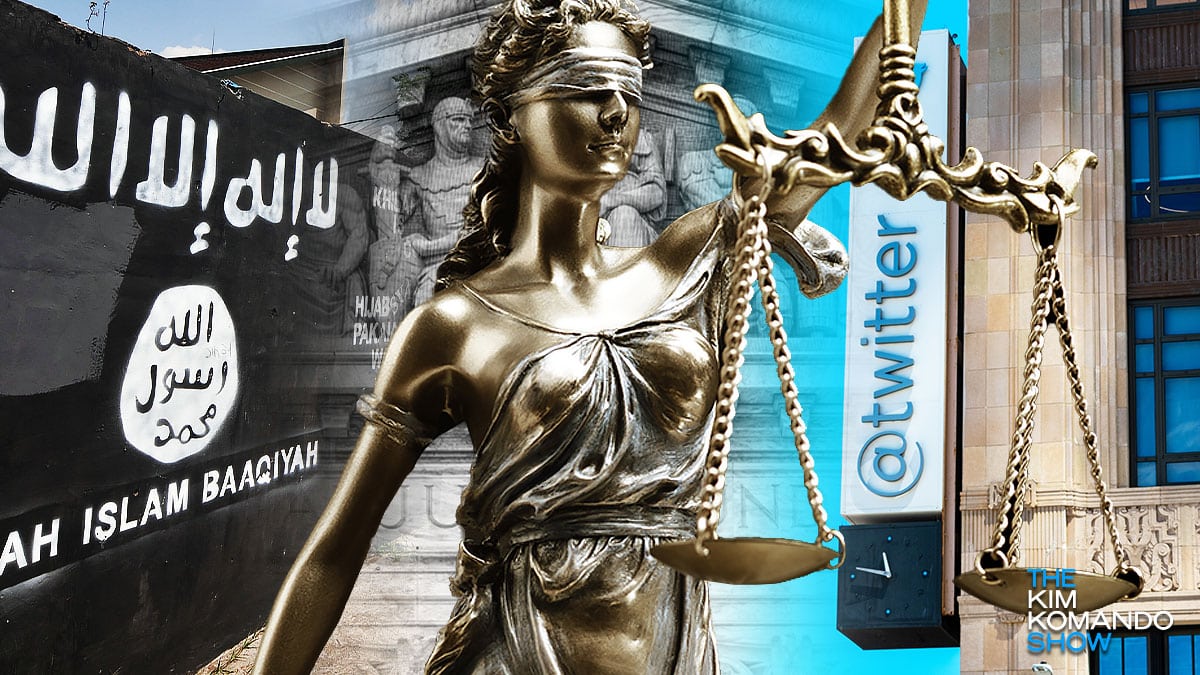 For over 27 years, a very outdated law has shaped the internet. It's Section 230 of the 1996 Communications Decency Act. And it has serious implications. 
It protects online platforms like Facebook, TikTok, Instagram and Twitter from being held responsible for what users post … even if that content encourages terrorist radicalization.
Compare that to your traditional newspaper …
… magazine, radio station or good old TV. If they let someone publish something harmful, you can take them to court and sue them.
A whole lot has changed since 1996, especially online. The majority of people head to social media to get their news. But guess what? This ancient law hasn't budged an inch. 
And it doesn't look like it's going to change anytime soon
The Supreme Court backed Google and Twitter when they were accused of social media liability in terror attacks overseas in 2017.
Two families lost loved ones in an ISIS terrorist attack in a nightclub in Turkey. They say YouTube recommended extremist videos to would-be terrorists. YouTube and Twitter essentially said, "Hey, it wasn't us. It was the algorithm." And who made that algorithm, exactly?
Yet again, social media wins
Have they no sense of decency? According to the law, at least, they don't have to. We haven't seen the last of this.
DEVICE ADVICE
4 ways to fall asleep faster
With enough sleep, you get sick less, reduce stress and think better. So what if you end up staring at the ceiling all night? Stop counting sheep and scrolling social media and fire up a podcast made to help you rest.
😴 Check this out. Falling asleep quickly doesn't matter if your phone wakes you up. Sleep Mode to the rescue!
| | |
| --- | --- |
| IN PARTNERSHIP WITH   | |
Abby won't stop barking at me
Because she's just so excited to eat when I pull out the bag of Nature's Blend from Veterinarian Dr. Marty Goldstein. It's a premium freeze-dried, raw dog food made from real cuts of raw turkey, beef, salmon and organ meats.
Before Nature's Blend, Abby was itchy, and her poop was smelly and gross. I had no idea I was buying big-name dog food loaded with garbage — animal parts and wood pulp.
As a reader, save 54% on your first order, plus get a free bag of dog treats! Let Dr. Marty's 45 years of experience help your dog, too!
BY THE NUMBERS
$3.4 billion
The amount NASA awarded to Jeff Bezos' Blue Origin. NASA says the company is adding "well north" of that amount to send astronauts to the moon. Wait, didn't we do that already? SpaceX got $3 billion in 2021. One small step for Elon Musk, one giant leap for Musk-kind.
$200 million
The amount Hyundai and Kia will pay to settle a class-action lawsuit. Turns out, their cars were surprisingly easy to steal. Oops. Up to $145 million will go to those whose cars were stolen. Silver lining … unless they replaced it with another Kia.
60 to 70%
The chance summer in the Southwest will be warmer than average. Gonna be a hot one, folks — and not just for Arizona. In the East (Texas to New England), there's a 50 to 60% chance of hotter-than-normal temps. Expect things to be drier in the Pacific Northwest and wetter in the South and East Coast. Speaking of … What's faster, heat or cold? Heat, because you can catch a cold.
WHAT THE TECH?
Do you see urchins?

UNTIL NEXT TIME …
🚁 The answer: Amazon founder Jeff Bezos. He was scouting a Texas ranch to test land spacecraft in 2003. A gust of wind blew the copter off course, but no one was injured in the crash. The pilot's nickname was "Cheater," no joke. Feels like a bad omen.
Thanks so much for being here. Help me out and forward the greatest tech email newsletter to a pal. See you in your inbox tomorrow. — Kim
How'd we do?
What did you think of today's issue?