📡 Are you making this Wi-Fi mistake?
In partnership with Rocket Money
Sunny Sunday! Do you blast music when you do weekend chores? I do. Lately, it's been Dua Lipa 24/7, although I really enjoy Fr. Mike's Bible in a Year. Leads me right to this weekend's trivia. What's the bestselling album of all time? 
🎉 OK, party people, let's jump in. On weekends, I share all my best tips to help you save money, secure your digital life and be your tech-savviest self. — Kim
😀 First-time reader? Sign up here. (It's free!)
IN THIS ISSUE
📶 Check your network
🧮 Free finance tools
🪄 Wipe it away
KIM'S COLUMN
See what (and who) is on your Wi-Fi network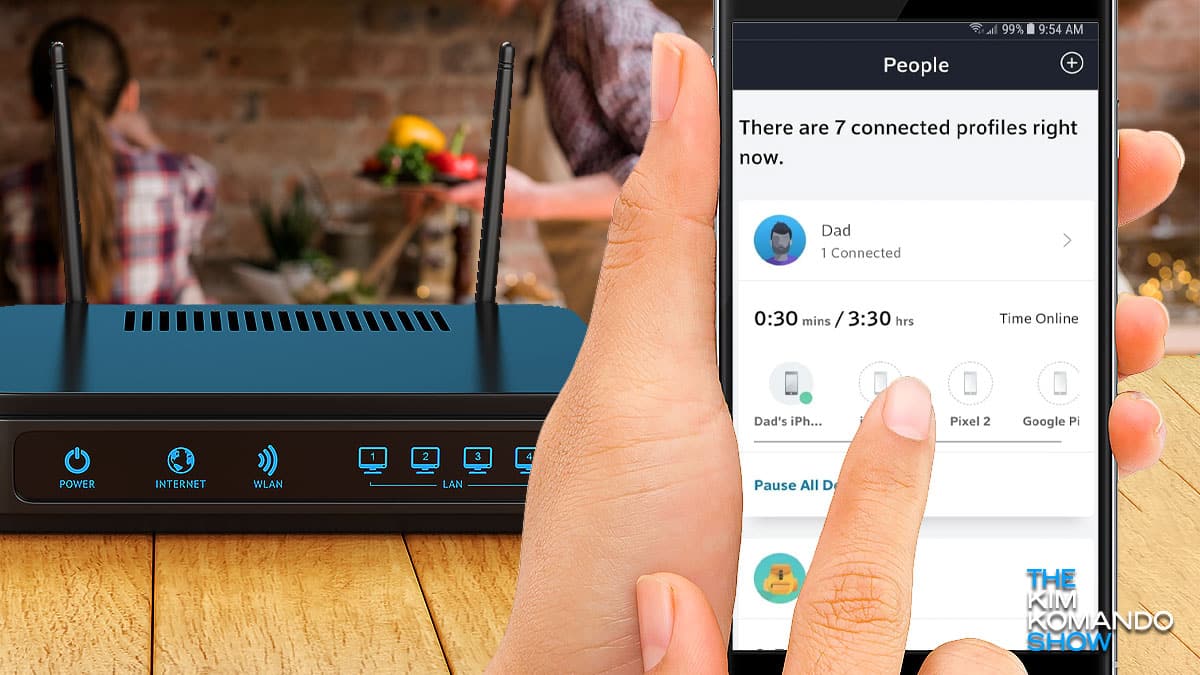 Every week, I write two special features for USA Today. They don't publish on their site until next week, but because you get my free newsletters, you're in the know first!
Back in the day, you could only see what was on your network by logging in to your router using a browser. That still works (more on that below), but now, most wireless providers let you do this via an app.
Find your provider's official app
Go to your provider's website on your phone to make sure you have the legit app, add it to your smartphone, then log in with your ISP's credentials. They all have slightly different capabilities. Most let you review and organize devices, change your Wi-Fi name and password and troubleshoot connection issues.
😳 My friend Benny changed his password to "incorrect." Whenever he forgot his password, the error message would say, "Your password is incorrect."
… Or go old school
Log into your router to see the most up-to-date information about which devices are connected. Most models support this universal feature.
Type your IP address into your browser, then log in with your router's custom username and password — or the default information if you never set one. Check for a list that says DHCP Client or Connected Devices. 
Pro tip: See something you don't recognize? Change your Wi-Fi password and reconnect only the devices you trust. 
✅ Want to get a deeper look at what's on your network? I have more tools to share, including the one Komando IT Genius John loves.
DEAL OF THE DAY
⛈️ Control the weather (Sort of)

This digital weather thermometer measures the temps inside and outside, forecasts the next 24 hours and shows nerdy stats like the moon phase and barometric pressure. It's also got a built-in atomic clock and supports up to 3 sensors so that you can monitor different areas. Power it with two AA batteries or plug it in.
THE INTERNET'S NOT ALL BAD
Donna Herter's son, Christian Bowers, was lonely. He has Down syndrome and the 24-year-old had difficulty making friends after he left high school. Making friends as an adult is tough, so his mother took to Facebook.
"I'm looking for a young man, between the ages of 20-28 who would like to make some extra money."
The comments went wild, and thousands of people offered to spend time with Christian, no payment necessary. And that was just the beginning.
📼 Watch their story here. Such a heart warmer.
🎧 Want the daily download on the go?
Sound like a tech pro, even if you're not one. Try my award-winning, daily podcast. Search for my last name with "K" wherever you get your podcasts and "Go Komando!"
ON MY WEEKEND SHOW
Talking to you guys and gals is such a fun part of my week. Here's a look at the conversations you can hear on this weekend's radio show.
Matt Schlicht, CEO of Octane AI, has been on the Forbes 30 Under 30 list twice and he's the founder of Chatbots Magazine. We talked about what to do if artificial intelligence (AI) is taking your job and livelihood away.
Randall Smith is the lead Financial Investment Reporter for the Wall Street Journal. We discussed online betting using apps like BetMGM, DraftKings or FanDuel. Spoiler: Randall tells us the worst bets you can make.
Jemela from Kansas City, Missouri, wants to delete her old spam-filled Gmail account — without losing everything that's tied to it, like Google Books, Movies and Photos.
I also helped Howard figure out how to watch TV from his RV, Murion who has years of files in the Chinese app I said everyone should delete, Jeff digitize his 400+ CD collection, Craig put a tracker on a Surface laptop in case it ever goes missing, Anthony grow his streaming business, Felly find a Google alternative and more!
Listen in: Find me on your local radio station or listen now in the Komando Community. If you can wait till next week, get the podcast, Kim Komando Today.
🤗 I'm here for you. Leave me a note here if you need help. I can't respond to everything, but I read them all.
MONEY MOVES
Free online financial calculators
I'm not gonna give you investment advice, but I am here to assist when it comes to tech to help your financial life. 
Wrangle your debt: With NerdWallet's tool, enter your types of debt, remaining balances, tax liens and gross annual income.
Plan for the future: AARP has you covered with its retirement calculator. Answer a few questions to find out how much money you need to live to retire comfortably.
Find out when you'll be a millionaire: As long as you know how much you're investing and your annual rate of return, you can get a clear view of the future.
📖 There are two great financial geniuses in the Bible. One was Noah, who floated his stock while everyone else had to go into liquidation. The other was the pharaoh's daughter, who went to the bank of the Nile and drew out a prophet.
DIY SECURITY TIP
Privacy tip: Wipe your embarrassing searches
Many things we type into our browser's search bar are a little embarrassing. On social media, you might not want anyone to know whose ex you're snooping on. No judgment here — go in and wipe that browsing history. 
Facebook:
Log in to Facebook on your browser and tap your profile picture. Select Settings & Privacy > Activity Log. Click the Logged Actions and Other Activity option > Search History. Choose Clear Searches.
Twitter:
On your phone, open the Twitter app and tap the magnifying glass at the bottom. Next, tap the Search Twitter bar at the top, then tap the X in the circle to the right of Recent searches and tap Clear to erase them all.
✅ I don't have room here for all the directions to clear your Instagram and browser history. Go here for steps to wipe Chrome, Firefox, Edge and Safari.
WHAT THE TECH?
Payback for all those yo mama jokes.

UNTIL NEXT TIME …
😈 The answer: Michael Jackson's "Thriller" with an estimated 70 million copies worldwide. Rounding out the top three: AC/DC's "Back in Black" and Whitney Houston's "The Bodyguard" soundtrack.
I used to laugh at Michael Jackson for wearing gloves and a mask. Then Covid hit. Argh. By the way, you can remove any Covid detection apps on your phone and turn off Covid alerts in your phone's settings. Thank goodness for that!
🙏 Hey, thanks so much for keeping your tech know-how going, smartypants. Know someone who needs to up their tech game? Forward them this free newsletter. Have a great Mother's Day and I'll see you tomorrow! — Kim
How'd we do?
What did you think of today's issue?