📄 Before you book an Airbnb, check the fine print
In partnership with ExpressVPN
It's Thursday! In 2010, Instagram reached 1 million users in less than two months. Why? It was the right product at the right time.
We're on target to reach new numbers, too. We're hearing so much positive feedback about what we're calling Komando 2.0 newsletters. At the very end of the newsletter, we're asking you to rate each issue. Take a sec and let us know what you think. It's important to us. Thanks for being here. – Kim
First-time reader? Sign up here. (It's free!)
IN THIS ISSUE
🤖 Like ChatGPT but even cooler
🚗 The worst robocalls might stop soon
🏠 That Airbnb isn't such a good deal
TODAY'S TOP STORY
Works better than Alexa or Siri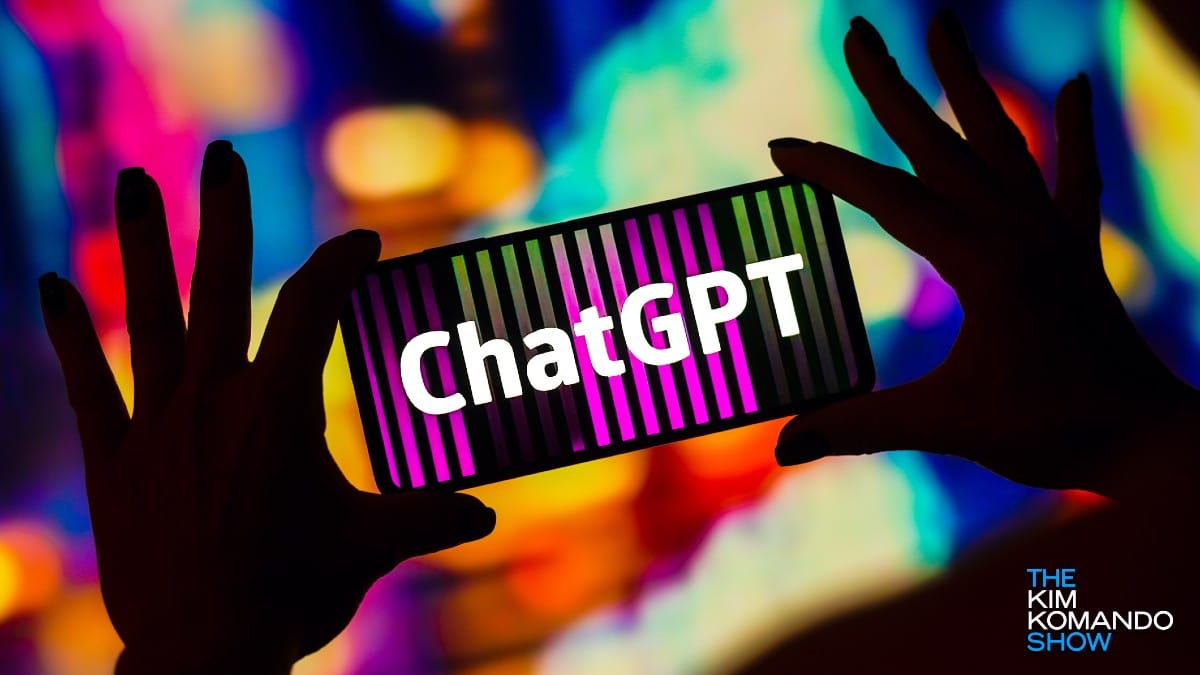 You better get comfy using artificial intelligence in some fashion. I'm telling you, this is the biggest change in tech we've seen — ever. With AI in the news so much right now, I thought you'd like to see how some developers are using it for new sites.
Figure out dinner with ChefGPT
What can you make with a pack of dried spaghetti, a can of peaches and chocolate? No idea, but ChefGPT can probably suggest something.
Add in your ingredients and any dietary requirements, and CheftGPT conjures up a recipe and instructions on how to cook it. Bon appetite!
Plan your next trip with RoamAround
RoamAround is a personalized itinerary tool that makes vacation planning easy. Plug in your destination, start date and length of stay. You'll get back something for you to do and somewhere to eat every day.
You can customize its recommendations, too, to see family-friendly activities or enjoy the nightlife.
BibleGPT makes finding the right version or advice easy. Enter a situation and BibleGPT responds with a range of applicable Bible verses which might help. It's accurate and fast.
✅ Over on Komando.com, we put together a whole list of AI sites for you to check out. It's our way of keeping you in the know about AI.
DEAL OF THE DAY
Stop losing your stuff

Losing things in the abyss between your car seat and the floor is annoying. This easy-to-install gap filler saves snacks, your keys, your phone or whatever else you fumble — and it's only $25.
WEB WATERCOOLER
"I'm calling about your car's extended warranty": "WOW, great!" said no one, ever. Good news: The FTC is going after one of the major vehicle warranty telemarketing scam operators. If they're successful, three companies would be permanently banned from both the car warranty biz and all outbound marketing. My only question: What took 'em so long?
Be kind, rewind: Ah, the days of walking into Blockbuster … Is the video rental company coming back? The internet seems to think so, thanks to this message on Blockbuster's website: "We are working on rewinding your movie." The brand went bankrupt in 2010 (thanks, Netflix) and was acquired by Dish Network in 2011. Fun fact: There's still a Blockbuster store in Bend, Oregon.
Cover your eyes, kids: Replika, an AI chatbot company, just restored "erotic play." You read that right. The company's recent ban on adult content showed just how many of its users considered themselves in relationships with their chatbots. Want proof? Listen to my national radio show this weekend. (Or watch live on Fridays.) I have a caller who's in love with an AI chatbot, no joke.
This is why we can't have nice things: Hackers will ruin them. Case in point: The Windows Snipping tool (the super handy one you use to take screenshots) has a big bad vulnerability that lets anyone with enough know-how expose private info you may have cropped out. Take action now, even if you don't use the Snipping tool.
Zuckerberg's not-so-Magic Kingdom: Disney shuttered its Metaverse division. They're out, along with other big brands. Virtual real estate values in the Metaverse are crashing. I've been saying this for years: The Metaverse just isn't gonna happen. When is it appropriate to start using the term "colossal failure"?
Solving the big problems: New emojis are out in what Emojipedia calls one of the most "discussed absences on the emoji keyboard": A plain pink heart. I was fine with this one: 💗 See all the new options (and what they mean) here. I had to tell Barry this isn't a Christmas wreath. It's a salad. 🥗
🎧 Want great content on the go?
Sound like a tech pro, even if you're not one. Try my award-winning, daily podcast. Search for my last name with "K" wherever you get your podcasts and "Go Komando!"
TRENDING
Don't fall for that cheap listing on Airbnb
Found the perfect Airbnb vacation rental at the right price? Don't celebrate just yet — hidden fees could pump up the final price by nearly half.
Here are the five cities with the highest total fees on Airbnb:
Atlanta, GA: 48%
Phoenix, AZ: 47%
Fort Myers Beach, FL: 46%
Davenport, FL: 45%
Memphis, TN: 45%
Let's break this down: You find a nice home in Atlanta with a private pool going for $120 per night for four nights. Your total cost is $480, right?
Think again. With 48% in total fees tacked on to the price, your quick stay in Hotlanta comes to a whopping $710.
Where do those fees come from? It's a combination of cleaning and service fees plus taxes. Total fees across the country average 36%.
My advice: When browsing Airbnb, toggle on the Display total price. This will show you the prices including all fees, before taxes. Once you get to the final step, you'll see the tax added in.
We rounded up some tricks to save money on your next trip →
DEVICE ADVICE
Breaking up? Do a digital detox
After a relationship ends, you want a clean slate. Use this checklist to reset and sign out of each account on your devices: 
Email: If you logged in on their device, change your password.
Banking or other financial sites: Set up a new online account with your new bank account.
Social media: Look over shared passwords for Facebook, TikTok and other social media sites.
Cloud storage: Cut off their access to your Apple, Google Drive, Dropbox and other online backup accounts.
Online shopping: Amazon is a must. Look through your last bank statements to remind yourself where else you have online accounts.
Router: Buy a new one because there are too many ways for a crazy, stalker ex to get back into your home network. Need help buying the best one? We got your back at Komando.com.
Remember to change the login to your password manager, too, if you use one.
| | |
| --- | --- |
| IN PARTNERSHIP WITH   | |
Protect your data with the VPN I trust
Big Tech companies match your internet activity to your identity or location by using your public IP address. With ExpressVPN, no one can see your IP address — no one.
What you do online is your business. Keep it that way. The best part? ExpressVPN won't slow you down. I forget I have it turned on!
BY THE NUMBERS
5 to 7 feet
The ideal height to place a router in your home. Routers emit radio waves that spread out and down — any objects in the way can disrupt those signals. If your router's on the floor, time to fix that.
$1,599.99
The price for Amazon's Astro household robot. This is up from the original sale price of $999.99. Astro is pretty cute … but do you really want an Amazon robot with cameras in your house? I had one. I returned it. Not worth the privacy invasion.
$50,000,000
The price of the oldest, most complete Hebrew Bible is estimated to fetch at auction in May. The Codex Sassoon was created by an Egyptian scribe roughly 1,110 years ago. Fun fact: The handwritten manuscript is only missing 12 pages.
WHAT THE TECH?
OK, maybe I'll stay here with my modern problems.
UNTIL NEXT TIME …
🫡 One last reminder that your feedback is what helps us deliver the news and tips you want to read. Let us know what you thought of this issue and leave any suggestions you have.
Hit reply right now. Just be nice — I read them all!  – Kim

How'd we do?
What did you think of today's issue?