💸 Are you owed money? Here's how to check
In partnership with GetRefunds.com
Aloha! Trivia time to start your Sunday. Mark Zuckerberg and his wife love Hawaii so much they keep buying up land. How many acres on the island of Kauai do they own? 137, 592, 1,412 or 8,610 acres? 🌺
Warning: This free newsletter is about to bestow you with some massive tech-know. Only read on if you are prepared. — Kim
📫 First-time reader? Sign up here. (It's free!)
IN THIS ISSUE
🧠 Travel smarter
🤷 Find lost money
🧓 Advice from a 100-year-old
KIM'S COLUMN
Save time, money and heartache while traveling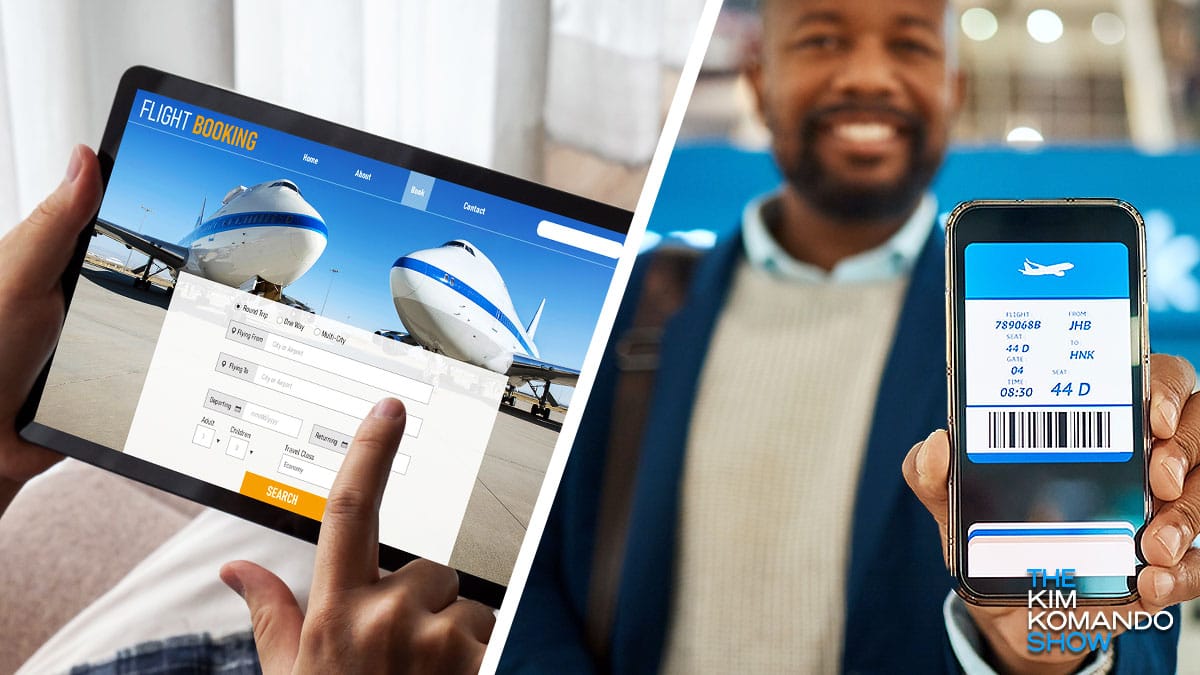 Every week, I write two special features for The NY Post, Fox News and USA Today. They don't publish on their sites until next week, but because you get my free newsletters, you're in the know first!
No emotional baggage here
Losing your luggage is the worst. Dragging heavy carry-ons is tough on your back. Those days are over. Many major airlines (including United, American, Delta and Air New Zealand) let you track your luggage in real-time through the airline's official app. I toss a tracker in my bags, too.
Apple's AirTags are best if you have an iPhone, Mac or iPad.
Otherwise, get the Tile Essentials 4-pack with various tags for your keys, wallet, luggage or whatever else you want to track.
Midweek mornings are your friend
Choose a flight before 3 p.m. Wednesday is one of the cheapest days to fly, and earlier flights are statistically less likely to be delayed. There's your plan: Wednesday before 3. I also check where my plane is coming from and plan for delays using Flight Aware. 
Reminder: Today is the day. Sunday is the best day to book your flights between 28 and 35 days before your departure date. Get crackin'.
Flying internationally or taking a cruise?
Mobile Passport Control is a free U.S. Customs and Border Protection app that lets you return home faster. It works in over 30 airports and four cruise ports. Download it for iPhone or Android and fill out the forms. When you land, go to the "Mobile Passport Control" lane at the airport or port. Sweet.
✅ Because I can't fit every gem in this email: Here's how I use my phone to make traveling less of a nightmare.
DEAL OF THE DAY
🖥️ Need a new computer? This one's a bargain

Check out this refurbished Dell Optiplex 7010 desktop computer. Its sleek design, Windows 10 Pro operating system and 19-inch LCD monitor make it a budget-friendly powerhouse. It's renewed and modernized by the No. 1 Microsoft Authorized Refurbisher.
🎧 Want the daily download on the go?
Sound like a tech pro, even if you're not one. Try my award-winning, daily podcast. Search for my last name with "K" wherever you get your podcasts and "Go Komando!"
ON MY NATIONAL RADIO SHOW
Every week I talk to interesting people and you get to listen in. This weekend on my show, I had a few conversations you can't miss:
Kai Kloepfer invented the smart gun. We discussed how your biometrics are stored, how long the gun's battery lasts, how many profiles can be stored on the gun and more. It's super interesting.
David, from Decatur, Indiana, took out a home loan and invested $20K in crypto. He just got a letter from a lawyer saying he's involved in money laundering. 
Steve, from Columbia, South Carolina, wants to stop his phone from buzzing all night but still get calls from his kids. There are a few ways to do it!
I also helped 17-year-old Sarah track engagement on a video she created to earn her Girl Scout Gold Award, Windy get rid of an old laptop the right way, Dan find an app better for truckers than Google Maps, Doreen spread hope to others diagnosed with cancer, Barbara stop her stalker ex and Chad know when customers enter his car repair garage.
🎧 Get my answers and lots more. Find me on your local radio station, listen now in the Komando Community or get the podcast, Kim Komando Today.
🤗 Need my help? Ask me your questions here I read them all myself!
MONEY MOVES
Find and claim lost money that's YOURS
A few years ago, I helped a listener of my show get a check for $30,000. He had no idea there was something called "unclaimed money." You need to check for your money, too. 
Here's how it works. You're entitled to any of your or a deceased relative's old bank accounts, safe deposit box contents, uncashed checks, insurance policies, CDs, trust funds, utility deposits, stocks and bonds, wages and escrow accounts. It's a lot.
But there's more … You're also entitled to any retirement money you socked away with an old employer. Don't hire a dubious service or spend money. You can easily do it yourself. Think of it like a free, personal treasure hunt.
Money, money, money
Find the link for your state's treasury website at the National Association of Unclaimed Property site. Select your state or province. Follow the step-by-step instructions, enter your information and the database will do the rest. Check MissingMoney.com, too.
Retirement funds, bank accounts and investments
Be sure to also check for VA life insurance benefits and tax returns. Get links here on my site.
THE INTERNET'S NOT ALL BAD
Advice from a centenarian
Uncle Jack just hit a big milestone: His 100th birthday. Luke Scott III posted a video of the guy on Instagram, sharing the best life advice he's collected over the years. It's wonderful!
I won't give it away, but I will say I agree!
📼 Watch it here. It's happy, soothing and inspiring all at once.
| | |
| --- | --- |
| IN PARTNERSHIP WITH   | |
No joke, I got back $400K
GetRefunds.com helps small businesses get COVID relief funds for keeping employees during the pandemic. I found out I was owed $400,000. Seriously. 
This is not PPP. It's different. It's the Employee Retention Credit. If you kept your full-time or equivalent employees on payroll during COVID, you could get a huge refund, too.
There's no upfront charge — they don't get paid until your business gets its refund. Heck, it's worth checking to see if your business is owed money, too. Go now to GetRefunds.com. Be sure to tell them I sent you!
In less than 8 minutes, see if your business qualifies for ERC assistance. →
WHAT THE TECH?
Mark Zuckerberg in Kauai. Yeah, he really put on that much sunblock.

UNTIL NEXT TIME …
🏝️ The answer: 1,412 acres. The Zuckerberg's have about $186 million invested in Kauai land. My friends there tell me the locals don't like it one bit. 
In other news, Meta is going to acquire Mucil. Founder Mark Zuckerberg stated, "The Meta-mucil merger will help us move things along. They are looking forward to this with every fiber of their being." 
👊 You're smart. Do your part and help a friend get smarter, too. Forward this email and tell them why you like it. Have a great day and I'll see you tomorrow with another excellent tech newsletter. — Kim
How'd we do?
What did you think of today's issue?