In partnership with Innovation Refunds
Welcome aboard the Komando Tech-tastic Tuesday Express! Let's start with the trivia. What's the most commonly used password? Password, 123456, letmein or ihatepasswords? You'll find the answer at the bottom. 
🧐 At the end of each major story, it's easy for you to share it with family and friends. Use the Facebook, Twitter, LinkedIn or email icon. That's it! Thanks for helping spread the word. — Kim
IN THIS ISSUE
🏴‍☠️ Hidden treasure
⚠️ Russian fake news
📍 Find your phone
TODAY'S TOP STORY
Your old tech could be worth big money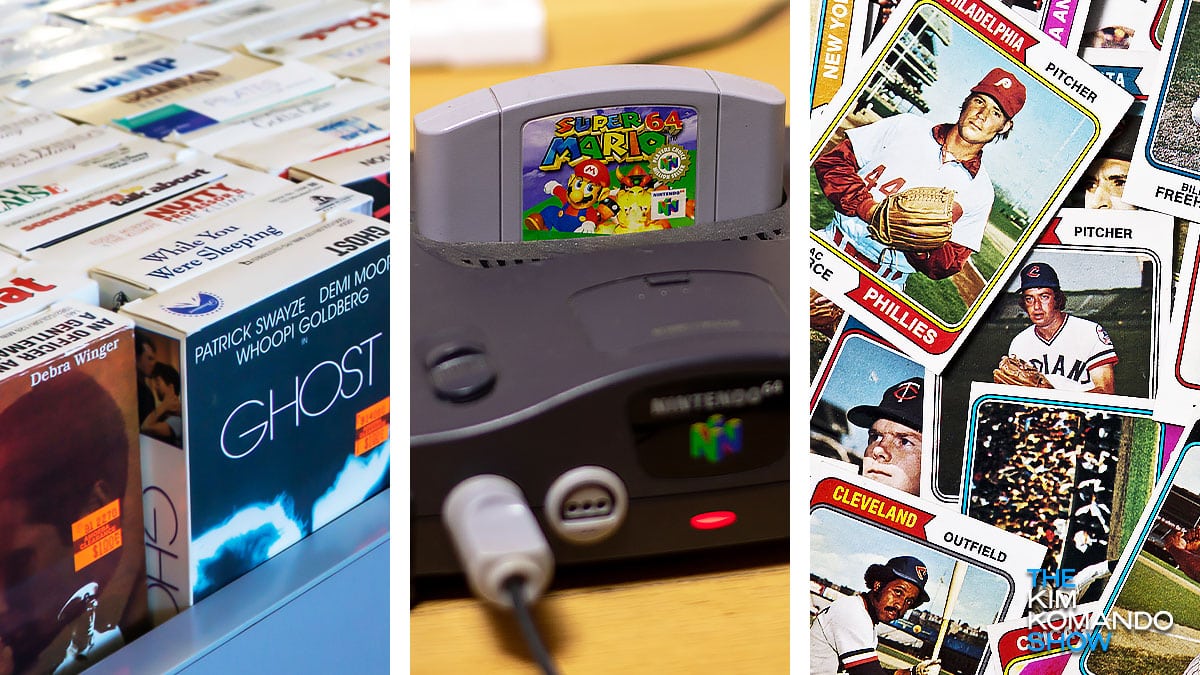 "Yo Adrian, I could make you a fortune!" A set of the first three "Rocky" films on VHS sold for $53,750 earlier this year. 
eBay might come to mind when you think auctions, but other sites like Heritage Auctions are growing exponentially. You probably have stuff lying around that you've never given a second thought to … and someone else may pay big bucks for it. Time for Antiques Techshow!
Be kind and rewind
How many of us grew up with a collection of VHS tapes? How fun were those trips to the video rental store? 
Those memories come at a price: Sealed copies of "Jaws" and "Star Wars" sold for $32,500 each at Heritage Auctions. "The Goonies" fetched $50,000!
Apple takes a big bite
The first iPhone went on sale in June 2007 for $400 or $500, depending on the storage capacity. A sealed model sold for $63,000 in February. Whoa.
Throw in some provenance and the numbers go through the roof. RR Auction sold Steve Jobs' very own Apple-1 prototype for $677,196 last August. Wow, that's not PC.
Gaming gold
The Mario Bros. franchise has expanded to every medium you can imagine, including a major motion picture that just came out. 
In the summer of 2021, Heritage auctioned a "Super Mario 64" cartridge for $1.56 million. "It's-a-me, Millionaire!"
Check your attic and basement
Here are five more sales that should send you digging through your old stuff:
Mickey Mantle rookie card: $12.6 million
"Superman" on Betamax: $40,000
Nike Air Jordan 4 Retro: $22,200
"Detective Comics" #66: $14,250
Lincoln penny from 1962: $2,559
Ready to make some money? We put together a longer list of items sold at auction over on Komando.com. Now, if you do have that Mickey Mantle card, remember who told you to go find it.
DEAL OF THE DAY
Squeaky clean

No more dirty screens and dusty surfaces! Wipe away smudges and make your electronics sparkle with these microfiber cleaning cloths. I keep a big stack around to take care of streaks and grime. They don't scratch like paper towels or leave lint like other rags. You'll love these!
WEB WATERCOOLER
The smoking grout: A 21-year-old Air National Guard technician is accused of leaking classified documents. A New York Times reporter matched Jack Teixeira's granite kitchen countertop and floor tiles in his Instagram account to those in the leaked docs. He faces up to 15 years in prison. I hope he gets that and much more.
Spies in your timeline: Russians work hard spreading lies and false info on social media. They say they're only shut down by social networks 1% of the time. Guess Big Tech isn't "Russian" to stop espionage …
iSave: The new Apple Card savings account has a 4.15% annual percentage yield. (The national average is 0.35%.). No minimum deposit or balance required. Set it up on your iPhone's Wallet app. Don't worry, hackers don't use wallets. They have no cache.
It's a bird. It's a … drone?: Scientists in New Mexico are turning taxidermied birds into drones. What? They're researching flock formation patterns and flights — and so far, have the dead birds cruising the skies for 20 minutes. It's all a little over my head.
D'oh: A couple of guys stole $8K in tools from a house under construction in Milwaukee — and didn't realize they also snagged a security camera capturing everything. They brought it all the way back to the kitchen table in their home. Not exactly masterminds …
Champagne wishes, caviar dreams: KAYAK's handy new tool shows how far your tax refund will go if you're planning a vacation. Plug in your estimated refund and you'll get destinations that fit your budget. Pro tip: Use Google Flights to book; they'll pay you the difference if the price drops.
🎧 Want great content on the go?
Sound like a tech pro, even if you're not one. Try my award-winning, daily podcast. Search for my last name with "K" wherever you get your podcasts and "Go Komando!"
Security warning
Check your phone for this junk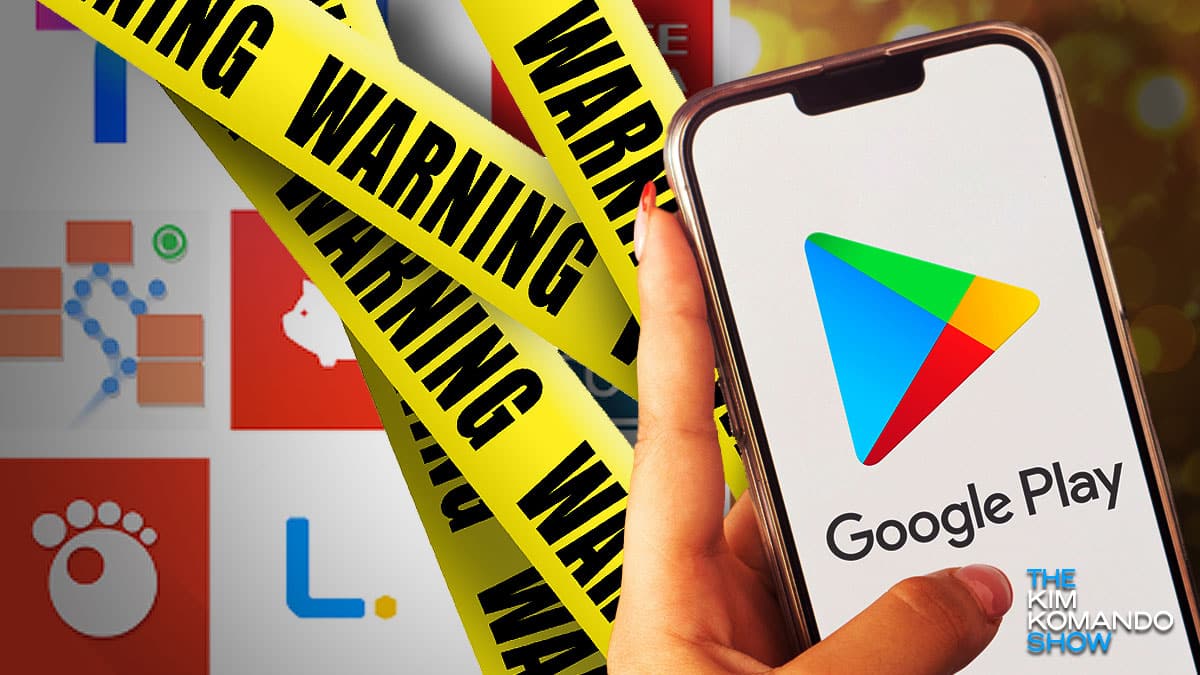 I've warned you about Chinese apps you need to remove from your phone, and now we need to look to another part of the world. 
Over 60 Korea-based apps with 100 million combined downloads were removed from the Google Play Store.
The apps are part of a malicious software library dubbed Goldoson. Once it's on your phone, crooks use the apps to see your location history, Wi-Fi activity, which Bluetooth devices are connected to your phone and the other apps you're using. 
You're clickbait
The bad apps interact with hidden ads in the background. Companies pay hackers for clicks coming from your phone. The cherry on top: This malicious activity eats up your data and slows your phone down to a crawl. 
5 apps to delete now
About half of the apps have been removed from the Google Play Store so far. Others were updated to conform to Google's policies. 
If you have any of the following apps installed on your device, get rid of them:
Swipe Brick Breaker 
Money Manager Expense & Budget
GOM Player
LIVE Score, Real-Time Score
Pikicast 
To delete an app from your phone, long-press an app, then tap App Info > Uninstall.
We included the most popular above, but there are 24 more apps you need to get off your phone. See the list with full app names here.
DEVICE ADVICE
Must-dos BEFORE your phone goes missing
No one should be able to unlock your phone. Let's start by making sure this happens automatically.
On iPhone: Go to Settings > Display & Brightness > Auto-Lock and choose a length of time. 
On Android: Go to Settings > Display and look for a Timeout, Screen Timeout or Sleep option. (Note: Steps depend on your model.)
Now, turn on find-it mode
😭 What if it's gone? There are built-in tools to help you locate it using another phone or computer. Here's the caveat: You have to make sure the feature is enabled ahead of time for it to work. Do it now!
Turn on Find My for your iPhone
Go to Settings > [your name] > Find My.
Tap Find My iPhone, then turn on Find My iPhone.
To see your device even when it's offline, turn on Find My network.
To have the location of your device sent to Apple when the battery is low, turn on Send Last Location.
Turn on Find My Device for your Android
Go to Settings > Security > Find My Device. Or try Security & location or Google > Security.
Make sure Find My Device is turned on.
✏️ You can even erase your phone remotely if it's really gone. Here's how.
| | |
| --- | --- |
| IN PARTNERSHIP WITH   | |
I got $400K in gov't ERC COVID relief money
I vet every single sponsor, so when our sales VP told me about GetRefunds.com, I tried it out. This site helps small businesses get COVID relief funds for keeping employees during the pandemic. Honestly, I wasn't expecting much.
Whoa! I found out I was owed $400,000. Seriously. This is not PPP. It's different. It's the Employee Retention Credit. If you kept your full-time or equivalent employees on payroll during COVID, you could get a huge refund, too.
There's no upfront charge — they don't get paid until your business gets its refund. Heck, it's worth checking to see if your business is owed money, too. Go now to GetRefunds.com. Be sure to tell them I sent you!
Go to GetRefunds.com to get started, and in less than 8 minutes, see if your business qualifies for ERC assistance. →
BY THE NUMBERS
6
The number of seconds recruiters spend on your resume. People read resumes in a Z pattern, so make the headings stand out so the whole thing is skimmable. I interviewed someone whose resume said they went to Harvard. The person said, "Yes, I was visiting a friend." True story.
10,000
The new character limit for Twitter Blue subscribers. This works out to about 2,000 words. Blue members can now also offer paid content to their followers. A little birdie told me that.
$20,000
The amount a man spent to prove the Earth is flat. Surprise, the failed experiment proved that the Earth is, in fact, round. You can watch it unfold in the Netflix documentary "Behind the Curve." It left me completely on edge.
WHAT THE TECH?
AI! Love what you did with my hair, but what's up with the hand?

UNTIL NEXT TIME …
The answer: 123456. I know none of my readers and listeners would ever use this password!
Here's a fun thing to do. Set your Wi-Fi password to 2444666668888888. This way, when people come over and ask for the Wi-Fi password you can say, "It's 12345678." 😂
I hope you learned a few things today. Be sure to give us a rating below. It's helping us make this email newsletter the best one on the entire web! — Kim
How'd we do?
What did you think of today's issue?