💰 List: Companies charging for returns
In partnership with Daily Tech Update
Tuesday is here, and so is trivia time! At its peak, Blockbuster had approximately 9,000 DVD and VHS rental stores worldwide. In 2010, it filed for bankruptcy and had 1,700 stores. How many Blockbuster stores are open today? Is it 1, 10, 18 or 30? Answer is at the bottom, my friends.
Send me good thoughts and prayers today. I'm having a cornea transplant because the one I got 40 years ago died. It's going to be tough, but worth it to see out of both eyes! Fear not. The team will keep this newsletter going strong until I'm back in full force! — Kim
🌛 First-time reader? Sign up here. (It's free!)
IN THIS ISSUE
👋 Bye-bye, free returns
✈️ Print boarding passes at home
📨 Settlement check in the mail
TODAY'S TOP STORY
20+ companies canceling free returns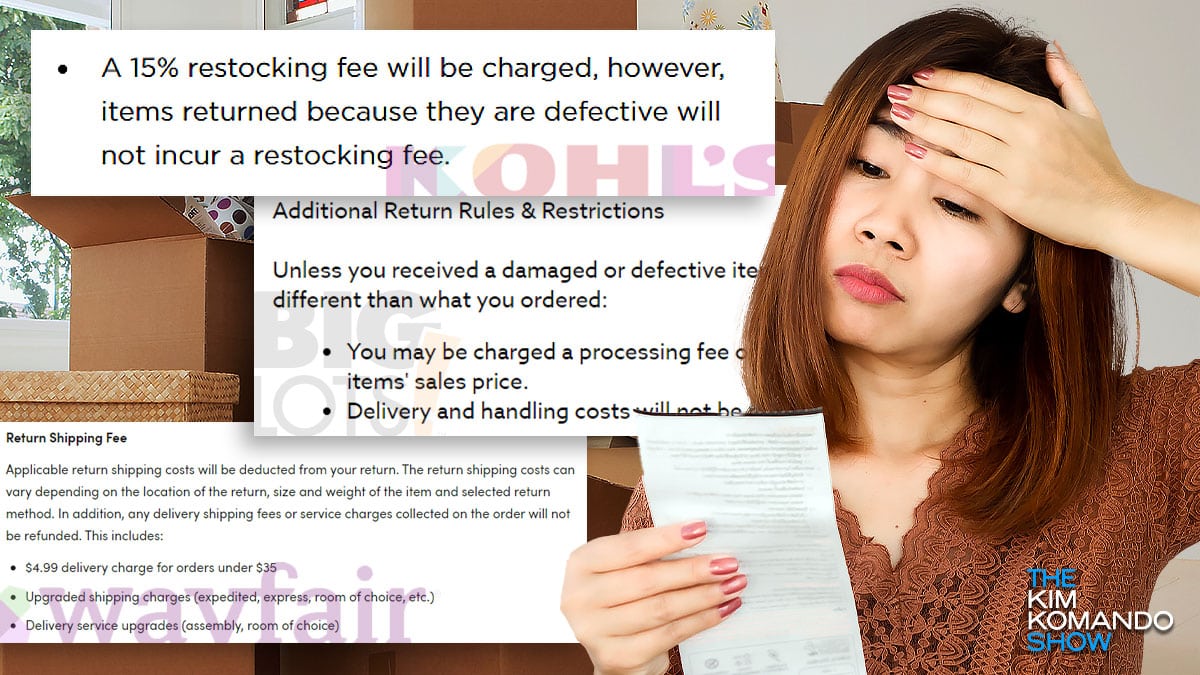 I thought this stat was interesting: The National Retail Federation reports for every $1 billion in sales, the average retailer incurs $165 million in merchandise returns. You know what this means: Say goodbye to free shipping and free returns when buying stuff online.
The big dog, Amazon, is starting to charge a $1 fee if you return items to a UPS store when there is a Whole Foods, Amazon Fresh or Kohl's closer to your delivery address. Now, we're seeing a waterfall effect across competitors.
Follow the (market) leader
Online retailers are handling this return policy change in one of two ways. They'll either deduct fees from refunds automatically or charge you for shipping back to them. 
🤦🏼‍♀️ I often shop discount sites like Nordstrom Rack. A shirt I got last week would have cost me more to return it … guess I'll wear it cleaning the boat. 
Take a look at this list of companies starting to charge for returns. Make a mental note to be careful when you're not 100% sure you'll keep whatever you're buying. Knowledge is power, folks!
Abercrombie & Fitch: $7
Anthropologie: $5.95
Barnes & Noble: Varies
Big Lots: 20% of purchase price 
Dillard's: $9.95
DSW: $8.50
Foot Locker: $6.99
JCPenney: $8
J.Crew: $7.50
Lands' End: $6.95
L.L. Bean: $6.50
Kohl's: Varies, plus a 15% restocking fee for large items
Neiman Marcus: $9.95
Nordstrom: $9.95 
Petco: Varies
PetSmart: Varies
REI: $5.95
Saks Fifth Avenue: $9.95 
Ulta Beauty: Varies
Urban Outfitters: $5
Wayfair: $4.99 for orders under $35, more for big items
ZARA: $3.95
A bright spot … maybe. You might avoid these fees by returning your item to a physical store. Just don't count on it.
🐷 You know, when I was a little girl I thought, "This little piggy went to market" meant it went shopping. It doesn't.
DEAL OF THE DAY
How to find hidden cameras

I once found a dozen hidden cameras in an Airbnb, and not all were in plain sight. The best way to find them is using a scanner meant for the job. This one uses passive, wireless and infrared scanning to find cams within a 15-square-meter radius. It's lightweight and portable, so you can bring it to an Airbnb or hotel.
WEB WATERCOOLER
Check your medicine cabinet: Another person died after using EzriCare eye drops, bringing the death toll to four. India-based Global Pharma also recalled Delsam Pharma's Artificial Tears and Artificial Ointment. All are linked with a drug-resistant strain of bacteria. You could buy these drops at Amazon, eBay, Walmart and more.
🔮 Palm reader says … underage: Amazon One's palm reading tech lets you pay for things at their stores. Now, for the first time, the tech will verify if you're 21+ to buy beer at Coors Field in Colorado. Great way to test if your anti-aging lotion works.
Weird Windows 11 bug: Internal SATA drives are being (wrongly) detected as removable media. It can cause all kinds of problems, like data loss or corruption. Don't know what that means? Don't worry about it. But, if you're techy enough to flash your BIOS, check the steps here from Microsoft.
Imitation is the greatest form of flattery: Instagram is set to launch its Twitter clone in June for some celebs and influencers. I don't know if I can handle one more social media site in my life.
✈️ Print your boarding passes at home: Airlines found a new way to make money. Breeze Airways charges $3 and Allegiant $5. Spirit and Frontier charge $25 just to print your boarding pass! What's next for profits … toilet paper?
iPhone's new epilepsy setting: It detects flashing lights that trigger seizures onscreen and dims the video automatically. To enable, go to Settings > Accessibility > Motion and switch on "Dim Flashing Lights." Pretty neat. 
Money in the mail: Don't throw out a letter from "Intuit Multistate Settlement Administrator." Intuit is mailing checks as part of a $141 million settlement for misleading 4.4 million taxpayers who qualified for free file into paying. Talk about taxing.
😳 Google's secret 3D project. Cue the theme of "Star Trek." Project Starline makes it feel like you're in the room with the person you're video calling. Popular YouTuber Marques Brownlee got to try this future Google tech in a video here.
🎧 Want great content on the go?
Sound like a tech pro, even if you're not one. Try my award-winning, daily podcast. Search for my last name with "K" wherever you get your podcasts and "Go Komando!"
TRENDING
Can bots think like humans? Maybe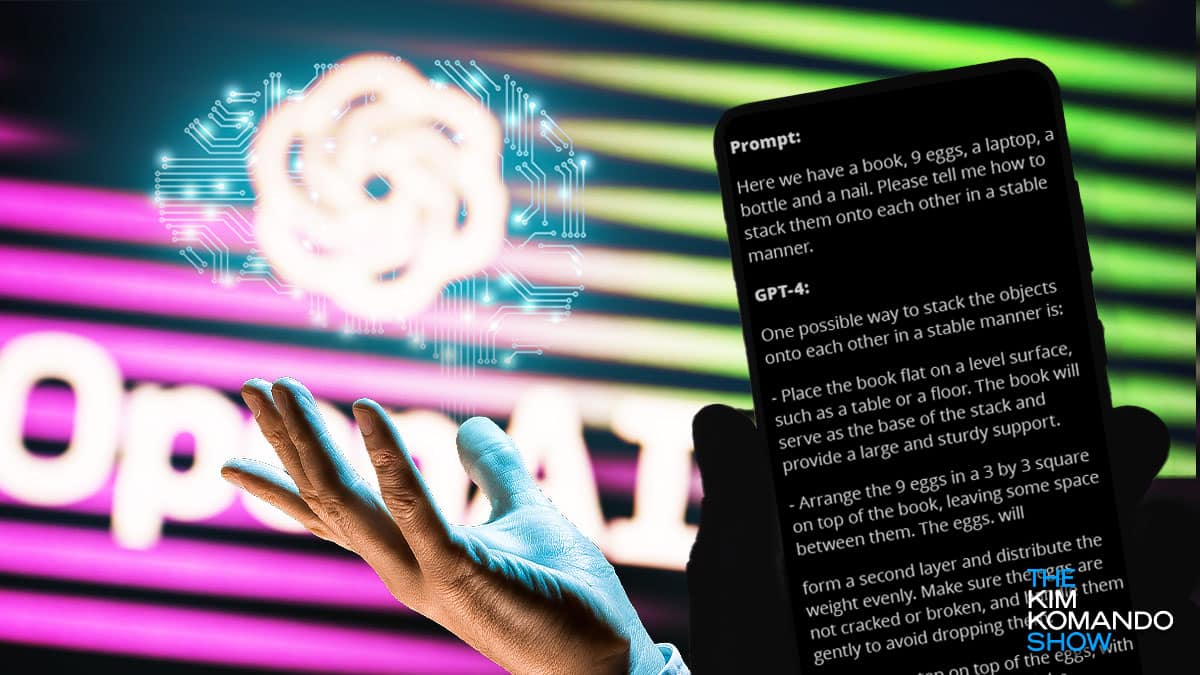 In 1950, mathematician, computer scientist, logician and overall smart guy Alan Turing proposed the idea that if a human observed a (text-only) conversation between another human and a bot and couldn't tell them apart, the machine passes what we now call the Turing test.
We're not there yet with today's AI chatbots. But Microsoft says GPT-4, the latest version of OpenAI's software, shows "human-like reasoning."
A spark of genius?
Here's the prompt that led Microsoft researchers to their conclusion: Bing Chat (running on GPT-4) was asked to "stack a book, nine eggs, a laptop, a bottle and a nail in a stable manner."
As a human (yes, real human Kim writing this newsletter), I know you'd have to be careful with the eggs. But so did the bot. It recommended arranging things so the eggs wouldn't crack … something researchers say only a human could understand.
OK, but even AI would know eggs can crack, right?
But would it really know what, exactly, was enough to break them and how to handle them correctly? Here's what Bing Chat said:
"Make sure the eggs are not cracked or broken, and handle them gently to avoid dropping them." 
Not convinced?
Ray Kurzweil, Google's Director of Engineering, has made a startling number of correct tech predictions in the past few decades. Everything from the rise of the internet to computers good enough to beat people at chess.
A few years ago, he predicted that by 2029, computers would have human-level intelligence. By 2045, he says machines will be more intelligent than humans. The term for that is singularity. Now you know.
Looks like we've got 22 years to see if he was right.
DEVICE ADVICE
Never scream at your USB again
Looking closely at the end of a USB cable, you'll see a little symbol. It isn't some tech company's logo. It means something very important that will save you some frustration.

⬆️ The symbol on USB cables tells you which way is up.
The symbol will point up if you're plugging in the cable horizontally, like with your laptop.
If you're plugging a cable in vertically, the symbol will face you.
The more you know: The USB symbol's arrow represents serial data. The circle represents five volts (that's the voltage USB works at) and the square represents ground voltage. 
BY THE NUMBERS
350%
The amount of melatonin that might be in your sleep gummy compared to the label. Researchers analyzed 25 brands and found the dose varied from 75% to 347% of what was declared. This is gonna keep me up at night.
1,500
The miles that come free each year on a new electric vehicle (EV) thanks to solar charging. Fisker's Ocean SUV might get even more free miles in "ideal conditions." Starting price? Just under $38K.
2 millimeters
The amount New York City is sinking each year. Turns out 1.68 trillion pounds of buildings are, uh, weighing things down. This is concrete evidence.
WHAT THE TECH?
Eye promise I'll stop with these after my transplant.

UNTIL NEXT TIME …
🎞️ The answer: 1. The last Blockbuster is located in Bend, Oregon, about 160 miles south of Portland. At its peak in 1994, Blockbuster was valued at $8.4 billion. In 2000, Blockbuster turned down an offer to buy Netflix.
One time, I went to Blockbuster and asked how long I could rent "Batman Forever." The clerk said, "Only three days." OK … 
🙏 I just know many of you will keep me in your prayers, and I'll have Barry update the team on how I'm doing so you know, too. Thank you for all your notes and well wishes. See you on the flip side! — Kim
How'd we do?
What did you think of today's issue?