In partnership with BetterHelp
Happy Wednesday! On this day in 1976, Apple was officially incorporated as a company by Steve Jobs, Steve Wozniak and … do you know who the third person was? You'll find the answer at the very bottom of this newsletter.
Quick reminder: We have bills to pay but want to keep this powerhouse email free for you. Do me a favor and click the link to check out the sponsor in today's issue. I vet each one. Now, on with the tech news! — Kim
IN THIS ISSUE
💸 Google Flights upgrade
🚨 Streaming data breach
📱 Happy birthday!
TODAY'S TOP STORY
Still using Expedia? Read this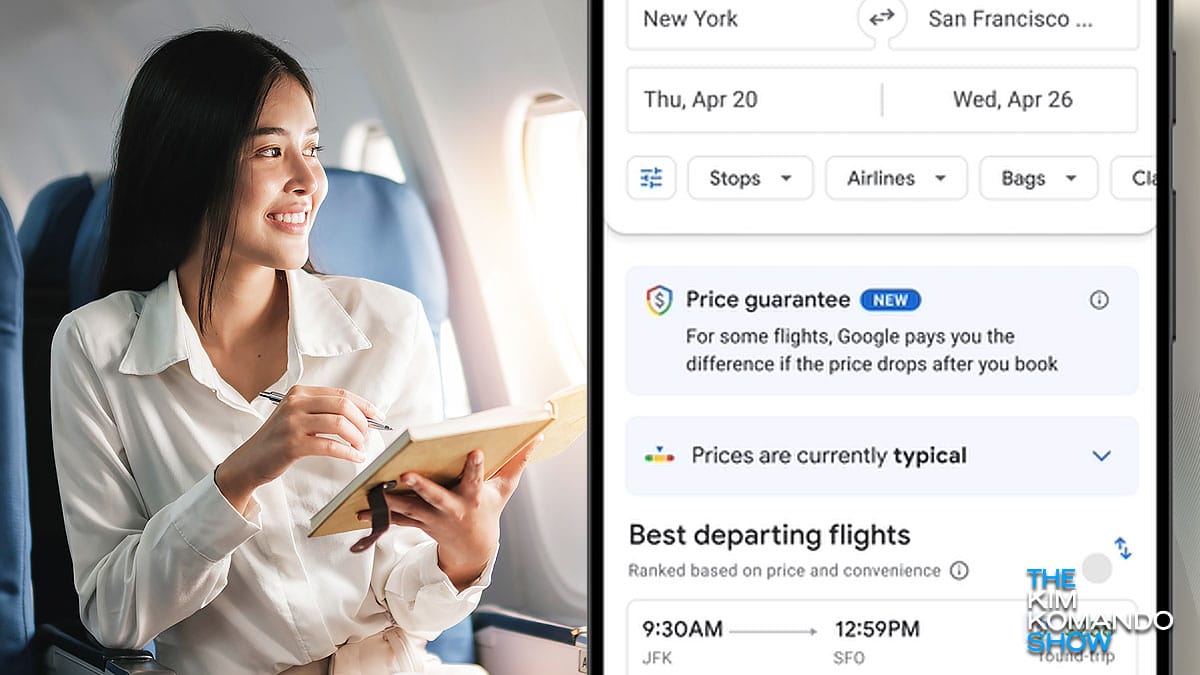 When it comes to booking flights online, Google Flights was already hard to beat. But their new "price guarantee" feature blows the competition out of the water.
After you book an eligible flight (more on that below), Google monitors the ticket price until the first flight in your itinerary departs. If the price drops, you get the difference back in cash.
I read the fine print for you
Google makes this important point clear: Price guarantee is only available for flights for which it's "confident" the price won't drop — determined by an algorithm, of course. The other gotchas:
You can only be reimbursed up to $500 per year for up to three price-guaranteed bookings. 
You need a Google Pay account to receive payment. 
Carry on, my wayward son
Nearly every major domestic airline is available through Google Flights. Sorry, Southwest Airlines travelers — no Google Flights for you. Here's how it works:
Go to flights.google.com and select a badged flight from Departing flights. (You can see the badge in the image above!)
Be sure to select the badged itinerary during checkout.
Click Book on Google.
Check the box next to Price Guarantee to accept the TOS.
Yeah, but what about my privacy?
We're talking about Google, the masterful trackers. If you have a Google account, they know a lot about you and will add more data points whenever and however they can. 
 You know me. I'm all for anything that will save you a buck, so I'll be trying it. ✈️ Want to find the cheapest flights? Use my insider secrets.
Pro tip so you don't get screwed
You book directly through the airline with Google Flights, which is better than doing it at Expedia, TripAdvisor or Kayak. Can you say "nonrefundable"?
You can narrow options by price, distance and baggage fee, too. I always sort by travel time. "I love long flights, dirty airplanes and layovers," said no one ever.
DEAL OF THE DAY
💧Drink up

Talk about a clever product I wish I'd invented. This gorgeous desktop water dispenser hooks up to those big bottles of water, 1 to 5 gallons. It has a built-in high-capacity battery for fast charging and long battery life.
WEB WATERCOOLER
More like TitleHacks: Heads up if you've ever used TitleMax, TitleBucks or InstaLoan. Hackers got their hands on the personal details of 5 million customers. The data includes Social Security numbers, driver's license numbers, home addresses and financial info.
Ahoy there, spy balloons: Congress is worried about surveillance and sabotage at our ports. Now, WSJ reports about 80% of high-tech cranes are made by one Communist China-owned company. Talk about pier pressure.
Triple play: Boost Mobile, DISH and Sling TV have been hit by a major data breach. Assume hackers have your account credentials and personal info. Change your passwords and watch out for scam texts and phishing emails.
Cheaper Netflix: Netflix Basic with Ads costs $6.99 a month. You see about five ads per hour. Now, you can finally get it on Apple TV. Still no word when it will work on Chromecast.
Speaking of streaming: Google is hiking YouTube Premium's family plans to $22.99 a month. If you signed up back when it was called YouTube Red for $14.99, you'll see the increase on your next bill. That's $96 extra a year. Cancel if you're not using it.
That looks familiar: Walmart has a brand-new website that its Chief eCommerce Officer says "offers a more engaging way to browse." That's because he can't say, "Yeah, we just copied Amazon." It was a target.
No more Glassholes: The long-awaited Apple virtual reality headset might be announced at the company's annual developer conference in June. Rumor says it'll cost $3,000. I'll wait in the real world till it's cheaper.
🎧 Want great content on the go?
Sound like a tech pro, even if you're not one. Try my award-winning, daily podcast. Search for my last name with "K" wherever you get your podcasts and "Go Komando!"
TRENDING
Put another candle on the birthday cake
This week marks the 50th anniversary of cellphones. Can you believe that? More than two generations can't imagine a world without them! 
There's no question our pocket-sized computers changed us — but for good or bad? Let's dive into the numbers.
50% of us say our phones are our most valued possession — and that we're addicted to our phones.
75% of us check our phones first thing every morning. Are you guilty of this one? Me, too.
66% of us use our phones on the toilet. PSA: Disinfect it, often!
And 75% of us feel uneasy if we leave our phones at home. There's a term for this: Nomophobia. Use that to impress your friends.
Maybe reading all that made you want to limit your phone use. Understandable. Get steps here to limit your app use, total screen time and more.
DEVICE ADVICE
Get out of my face
Facebook loves to remind us of the past. That stinks when it shows you pictures of your ex, a friend you had a falling out with or other painful memories. Try this:
Open Facebook on your phone and tap the three-line Settings icon.
Tap Memories, then the gear icon.
You can choose to get notifications for All Memories, Highlights (special videos and collections, as deemed by Facebook) or None.
You can do the same in Google Photos. Open the app, choose your Google account, tap Photos settings, choose Memories > Hide people and pets. Select from the profiles listed to hide those individually.
I can also help you hide an entire timeframe. Hey, maybe 2018 was a bad year. ⌚ Time flies!
| | |
| --- | --- |
| IN PARTNERSHIP WITH   | |
Message to my younger self …
… You don't have to take on the world alone. For almost five years, I cared for my Mom through her cancer journey. It was an honor, but it was hard. Looking back, I really should have made time to care for me.
I wish I had known about BetterHelp. It's entirely online, which is so convenient and a lot easier to fit into your schedule than traditional in-office appointments.
You just fill out a brief questionnaire to get matched with a licensed therapist, and you can switch therapists at any time for no additional charge if it's not a great fit.
Discover your potential with BetterHelp. Visit BetterHelp.com/Kim today to get 10% off your first month. →
BY THE NUMBERS
136,000
The number of people laid off in the first quarter of 2023. That's more than the previous six months combined, according to Forbes' Layoff Tracker. Ouch.
98.6%
The percentage of hospital websites that shared data with third-party trackers. The 2021 Health Affairs study doesn't contain details of the data, but at least some of it likely violates HIPAA law. Heartwarming, isn't it?
10
The number of minutes TurboTax says it takes to file your taxes using AI. Its still-in-progress AI-powered "express lane" option is a much faster way for people with "simple tax situations." I don't think I've ever had a simple tax situation.
WHAT THE TECH?
This is an actual convo I had with ChatGPT. 
It's hard being smarter than AI!

UNTIL NEXT TIME …
🧐 Ready for the answer to today's trivia question? 
The third Apple owner was Ronald Wayne. He sold his 10% share of Apple for $800 in 1976, just 12 days after the company was founded. Ron didn't think it would amount to anything. If he'd kept his share, it would be worth about $200 billion today!
Money can't buy you happiness, but being broke can't buy you anything. Thanks for being here and be sure to tell three friends about our newsletters. I'd love that! — Kim
How'd we do?
What did you think of today's issue?