In partnership with Cozy Earth
Ahoy, mateys, it's Thursday! Trivia time. For its 2019 April Fool's Day prank, Google unveiled two fake products: Google Tulip (talk to Google Home through a tulip plant) and which of these? Smart glasses, smart socks, a smart hat or a smart scarf. Answer at the bottom! 
🙄 I have so much to share with you today. If you learn something new or laugh at one of my jokes (or groan, I'm not picky), tell a friend about this newsletter! — Kim
📫 First-time reader? Sign up here. (It's free!)
IN THIS ISSUE
🆕 Google ch-ch-changes
📱 Fake ChatGPT apps
🦾 Can you spot the bot?
TODAY'S TOP STORY
Google changes you need to know about
For better or worse, Google's apps and services are among the most popular worldwide. Here are three significant recent Google updates you need to know about that will change how you work.
Google Authenticator gets cloud support
Let's say you lose your phone, which happens to be how you verify your identity (i.e., how you get those special "codes" that allow you to authenticate a login on a new device). You won't be able to log in to any other device without those codes.
In other words, you're screwed.
Good news: Those super important codes are now stored on your Google Account. This way, you can still sign into any device or service using the Authenticator app. Sweet. 
📖 Need a primer on Google Authenticator? Read it on my site. (Smart to use this for work and personal accounts!)
A better way to get things done
When you want to change the page setup in Docs, merge cells in Sheets or edit a theme in Slides, you need to sift through toolbars and menus to find the action. Not anymore! 
Google is adding a tool finder at the top of these apps that automatically offers suggestions for common actions like the ones above. 
But wait, there's more … type in what you're looking for by name or description. Let's say you want to delete a column in Sheets. Type something like "remove column B" and click on the corresponding action in the search bar. Nice.
Gmail's update? Not so great
Google lets you use your username and password to log into third-party apps and services. They usually explain that it will "enhance your experience" or something along those lines. 
Gmail is no exception. If you have two-factor authentication (2FA) enabled for your Google account (which you always should), you'll have problems connecting to incompatible apps. 
Google just added App Passwords to get around this. Rather than use your Google account name and password, new passcodes are generated to give a "less secure app" (Google's own words) permission to access your Google account. What part of "less secure" says that should be OK?
Don't use your Google account to log into any app, especially one that rejects 2FA. Use unique logins for all your accounts instead. I know it's a royal pain in the rear, but it's worth it.
Get step-by-step instructions on how to get the most out of these Google updates on my site – including which ones to use, and which ones to lose.
DEAL OF THE DAY
💡 Double duty table light

Stop fumbling around in the dark for a charging cord. This bedside lamp has four USB ports built right in. Charge your phone, tablet and anything else you want in one convenient spot. You can set the LED light to one of three different levels. One of these would be great in the living room, too!
WEB WATERCOOLER
You're on mute … Calling all Chromebook and ChromeOS users. New system-wide toggles for your camera and mic now override settings for individual sites and apps. That means if you set your system to "no camera," Zoom won't open it when you're not expecting it. Same goes for mute. It was hard being the guy who put a mute button on Zoom. He got bad feedback.
Where do I sign up? Here's a reason to go see "Indiana Jones 5." The first 25 minutes feature a digitally de-aged Harrison Ford. No plastic surgery needed. Disney's AI can make an actor appear younger or older. They used footage from earlier in his career to get 79-year-old Harrison's much younger look.
Pretty Darn Fancy: Instead of paging through a long research paper or 60-slide presentation saved as a PDF file, upload it to ChatPDF to get a summary or ask questions about the contents. So smart, but a word of warning: Don't upload proprietary information or anything you wouldn't otherwise share online with the entire universe.
What's up? You can now log into the same WhatsApp account on up to four phones simultaneously. Super helpful if you own a business and communicate with customers through the chat app. Just scan a QR code with your primary WhatsApp phone to verify it. 
Guess who: Here's something fun to do. See if artificial intelligence (AI) can outsmart you with a new free online game called "Human or Not?" You have two minutes to chat with another user, then you have to determine if they're a fellow human or AI. Watch out for AI's favorite band called the "Algorithms."
Interns making bank: Here's what interns can make per month at these heavy hitters: Stripe, $9,064; Roblox, $9,017; NVIDIA, $8,280; Coinbase, $8,206; Meta, $8,160; Capital One, $8,050; Credit Suisse, $7,947; Bain & Co., $7,873; Amazon, $7,809 and EY-Parthenon, $7,651. Yeah, tell your high school and college kids about this!

🎧 Want great content on the go?
Sound like a tech pro, even if you're not one. Try my award-winning, daily podcast. Search for my last name with "K" wherever you get your podcasts and "Go Komando!"
TRENDING
Watch out for fake ChatGPT apps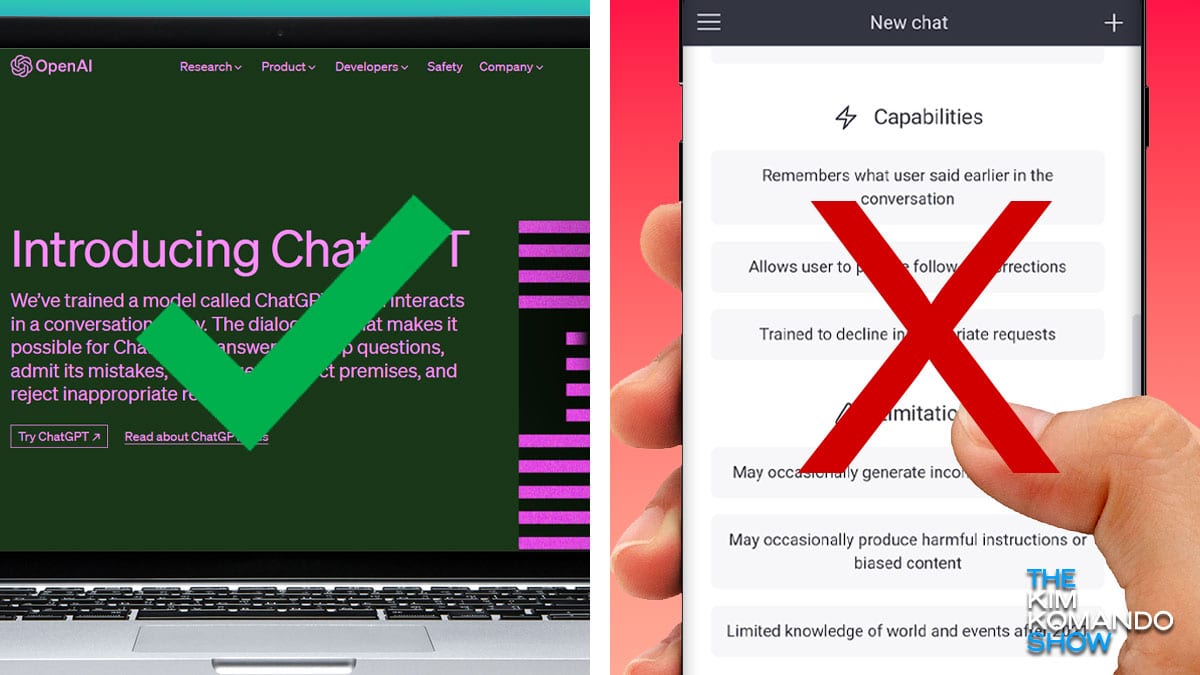 Kip, our EVP of sales, called me last week and asked, "Hey, what's the best ChatGPT app in the Google Play Store? There are tons!"
Let me tell you, Kip is a brilliant, savvy guy. But I had to tell him there is no ChatGPT app.
✅ You can only use ChatGPT on a computer — all these apps are fakes and will make your life miserable.
A cybersecurity researcher just found several fake apps on the Mac App Store. They copy the logos and color schemes used by the official site. 
Now that's interesting because Apple supposedly does a great job at making sure this crap doesn't get into its App Store. The Google Play Store is also loaded with fake apps.
Dirty tricks used by fake apps
Like and subscribe: The app demands you review it immediately after subscribing and each time you ask a question. This helps to rank it up faster in the App Store. 

Always open: There's no close button. You hit a paywall that forces you to subscribe and the only way out is to force-close the application. This is especially dangerous to the less tech-savvy or elderly folks who don't know how to do this. 
Crafty clones: Some developers create multiple accounts to get around the App Store's limits and pump out tons of malicious apps with the same functionality. In fact, two app developers share the same parent company in Pakistan and the apps have 99% of the same code. Imagine that!
Put your wallet away
ChatGPT is free to use. There is a $20 subscription model that gets you faster response times and priority access, but it's not mandatory. 
The fake ChatGPT apps are asking for money upfront with no free options and even promote weekly subscriptions. Red flag, folks!
Go to my site for a list of fake ChatGPT apps and more safety tips.

DEVICE ADVICE
Best free police scanner apps
You hear sirens and see lights flashing down the street. Uh, what's up? Download a police scanner app to find out. 
You can listen to radio talk between the police, emergency responders and other public safety officials — often in real-time. You can also get alerts about incidents happening in your area. 
For iPhone, check out 5-0 Radio Police Scanner. It's free and lets you listen to international radio frequencies. You can also look up police shortcodes within the app. 
Police Scanner+ is designed for the iPad and has over 40,000 stations to listen to, and it's free too. Plus, you can record what's happening on a station for playback later.
A solid Android option is Scanner Radio – Police Scanner. Tune into live audio from over 7,000 fire and police scanners, NOAA weather radio stations, ham radio repeaters, air traffic and marine radios worldwide. Yep, free.
In other news, police apprehended a musician for stealing the right half of the piano. He was in treble.
🛑 What about apps to use if you're in an emergency? Download these before you need them.
| | |
| --- | --- |
| IN PARTNERSHIP WITH   | |
The perfect Mother's Day gift
Get your wife, daughter or mom something she can use day after day — luxurious sheets from Cozy Earth. Believe me, so much better than a cookbook, robe or slippers. 
These are seriously the best sheets I've ever slept on. They keep you warm when it's cold and cool when it's warm. 
Plus, they have a 10-year, no-questions-asked warranty. If they tear, rip or pill, they'll send you a new set. Love that. Sure, you can get cheap sheets anywhere. Let her know you care enough to give her the best.
BY THE NUMBERS
150 million
The number of lines of code powering today's high-end cars. That's more than in a fighter jet! The more complex the vehicle, the more vulnerable it is to hackers, who can inject malware or even take over the vehicle. Hands off the wheel, buddy!
$6 trillion
The amount of money AI will help businesses and investors tap into. A big-bank analyst says AI will improve advertising, e-commerce, travel, ridesharing and food deliveries so more people see and use these services. This'll line the pockets of all the companies involved. Cha-ching!
100 million
The number of daily users on Bing. The number surged after Microsoft released the new AI-powered Bing. That's still a drop in the bucket compared to Chrome, sitting at ~3.4 billion total users. If Amazon and Bing merged, that would be Amaz-ing!
WHAT THE TECH?
She's definitely not a loose Canon.

UNTIL NEXT TIME …
🧦 The answer: Smart socks! I'd take socks that warmed up automatically when your feet were chilly. I always carry an extra pair of socks in my golf bag in case I get a whole in one.
🫱‍🫲 Thanks a million for all your feedback. It helps us make this newsletter even better than it is now. My apologies for the broken link to the first website on the internet mentioned in yesterday's trivia answer. Check it out here. — Kim
How'd we do?
What did you think of today's issue?