💥 Dangerous links to click
In partnership with Komando Community
Happy Tuesday! Today's trivia is a simple true or false answer. In 2013, Jamie Siminoff went on "Shark Tank" and pitched "Doorbot." All the sharks turned him down. This product later sold for $1B to Amazon. Answer is at the end!
💗 When you see a major story here and want to share it, find the Facebook, Twitter, LinkedIn or email icon at the end of it. Tap or click that. Boom! You've just shared that awesome story. Now, on with the tech news you need to know! — Kim
IN THIS ISSUE
🛑 Stop and think, don't click that link
💵 Companies hiring right now
📄 Word docs on Kindle

TODAY'S TOP STORY
Paying to rip you off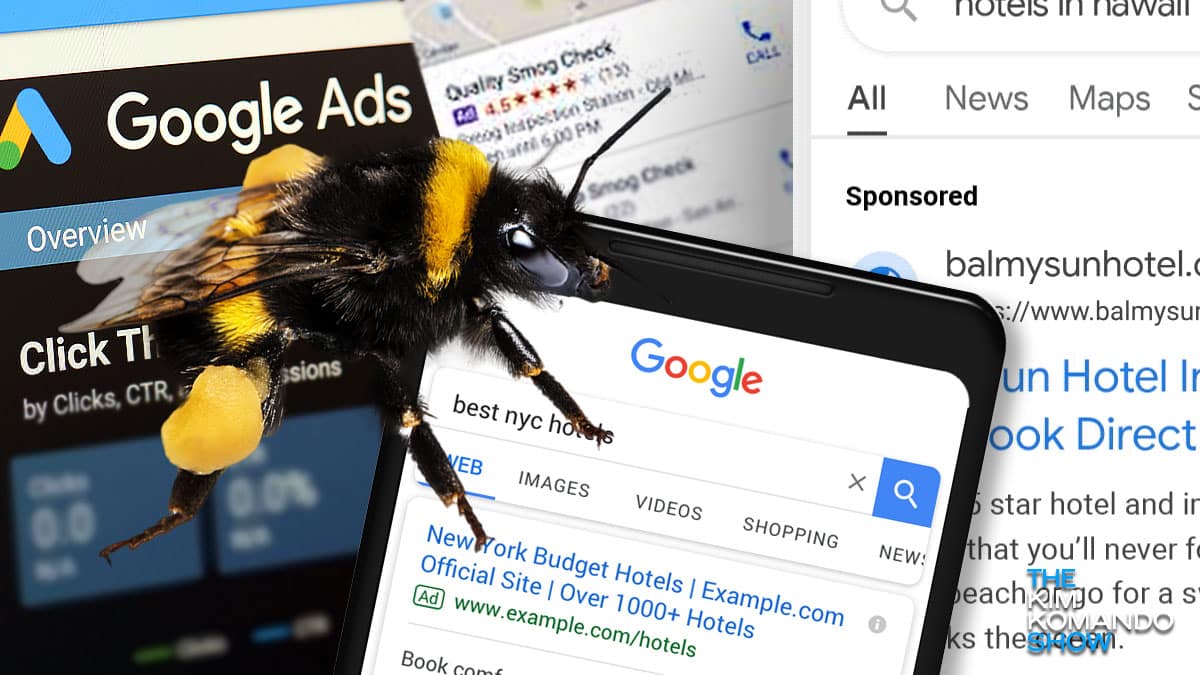 Google anything and you get pages of search results. At the very top of those search results? "Sponsored Results." These are paid ads businesses use to drive traffic to their websites. "OK, what's the issue, Kim?"
These sponsored results are increasingly being used by cybercriminals. 
Be careful where you click
Fun fact: Google doesn't vet everyone who buys an ad. Cybercrooks have long hidden nasty malware in Google Ads. And they're getting really good at SEO, so their malicious search results are at the top. 
This sting hurts
Researchers found Bumblebee malware in ads promoting apps commonly used by businesses: Zoom, Cisco AnyConnect, ChatGPT and Citrix Workspace. Here's the sinister part: You only need to start a download for the malware to sneak in.
Once the malware gets into your device, attackers can access other devices on the network. They'll steal employee credentials and copy or destroy sensitive company data. The endgame: ransomware. 
It's not just business
Watch out if you Google any big names, including YouTube, Facebook, Amazon, Target and Walmart (some of the companies attackers use to get you to click on their malicious results). 
How to protect yourself
Even if you're reading this and thinking, "Hackers saw my sorry financials and set up a GoFundme for me," you're still a target. Follow my tips to stay safe from these SEO-savvy swindlers:
Don't click on sponsored links or advertising when Googling something. 
Type all web addresses directly into your browser so you know you're going to the official site.
Before clicking any link, hover your cursor over it to see where it goes. Make sure it goes to the official website.
Want to make sure you're protected? Here's why antivirus is your friend.
DEAL OF THE DAY
🖐️ Better way to hold your tablet

Give your wrists a break! This pillow stand is perfect for couch surfing, binge-watching or catching up on work. It supports your iPad or another tablet so you don't have to and lets you angle it so it's harder for someone to snoop on what you're doing. Comes in nice colors, too.
WEB WATERCOOLER
Attention Deficit — HEY DONUTS: New browser app, Sidekick, is designed to eliminate distractions and help you focus. It's three times faster than Chrome, blocks ads and trackers and cleans up tab clutter. If you have trouble concentrating, check it out. Allie, our Amazing Content Queen, likes it and doesn't say that often about tech products.
Easy as 1-2-3: New Google Sheets trick! Use your finger or mouse to drag down a column and autofill. Say you have a list: 1, 2, 3 and want it to go to 10. Drag down and the rest of the numbers will appear (Android only right now). And remember, you need to learn spreadsheets to excel in life.
Word up: Update your Kindle Scribe (Amazon's fancy new writable tablet) and you can now open Word docs. From the Microsoft 365 Word app, hit File > Export > Send to Kindle. If you're still using the same decade-old Kindle … it might be worth the upgrade. This Kindle is on fire!
Experienced professional seeking … Keep an eye out for job sites asking you to pay to reformat your resume before you can apply for jobs. It's the latest job scam to hit the BBB's Scam Tracker report. In the scheme, a fake recruit will reach out because you're perfect for a high-paying job, but (oops!) your resume needs a paid upgrade.
Enlightening: Desktop app Little Snitch Mini shows you which of your Mac's apps are connected to the web and where those connections are. There's probably no good reason to send data to China or Russia, right? Now you have an easy way to see if you are. Direct download link here!
Put a ring on it: Tired of dating apps? Instead, go IRL. This bright turquoise $25 Pear ring is going viral. It tells everyone around you, "I'm single and ready to mingle." I still laugh that after 65 years of marriage, my grandfather called my grandmother "Honey," "Sweets" and "Sugar." I asked him for the secret to keep love alive. He said, "I forgot her name 10 years ago, and I'm afraid to ask."
🎧 Want great content on the go?
Sound like a tech pro, even if you're not one. Try my award-winning, daily podcast. Search for my last name with "K" wherever you get your podcasts and "Go Komando!"
TRENDING
5 WFH companies hiring now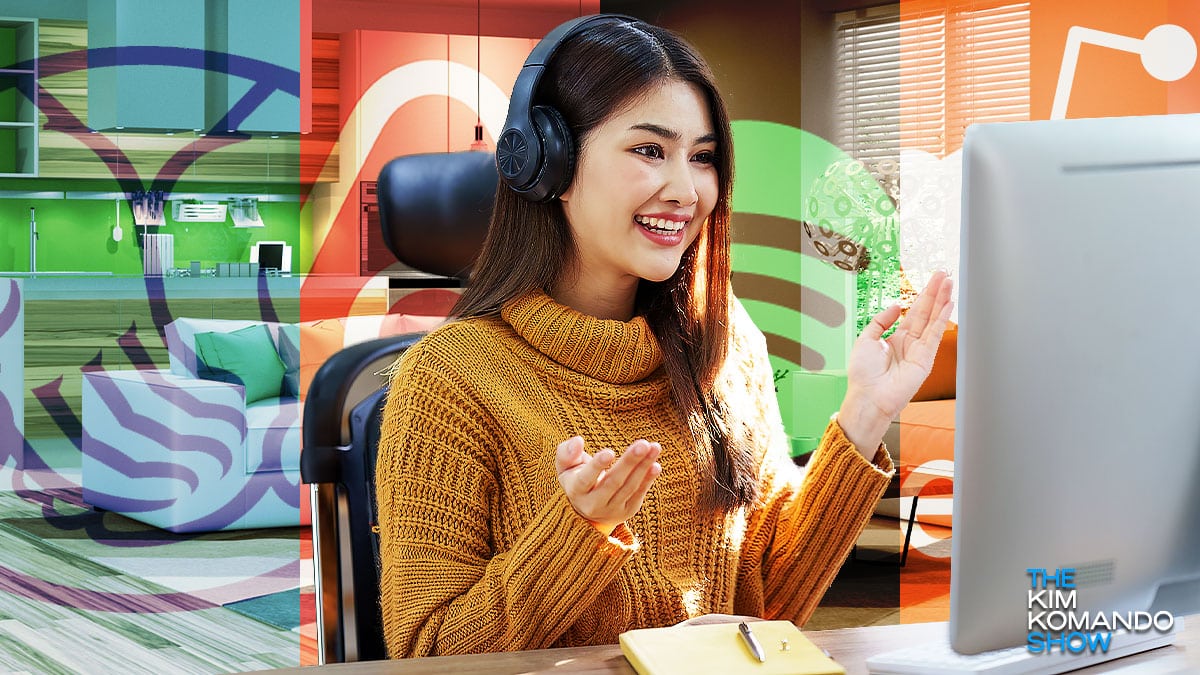 Enjoy the pantless perks of working from home? Or maybe you know someone out of work. These WFH companies are hiring right now. (Shareable intel people need, folks! Use those icons at the bottom of this story.)
Big Tech is anti-WFH
The head honchos at Apple, Google, Meta and Amazon say that productivity suffers when people work from home. Or maybe they're just grouchy about paying for those luxury campuses … I like working from home, but I love going to the office. I enjoy the company.
Still, the tech industry offers a better shot than most at snagging a remote or hybrid gig. Check out marketing and healthcare, too.
Here are five more companies that let you avoid a morning commute.
DEVICE ADVICE
Speed up your startup
Oops, you clicked "yes" on a notification just to make it go away. But alas, you may have inadvertently let specific programs start automatically. Now they slow down your computer from the moment you turn it on. Bummer.
Even if you didn't make that mistake, your PC or Mac might be taking longer to start than usual. The quick fix is to stop programs you don't want to load at start up. They'll remain on your computer; they just won't start on their own. Oh, happy day!
On a Windows PC:
Click the Windows search box and type Task Manager.
Choose the Startup tab.
Right-click on the programs you don't need and choose Disable.
On a Mac:
Click the Apple menu and navigate to System Preferences.
Click Users & Groups.
Select your User Account, then click Login Items on the top right.
To prevent an app from running automatically, click Remove a login item. 
🚀 Feeling the need for speed? Fear not, I am here to save the day! Give your comp these fixes.
| | |
| --- | --- |
| IN PARTNERSHIP WITH   | |
Being a VIP has privileges
Hang out with the cool kids and me at the Komando Community. I'll give you 30 days to try it for free! For starters, whenever you have a tech question, just head over to the Q&A Forum to get expert, easy-to-understand help and product recommendations from me or my team of IT geniuses, John and Jeremy. No more frustrating Google searches or buying junk tech for you!
Plus, you get my national radio show as a commercial-free podcast. That's right, no annoying commercials. And you have three full months of archived shows, too.
Use this link to get your 30-day free trial, then it's just a couple bucks a month to support our show. Senior citizens, active-duty military, police or firefighters get 10% off as my thanks.
BY THE NUMBERS
6
The number of months cancer patients spent waiting for a new promising treatment. Even after the wait, only a quarter of the patients eventually received CAR-T therapy, which has remission rates as high as 90%. Pharmaceutical companies can't keep up with demand for the treatment, which costs up to $400,000.
2 minutes
The amount of time you have to unsend a text message on an iPhone. Of course, the recipient may see your message before you unsend it and even if they don't, they'll be notified that you did so. Here's a fun game. The next time someone texts you, "Call me," do this. Call them and say, "Text me" and hang up. 😂
80%
The percentage of employers using monitoring software to spy on employees. They're tracking online activity, clock in/out times, phone calls and messages. The demand for this type of software has skyrocketed thanks to the boom of fully remote and hybrid workers.
WHAT THE TECH?
Selfie sticks let you take a good hard look at yourself.

UNTIL NEXT TIME …
🚪The answer: True. Jamie Siminoff asked for $700,000 for 10% equity of Doorbot. The Sharks turned him down. He made $5 million in sales after the episode of "Shark Tank" aired and eventually raised over $200 million of capital. Doorbot became Ring, which was acquired by Amazon for $1 billion. What a story, eh?
Spread the word! Be sure to tell a few folks to go to Komando.com and click the link that says "Free Newsletters." It was fun putting this newsletter together for you! Be sure to rate this issue below. And I'll be in your inbox tomorrow with another great newsletter! — Kim
How'd we do?
What did you think of today's issue?