👊 Google is fighting back
In partnership with ExpressVPN
Happy Tuesday! Let's get started with a streaming show trivia question. What's the No. 1 show that has spent the most weeks in Nielsen's top 10 list? Is it "Cobra Kai," "NCIS," "The Office" or "Yellowstone"? Answer's at the end, good friends!
We're coming in heavy, so let's dive in! — Kim
😀 First-time reader? Sign up here. (It's free!)
IN THIS ISSUE
🫵 Take that, ChatGPT
🚨 Windows 10 warning
👓 Apple's mixed reality goggles
TODAY'S TOP STORY
Google is "AI-ifying" all its tools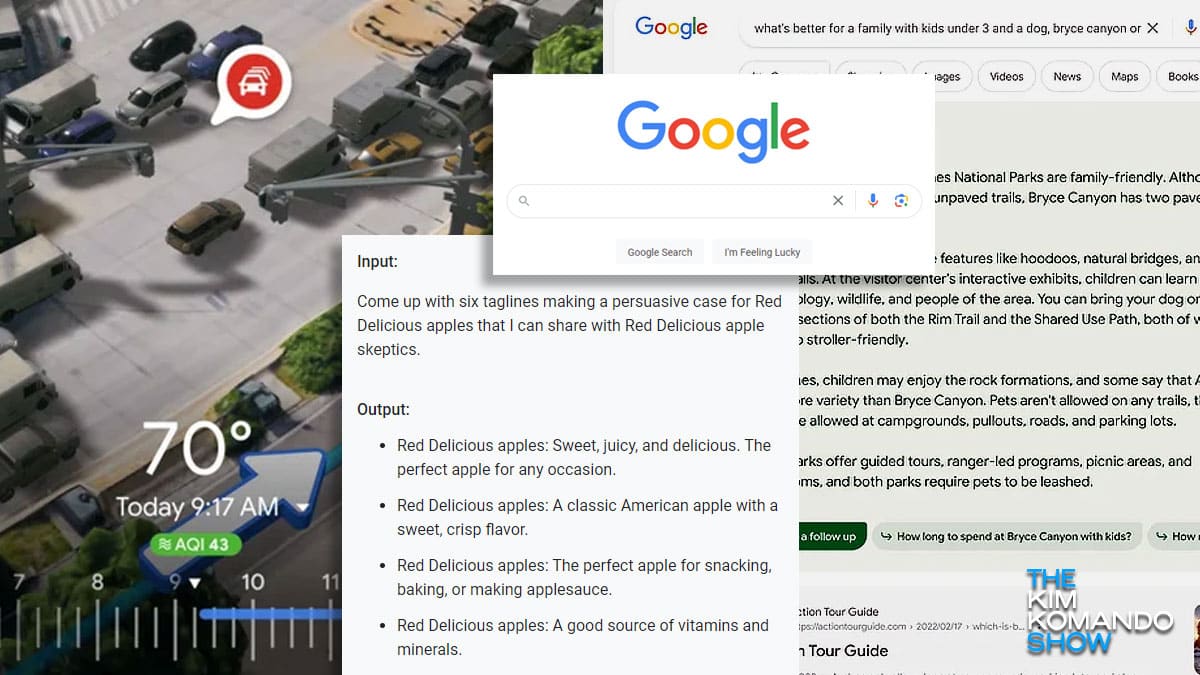 OpenAI: "Here's ChatGPT."
Google: "Holy crap! We're doomed!" 
Google is layering artificial intelligence (AI) onto G Suite — and changing how you email, search and edit photos. 
Here's a sneak peek at some of my favorite AI updates, plus how you can be the first to try its new tools and be a tech insider.
"Fix my photos"
You took pics at the family party, but the balloons got cut off, your spouse is too far away and your nephew's T-shirt has a huge dirty word on it. Magic Editor (coming later this year) can recreate the balloons, move your spouse and make the T-shirt say, "Jesus saves." 
"A picture worth a thousand words"
Bard, Google's ChatGPT competitor, gives you visual responses in addition to text. Even cooler: Upload a photo to Bard and AI analyzes it to write a description. If you have a few minutes, step into the future and try Bard here.
"Write this for me"
Need to ask for the contract or get out of an invite? Soon, Gmail will compose a message for you using your past emails as a reference. Adjust the email length, change the tone if necessary and make changes before you hit send.
"Plan a trip for me"
Immersive View shows 3D views of cities across the world. Soon you'll be able to preview the sights, weather, traffic and even air quality before you head out. Plan a bike trip, check conditions on your road trip route, you name it, starting this summer.
"I still haven't found what I'm looking for"
Maybe Bono should've asked Google's new Search. Type in a question like, "What's the best place to take a family for a weekend?" You'll get itineraries with destinations, restaurants, activities and hotels — all with one query. Sign up here to try Google's new Search before it gets released.
Will all this move the needle for investors?
📉 Hard to say. Case in point: Google announced new products and these AI upgrades last week. Yesterday, Google's stock got a rare downgrading from "buy" to "hold." It's still a huge company with a $1.4 trillion market capitalization, trailing only Apple, Microsoft and Saudi Aramco.
✅ You need to know what Google says it's doing to make sure what you see is true. Read up about this important conversation starter here.
DEAL OF THE DAY
💧 Reasons why plants die

No. 1 is you over-water it. No. 2 is you under-water it. Get this indoor automatic watering system. Its 60-day programmable timer means no more dead plants. It plugs in via USB, so there is no battery to die on you, either.
WEB WATERCOOLER
Money for nothing: Social media and YouTube are flooded with claims you can get rich (quick!) using ChatGPT. Do not hand over money to someone who says they can get you started. It's just a scam.
Travel PSA: You can now track your luggage through the United, American or Delta app to see where it is. (I toss in an AirTag for extra peace of mind.) Air New Zealand added the feature yesterday if you'd rather explore "Lord of the Rings" land.
Can you hear me now? AT&T just got closer to offering satellite phone service using AST SpaceMobile. Corporate profits shocker … you don't have to buy a new phone. It works with existing phones.
Creepy Alexa: Amazon's Astro home robot is getting a major AI upgrade. Soon, you'll be able to have complete conversations with it. I returned mine. Who wants Amazon's cameras and mics watching, listening and roaming all over your house?
P*rn warning: Data-stealing malware is making the rounds. It's spreading through a pop-up targeting users browsing … adult websites. The phony warning urges you to install an important update. Don't.
EV tax loophole: Automakers figured out that electric vehicle (EV) leases allow vehicles produced outside North America to qualify for a $7,500 tax credit. But no cash for EVs. You have to charge it.
Peace among us: Windows 11's new Phone Link lets iPhone users finally send and receive messages via iMessage, make and receive calls and see any app notifications on a PC or laptop.
Made the cut: Robotic lawnmowers' onboard GPS can leave 10% of your lawn untouched for bees, butterflies and whatever else. Check out this video that explains how "rewilding" works.
🌞 Your new morning routine
Every morning, brush your teeth to my Daily Tech Update. You get fresh breath and fresh tech know-how in a minute.
TRENDING
Everyone's buzzing about Apple's $3K goggles
Facebook's Metaverse was supposed to be the ultimate virtual reality (VR) world. $4 billion and a few disappointing investor calls later and Mark Zuckerberg's big bet looks more like a blunder. You may hate Apple, but it has a long history of releasing winners.
Let me round up some rumors so you're in the know.
It's MR, not VR
Apple's $3,000 goggles, called Reality Pro, will use mixed reality (MR) tech. Instead of being stuck inside an all-virtual world, this adds digital elements to the real world. Picture watching a virtual cat jump onto your (real) windowsill and knock over a digital plant.
What you can do with it
FaceTime with a friend using 3D avatars.
Meditate with calming sounds and immersive graphics.
Watch live sports in virtual reality (like you're at the game).
Have video meetings that feel like you and your team are together.
If I know Apple, it'll be pretty slick. The final headset should clock in under half a pound. Compare that to Valve's headset, which weighs in at a headache-worthy 1.7 pounds. 
One drawback: You'll have to carry around a battery pack roughly as big as an iPhone to power the headset, which lasts about two hours. Argh.
The bottom line: If Apple really thinks it can replace an iPhone, it can't be a rehash of Google Glass or the Oculus VR headset. It has to look like regular glasses or sunglasses. Is the tech there yet? We'll see in three weeks.
✅ Here are some uses that could help Apple's pricey specs catch on.
DEVICE ADVICE
Things you CAN'T return to Amazon
Amazon sells about 15 million products and not all are eligible for returns if you don't like it. You're out of luck if you bought:
Hazardous materials, like flammable liquids or gasses. They're yours now.
Gift cards and prepaid game cards for games like Warcraft, PlayStation or Xbox. Nope, the "hated-the-game" excuse doesn't work.
Downloadable software like Microsoft Word, CorelDraw or Adobe Photoshop.
Personal health items. Out of the package? Can't be returned.
Insects. If your creepy crawlies arrive dead or damaged, tough luck. Amazon's insect return policy is non-existent. 
Who knew that you could buy insects on Amazon anyway? When I get bitten by insects, one half of my brain is always, "Kim, be smart, leave it alone." The other half is, "Scratch that."
🛒 Major money smarts to know now: 9 ways to make sure you can return the stuff you buy online →
| | |
| --- | --- |
| IN PARTNERSHIP WITH   | |
Protect your data with the VPN Kim trusts
Big Tech companies match your internet activity to your identity or location by using your public IP address. With ExpressVPN, no one can see your IP address — no one.
It just takes one click to connect, and it won't slow you down. I've tried so many VPNs over the years, and I can say ExpressVPN is blazing fast. So much so, I forget I even have it on.
BY THE NUMBERS
19%
The percentage of workers who probably miss their old desk. This so-called "hot desking" trend where employees have to hunt for an open desk is nearly double what it was in 2020.
62%
The percentage of restaurants that don't have enough workers. The restaurant industry is down over 400,000 workers and turning to robotic servers and cooks. One is Flippy, which cooks burgers, rents for $3,500 per month and never needs a kick in its ro-butt.
4,185
The number of AM stations across the U.S. BMW, Volkswagen, Mazda and Tesla are removing AM radios from EVs due to engine noise interference. All new Fords, EV or not, won't have an AM radio. Stations are petitioning the FCC. My golden retriever Abby's favorite radio station is W-ALK.
WHAT THE TECH?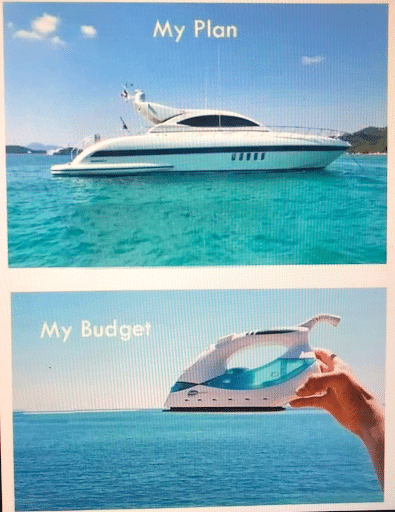 Oh, the irony.

UNTIL NEXT TIME …
🔎 The answer: "NCIS" has been on the top 10 list for the last 107 weeks. I'm embarrassed to say I haven't watched a single episode. Coming in at No. 2 "Cocomelon," then "Criminal Minds," "Grey's Anatomy" and at No. 5 is "Schitt's Creek." "Ew, David!"
🥹 "My radio station used to carry your show but this is a great replacement," wrote Mark in LA. Now friends, my free newsletter is not a replacement for my national award-winning radio show and podcast. With each show and podcast, you get different tech news, my advice to callers and new tips. 
✅ I have two podcasts. 1. Kim Komando Today is about 30 minutes (great for walks, drives and getting stuff done). 2. Daily Tech Update is one minute (perfect for brushing your teeth in the morning). Warning: My podcasts are addictive. Knowledge is power! I'll see you back in your inbox tomorrow with another issue of the best tech newsletter in the world. — Kim
How'd we do?
What did you think of today's issue?