In partnership with Dr. Marty
🐰 Happy Easter! It's been a while since I hid Easter baskets. I decided to do it this year after church, just for fun. We'll probably throw Peeps in the microwave for old-time's sake. Spoiler: They expand like crazy!
The Sunday edition of our newsletter is different than Monday through Friday. It's loaded with actionable steps you need to take to protect your privacy and save money. Thank you for being here with us! — Kim 
📫 First-time reader? Sign up here. (It's free!)
IN THIS ISSUE
📍 Nosy maps see it all
💸 Tech money mistakes
☎️ "Hello? Who's there?"
KIM'S COLUMN
Big Tech tracking your every move
Every week, I write two special features for USA Today. They don't publish on their site until next week, but because you get my free newsletters, you're in the know first!
Every time you navigate somewhere using your preferred GPS app, that location is stored in your profile. Prepare to be shocked at what Apple and Google know about your wanderings.
If you've used Google Maps for years, there's probably a startling amount of info about everywhere you've gone. 
When signed in, click on your profile picture, then select Manage your Google Account. Or go to your Google Account page here.
On the left, click on Data & privacy.
Under History Settings, click Location History.
At the bottom, click Manage history.
You'll see a map with details like your saved home and work locations, plus all your trips. You can search by year or down to a specific day in the Timeline box in the top left corner. Try it.
The Apple doesn't fall far …
Like Google, recent destinations are saved in the Apple Maps app. If you want a clean slate, grab your iPhone or iPad. You have to remove each entry individually from your phone, so it'll take some time.
Open Apple Maps and scroll to the Recents section.
Swipe left on the route you want to remove and tap Delete.
My column is too step-by-step-packed to include it all here! Read the rest, including steps to stop this tracking and clear your Google Maps history altogether.
😂 Did you know that Google Maps can work backwards? Problem is, it always gets caught in the "spam" filter.
DEAL OF THE DAY
Police have them

You need one, too. This dual-lens dashcam records both outside and inside your vehicle. It's loaded with great tech, including a 1080P camera with infrared night vision, parking mode and motion-activated recording. It's 15% off, plus there's a $30 coupon. Be sure to check the box to get that additional $30 off!
🎧 Want the daily download on the go?
Sound like a tech pro, even if you're not one. Try my award-winning, daily podcast. Search for my last name with "K" wherever you get your podcasts and "Go Komando!"
MY TRUSTED ADVICE
Cellphone pioneer, scam suicide, travel charger, side hustles
I've spent more than 25 years helping people just like you. I'm so proud of how many folks I've reached with my national radio show. Here are a few I've talked to just this week:
Marty Cooper, the inventor of the cellphone, called me to talk about the future of smartphones. He's such a gem — and 95 years young!
Kevin from Bristol, Tennessee, has seen all those videos online about side hustles to make big money. He's looking for a way to supplement his income without getting scammed.
South Carolina Rep. Brandon Guffey shared an incredibly painful experience. His 17-year-old son fell victim to a cruel sextortion scheme and took his own life.
John from San Antonio, Texas, heard you shouldn't charge your phone using public chargers because they can steal data. He's traveling internationally and needs a solution. (Here it is!)
Get my answers — it's easy! Find me on your local radio station or listen now in the Komando Community. If you don't mind waiting, get the podcast, Kim Komando Today.
🙋‍♀️ Need my help? Send me a note. I read each one myself!
MONEY MOVES
Saving your wallet, one tip at a time
With shiny, new gear popping up daily and yet another streaming service there to woo you, it's hard to stop the flow of cash. I can help.
The problem: New phones are so expensive
Here's what tech companies don't want you to know: The changes to today's new models aren't all that groundbreaking. The cameras are just a little better. There's a bit more storage. Maybe your battery will last a few hours longer. Big whoop.
The fix: Make your old phone feel new again
I don't mean the gunk on the outside, although I did put together a smart guide on cleaning up your tech. Take a few minutes to clean what's inside your phone, too. Cached files, memes and screenshots, outdated contacts, and other digital clutter are all easy to sweep away.
The problem: You can't find coupon codes
Never Google "coupon codes." At best, the codes don't work and you wasted a few minutes. At worst, you click a malicious link and put your digital self in real danger.
The fix: Rely on sites that do it for you
Download an app or browser extension that does all the work. Honey searches the web for valid promo codes and applies them to your cart. Capital One Shopping shows side-by-side price comparisons from multiple retailers. Nice.
For direct links and lots more tips I can't fit here, hit my site. →
P.S. Had to share this with you. I vet all my sponsors myself, and I'm happy to have GetRefunds.com on board. They got me $400,000 in government COVID rebates as a small-business owner. It's separate from PPE and totally legit. Hope you get some money back!

| | |
| --- | --- |
| IN PARTNERSHIP WITH   | |
I love my dog, but I was making a mistake.
Abby wasn't eating. She was itchy. Her poop was gross (I know, TMI).
I thought I was buying her good dog food. Then, I met veterinarian Dr. Marty Goldstein. He explained in great detail what was really in dog food: Spoiled grocery store meat and wood pulp.
He knows. For more than 45 years, Dr. Marty has been a pioneer in pet nutrition. His brand, Nature's Blend, is a premium freeze-dried, raw dog food made from real cuts of raw turkey, beef, salmon and organ meats. The rest is omega-3-rich seeds, superfood veggies and fruits.
Abby is eating, has stopped itching and has high-quality poop. If you love your dog, give them food for their energy, coat, digestion and long life. As a reader, you can save 54% on your first order, plus get a free bag of dog treats!
DIY SECURITY TIP
Yeah, you gotta knock that off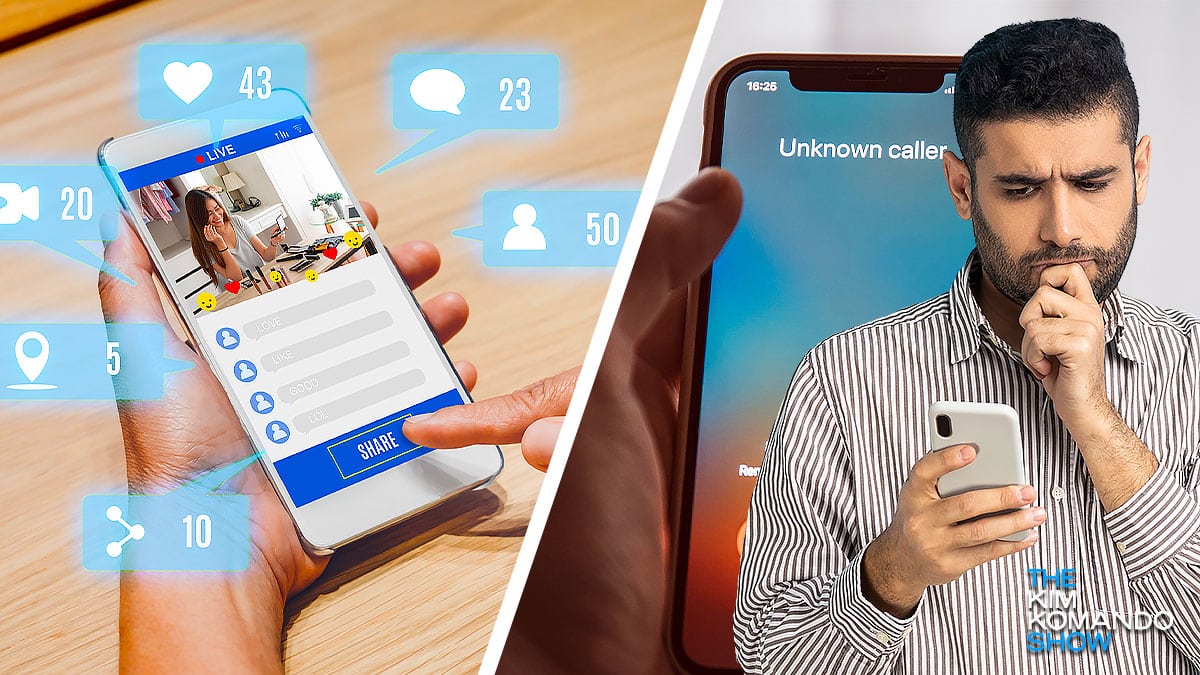 Thanks to AI and plain old inventiveness, criminals are taking advantage of some of the stuff we think is totally normal and not at all risky. It begs the question: Can we do anything anymore?
The way you answer the phone
Scammers are using AI to replicate voices and then trick your loved ones. They only need three seconds of a recording to produce convincing sentences that sound just like you. And it doesn't matter if you're using a cellphone or landline. Pro tips:
Don't say "hello" when answering the phone.
Let the caller speak first. If they don't say anything, hang up.
Don't answer unknown calls! If it's important, they'll leave a voicemail.
Previewing a document
You know by now not to open files from unfamiliar senders. That's not enough anymore. Just using the Windows Preview Pane on malicious documents can infect your computer, allowing a hacker to take over. The same goes for previewing certain documents in your inbox. Geez.
WHAT THE TECH?
How much for the extended warranty?

UNTIL NEXT TIME …
Thanks for a great week of feedback and support! The team and I couldn't do it without you. 
🤗 Know someone who would enjoy this email? Share a link or forward a copy. It helps us spread more tech privacy tips and smarts to everyone! — Kim
How'd we do?
What did you think of today's issue?