👁️‍🗨️ New way to spot fake reviews
In partnership with SimpliSafe
It's Friyay! Graduation season is upon us. These famous tech personalities are all college dropouts, except for … Elon Musk, Michael Dell, Steve Jobs or Mark Zuckerberg? You'll find the answer at the end.
We've got a lot of tech news and goodies to pass along. Let's rock and roll! — Kim
IN THIS ISSUE
⌛ AI spam is here
📰 Need a new news app?
📥 Email mistakes
TODAY'S TOP STORY
Fake review rackett
There are so many great uses for ChatGPT. It can help you plan a trip, recommend new recipe ideas, write you a workout program, clean up an email … I could go on. Not such a great use? Product reviews.
Alas, I'm not surprised to see reviews very clearly left by artificial intelligence (AI) all over Amazon. Is this the beginning of automated spam? Oh boy.
"As an AI language model"
… is a phrase you've definitely seen if you've spent much time with ChatGPT. If you ask it to do something beyond its capabilities or that programmers put limits on, that's its crutch phrase.
It's also the glaringly obvious sign lazy people are using bots to write phony Amazon reviews. There are more of these than you'd think (I'm guessing computers don't need "waist trimmers"… ).
Some scammers are smart …
These ones are not. I'm all for automating work, but they really should proofread this stuff before it goes up on Amazon. If you see it, move on. Better yet, do your fellow shoppers a favor and hit the "Report" button.
Amazon bans posts like these in theory, but many of them are still live. How long until the reviews are taken down? Not fast enough.
Pro tool to spot fake reviews
Not every fake review is going to look so, well, fake. There's a tool you can use to help sort out the good from the bad: Fakespot. 
Just paste in a link and you'll see a grade for those reviews. It works with Amazon, Walmart, Yelp, TripAdvisor, Steam, Sephora and BestBuy URLs. A or B is fine. C and D are sketchy and definitely avoid Fs.
🤖 How do we know when artificial intelligence has become self-aware? It starts to think its bot is too big.
DEAL OF THE DAY
✨ Make your screens sparkle

Clean up your act with this all-in-one screen cleaner. It's a small bottle of screen cleaning solution with a reusable microfiber cloth on one side. No more greasy laptop, tablet or phone screens. Bonus: You can use it as a phone stand in a pinch.
WEB WATERCOOLER
Back off, Bing: Microsoft is "investigating" after Redditors discovered that Microsoft Edge sends all the sites you visit to its Bing API. I'm willing to bet they'll say, "Oops, just an accident!" To turn off the feature most likely responsible, go to Settings > Privacy > Search and Services > Services. Toggle off "Show suggestions to follow creators in Microsoft Edge." 
Not-so-ancient Artifact: From the co-founders of Instagram comes Artifact, an AI-powered personalized news app – now open for anyone to try. Most reviews so far are "Meh," but Madi, who helps us find great content for the show, loves it. It works on iPhone or Android.
Shhh! ChatGPT just got a slick safety feature: Incognito mode. Go to your settings, click "Show" on Data Controls and look for Chat History & Training. This means no one with access to your account can go back and see what you talked about and it'll delete your chats after 30 days. I still wouldn't tell it any of my secrets.
Look away: Ring's 2023 indoor cam announced a no-brainer: Privacy covers. You can swivel it over the lens to turn off audio and video recording. Just FYI, my longtime radio sponsor SimpliSafe* has this on all its cams and it doesn't hand your home security vids over to Amazon. Just sayin' …
Safety plus-up: Garmin's new Varia eRTL615 (rolls off the tongue, eh?) is the first rear tail light and radar system designed specifically for ebikes. It runs off your bike's power and uses radio signals to tell you if a car is approaching. It's $299, but worth it if you spend a lot of time on the roads. Watch out for the crazy bike lanes. They're a real cyclepath.
Thank you for your service: A U.S. Army corporal who received the Medal of Honor after his death has been identified using DNA data more than 70 years after he went missing during the Korean War. Luther H. Story, only 19 years old at the time, remained at the battle site after a serious injury so his fellow soldiers could withdraw. Speaking of, I posted how to get copies of your or a loved ones' military records here.
🎧 Want great content on the go?
Sound like a tech pro, even if you're not one. Try my award-winning, daily podcast. Search for my last name with "K" wherever you get your podcasts and "Go Komando!"
TRENDING
The unspoken rules of email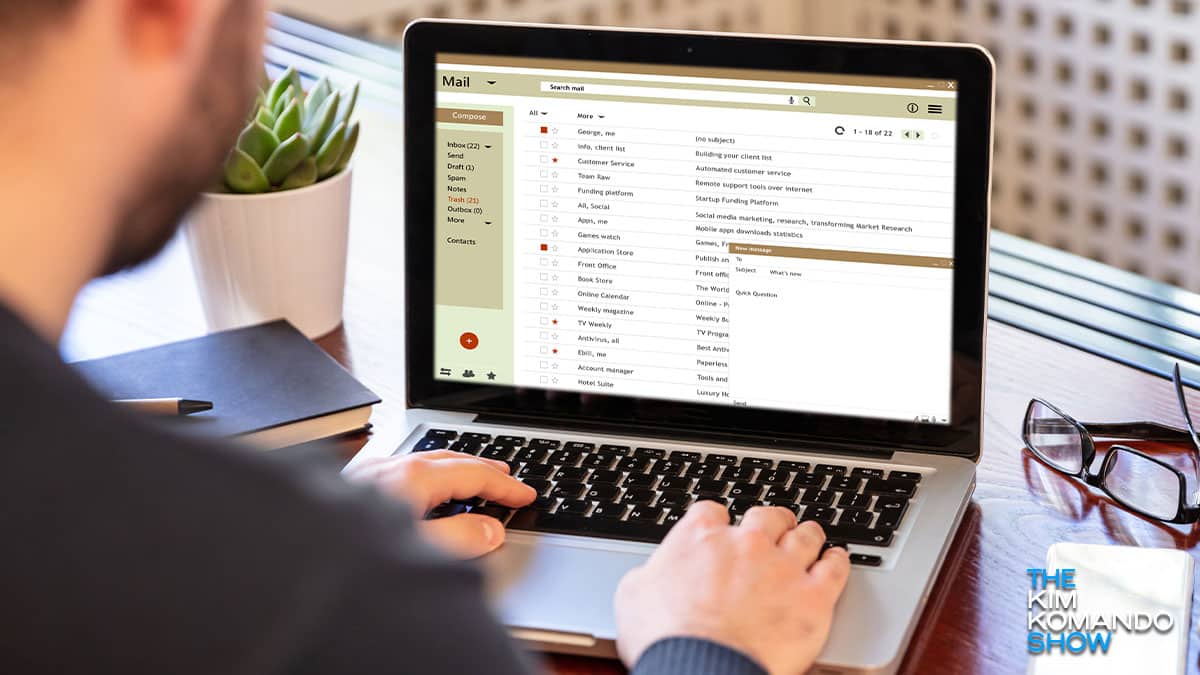 Nearly half of all people said they can tell a coworker's mood by their greetings and sign-offs. Get this: 91% said the people they work with are sometimes passive-aggressive via email. Ouch.
A new survey from Preply has guidance if you're maybe, accidentally, oops that person.
Hey, hi, hello: The most aggressive way to start an email, in fact, is with no greeting at all. A super casual greeting like "hiya" can come off the same way. And 43% say using someone's name with a colon ("Kim:") is too aggressive to ever use.
"Hi Kim," "Good morning/afternoon/evening" and "Hello Kim" are all perfectly fine. The most "uptight" greetings? "Dear Kim," "Greetings Kim" and "Greetings." Feels very … handwritten letter.
See ya: Sign offs matter, too. 80% go with "thank you." About half of those surveyed only sign off with their names. Way down at the bottom: Kind regards at 16%. Yeah, it sounds old fashioned.
So 2015: What about that note at the end of your mobile emails? "Sent from my iPhone" or "Sent from my phone, please excuse typos." Lose it. We all know by now.
Emojis are contentious: About 40% said they're never appropriate in work emails, and everyone else thinks they're OK sometimes. I'm all for them, unless it's a super-serious email.
Respectfully,
Kim
DEVICE ADVICE
Gas up with Google Maps
Gas prices are nuts. Before you cancel your next road trip, check out these Google Maps pro tricks to refuel your wallet. 
The longer you sit in traffic, the more gas you burn — and the more money you spend. With Google Maps, you can plan your trip ahead of time. Plug in your destination and it'll give you the most fuel-efficient route.
Don't waste time looking for cheap gas. Search for gas stations in the area you're interested in and the app shows prices at each station. I bet you'll save a few bucks.
Got an electric vehicle (EV)? Yay, no expensive gas. Boo, where the heck to charge? Search for EV charging stations on the way to your destination and Google Maps will show you the nearest ones, along with estimated wait times for a charging port.
Did you know that Google Maps can work backward? The problem is that it always gets caught in the spam filter.
✅ Don't stop your Google Maps know-how. Impress your co-pilot with even more smart Maps tricks →
| | |
| --- | --- |
| IN PARTNERSHIP WITH   | |
24/7 whole home protection
Whether you've got a full house or you live alone, you don't need to live in fear. The right tech can help you stay secure, and you don't need to spend an arm and a leg.
SimpliSafe is an award-winning DIY home security system, engineered with the latest tech to keep you and your family safe. With SimpliSafe, you order what you need, it arrives in a box with great instructions, and, in about 15 minutes, you're done!
Right now, save 20% on your SimpliSafe security system — and get your first month free when you sign up for Interactive Monitoring. Comes with a 60-day money-back guarantee and free return shipping!
BY THE NUMBERS
2.5 billion
The number of people data broker Acxiom sells info from. All packaged and ready to go for health insurance companies, banks, scammers, law enforcement and stalkers. Greeaaat …
$10 million
The amount of money a serial entrepreneur made on Amazon. He started Kaffe with one product: A coffee grinder in just one color. Now you can find it online at Target, Home Depot and QVC, too.
2 hours
The travel time from LA to Las Vegas via high-speed train. Brightline West just signed a labor agreement with railroad workers and received federal funding. The train would race down its 260-mile track at 186 mph. And hey, no traffic!
WHAT THE TECH?
Apparently, he wasn't riding Solo.

UNTIL NEXT TIME …
🏫 The answer: Steve Jobs, Apple founder, dropped out of Reed College at 19. Michael Dell, founder of Dell, dropped out of the University of Texas at Austin at 19. Mark Zuckerberg, Facebook founder, dropped out of Harvard at 20. Elon Musk was a student at the University of Pennsylvania where, at the age of 24, he received a Bachelor of Science in physics and a Bachelor of Science degree in economics from the Wharton School of Business.
Be sure to give us a rating below and I'll see you back in your inbox on Sunday. Until then, forward my free newsletter to a few folks and invite them to sign up. Thank you! — Kim
How'd we do?
What did you think of today's issue?