🍎 Apple is finally fixing the big AirTag problem
In partnership with IDrive
Hey-o, Thursday! On this day 23 years ago, the fastest-moving and most widespread virus in history hit an estimated 3 million PCs in just six hours. What was the subject line of the infected email? URGENT, ILOVEYOU, ARE YOU THERE? or HOTPICS. Answer below!
Let's jump into a big day of tech news, guys and gals! — Kim
IN THIS ISSUE
🔐 Tracker teamwork
👋 Bye-bye, Windows 10
📕 Library freebies
TODAY'S TOP STORY
A solution to the AirTag problem coming soon
When the two biggest rivals in tech team up, you know there's a serious problem. As a shocker to no one, people aren't just using Apple AirTags to keep track of their stuff. They're using them for nefarious purposes.
Crooks are using Apple's quarter-sized trackers to stalk people and keep tabs on their marks — even hiding them on cars to follow them back to the owner's home and steal the vehicle later. 
Now, two years after AirTags hit the scene, Apple and Google are working together to make it easy to see if someone is stalking you with trackers. What took them so long?
Tag, you're it
Apple and Android are finally teaming up to make unwanted tracking detection an industry standard. This way, all Bluetooth trackers will be compatible with tracking detection and alerts on iOS and Android devices.
iPhones automatically track and alert you about unknown AirTags and other trackers on the Find My network — but this doesn't work with Android. (More on that below.)
Tracker manufacturers like Samsung and Tile are on board, too. Tech rivals rarely work together, but the safety risks here are too significant to ignore. 
Sadly, these helpful little gadgets can be used against us. I keep AirTags in my cars in case someone decides to take a joyride. My Golden Retriever, Abby, has one attached to her collar, too — and yeah, I've put one in basically everything my husband Barry owns. Thank you, Apple.
Find My limits
I hope soon I'll be able to tell you about the snazzy new official app that works to find every tracker on every type of phone. For now, we have to make do with what we've got.
On an iPhone, you'll get a notification if an unknown AirTag is tracking you. Do this:
Tap the message, then Continue.
Tap Play Sound if you need help finding the AirTag, Learn About This AirTag for more information or Instructions to Disable AirTag. Follow the onscreen steps to stop sharing your location.
Have an Android? No automatic notifications for you. You'll have to run a manual scan. Yeesh. And it takes 10 minutes.
Download Tracker Detect here. Open the app and tap Scan. Tap on any tracker the app finds.
Tap Play Sound, Learn More About This Item Tracker or Instructions to Disable.
Manual scans won't cut it — do they expect you to open the app every five minutes? I researched and found an app that periodically scans your surroundings for AirTags or other Find My devices. Better than nothing.
Download AirGuard here.
Check the app for your status: A green card means No Risk. This changes to red when you're at High Risk due to a tracker being detected.
We tried it out and the app detected both an AirTag and a Tile tracker. We were also able to make the AirTag chime from a Samsung phone.
✅ While Apple and Google get their act together, it doesn't hurt to do an old-fashioned scan for trackers in your car or on your person. Learn how to do that right here.
DEAL OF THE DAY
👁️ Best vitamins for eye health

You probably take a multivitamin, but what about your eye health? I use this supplement packed with what doctors prescribe to prevent macular degeneration: Zinc, Vitamins C and E, Omega 3, Lutein and Zeaxanthin. Healthier vision in one soft gel? I take this every day.
WEB WATERCOOLER
An offer he had to refuse: The Godfather of artificial intelligence (AI), 75-year-old Geoffrey Hinton, quit his job at Google. He's spent a decade there working on AI projects and says he has serious concerns about Open AI's ChatGPT, Google Bard and all the rest. He's so worried about false information, he told the New York Times, that he regrets some of his past work. Makes you wonder what he knows.
It's been real (buggy), Windows 10: Microsoft says the current version of Windows 10, 22H2, will be the last. You can expect monthly security updates until Oct. 14, 2025 — then it's time to switch to Windows 11. Cue the funeral march. Use these tips and tricks to make Windows 11 more useful.
It's official: Keeping too many tabs open is bad for your brain. Researchers at Aalto University in Finland found one in four people feel stressed when they have a cluttered browser window. Want to close your tabs quickly? Quick tip to remember. Use Ctrl + W on Windows or Command + W on a Mac.
A chip in the armor: Intel's first-quarter results? Decidedly not good. Revenue dropped 36% compared to last year, $11.7 billion from $18.4 billion. The chip giant has had five down quarters in a row. Why? PC shipments are down 30% and Intel's server chip biz is down 39%. I tried to switch my sister from AMD to Intel. But I could not Celeron it.
Blocked: Utah just passed a law requiring all p*rn sites to verify the age of all users. In protest, P*rnHub (the web's biggest adult site) blocked all of its content from the state of Utah. You know what kind of people manage their company when they refuse to comply with a reasonable — and Constitutional law. If blocking entire states is their response to laws designed to protect kids, I hope more states follow Utah's lead.
Call of Duty: Here's an innovative solution. Ukrainian soldiers are using handheld video game consoles to operate a machine gun turret remotely. Steam Decks were introduced in 2022 by Valve and cost about $150. They run Linux and can be loaded to run Windows, too.
🎧 Want great content on the go?
Sound like a tech pro, even if you're not one. Try my award-winning, daily podcast. Search for my last name with "K" wherever you get your podcasts and "Go Komando!"
TRENDING
In case you forgot, Amazon sells books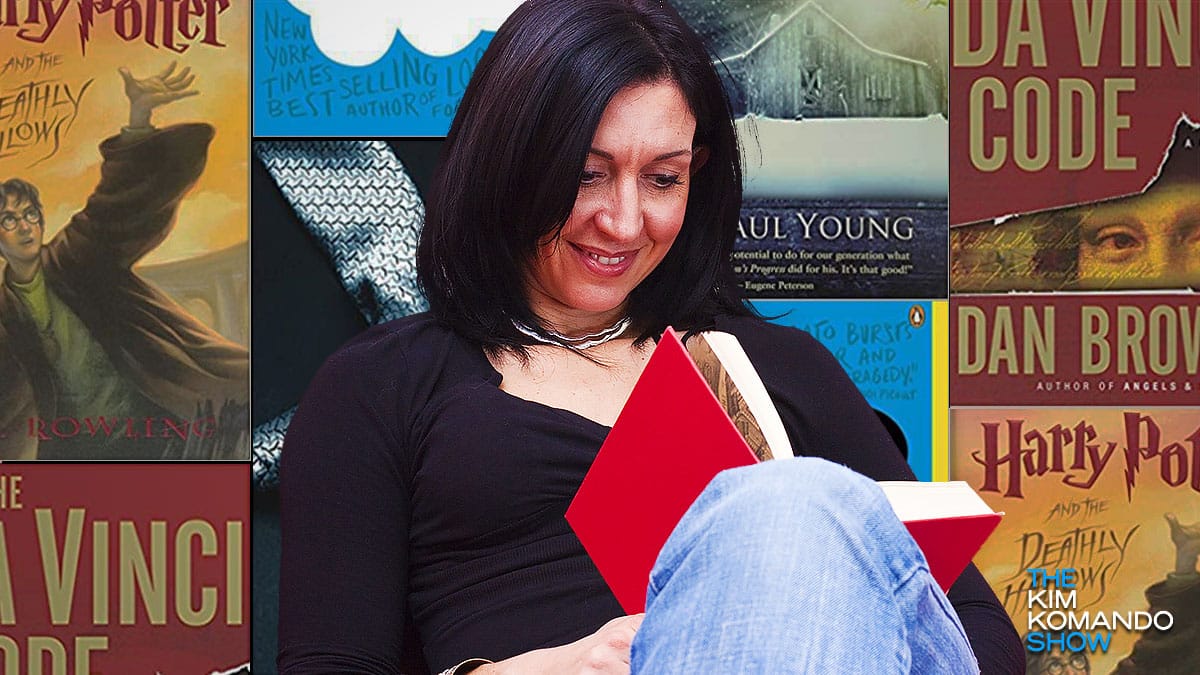 Fun fact: My very first Amazon purchase was a book called "Online Dating: What You Need to Know" back in 1996. It was for research purposes, really. That one didn't win any popularity contests, but these 10 books did.
After nearly 30 years of sales, these are the most popular books on Amazon of all time.
"Harry Potter and the Deathly Hallows" by J.K. Rowling: The final book in the Harry Potter series shattered sales records.
"Fifty Shades of Grey" by E.L. James: An adults-only romance novel that people still talk about eight years later.
"The Da Vinci Code" by Dan Brown: The international bestseller combined history, art and suspense.
"The Hunger Games" by Suzanne Collins: The first in the dystopian trilogy launched the hit movie series, too.
"The Girl with the Dragon Tattoo" by Stieg Larsson: A psychological thriller published after the author's death.
"The Fault in Our Stars" by John Green: A touching young adult (YA) novel about love and loss.
"Gone Girl" by Gillian Flynn: Another crime thriller with a did the husband do it plotline.
"To Kill a Mockingbird" by Harper Lee: A classic that follows eight-year-old Scout Finch during the Great Depression.
"The Help" by Kathryn Stockett: A powerful novel about black maids in the 1960s South.
"The Shack" by William P. Young: A self-published novel that made its way onto the USA Today bestseller list.
📕 This morning in my office, a book fell on my head. I have only my shelf to blame.
DEVICE ADVICE
Freebies from your local library
The average American pays about $219 monthly on streaming subscriptions. That's a considerable chunk of change! But here's a secret: You can access the same movies, books and video games for free. All you need is a library card. 
You might know you can borrow e-books and audiobooks using the app Libby. It's a gem, but this goes beyond books. 
Let's say you want to learn a new language. With a library card, you can use online platforms like Rosetta Stone to learn dozens of languages. No cost.
Music or movie buff? You can borrow CDs, DVDs and Blu-rays — or stream music and videos from popular services like Kanopy and Freegal.
Many libraries now offer subscriptions to specialized databases and services like Ancestry.com. Cool, right? Remember, hush puppies love the library.
🫂 Share this with a friend! We all love free.
| | |
| --- | --- |
| IN PARTNERSHIP WITH   | |
Do this before it's too late
I've heard from just so many people who didn't back up their devices, then something went wrong.
Don't leave it to chance! Take the time to back them up the right way. My pick is IDrive. It's safe, fast and easy. You can back up all your devices — iPhone, Android, Mac, PC — to one account and access your stuff from anywhere.
When you use my name, Kim, at checkout, you get 90% off your first year. Killer deal.
BY THE NUMBERS
90
The number of buildings Amazon closed, canceled or delayed in 2022. Amazon expanded to keep up with demand during the start of the pandemic — but went a little too hard. We'll all feel the sting: Fewer fulfillment centers mean fewer items with same-day or next-day shipping. This means you might have to actually drive to CVS for toothpaste.
288
The number of people arrested for buying drugs on the Dark Web. People ask me if criminals on the Dark Web ever get caught. Operation SpecTor involved law enforcement agencies from nine countries. Officials seized $53.4 million in cash and digital currencies, 1,873 pounds of drugs and 117 firearms. What a haul.
70%
The percentage increase of searches for "star bathing." Yep, that's a new term you need to know. Campsite booking platform Hipcamp is seeing more guests looking for a site under clear skies. The star bathing trend encourages you to look inward as you gaze up at the celestial bodies. A little out there for me.
WHAT THE TECH?
Time Marches on.

UNTIL NEXT TIME …
💕 The answer: ILOVEYOU. The Love Letter virus cost an estimated $8.7 billion in system downtime. Love stinks.
✅ Thanks for being here. See you tomorrow for another day of tech news and fun. Be sure to rate this email below! — Kim
How'd we do?
What did you think of today's issue?