🆕 Free, safe, useful ChatGPT tools to try
In partnership with Kim Komando Today
Happy Tuesday! Let's start with the trivia. Billionaire Warren Buffett said AI will change everything and likened it to the development of the atomic bomb. Is this next sentence true or false … He lives in the same home he purchased in 1958. Answer's at the end!
There is so much tech know-how I want to pass along to you. Let's dive in! — Kim
📫 First-time reader? Sign up here. (It's free!)
IN THIS ISSUE
🤖 Like a free personal assistant
🚨 Is one of these bad apps on your phone?
🦠 Free URL virus checker
TODAY'S TOP STORY
4 ChatGPT-powered chatbots to make life easier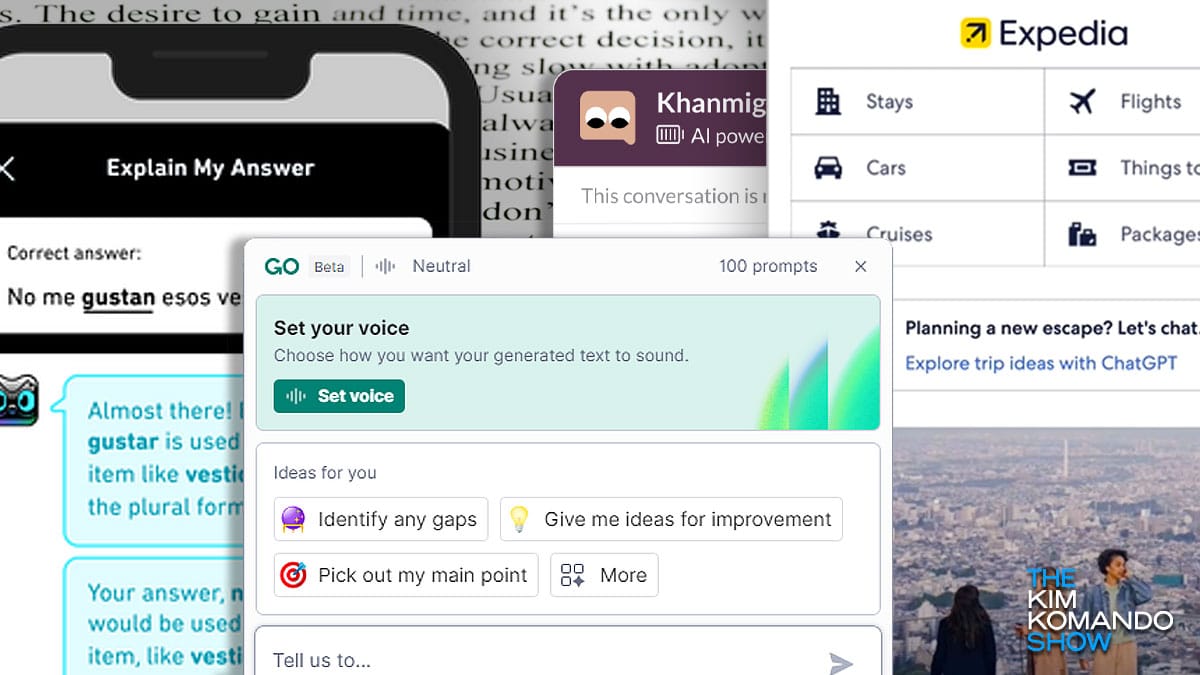 OpenAI's ChatGPT is so far ahead of the competition from Google and Apple that other companies are harnessing its powers for their chatty software. 
ChatGPT can do anything from spitting out a pasta recipe to job interview tips. But, you know what they say, niches make riches. Check out these four chatbots built for super-specific tasks:
1. A bot to write that email
Instead of just fixing typos, Grammarly can now do your work for you. GrammarlyGo composes blog posts, emails, proposals and social media posts (complete with hashtags). 
It takes your written voice into account, so the words sound like they came from you. It works with Gmail, Google Docs, Microsoft Word, LinkedIn and more.
You know those company-wide emails you can never think of a good response to? Tag! You're it, GrammarlyGo. I'm not happy with my made-up, mediocre cheesy joke about bad grammar. I want to make a gouda one.
2. A bot to book that trip
Ask Expedia's AI chatbot to help book a trip anywhere. It'll help with the boring part (finding flights and renting a car), along with the fun stuff (recommending local adventures, places to eat and other things to do).
Tripnotes is another solid option. It can't book for you but has excellent itinerary and restaurant recommendations.
3. A bot to learn the lingo
The language learning app Duolingo has Duolingo Max to better help you learn español or français. When you're stumped on a lesson, hit Explain My Answer. Duo will explain why your response was right or wrong and further elaborate. Neat.
Roleplay lets you carry on a conversation with virtual characters that have names and personalities. No two convos are the same, so it feels closer to practicing with a native speaker. 
4. A bot to be your pal
My AI lets Snapchatters customize and name a Bitmoji avatar to answer trivia questions, offer gift advice, help plan a trip or suggest a recipe for date night.
The bad part: It's pinned to the top of the Snapchat screen and can only be removed if you buy the $4/month Snapchat+ upgrade. Pretty shady move.
Brave new (virtual) world
Have fun experimenting with ChatGPT and its offshoots, but don't go overboard. Follow my tips to stay safe.
DEAL OF THE DAY
$88 for a laptop?!

Talk about budget-friendly. This refurbished Chromebook is only $88 — almost 70% off the original price. It weighs under 3 pounds, with 4GB of RAM, 32GB of storage and 10 hours of battery life. Hurry! There are only 58 available, so get one before they're gone!
WEB WATERCOOLER
Western Digital hacked: Email addresses, phone numbers, passwords and partial credit card numbers were stolen. Game plan: Change your WD password and watch for phishing scams.
Fortnite strikes gold: The International Olympic Committee just added Fortnite to the official Esports roster, joining Just Dance, Gran Turismo and web chess. Check, mate.
Mo' Microsoft moola: Coming to Windows 11, ads for free trials of 365 and OneDrive in the Settings Menu. Argh.
Bogus blue checkmarks: Facebook scammers impersonated Meta with fake verified ads that led to malware-infected sites. See one of the ads here. 
Catcall your … cat?: Scientists say the best way to get your cat's attention is with verbal cues and body language … Call their name and hold out your hand. For dogs? Put some bacon in that hand.
Nothing but blue skies: Invites to join a new Twitter alternative are selling for $200 on eBay. Bluesky is backed by Twitter founder Jack Dorsey in response to growing dissatisfaction with the Elon-run platform.
You've arrived: A tourist in Hawaii drove her rental Dodge Caravan into a harbor because her GPS directed her to do so. I've heard of going "as the crow flies," but "as the fish swims" is a new one. 
Shop till you drop: A new light bulb at the bottom of Amazon's Shopping app now takes you to its "Inspire" feed — aka TikTok for buying stuff. Watch videos from influencers featuring products you can purchase with a few clicks. Finally, a new way to waste time and money at the same time! 
For the social-savvy Gen Z-er in your life: Boardwalk Boutique Hotel in Aruba is hiring a social media creator for a one-month free stay, complete with airfare, car rental and a stipend. Apply by June 30.
EV battery blow-up: Another day, another battery fire … UL's Fire Safety Research Institute just released a frightening test simulating a lithium-ion battery exploding in a residential garage. You have to see this! Watch it here.
🎧 Want great content on the go?
Sound like a tech pro, even if you're not one. Try my award-winning, daily podcast. Search for my last name with "K" wherever you get your podcasts and "Go Komando!"
MALWARE WARNING
Attack of the evil photo apps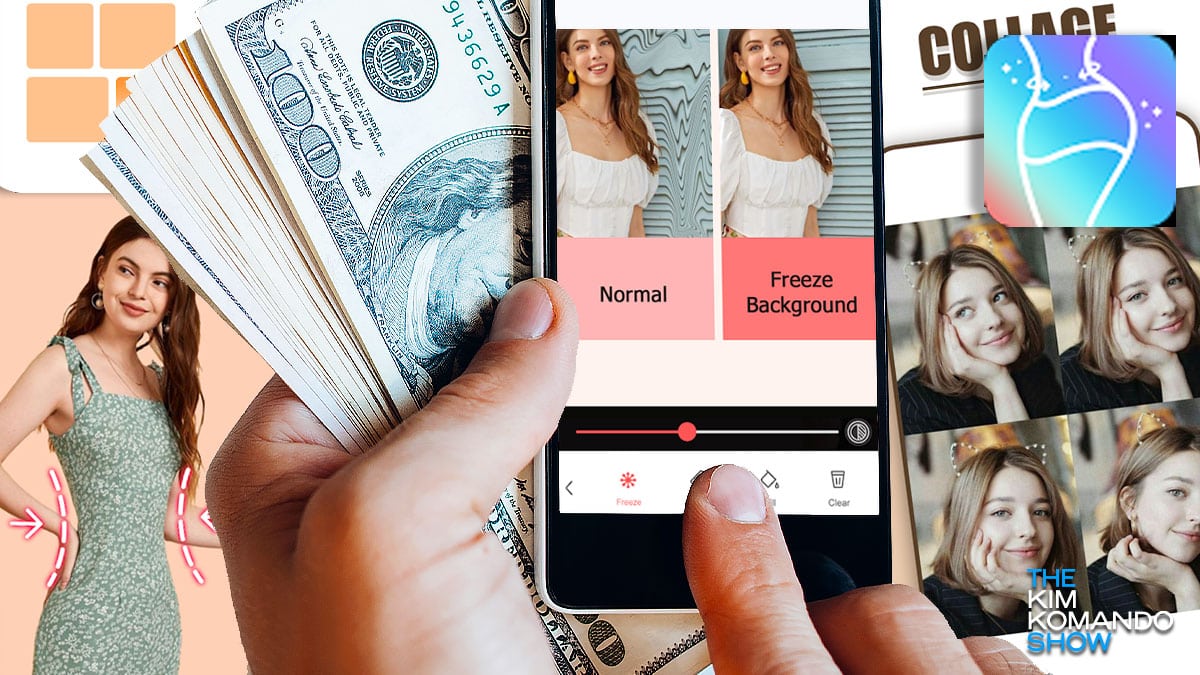 Have you seen charges for subscriptions you don't remember signing up for? Either your kids got their hands on your credit card, or you've fallen victim to one of 11 malicious photo editing apps recently found on the Google Play Store.
Already at 620,000 installs, these apps make you look slimmer, remove imperfections and add filters. But it turns out, vanity comes at a price … 
Troy story
These apps deliver a subscription form of Trojan (malware disguised as a legitimate program) called Fleckpe. A sneaky trick: When you download a wallpaper or edit a photo, the malware opens a page in an invisible browser … and signs you up for a paid subscription service.
Delete these apps now
Google kicked them out of the Play Store, but be sure to check your phone for:
Beauty Camera Plus 
Beauty Photo Camera 
Beauty Slimming Photo Editor 
Fingertip Graffiti
GIF Camera Editor 
HD 4K Wallpaper 
Impressionism Pro Camera 
Microclip Video Editor 
Night Mode Camera Pro
Photo Camera Editor 
Photo Effect Editor
To delete an app on your Android phone, long-press the app, then tap App Info > Uninstall.
Masters of disguise
Apps that can do a lot of damage (or steal your money) are disguised to look harmless, and the hackers behind them can even download legitimate apps and corrupt them before putting them back in the official app store. Wow.
Even if you don't find any of these apps on your phone, there are countless others to watch out for. Follow my tips to stay safe.
DEVICE ADVICE
Instantly vet suspicious sites
Have you ever stopped to think about all the sensitive information stored on your computer? From passwords to legal documents and work-related files, there's a lot the wrong person would love to get their hands on.
The good news is there's a tool you can use to check for online threats like malware and viruses — and it's super easy to use.
Go to VirusTotal.com. 
Enter a suspicious URL in the search bar to determine whether it's safe to visit. The scanner will let you know instantly if it contains malware. 
Another way to double-check a site? Use common sense! Take a look at the entire URL. Hackers often create multiple versions of their generic sites and throw them online with strange names. 
Pro tip: Here's a trick our fabulous graphic designer, Amber, uses: Hover over the site's logo. A legit website will almost always link the image back to its homepage. Now, let me ask you, where else can you learn things like this?
BY THE NUMBERS
552,000
The number of Dish subscribers who canceled in the first quarter of 2023. Ouch. Satellite provider Dish Network has been losing customers to cheaper streaming services for years. But losing over a half million paying customers in three months is crazy.
25,000
The estimated age of human DNA found in ancient deer tooth jewelry. Found in Siberia, the jewelry was worn by a woman who lived between 19,000 and 25,000 years ago. I'm always astounded by these discoveries. Talk about timeless style!
2,000
The rockets a startup wants to launch into space each year. Instead of rocket fuel, Spinlaunch uses something like a giant salad spinner to propel objects into the upper atmosphere at 5,000 miles per hour. They can put a satellite into low-Earth orbit for $250,000, about 20% less than a fuel-launched rocket. I still don't think we'll have a rocket man for a long, long time.
WHAT THE TECH?
Memorial Day is right around the corner. This year is zooming by!

UNTIL NEXT TIME …
🏡 The answer: True. Warren Buffett lives in a five-bedroom, 6,750-square-foot house in Omaha, Nebraska, that he bought in 1958 for $31,500.
I sat next to Mr. Buffett at a luncheon when I was voted one of the 100 Most Influential Women in America. I was on my iPhone and he showed me his flip phone. I said, "They let you in here with that phone?" He smiled and said, "I still use a fax machine, too. And you know why? No one can hack me!" True, very true.
✅ Hey, do me a favor and follow me on social. I'm on Instagram, Twitter, YouTube, Facebook and everywhere else, too! — Kim
How'd we do?
What did you think of today's issue?