In partnership with ExpressVPN
Happy Monday! On this day in 2010, what product did Apple release that I use every single show? You'll find the answer at the end of this newsletter. Hint: In the first quarter of 2023, it accounted for about 8% of Apple's revenues.
Our top story today is so important that I hope you share it with everyone. I am going to make it my USA Today column later this week. But because you get my free newsletter, you learn about another spy move from China first. — Kim
IN THIS ISSUE
👓 Spy on your phone
🎲 Free Facebook games
👋 Windows 10 warning
TODAY'S TOP STORY
Stop before you shop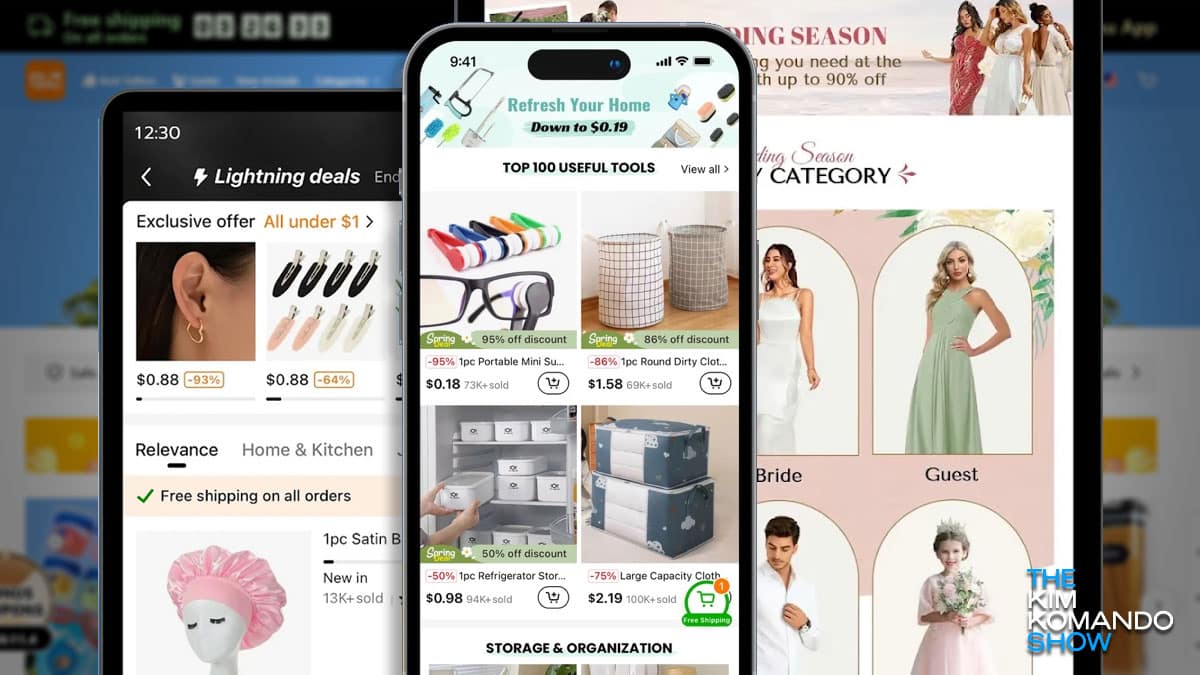 Seemingly overnight, everyone's talking about Temu (pronounced "tee-moo"), an online shopping app that boasts deals that seem too good to be true, like $17 wireless earbuds, $1 "gold" necklaces and $23 wedding dresses.
Over 50 million Americans have downloaded Temu since it launched state-side in September 2022, after it gained traction with expensive Super Bowl ads promising to let you "shop like a billionaire." 
Today, Temu is the most popular shopping app in the U.S. behind Amazon. But most of us don't know much about the app's true origins. Reader Daniel Mayer asked an important question, "Is [Temu] something we should be concerned about?"
So, I did some digging. And as it turns out, yes, you absolutely should be. Here's what I found:
Where did Temu come from?
This isn't some fly-by-night operation. Temu is based in Boston, Massachusetts, by PDD Holdings Inc. (Nasdaq: PDD). PDD is headquartered in Shanghai, China.
PDD also owns the e-commerce platform Pinduoduo headquartered in — you guessed it — China. So, Temu is a Communist China-based app and site.
What you need to know before using Temu
First, you're buying goods directly from manufacturers in China and other parts of the world. That's why shipping times are often 12 days or longer. The prices are low because the goods are cheap. The pictures of what you see advertised may not be what you actually get.
Temu's BBB rating is 2.21/5. Reviews at TrustPilot are interesting, with 38% 5-star reviews and 41% 1-star reviews.
But that's not the worst of it. 
Temu is downright dangerous.
The app is a clever, pervasive digital stalker. As you shop, Temu monitors your activity on other apps, tracks your notifications and location and changes settings.
🛑 It gets worse. Temu gains full access to all your contacts, calendars and photo albums, plus all your social media accounts, chats and texts. In other words, literally everything on your phone. 
No shopping app needs this much control, especially one tied to Communist China. If you're using Temu, delete the app from your phone ASAP.
On iPhone, Long-press an app, then tap Remove App > Delete App. Tap Delete to confirm. 
On Android, touch and hold an app, then tap Remove App > Delete App > Delete.
Pro tip: If you downloaded Temu, to be safe from Chinese spies, you really need to do a full factory reset.
💣 What do I think? Americans using Temu are selling the country out for cheap crap from overseas. You can quote me on that.
But wait, there's more! Temu's sister app was removed from Google Play because of malware. See everything you need to know about Temu on my site. And if you have other great questions like Daniel's, make sure to rate the newsletter and leave us a note at the bottom of the email! 👇
DEAL OF THE DAY
Best ear protection

Richard in Virginia called the show. He wanted to protect his ears, listen to music and take his wife's calls while mowing the lawn. I recommended these ear muffs with a great Noise Reduction Rating (NRR) of 24 dB. Plus, with Bluetooth, you have your music. There's a built-in mic to take phone calls while mowing, too. Perfecto!
WEB WATERCOOLER
"Make Something Wonderful": That's the title of a new e-book filled with Steve Jobs' emails, photos and conversations. The digital book is part scrapbook, part memoir, created by the Apple founder's widow. Get a free copy here starting tomorrow, April 11. 
Update your iPhone! And iPad and Mac. Apple just released emergency security patches. Hackers are already using the flaws to crash systems and run malicious code, so don't wait. Latest versions: iOS 16.4.1, iPadOS 16.4.1, macOS Ventura 13.3.1 and Safari 16.4.1.
Facebook's fallback: Facebook is desperate to get users back in Messenger. Case in point: You can now play 14 free games with a pal during a video call, including Exploding Kittens, Mini Golf and Words with Friends. Hey, if the Metaverse didn't work … 
Indecisive diner?: Here's a new handy Google Maps trick to try next time you're arguing about where to grab dinner. Open Maps and type "restaurant" in the search bar. You'll see ratings (nice!) and can click for more info — menus, pics, hours and reservations once you're ready to commit. 
Closing Windows: The 2021 Windows 10 release, version 21H2, is getting the boot. Starting June 13, Home, Pro, Pro Education, and Pro for Workstations will stop getting security updates and bug fixes. The fix: Update to Windows 10 22H2 (the major 2022 update) or Windows 11.
I'm a Barbie girl: Wondering why everyone on your IG feed (including me!) is pretending to be Barbie? A new Barbie movie is coming this summer and you can try the free Barbie AI selfie generator, too. Just don't stand in line with three Barbies … that's a barbecue.
🎧 Want great content on the go?
Sound like a tech pro, even if you're not one. Try my award-winning, daily podcast. Search for my last name with "K" wherever you get your podcasts and "Go Komando!"
TRENDING
The wild world of ChatGPT
Would you date a chatbot? What if it talked just like your ex? Sounds like sci-fi territory, but ChatGPT is already there. 
Since its launch in November, ChatGPT has over 100 million users — and about a billion website visitors a month. Sure, it can write essays or help you draft blog posts, but lately, people are getting a lot more creative …
Here are my favorite ChatGPT headlines this week:
Turn your ex into a chatbot: OK, if you're thinking about doing this, maybe check in with your therapist first. One woman who found herself missing her ex trained ChatGPT on past conversations to sound just like him. I'd rather forget about my exes, but if you're feeling lonely, by all means.
Leave spammers spinning their wheels: Now, this is something I can get behind. DoNotPay has a new email extension that lets you waste spammers' time. Just forward the email on and ChatGPT will send them automated replies. How's that for a bit of payback?
Obvious chatbot is … not so obvious: Think you can spot ChatGPT in a lineup? Think again. A new tool to hide the AI's telltale ticks just hit beta. Teachers might be shaking in their boots, but this feels like another step in an arms race just starting.
And that's just the tip of the chatbot iceberg. Check out our other favorite new ChatGPT tools.
DEVICE ADVICE
Scammers always find a way in
Bluetooth works similarly to Wi-Fi and cellular networks but performs simpler tasks at shorter ranges. You don't need a cell signal or network connection to use Bluetooth, and it doesn't use data. 
It's baked into just about every smartphone you can buy nowadays. But as with any connection, Bluetooth has vulnerabilities. 
My advice: Turn off Bluetooth when you're not using it. Keeping it active all the time makes your device more discoverable. Bonus: You'll get more battery life.
On your iPhone: Go to Settings > Bluetooth and switch it off. 
Quick method: Swipe down from the top right of your screen to open the Control Center; tap on the Bluetooth icon.
On your Android, go to Settings > Connected Devices > Connection Preferences > Bluetooth and switch it off. (Note: Steps vary based on your phone's model)
Quick method: Swipe down from the top of the screen to display the Status Bar. Swipe down again and tap Bluetooth.
🦷 You'd be surprised what someone can do if they break into your phone via Bluetooth.
| | |
| --- | --- |
| IN PARTNERSHIP WITH   | |
Protect your data with the VPN Kim trusts
Big Tech is supposed to safely handle our personal online data, but now they're getting into the political game. I don't want to be any part of that, and neither should you. That's why I trust and use ExpressVPN.
These Big Tech companies match your internet activity to your identity or location by using your public IP address, but with ExpressVPN, no one can see your IP address — no one.
BY THE NUMBERS
12
The average lifespan of cars on the road today. Carmakers are starting to send ads to car's display infotainment centers when owners change hands, pushing subscription features such as $8 a month for brighter headlights.
10%
The increased accuracy AI has over humans evaluating EKG results. The study also revealed that AI saved time for both sonographers and cardiologists. Talk about a change of heart.
$5,000
Tesla's price cut on its Model S and Model X EVs. The Model Y's price dropped $2,000 and the Model 3 fell $1,000. This is the third time Tesla has slashed prices so far this year. Definitely not a good sign …
WHAT THE TECH?
Work smarter, not harder.

UNTIL NEXT TIME …
🎙️ The answer: The iPad. The first iPad had a 9.7-inch touchscreen, a 1GHz Apple A4 processor, and was available with 16GB, 32GB or 64GB. No more paper notes for me! I keep all my show notes on my iPad during the show.
Why don't they have iPads in Russia? Because they only have "wePads."
🙋‍♀️ Be sure to let us know how we're doing with the newsletters by rating us below. And tell a few friends about our newsletters by forwarding this to them. That would be great! — Kim
How'd we do?
What did you think of today's issue?