In partnership with Cozy Earth
Happy Thursday! A lot of you liked the trivia in yesterday's newsletter. Good to hear! How about another one?
What's the name of the company that got its start by renting out an air mattress in their apartment and selling cereal? The answer is at the end below. Thank you for being here. It's a busy tech news day! — Kim
📫 First-time reader? Sign up here. (It's free!)
IN THIS ISSUE
🧾 It's accrual world
🐔 Free nuggets!
🪟 Windows update
TODAY'S TOP STORY
Who audits the auditor?
IRS: We have what it takes — to take what you've got.

You'd think that using an IRS-authorized site to file your taxes electronically would be 100% safe, right? Well, you'd be wrong. A very popular site called eFile.com has been spreading malicious malware. 
Collecting money is taxing
On March 17, a Redditor posted an error page from eFile.com that claimed a "browser update" was required to access the site. The page looks pretty legit, but clicking the "download" button installs malware targeting Windows PCs. If you're on a Mac, you weren't targeted.
Security researchers tweeted that the malware was still active as of April 3. Yeah, weeks later. WTH?
Don't use eFile.com
The fact an IRS-approved site didn't notice they were spreading malware for weeks is unbelievable. Who knows how many people downloaded this junk? Probably millions. Who was in charge? They should be fired.
Hey, if you or someone you know used eFile.com, do this now: 
And if you're filing your taxes online, be proactive. Fire up your antivirus software and don't click pop-ups.
Crooks upping their game
No longer are phishing scams generic. Scammers are now customizing their goods for each person. They're using your full name, where you were born, your dog's name — whatever it takes to get you to respond. 
Be skeptical of anything mentioning your income or taxes by email, text or phone. Yeah, it's a pain but it's smart.
What if you need to contact the IRS directly? Be careful — the wrong phone number could connect you to a scammer. We found all the right numbers to call the IRS.
DEAL OF THE DAY
A super geeky outlet

Need more outlets? I hear you. That's why I use this clever fix. Instead of two dinky outlets, like magic — you easily have 5 AC outlets, 3 USB ports and 1 USB-C port. Bonus: It's a surge protector, too! Nice!
WEB WATERCOOLER
Lovin' it: You can get a free order of six-piece Chicken McNuggets. The catch? Make the order using the McDonald's app with a $1 minimum purchase, and pay using Apple Pay through April 11. No beef products, though — that would be a McSteak.
I'd like to connect: Hackers are now using LinkedIn profiles to take over others' accounts, including those of your contacts. If you get a DM or email from someone you know via LinkedIn and they're asking you to download a file or visit a site, watch out. Internet scammers' favorite sport? Phishing. 
Gotta hand it to 'em: I bit the bullet and finally used AI to create some portraits. Can you spot what's wrong? Spoiler: AI is terrible at creating hands. At least my hair looks good … Hey, hit "Follow" while you're on my Instagram page so you never miss a post.
Pull the plug: Major security flaws make it easy for hackers to break into Nexx smart garage controllers. Nexx's system relies on universal and hard-coded passwords, which is a major no-no and dumb — especially with tech that controls access to your home. Just say "Next!" to Nexx and get rid of it.
Vroom-vroom: Now your ATV has an app. Polaris rolled out this year's ATV lineup and a new app to check diagnostics, fuel level and exact location. Cost? Anywhere from $7,999 to a whopping $15,499. Hopefully, the app isn't, well, buggy.
RIP: Bad news if you still use an Apple device running on iOS 11, macOS High Sierra, watchOS 4 or tvOS 11. Rumor has it Apple is ending nearly all online support for older tech. The next operating system, iOS 17, will probably drop support for the iPhone 8 and iPhone X. Sorry.
🎧 Want great content on the go?
Sound like a tech pro, even if you're not one. Try my award-winning, daily podcast. Search for my last name with "K" wherever you get your podcasts and "Go Komando!"
UPDATE UPDATE
Windows that don't crash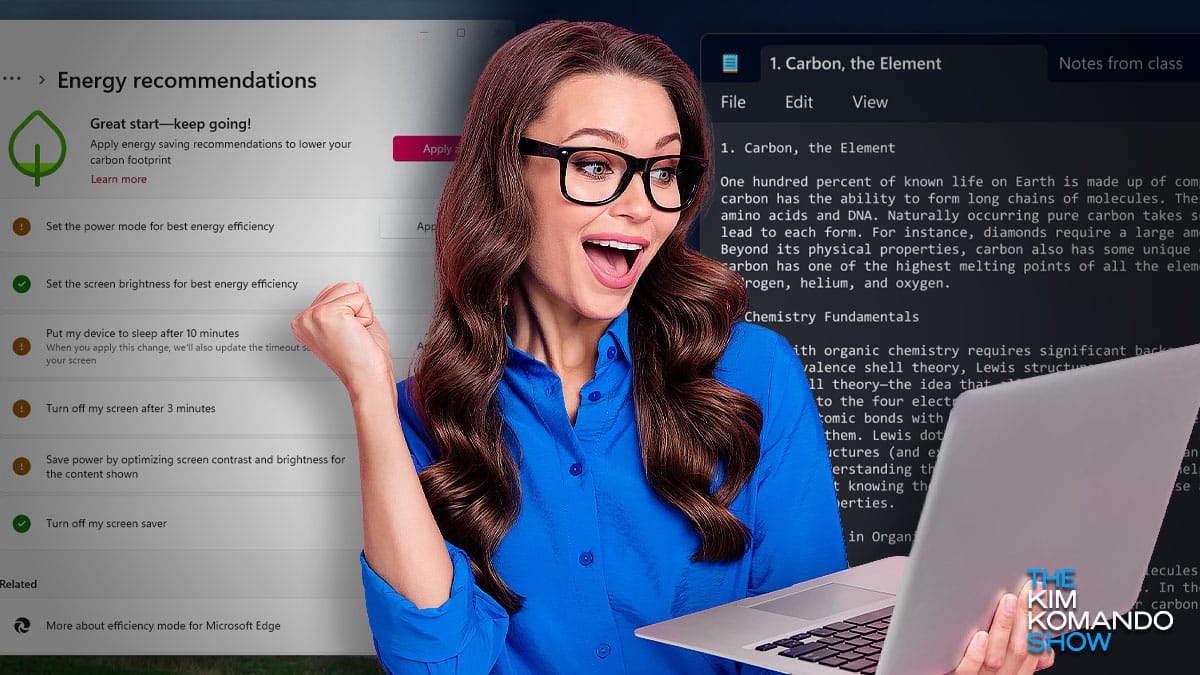 Windows updates make us all a little tense (what's going to break this time?), but they can also bring awesome goodies. Here's the best of Moments 2, Microsoft's new OS update for Windows 11.
Smarter search: Bing Chat isn't as smart as Microsoft or OpenAI says, but it's fully integrated with Windows search now. Next time you ask it to find something, it can channel the ghost of Clippy past and try to preempt what you need.
Notepad upgrade: Notepad is handy for removing text formatting or jotting down a quick note, but it's not the most user-friendly. The 40-year-old program finally entered the 21st century with … drumroll, please … tabs! OK, so it's not going to replace Word, but it's a step in the right direction.
Easier texting for iPhone: Windows users with iPhones, rejoice! Phone Link now supports iOS. Translation: You can read your iPhone messages and take phone calls on your PC (!!!). Finally.
And that's not all, folks! Check out the full list of updates here.
DEVICE ADVICE
Get instant disposable email addresses
Junk emails just don't stop. Luckily, there are ways to get around those pesky gated forms. Apple and Google let you create "burner emails" to save your inbox from spam. That's why you shouldn't hand out your real email address and phone number.
Got an Apple device? The Hide My Email feature lets you generate random email addresses when you fill out an online form or sign up for a website. 
It pops up when you fill out online forms or sign up for a website.
Emails sent to the generated address go to your iCloud account.
Using Gmail? To create an alias in Gmail, add a plus sign after your address. Use a plus sign followed by the name of the site, like first.last+target@gmail.com. If you start getting spam, just delete that email address.
| | |
| --- | --- |
| IN PARTNERSHIP WITH   | |
My new trick for better sleep
Get this: One in three Americans is sleep deprived. Your bedding could be the problem. If you're hot one minute and freezing the next, it's time for a change.
I know you can buy sheets at Costco or Amazon.com, but if you want luxury, try Cozy Earth. I've been sleeping on them, and they are SO comfortable.
The best part: These babies come with a 10-year warranty, and you can send them back if you don't love them. Sweet dreams!
Go to CozyEarth.com and use code KIM35 to save 35% on your order. →
BY THE NUMBERS
120
The number of file extensions Microsoft Outlook plans to block. Cybercriminals recently jumped on sketchy extensions as a new way to deliver malware. Be on the lookout.
11,000,000
The number of images used to train Meta's new AI. The software, Segment Anything, can identify and separate objects from photos. Yup, Zuckerberg gave up on the Metaverse and has discovered AI. Welcome to the party, Zuck!
143,000
The number of Volkswagen SUVs recalled. Turns out, some 2018 through 2021 Atlas models and 2020 Atlas Cross Sport SUVs have problems with the front passenger airbag. Own one? Call your dealer.
WHAT THE TECH?
Eye know you laughed.

UNTIL NEXT TIME …
🏨 Here's the answer to our trivia question:
Brian Chesky and Joe Gebbia founded Airbnb in 2008 as a way to make money by renting an air mattress in their living room to conference attendees in San Francisco. Yup, they sold cereal for extra cash. Today, Airbnb is worth billions of dollars and operates in 220 countries.
😱 Think about this for a moment. The movie "The Shining" could be described as a family's first Airbnb experience that goes very, very wrong.
Your reviews are helping us make an even better newsletter. Have a request? Rate us below, then let us know. Appreciate you! — Kim
How'd we do?
What did you think of today's issue?