In partnership with Cozy Earth
Happy Thursday! It's National Cold Brew Day. 🧊 Coffee makes me bounce off the walls, but I know I'm weird. Keep reading for a way to get a free cup o' Joe today.
Today's trivia is about Apple's voice assistant Siri. How many hours did a voice actor have to work for Siri to answer humans' questions? Was it 25, 45, 75 or 120 hours? You'll find the answer at the bottom of this newsletter. From breaking news to expert insights, I've got you covered. — Kim
IN THIS ISSUE
🔑 Your router: Keys to the castle
😞 Viral challenge death
👀 Hidden phone apps
TODAY'S TOP STORY
Getting a new router? Do this first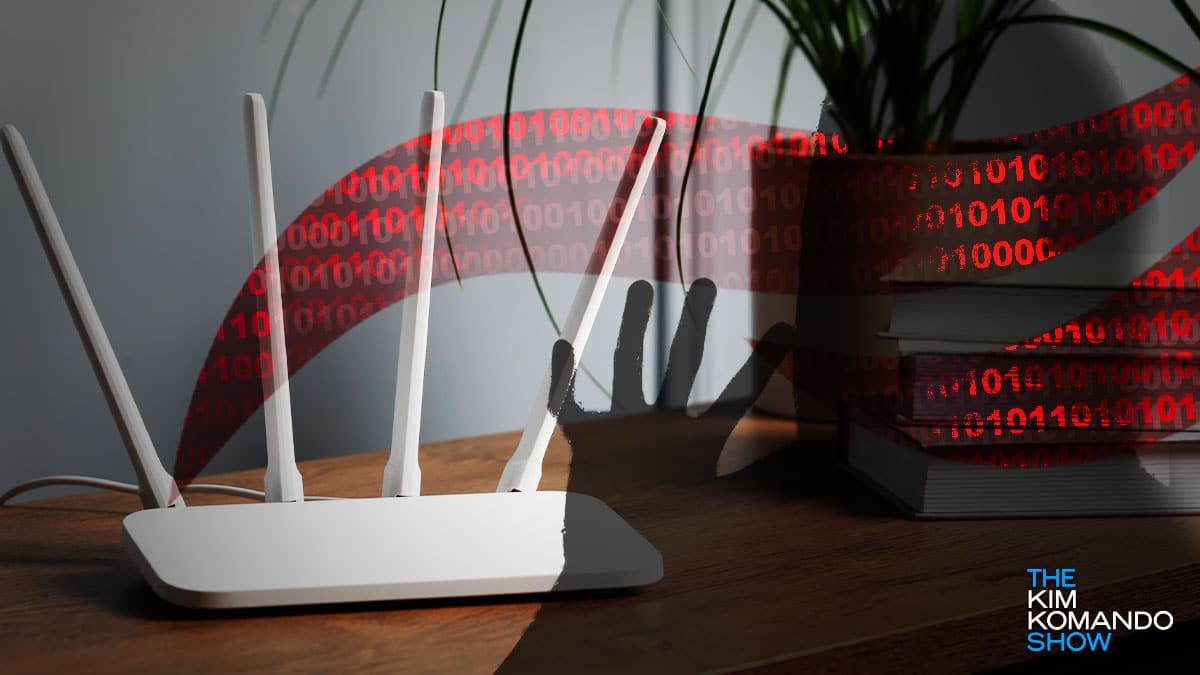 Your router isn't just a dumb box that connects you to the internet. It stores a lot more information than you realize.
Case in point: Researchers bought a bunch of used routers. Half of them contained confidential and sensitive intel from the businesses that sold them. Nobody wiped the routers. Rookie mistake, people.
Treasure trove of info
The data found on every router could be used to identify the last owners and their network configurations. They also found:
Customer data
Data that allowed third-party connections to the network
Credentials for connecting to other networks as a trusted party
Connection details for specific applications
VPN credentials
Admin credentials
🔐 Credentials (i.e., user names and passwords) are the keys to the kingdom.
"How I could've stolen your corporate secrets for $100"
Clever name for the research paper, right? With the info left behind, a hacker could gain full access to a company's network as if they were a high-level employee. From there, they can launch a cyberattack, steal information and hold a company for ransom.
Or consider this: A crook could buy a router for a couple hundred bucks, then sell the data left on it on the Dark Web. The average price of access credentials to corporate networks? $2,800. Not a bad profit.
Chance the router
You know to wipe your phone, tablet and computer before tossing, selling or giving them away. Even your printer and smart speaker should be reset back to factory settings. The same applies to your router.
The bottom line: Reset your router as you would with any of your devices before letting it out into the world.
How, dear Kim, how? I always got your back. Go to my site for detailed instructions.
DEAL OF THE DAY
👃 Goodbye sneezes, hello fresh breezes

Allergy season is so annoying. Get relief with a super air purifier. I like this one because it passes air through HEPA filters and is powerful enough to refresh a room in just 15 minutes. It's quiet and you can switch off the LED lights if they bug you at night. Love that it's on sale, too!
WEB WATERCOOLER
Nyetflix: No more handing out your Netflix password to anyone under the sun. Very soon, it's one Netflix account per household, tracked by IP address. If you want to share — expect a price bump, rumored to be $22 a month.
Free Joe: Dunkin' Donuts is giving away free cold brew coffee today. There's a catch, of course: You get a free drink with any purchase made through the app. Consider this permission to start the day with a donut — only today, dough.
Hot 'hoods: HouseFresh crunched the numbers to find the most popular neighborhoods on Zillow. Three cheers if you live in Northeast Dallas in Texas or the Upper East Side in New York City! At the very bottom of the list? Central City East in Los Angeles and Durham's Warehouse District in North Carolina.
Links(s) in bio: You can now add up to five links to your Instagram bio. To try it, open your Instagram account and tap on your account. Choose Edit profile (top left corner under your pic), then Add link. While you're there, add me! I'm waiting for a site 1,000 times better than Instagram — Instakilogram.
Hard fact: A 13-year-old boy recently died six days after attempting a viral social media trend: Taking over a dozen Benadryl pills to get high. The Ohio boy liked football and music — and, like most kids, didn't realize how dangerous Benadryl could be. Just awful. Talk to the kids in your family about not partaking in these asinine online challenges.
🎧 Want great content on the go?
Sound like a tech pro, even if you're not one. Try my award-winning, daily podcast. Search for my last name with "K" wherever you get your podcasts and "Go Komando!"
TRENDING
Internet providers from best to worst
Sick of slow Wi-Fi? Your provider might be to blame. Let's look at the fastest (and slowest) average download speeds for providers across the U.S.
Spectrum: 234.8 Mbps
XFINITY: 232.85 Mbps
Cox: 219.20 Mbps
Optimum: 195.97 Mbps
Frontier: 190.15 Mbps
Verizon: 186.45 Mbps
AT&T Internet: 179.78 Mbps
Your mileage may vary
I hear you — "My speed isn't anywhere near those, Kim." It depends on your location, plan, number of connections and lots more. Even your devices can limit connection. You won't see 300 Mbps speeds on a 10-year-old laptop, sorry.
Location, location, location
Router feng shui is critical. If it's in some far corner of the house, don't expect a strong signal in the living room.
Put your router in a central location, away from kitchen appliances, Bluetooth devices and other electronics.
Place it high up on a bookshelf or mount it to the wall to ensure the signals can go where needed.
Want to know which cities have the fastest internet? Ready to move? See the whole list and get insider connection speed tips.
DEVICE ADVICE
Hidden smartphone goodies
I don't know why developers keep all the hidden gems in your phone a secret. Luckily, you have me to spill the beans.
On your iPhone
You can print pretty much anything from your iPhone or iPad if you have a printer that supports AirPrint.
Make sure your printer and phone are on the same Wi-Fi network, then tap the share icon on whatever you want to print. Choose your printer, then Print.
View or cancel jobs by opening the secret App Switcher.
On an iPhone X or newer: Swipe up from the bottom to the middle of your screen. Hold your finger there until you see the App Switcher and the Print Center app.
On an iPhone 8 or earlier: Double-click the Home button.
If you use an Android
Live Caption automatically captions any speech playing on your phone, podcasts, video calls, audio messages, phone calls or videos. It's remarkable.
To turn it on and off:
Press the up or down volume button.
Under the volume controls, tap Live Caption.
Google says captions are processed locally and never leave your phone. It doesn't work on every Android model, so apologies in advance if it's not working for you.
🧠 More hidden apps on your phone you'll use time and time again. →
| | |
| --- | --- |
| IN PARTNERSHIP WITH   | |
Sheets you'll give a sheet about
Get your wife, daughter or mom something she can use the day after Mother's Day (and the day after that) — luxurious sheets from Cozy Earth.
These are seriously the best sheets I've ever slept on. They keep you warm when it's cold and cool when it's warm. Plus, they have a 10-year, no-questions-asked warranty. If they tear, rip or pill, they'll send you a new set. Love that. Sure, you can get cheap sheets anywhere, but that special woman in your life deserves the best.
Here's the deal: Go to CozyEarth.com and use code KIM35 to get 35% off. →
BY THE NUMBERS
$175
The price of SpaceX's new Starship-shaped blowtorch. It's the brainchild of Elon Musk, who marketed flamethrowers and tequila to promote The Boring Company and Tesla. Will the blowtorch save you from an aggressive bear? Depends on how fast you run!
64 million
The number of times sharper new MRI scans are than current tech. Researchers used incredibly powerful magnets and computers to scan a mouse's brain. This new tech will lead to better detection of brain diseases like Alzheimer's and Parkinson's.
4 years
The average lifespan of a Chromebook used in U.S. schools. Public schools are in trouble — Chromebooks are hard to repair and have expiration dates, making them more useful as doorstops than laptops. I'm going to open a bar and call it "Chrome." It'll keep your tab open until you have no memory.
WHAT THE TECH?
I bet he also uses the word "Kenny" … so he can have Kenny Logins.
UNTIL NEXT TIME …
🎤 The answer: 25 hours. Susan Bennett was the first voice of Siri, recorded back in 2005. I interviewed her and she didn't read paragraphs. Just (real and made-up) words like, "Malitia oi hallucinate, buckry ockra ooze. Cathexis fefatelly ease stump. Say the shrodding again."
Hey, be sure to rate this newsletter below. And if you ever have any questions you'd like me to answer, drop them here on my site. Maybe I need to clarify "any."
👠 To the gentleman who asked if I would mail him my red pumps for his "shoe collection" … Sorry, I don't wear a size 11. — Kim
How'd we do?
What did you think of today's issue?