☄️ Space junk: Is it hurtling toward you?
In partnership with GetKimsHelp
Happy Thursday vibes! On this day in 1995, the first YouTube video posted received its first comment. Was that video showing a guy with power tools, a piano player, elephants or a newsreel? You'll find the answer at the end.
🦟 There's a lot of tech intel in here. But make sure you don't miss scientists figuring out which soaps are mosquito magnets. I linked to their choice of mosquito repellent soap on Amazon, so you can buy it if you want. Let's get buzzing! — Kim
😀 First-time reader? Sign up here. (It's free!)
IN THIS ISSUE
🛰️ SOS: Too much space junk
🪟 Update your PC (hurry)
🎓 Free Harvard classes from anywhere
TODAY'S TOP STORY
Space "trashsteroids" coming in hot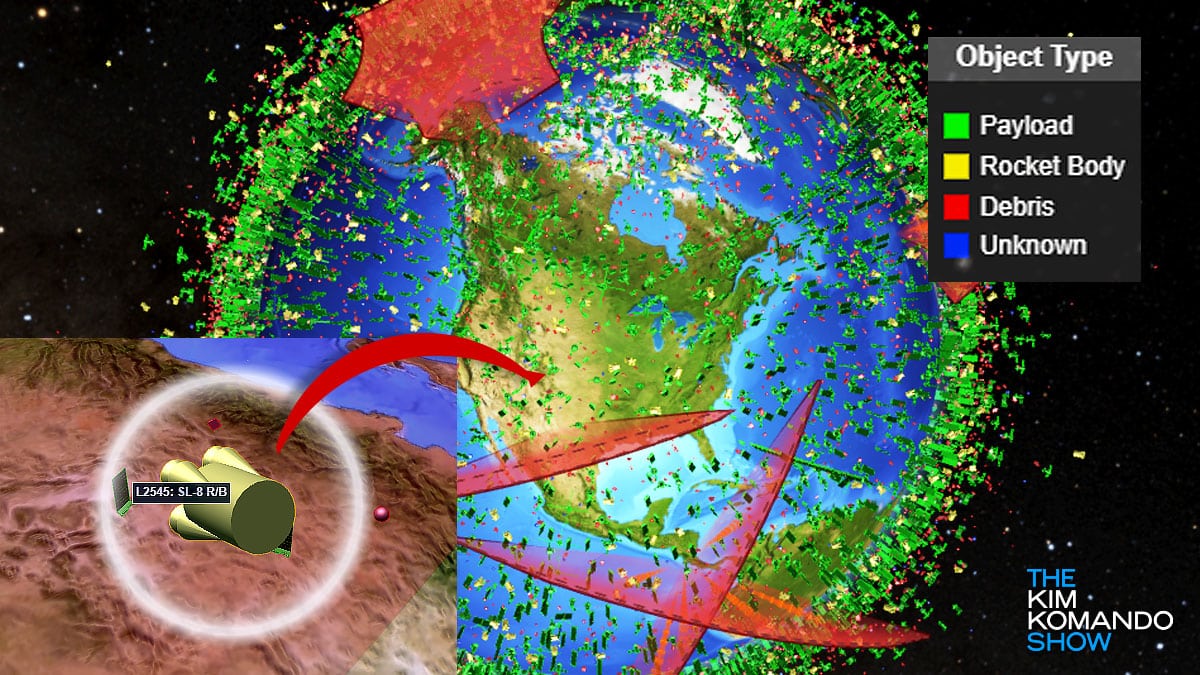 It's a bird. It's a plane. It's space junk hurtling toward your house! More than 170 million pieces of space junk are floating above us: Elon Musk's Starlink satellites, old Chinese rocket boosters, dead Soviet satellites and a whole host of NASA shrapnel.
That's about 10,800 tons of space junk orbiting Earth — and 200 of those objects are huge rockets with the potential to break into thousands of pieces, creating a cascade of collisions. Yikes.
Will this stuff hit Earth?
It's already happening. Governments and space agencies are worried, to put it lightly. Countries are signing treaties and start-ups are working hard to devise intelligent ways to clean up nearly a century's worth of space trash.
Scientists say there's a 10% chance a person will be struck and killed by a spacecraft or spent rocket booster within the next decade. 
So, where did it all come from?
Since 1957, an estimated 15,430 satellites have been launched into orbit. Just over 10K are still there. Some of the most concerning objects are massive Russian rocket boosters and Chinese rockets. The best place for a spy to go undiscovered is on a satellite. Because in space, no one can hear you scheme.
Eighteen of Russia's nine-ton Zenit rockets are in orbit above Earth. Picture a bus with no driver. That's what we're dealing with here.
We're No. 1 … in space littering
The country responsible for most of that stuff is … drumroll, please … the United States. Chalk up 8,497 objects in low-Earth orbit to the U.S.
NASA has done a heck of a lot of missions and American companies like SpaceX are adding big numbers. So far, Elon and co. have launched around 4,100 satellites out of a planned 12,000 (and maybe 30K after that if approved). 
Next comes Russia with 4,836 and China with 4,047. Every other space program pales in comparison.
Debris does Dallas
You can use this online tool from LeoLabs to see what's floating around in real time. Zoom in, rotate the Earth and click a flying object to see what it is. Spoiler: Most are satellites or other payloads dropped there on purpose.
DEAL OF THE DAY
🧊 Cool down your laptop

Laptops get uncomfortably warm this time of year. This sleek electric cooling pad has not one, not two, but three fans built in. It's the ultimate multitasker. Plus, it's so quiet, you'll forget it's even on. With extra USB ports, you can charge other devices while you work. Sweet!
WEB WATERCOOLER
Update now: If you use Windows 10 or 11, do not pass go. Microsoft released a major patch that fixes, among other things, 38 security problems. Since it'll pull support from Windows 10 in the next couple of years, it might be time to treat yourself to a total OS update.
🛳️ Creeps ahoy! A passenger planted a hidden Wi-Fi camera in a public restroom on a Royal Caribbean cruise. The footage shows 150 people (including 40 minors) undressing. Were you on the ship? The FBI wants your help.
No juice: Is Apple's new iOS 16.4.1a security update ruining your battery life? The fix is patience. Apple says things will normalize soon. Gee, thanks. Hopefully next week's iOS update will fix it.
Park it: BMW says don't drive 2000-2006 3 Series, 2000-2003 5 Series or 2000-2004 X5 models if you haven't replaced the front airbags from Takata. The good news: your local dealer will fix them for free.
Word on Kindle: You can finally read Word docs on an Amazon Kindle. The feature's rolling out in Word now. You'll find it under: File > Export > Send documents to Kindle.
🦟 This bites: The journal iScience reports that Dial, Dove and Simple Truth soaps make you a huge mosquito magnet. But Native Coconut & Vanilla Body Wash does the complete opposite. Want to buy some? Click here.
I'll take 20: Finally, an artificial intelligence (AI) robot that I want in my life. It uses LLMs (an acronym you'll see more of that means "Large Language Models") to pick up and sort laundry. Watch it here.
🎧 Want great content on the go?
Sound like a tech pro, even if you're not one. Try my award-winning, daily podcast. Search for my last name with "K" wherever you get your podcasts and "Go Komando!"
TRENDING
11 FREE Harvard classes you can take online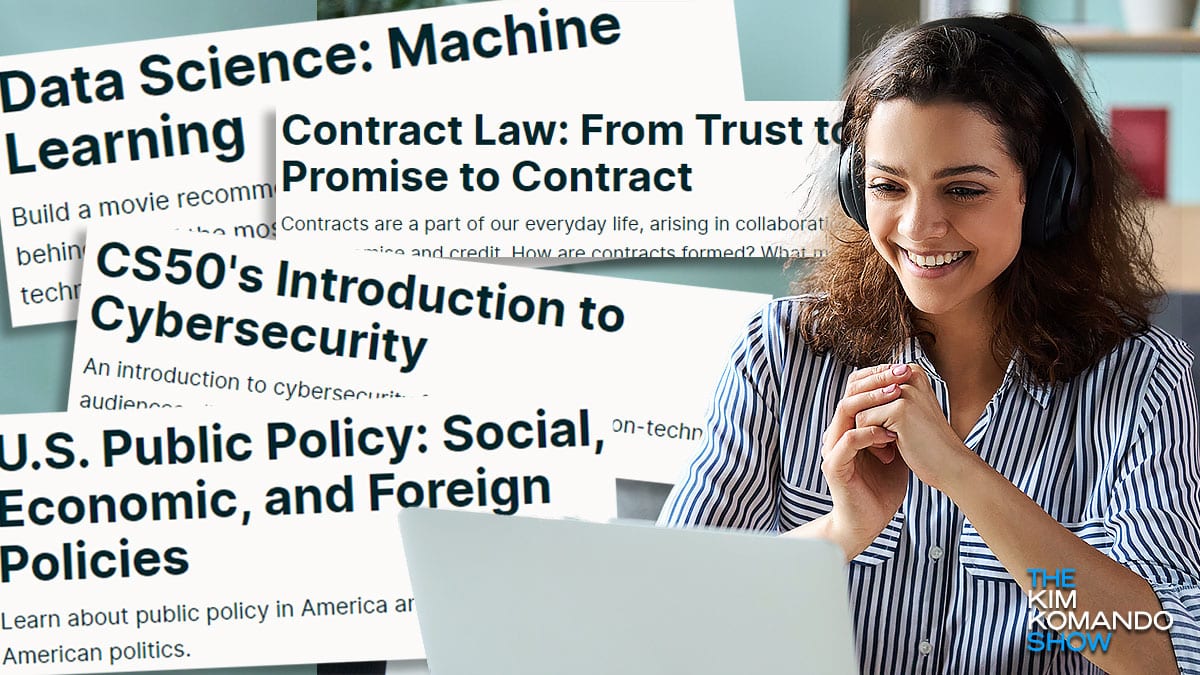 "Yeah, I went to Harvard…" OK, maybe not, but you can take a ton of Harvard courses online!
An Ivy education for free
Score. Dozens of classes are available through edX at no cost. Just make an account and you're good to go. Note: Be prepared to pony up at least $99 for a verified certificate of completion. But, totally unnecessary if you're just doing it to learn something new.
Classes are self-paced and generally run six to 14 weeks. (Expect a few hours of lessons and assignments per week.) Challenge yourself to learn something new by the time fall rolls around!
Computer and tech smarts
Check out these curiosity-quenching courses:
A Harvard undergraduate degree? That's gonna set you back $100,000 … but a free online course on kimchi? Well, that's priceless.
DEVICE ADVICE
Are your apps listening to you?
In all the legal mumbo jumbo you said "yes" to when you downloaded an app, you may have given those apps permission to listen using your phone's microphone and collect data. 
Here's how to find out which apps are listening:
Have an iPhone? Open Settings > Privacy and Security > Microphone. From there, you can disable the apps you don't want picking up conversations. 
On Android: In your Settings menu, find the Apps Permission Manager. Disable the microphone for any apps you don't want listening in.
🦺 Pro safety tip: Before downloading an app, read the reviews in the Apple App or Google Play Store. If you notice a trend of funny business like pop-ups or phones behaving oddly, skip that one.
| | |
| --- | --- |
| IN PARTNERSHIP WITH   | |
Printer not printing? Wi-Fi spotty?
That's where the great folks over at GetKimsHelp.com come in. These tech support pros are patient and smart and can help with your tech 24/7. You name it, they can fix it: Computer viruses, a printer that won't print, your bad Wi-Fi, even hooking up a new device like a security cam or smart speaker. 
Their team can remote-in to your device and do it for you, so you can just sit back and watch. I vetted them myself, and it's totally safe to use. They get one-time access, then they can't get on your machine again unless you know about it.
The best part? If they don't fix your problem, you don't pay a dime. Most problems are fixed in about 10 minutes, too!
BY THE NUMBERS
3 years
How early AI can predict warning signs of pancreatic cancer. That's before it occurs. An AI model from Harvard scientists uses medical records and previous scans to flag cancer with incredible accuracy. Can't come soon enough. My mom died from pancreatic cancer.
$10,000
The estimated value of the original Pokémon card collection. A woman on "Antiques Roadshow" said her mom paid $35 for the set in the 90s. See which ones to check your garage for.
70%
The percentage of employees who'd happily outsource some work to AI. But not everyone is excited about it. Microsoft's Work Trend Index 2023 Report surveyed 31,000 people — and 49% say they're afraid of losing their jobs to AI.
WHAT THE TECH?
Why'd the cantaloupe jump into the pool? It wanted to become a watermelon.

UNTIL NEXT TIME …
🐘 The answer: Elephants. Jawed Karim, who uploaded the video, is one of the co-founders of YouTube. To date, the 19-second video has 265 million views. That first comment simply read, "Interesting."
Speaking of … Tap or click here to subscribe to my YouTube Channel. This way, every time we drop a new vid, you got it. 
Forward this newsletter to some folks you know. See you back here tomorrow with the best tech newsletter in the universe! — Kim
How'd we do?
What did you think of today's issue?