In partnership with Epson EcoTank
TGIF! Let's get started with today's trivia question. Which of the following was the most expensive dot-com domain name ever sold? Bank, Internet, LasVegas or NewYork. You get a gold star if you also know the year.
It's another loaded newsletter that I know you'll learn a ton and hopefully, smile along the way. And just a reminder, take me on a walk or drive. I'm on over 400 radio stations this weekend and available as a podcast. — Kim
💌 First-time reader? Sign up here. (It's free!)
IN THIS ISSUE
🎥 Most popular YouTuber
⛔ Say no to Opera
📍 Google Maps for hikers
TODAY'S TOP STORY
The biggest Beast on YouTube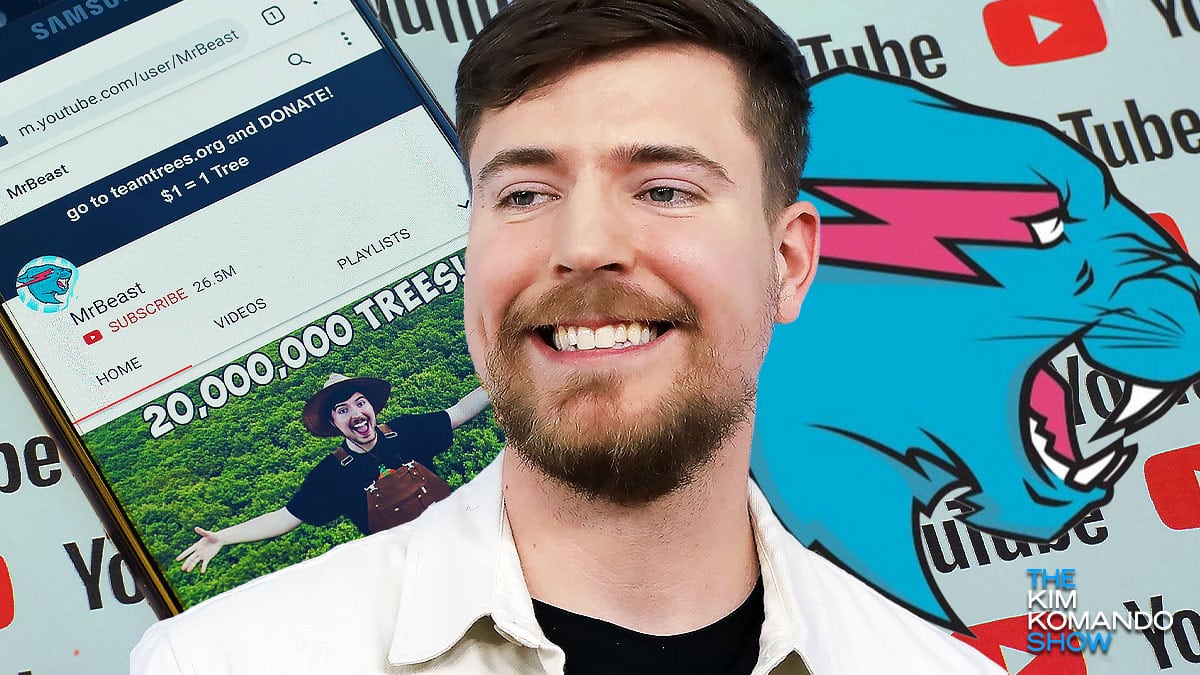 You'd expect one of the most popular YouTube stars on the planet to be loaded, but would you guess he's this generous?
This influencer has raised over $20 million to plant 20 million trees, $30 million to clean up oceans and lakes, donated 100+ cars, once adopted every dog in a shelter and funded cataract surgery for 1,000 people.
A nice change of pace from the usual viral trash, huh? At just 24 years old, Jimmy Donaldson, aka MrBeast, is YouTube's No. 1 creator. And I'm willing to bet the kids in your life love him.
Let's talk numbers
MrBeast posted his first YouTube video in 2012 about the hyper-popular computer game Minecraft. 
Flash forward and the North Carolina native has 145 million subs (the most on YouTube) and 26.6 billion video views. Oh, and the guy is worth $500 million.
OK, some of these videos are silly
Some of the most popular MrBeast videos revolve around simple premises. There's one where he counts to 100,000 (it took 40 hours) and another where he builds a fort out of plastic cups. 
He even got millions of views reading the dictionary. Seriously. He has a video reading the longest English word, too — it's 190,000 characters long and took nearly two hours to read. Now that would make for a strong password! 
But I appreciate the heart
MrBeast shows that you don't need to post risky or dangerous content to get more views. He does hold contests and challenges, but they consist of things like spending $1 million in an hour, playing hide and seek or sitting in the world's largest bowl of cereal.
In February this year, MrBeast posted a video called "1,000 Blind People See For The First Time." Sounds like clickbait, but he actually made it a reality, paying for cataract surgery for people who couldn't afford it. Wow.
Who's watching?
Millions of young people — and luckily you won't find him persuading them to lick batteries or lie down on the freeway. His mission is to get them to have fun and do good deeds. 
Sure, MrBeast has his share of controversy — recently, he caught flak for asking fans to fix Walmart displays for his Feastables chocolate bars. He also gave a waitress a brand new car covered in ads of his YouTube logo and chocolate brand. It's the thought that counts, right?
Hey, nobody's perfect and I'll take it over Tide Pod challenges and twerking videos any day. Want to know which MrBeast upload got more views than any other? Check out the full video on my site.
DEAL OF THE DAY
🔔 Ring my video doorbell

Know who's at your door and get alerted when packages arrive. If you don't need a full security system, this video doorbell has 2K resolution, plus it's motion activated and sends real-time alerts if you're home or away. You choose between batteries (last three months) or wired, without any monthly fees. Smart!
WEB WATERCOOLER
A bad Opera-tunity: All the tech sites are reporting how great the web browser Opera is because it now has both TikTok and a built-in VPN. I guess everyone forgot that Opera's majority shareholder is a Communist China-owned conglomerate. They are getting everything you do on your device. Definitely pass on this Chinese spy browsing bundle.
"I'm not dead yet!": Winamp is still alive and kicking (yes, WinAmp from the late '90s) with 83 million users. The latest revamp makes it more MySpace than media player, letting you buy songs and support your fave artists. Worth the price of entry? You decide.
Stranger danger: A preteen and a 14-year-old are both home safe after stealing their dad's car and driving 400 miles to meet up with an online stranger. They turned themselves in after seeing their own missing persons report on a gas station TV. Talk to your kids or grandkids about who they're chatting with online.
Take a hike: Need a guide to the great outdoors? Update Google Maps, then navigate to a national park. You'll see tips for navigating trails, difficulty levels, start and end points, and photos along the way. I went hiking yesterday and saw a cougar. It almost made me puma pants.
🎧 Want great content on the go?
Sound like a tech pro, even if you're not one. Try my award-winning, daily podcast. Search for my last name with "K" wherever you get your podcasts and "Go Komando!"
TRENDING
Is that warranty worth it?
Just about any time you buy something tech online, you get the option to add an extended warranty for anywhere from a few bucks to hundreds of dollars.
I say no, except in one specific case
Extended warranties are a huge money-maker for stores but largely useless for you and me. If you have a defective product, you'll almost always find out while it's still within the manufacturer's warranty period.
You're better off spending money on a better brand or protective gear to keep your tech safe and sound longer, like a nice case for your iPad. 
💔 The only exception, as I told the folks over at AARP, is for those of you who drop your smartphone often (I use this glass protector on mine).
Get what you already pay for
Some credit cards offer extended warranties on anything you buy using the card, which is a killer bonus. If your expensive vacuum or laptop craps out, it's certainly worth asking AmEx or Chase if they'll pay to repair or replace it.
DEVICE ADVICE
Cracking the (postal) code
Delivery labels hold the key to your package's delays and carbon footprint. Every barcode scan provides an update on your package's journey. 
Labels with multiple scans suggest your package went through tons of different facilities. 
Many scannable codes may mean your package was rerouted through different carriers, like UPS to USPS.
🔠 Notice clusters of capital letters? They probably represent codes for different American warehouses. Type that code into a search engine followed by "warehouse" to see where your package came from. The more you know!
🤑 I can help you score free shipping every time. Just follow this guide.
| | |
| --- | --- |
| IN PARTNERSHIP WITH   | |
My printer pick that listeners rave about
Here's a question I get all the time. "Kim, what's the best printer?" Best is subjective, but what most people mean is "Is there a printer that doesn't run out of ink all the time and just works?" 
Yep, the Epson EcoTank. Instead of expensive ink cartridges — which always run out when you're in the middle of printing something important — the EcoTank has easy-to-refill tanks. It comes with a ridiculous amount of ink, so you can print all you want. 
It works so well it was one of the first things I bought for my son, Ian, when he moved out on his own for college! Here's a note one of my readers, Kari H., passed along: "I have an EcoTank and love it! It sips ink, so no waste like inkjet cartridges."
BY THE NUMBERS
1,500
The number of years a secret fragment of Bible text was hidden. A whole section of the Book of Matthew has just been discovered. Researchers used UV photography to find the text beneath another layer of writing. So very incredible!
800+
The number of free ad-supported TV channels coming to Google TV. New channels include Tubi, Plex, NBC, ABC, CBS, Fox and more. I'm glad Ian is finally attending in-person classes at USC — talk about an expensive streaming service. ✌️
36%
The percentage of Stanford researchers worried about AI. Over a third of the researchers surveyed fear future AI decisions could cause "nuclear-level catastrophe." This isn't about humans misusing AI, the study notes, but the technology making bad choices itself. Sleep well.
WHAT THE TECH?
This is a little far-fetched.

UNTIL NEXT TIME …
🎰 The answer: LasVegas. In 2005, a domain investor purchased the dot-com name for $12 million. He sold it in 2015 for $90 million. There's only one way to leave Vegas with a fortune — arrive with a big one.
Appreciate your support of all we do! I'll see you on the radio (or in your favorite podcast player) this weekend for more tech news, fun and, of course, my bad jokes! We'll be back in your email on Sunday! — Kim
How'd we do?
What did you think of today's issue?