You've scoured your DVDs, plowed through your "must-watch list" and now what? You can unlock thousands of new movies and TV shows, just with the click of a button. All you need is a VPN and a Netflix account.
Netflix just raised its prices again, and this is one way to ensure you're getting the most bang for your buck.
We'll show you how to do it, and we've got a list of some of the best movies you can watch right now.
Why you need a VPN to unlock content
If you subscribe to Netflix or any other streaming service, you know how often new titles are added and removed. An old favorite you've seen in your Netflix or Hulu recommendations can disappear, and then you're left having to pony up to rent or buy the movie or skip it altogether.
But sometimes your favorites are available to subscribers of the same service who live in another country. With a VPN, you can essentially trick your streaming service of choice into believing you're somewhere else in the world.
We'll walk you through how to do this with ExpressVPN, a sponsor of Kim's national radio show. ExpressVPN is fast and reliable, and connecting is simple. You don't just have to take our word for it. Try it yourself — use this link to save money and get three months free!
Wait, what movies are we talking about?
Good question. Now, we'd never tell you to do this if it was a waste of time. There really are some great movies on this list. Note: As with Netflix in the U.S., these titles can change. Keep reading for a site you can use to see where a specific title is streaming (and in what country).
Canada
The Godfather Part II
Pulp Fiction
Forrest Gump
Good Will Hunting
Once Upon a Time in the West
United Kingdom
American Beauty
Scarface
Midnight Cowboy
The Terminator
Sixteen Candles
The Breakfast Club
Australia
Goodfellas
Casino
Saving Private Ryan
Interstellar
The Shining
To find even more content or check where you can catch a movie you've been wanting to see, try uNoGS.com. It's easy to use and shows you the most up-to-date shows and movies on different Netflix libraries.
How to change your country with ExpressVPN
1. Download, install and log in to ExpressVPN. Tap or click here for step-by-step directions (but it's so easy you may not even need them).
2. Browse or search a server in one of the countries above to access the movies we've listed. ExpressVPN offers access to more than 2,000 servers in 148 locations across 94 countries.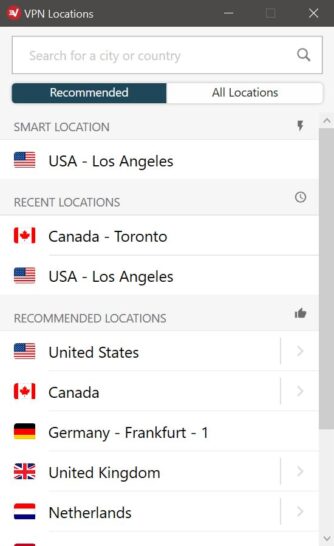 3. Select the server you want to use and hit the connect button.
4. Go to the Netflix website. You'll be redirected to the site for the location your selected server is in.
5. Log in to Netflix if you haven't already and select your content.
That's it! The best part is ExpressVPN's servers have fast, throttle-free access to Netflix streaming. You may have heard a VPN can slow down your connection, but ExpressVPN may actually speed things up for you if your ISP throttles Netflix traffic. Plus, it opens you up to a world of new TV shows and movies to stream.
ExpressVPN works with all your internet-connected devices, so you can watch from a laptop, desktop, smartphone, tablet or streaming media console, including Apple TV or the Fire TV Stick.
Ready to get started? Tap or click here now to check out and try ExpressVPN. Use this link to save money and get three months free!