Remember the days of yesteryear when you had to fight the crowds at the mall to finish your Christmas shopping? It wasn't just the mob scene that got us into a lather; it started in the parking lot, driving around for what seemed like hours before you found an empty spot two miles away.
Thankfully, the likes of Amazon came along and ended that nightmare. Now, just place your order online and everyone on your list is checked off in no time. If you're a Prime member, fast, free shipping isn't the only perk to take advantage of. Tap or click here for 7 things you should be doing with your Prime account.
If you missed the great Black Friday deals, don't worry. There are plenty of other ways to get cash back from your Amazon buys. Here are five easy ways to get up to 20% back on your Amazon purchases.
1. Amazon's rewards cards can help you save big money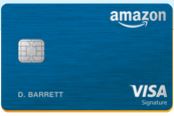 Did you know you can get cash back on Amazon purchases by using one of its credit cards? There are a couple of options when it comes to Amazon credit cards.
First, there is the Amazon Reward Visa Signature card. This is the card you'll want to get if you're not an Amazon Prime member. With it, you'll receive 3% back when you shop at Amazon and Whole Foods Markets.
You'll also get 2% back at restaurants, gas stations and drugstores. Plus, you get 1% back on all other purchases.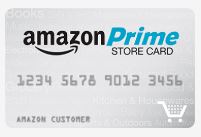 The second option is for those who are Amazon Prime members: the Amazon Prime Rewards Visa Signature card.
With this card you'll get 5% back when you shop at Amazon and Whole Food markets. That's 2% more than non-Prime members receive. Just like the card for non-Prime members, this one will also give you 2% back at restaurants, gas stations and drugstores. All other purchases will earn you 1% back.
Not a bad way to save some money on stuff you're already planning on buying. As long as you pay the balance off at the end of each month, and don't rack up interest fees, it's just like free money.
Amazon also lets you use your cashback balance on future Amazon purchases. Just link your card to your account, and when you buy stuff on Amazon it'll give you an option to apply your cashback balance to the new purchase. Real simple. For an overview of these cards, or to apply, visit Amazon.com.
2. Amazon isn't the only card in town
You don't have to have an Amazon card to get cash back on purchases. There are plenty of other cards out there to choose from that offer this type of reward as well.
For example, Discover has a cashback reward offer that will help you save some money. You can earn 5% back on up to $1,500 in purchases in various categories throughout the year, along with 1% back on general purchases.
Now, here's the kicker. During the holiday shopping season this year, Amazon is one of those qualifying categories. From October through December, you'll get 5% back on all purchases made through Amazon.
Another credit card offering a decent cash back rewards program is Bank of America's Cash Rewards Credit Card. You can earn 3% back in the category of your choice. Choose from gas, online shopping, dining, travel, drug stores and more.
If you want to get the 3% back from Amazon, you'll just need to select online shopping as your category. You'll also get 2% back at grocery stores and wholesale clubs, plus 1% back on all other purchases.
Again, to take full advantage of these offers, it's a good idea to pay the balances off each month. That way you won't be paying finance charges which would most likely end up costing more than what you'd be getting back in rewards.
3. Use a cash back website

Have you ever heard of a cashback website? They're great ways for you to save money when you shop online.
The process is really simple. Just sign up for a free account, and when you complete a purchase with any of the site's participating merchants you get cash back. It's just like using a coupon, except you earn money back after the purchase has been successfully completed and tracked.
When you shop through TopCashback, you can earn cash back on your purchases. Here's how it works:
Browse the TopCashBack site and choose from thousands of retailers, including Amazon, and exclusive cashback offers. Click through to your favorite retailers and shop like normal. The retailer pays TopCashBack a commission for your purchase, and it adds this as cash back to your earnings.
Related: How to get free Amazon gift cards
The site offers more ways to get cash back, too. You can earn more by using the TopCashBack app where you'll find coupons, in-store coupons and instant account access.
The site also finds coupon codes for you that are good on lots of popular merchant websites. They can be used in conjunction with cashback offers to save you even more money.
The app is available free for both Apple and Android gadgets.
For iOS, click or tap here.
For Android, click or tap here.
4. The money-saving site with the funny name
If you're not familiar with the name Rakuten, you may recognize "Ebates." When Ebates re-branded, it took on the name Rakuten, but the philosophy is still much the same.
You can sign up free with a Gmail account or link to Facebook. There are typically signup bonuses, such as a free $10 Amazon gift card or similar promotions. Once you're in, you can shop at over 2,500 stores and earn up to 40% back on your purchases.
Stores pay Rakuten a commission to get eyes on certain items, and Rakuten shares the commission with you in the form of cash. You can also get cash back through Rakuten when you shop Amazon.
There are some special terms to adhere to, including cash back is only available for select departments and it's not available on gift cards, Prime memberships, wine or more.
Make sure to look at the Amazon coupons, promo codes and cash back rules on Rakuten to take advantage of the available deals. Click here to see Rakuten's rules.
5. More ways to save

Some of us prefer used bookstores, vintage clothing shops and second-hand furniture stores to save money. Amazon Warehouse is just that kind of place. Here, you'll find returned and lightly used products that are still functional, but don't qualify as "new."
Conditions range from "Refurbished," "Like New" and "Very Good," all the way down to "Acceptable," and the product information includes notes on what defects or blemishes to expect on a particular item.
As you might expect, you'll find a treasure trove of electronics from video games and widescreen TVs to smartwatches and Bluetooth speakers.
You may shake your head at the 20% savings Amazon Warehouse usually offers, but the percentages can add up. For example, you could buy a new camera for about $500. You could buy the same camera, slightly used, on Warehouse for about $460. That $40 in savings could provide you with a bag, memory card or more.
This marketplace does have its risks. The items aren't in perfect condition, and most electronics do not come with warranties. Amazon does honor a generous return policy, and you can sometimes procure a warranty or protection plan from SquareTrade, depending on the item.
Amazon Warehouse lets you use Amazon Prime for free deliveries. Tap or click here to see deals on the Amazon warehouse storefront page.
Bonus: Get Amazon Prime at a discount
When Amazon Prime launched in 2005, it only cost $79 to subscribe for a year. Tons of people signed up to take advantage of the free 2-day shipping.
These days, a Prime membership comes with so much more than just free shipping. A few impressive features that have been added include Prime Video, Prime Music and Prime Photos. Tap or click here to find out the 20 best perks you get with a Prime membership.
With those additional perks comes a higher cost. The annual rate to be a Prime member now is $119, or $12.99 per month. The good news is there are a couple of ways to save money on a Prime membership. Here's how:
Student membership
If you're an undergraduate or graduate student, you're eligible for 6 months of free Prime. To qualify, you must provide a valid .edu email address. After the 6-month free trial, it's just $59 per year or $6.49 per month. So, make sure to spread the word to all of the students you know. Tap or click here for details.
Government assistance discounts
If you're enrolled in certain government assistance programs, Amazon offers a discount for Prime. To apply, you need a valid EBT number or Medicaid card and your Prime membership will cost $5.99 per month. Click or tap here to apply.