Believe it or not, Thanksgiving is nearly here, and with it comes the perfect excuse to show off your amazing cooking skills. If you've been struggling with your not-so-amazing cooking skills, don't panic!
If you're not the best cook, or if you just want to shake up your family's Thanksgiving traditions a little, you can find all sorts of great recipes online that are easy to follow and delicious to eat. OK, so there's actually an overwhelming number of these recipe sites and you can't always trust reviews.
But you're in luck! We've scoured the internet and found 5 amazing Thanksgiving recipe websites to ensure you get only the best of the best recipes. Check out the five sites below, and make food so good people will demand encores at the next family gathering. Bonus: Tap or click to see the surprising origins of Thanksgiving food.
1. To know what the celebrity chefs are making…
…Check out FoodNetwork.com's recipe section. Here, you can find Thanksgiving ideas — there's a whole tab collecting them in one place — as well as ideas for normal weekday dinners from famous chefs like Ina Gartner, Bobby Flay and Rachel Ray, plus the Food Network kitchen staff.
The recipes are organized into lists, like "Our Top 50 Thanksgiving Recipes," "Essential Thanksgiving How-Tos" and "Health Holiday Recipes." You can scroll through the lists and pick the tastiest-looking recipe. Just click on the link to view the recipe or click "Save to Your Collection" to access the recipes you like later.
Many of Food Network's recipes come with walk-through videos, even more can be found on the Food Network app, and you can view live streams with celebrity chefs on the channel.
Food Network's site also has a lot of how-to videos on cooking in general, so if you're preparing your first Thanksgiving meal, or if you're just a big fan of Food Network's stars, head to FoodNetwork.com.
2. To see what working chefs like to make…
…BonAppetit.com is the place for you. Bon Appetit is a monthly magazine aimed at foodies. It shares recipes, wine reviews and offers suggestions for entertaining guests at your next dinner party. It's a classy magazine, and its website offers only the best dishes. Get fancy recipes to impress even your stuffiest guests.
Bon Appetit's website isn't easy to navigate and it offers few recipes upfront, but the search feature gives you tons of options that have all been tested by the Bon Appetit staff — all former working chefs or highly skilled home cooks. Plus, they have full menus, including one for Thanksgiving 2019.
The vetting of recipes at Bon Appetit is intense, so you'll definitely get something delicious here — whether you have the skills and resources to make all of these recipes is another matter. But if you love cooking, and want to push into more interesting flavor territory, you'll get a lot out of this site.
Just search for whatever dish you want to improve, or just type "Thanksgiving," and enjoy conquering some of these challenging recipes.
3. For crowdsourced recipes…

…you want AllRecipes.com. This site is less focused on teaching you new skills than Food Network, and it won't limit you to very fancy foods, unlike Bon Appetit. For recipes that are likely to be popular with a variety of eaters, AllRecipes is the best place to go.  
AllRecipes allows users to make and test out recipes, then rate them out of 5 stars. You can see the recipe rating, as well as the number of people who chimed in, to get an idea of how popular it is. You can also read comments to find tips for the trickier techniques, or for alternative preparation methods.
Recipes on AllRecipes are user-generated, so they're not as vetted as Food Network or Bon Appetit. But the rating system is extremely reliable, so for some safe bets to go alongside the more daring Thanksgiving options, or just for some classic Thanksgiving recipes, try AllRecipes this holiday season.
4. To have dinner planned on your behalf…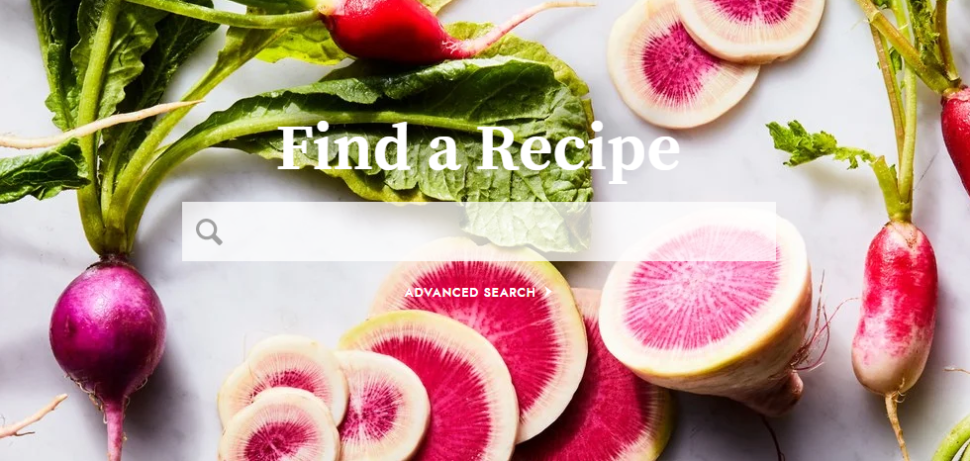 …Try Epicurious.com, a site geared toward teaching you cooking skills, as well as giving you not only recipes, but entire menus. Don't want to guess if certain dishes will go together, or just hate meal planning in general? Epicurious offers special holiday guides and menus for your busy work week.
In addition to giving you full menus, Epicurious has tons of FAQs, videos and articles guiding you through the skills you need to make many of its recipes. So for a pressure-free Thanksgiving meal, turn to Epicurious.
5. To be the ultimate host/hostess…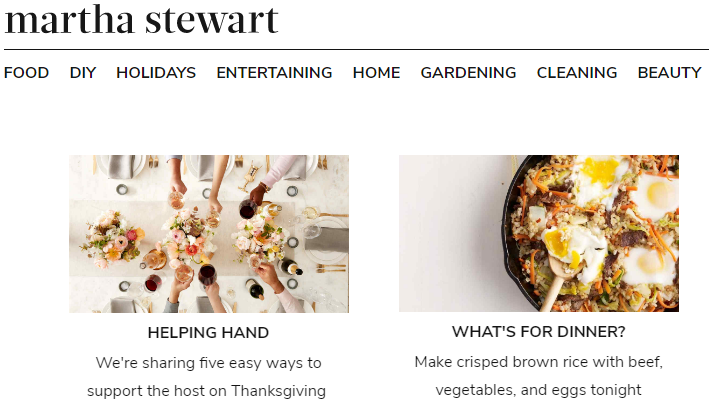 …Learn from the ultimate hostess herself: Martha Stewart. On MarthaStewart.com, you'll find well-tested recipes, along with craft and DIY ideas to make your Thanksgiving dinner not just delicious, but beautiful and cozy as well.
Martha Stewart created the standard for hosting, so some of her recipes and craft projects can be ambitious, particularly for those who don't cook or craft a lot. But if you have some skills, or want to challenge yourself to create a classic Thanksgiving meal with modern accents, get started on MarthaStewart.com.
BONUS: To ensure you don't waste ingredients…
…We have a bonus entry for you: Cooklist! Cooklist is an app, not a site, but it's great for when you want to use ingredients you have on hand. Instead of running to the grocery store for every new recipe, Cooklist provides recipes based on what's in your fridge and pantry.
AllRecipes lets you search by ingredients as well, but Cooklist keeps a list of whatever you got on your last grocery run, and offers recipes based on everything you already have. Cooklist also acts as a meal planner, and you can choose to make something new from simple leftovers, this way, nothing goes to waste.
Thanksgiving is a holiday about food, so make sure yours is the best it can be by using recipes from any of these sites (and the one app). Whatever your skill level, these sources won't let you down, and we'll definitely be jealous of whoever gets to enjoy your leftovers! Tap or click here to see a great Thanksgiving leftover recipe.
From everyone here at Komando.com, have a Happy Thanksgiving, and may your dinner be delicious!